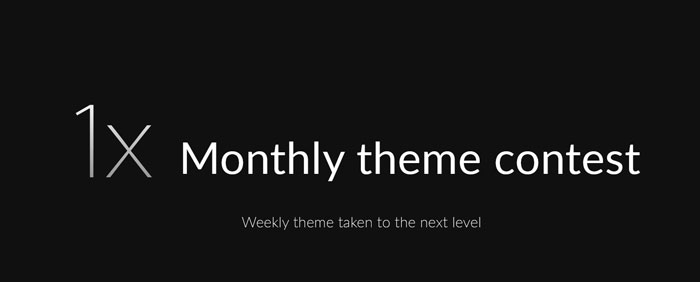 Weekly theme is one of the most appreciated features of 1x and for a long time, we have wanted to upgrade the theme contest and take it to the next level.

I'm now happy to announce that the Weekly theme will transform into the Monthly theme.

There will be one theme per month, which will give you more time to prepare your submissions. The uploads and voting will be done separate months. This means that it doesn't matter if you upload your photo early or late. You will still have the same amount of time to gather votes.

The uploads to the Monthly theme will be done through a separate uploader. Everyone can participate, except members of the crew. Published images can not be submitted to the contest.

The top three winners will be chosen by a guest judge with special experience in the given theme. The rest of the positions will be selected through voting, as usual.

There will be a monthly cash prize of 250 USD and several other prizes that will be useful for you as a 1x photographer. The top three winners will also have their photos published in the 1x gallery.

I hope you will appreciate this upgrade of our theme contest and that it will inspire you to more wonderful photos. The first theme will be announced shortly.