Members can submit their images to request feedback and advice from the entire community in one of the unique features at 1x, the Critique Forum. Sixteen volunteer Senior Critics ensure that all submitted images receive thoughtful and helpful responses.
In addition to their thoughts, every month well-known 1x photographers will lend their "expert eyes" to members, providing a fresh view on your work, with an expertise across a diversity of genres, and photographic knowledge Senior Critics might not be able to cover.


We are proud to present you the Guest Critic for June!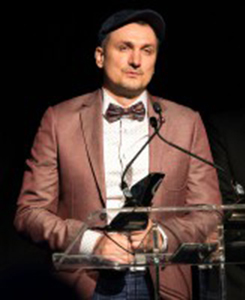 For Veselin photography comes alongside his hobby of travelling, but his photographic work is far from being a travel documentary. He does documentaries too, but mainly creates moody black&white images with surrealistic impact, which takes us with him in his imaginary world.
His artistic view on scenes probably originated in his passion for drawing, and later, oil painting. This passion did not last long, but Veselin rediscovered his inspiration, with the means of expression of the photography. Veselin is a self-taught photographer, and the ignition was a short trip with a friend to the woods of the Bulgarian Balkan mountain, which was covered in a thick fog.
He was surprised and captivated by the enchanting and mystic views, which he had not seen before even during most exotic trips.

"From that moment on my landscapes started appearing the way I was imagining them in my dreams and not the way they really looked during the shots", Veselin said.
Veselin spends more time on 1Х than on all other photography sites together. He didn't find another photography site which makes him experience the same pleasure.
If you have a look at Veselin's portfolio on 1x, you will find as many colour photographs as black & white. The colour ranges are mostly limited, within one harmonic range, rarely they are complementary. His advice to beginners for black and white photography is to thoroughly process a colourful frame before starting its conversion and processing, because in Veselin's opinion the aesthetic effect of a black-and-white photo starts where the impact of the colour photo has reached its limit.
Let's wait for more good advice from Veselin, in June!

We look forward to a lively and stimulating exchange on your work!
The SC team and our guest, Veselin Atanasov.

And last but not least, special thanks to the guest critics from May, Uliana Kharinova and Marc Huybrighs for their great collaboration in the critique forum.