by Miro Susta
Most of us who are familiar with Shakespeare's Romeo and Juliet love story know why Verona has earned its nickname as the "City of Love".
Verona is above all the city of Romeo and Juliet, Verona is the place of the Shakespearean legend that evokes in everyone the magic of the most famous love story. Everyone knows it, the tragic Shakespeare's love story of young Juliet and her Romeo, who were supposed to had lived in Verona few hundred years ago, a story which has moved to tears for centuries.
Verona is located in many people's hearts and geographically it is situated at the foot of Lessini Mountains on the River Adige in northern Italy's Veneto Region. Many thousands of people from all over the world have always come to Verona, which is today the fourth most visited town in Italy.
Exploring Verona exposes visitors to the transition of art and architecture from the medieval and early renaissance to the more contemporary Western European.
Besides the romantic but sad story and Julia's house, Verona is known for its architectural and natural beauties and the suggestive performances in the Roman Amphitheatre (most famous is the Arena Opera Festival from June to September).
Especially the Verona's Old Town around the Adige River is offering many unforgettable historical places like Roman Amphitheatre, Arco dei Gavi, Porta dei Borsari, Castle Castelvecchio and the bridge Ponte Scaligero, Piazza dei Signori, Ponte Pietra, Castle San Pietro, San Giorgion in Braida, Church of San Zeno, Our Lady of Lourdes Shrine and many other not specifically mentioned historical spots. Join me to explore them.



I have captured all photographs presented in this travel story during my short birthday trip to this delightfully vibrant historical city last September (2017).
I used two Nikon bodies, the D600 and D750 and my three preferred travel lenses Nikkor 24-85 mm, Nikkor 80-400 mm and Sigma Fisheye 15 mm.
For some photos I have applied circular polarizing and ND filter. My faithful 24-85 mm lens was my best choice for most of the street photos. The 80-400 mm tele lens came in to the action for shooting detail photos and "far away" objects and the fisheye lens for special close-up images.

Additionally to my 26 photographs I have included four beautiful images from 1x Members Andrea Destro, Luca Rebustiny and Massimo Della Latta. Many thanks to all of you.
Visiting central, old historical Verona you must be good on your feet. Of course one can use the car, but it could be a very slow drive and additionally there is hardly parking space available. That why good/strong backpack to carry the photo equipment and good comfortable walking shoes are required.
Where to start the tour?
I recommend the lively Piazza Bra, next to the Roman Amphitheatre. It is hard to miss this one of the city's busiest square in its historical centre.
Here you will find pleasant shade under large trees during warm sunny days as well as many cosy restaurants, coffee shops and bistros lined around the square…..and also the crowd.
By the way, the Piazza Bra is the largest square in Verona and one of the largest in whole Italy. The Amphitheatre is a great iconic attraction in Verona. It was built in the 1st century AD and was mostly made of Veronese pink marble. It is supposedly the third largest of its kind in Italy.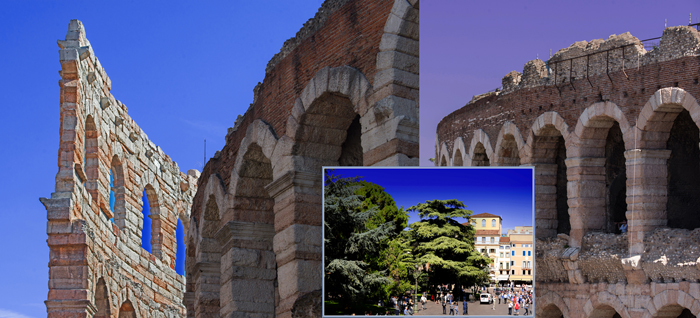 Roman Amphitheatre and Piazza Bra

The Piazza Bra Gate "Porta Bra" (unfortunately not in photo due to heavy traffic disturbance), not far from the Amphitheatre (around 300 meters), is considered the way Romeo took when he left Verona on exile saying the famous words: "There is no world without Verona walls, but purgatory, torture, hell itself. Hence-banished is banished from the world, and world's exile is death."
These famous verses by William Shakespeare are engraved on a marble inscription placed on the wall of Bra Gate. Don't miss this place during your trip to the city.

From Piazza Bra it takes around ten-fifteen walking minutes to reach the Casa di Giulietta or Juliet's House, an excellent and very popular stop-over point on the tour. It's no surprise that it is the most visited attraction in Verona.


The house is located on Via Cappello, a narrow road with on both sides lined with many small shops and of course, most of the time crowded by tourists.
To see famous Julia's balcony it is necessary to enter the gate and go into, most of the time very crowded, courtyard.
In Juliet's courtyard everyone takes a photo under the famous balcony or near Juliet's statue, countless lovers write their names on Juliet's wall and leave their notes in the special mailbox to "Juliet, Verona".
Or if you like to have a good fortune in love, just touch Julia's bronze statue right breast. According to the story, the Julia's house was the Capulet family's residence but is now a museum solely for Juliet.

Via Cappello ends (or begins, as you like) at Piazza della Erbe (Market Square or the Square of Herbs), these days a market occupies a good part of larger area of former Verona's ancient Roman Court, where the Maximum Decuman and Maximum Cardo intersected. Through the centuries, the square has been the centre of the city's political and economic life, today a centre of street market life.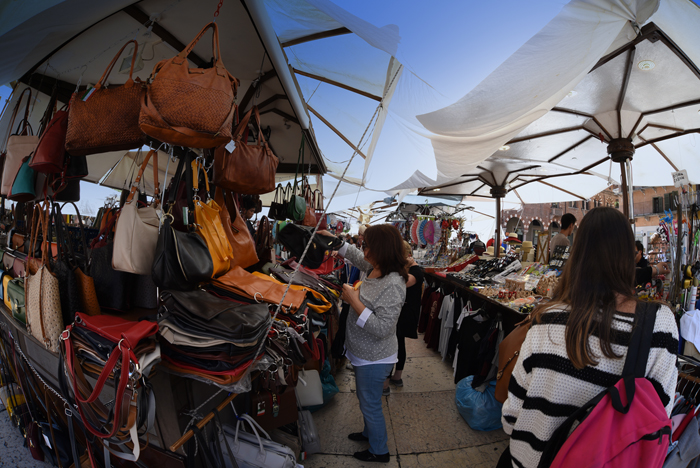 Market Stand on Piazza della Erbe

The square is also home to some old palazzos, buildings and monuments that have marked the long history of Verona.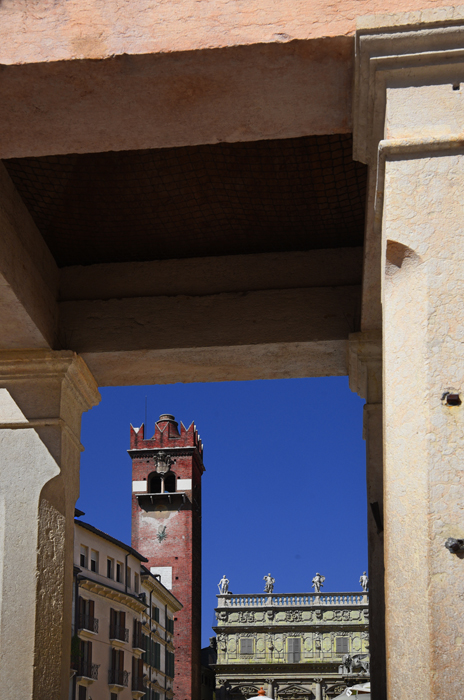 Historical Buildings, Gardello Tower and the Palazzo Maffei from western side of Piazza della Erbe

The Gardello Tower is also called "Tore delle Ore" (Tower of the Hours) because here the first bell-clock in the town was installed. The bell was placed in the tower in 1370. The majestic baroque Palazzo Maffei was built in 1668 by Rolando Maffei. The building has three floors. Greek Gods looking down from the balustrade. Today on the ground floor there is a luxurious restaurant facing the market. You can get here maybe the best risotto in the town and for sure the largest wine stock in the town (cheapest 0.75 l bottle for 18 EUR and the most expensive 0.375 bottle for 1'200 EUR!!). But you can still enter the courtyard and take a look at the imposing columns inside.
From here the best way is to aim to the River Adige and then explore the area around the river, easy walking for everybody.
Good starting point on the riverside is the Ponte Navi, from there just follow the river to Ponte Nuovo del Popolo and Ponte Pietra.
This side of the river offers beautiful views to Castel San Pietro and some other town buildings around and above the river bank.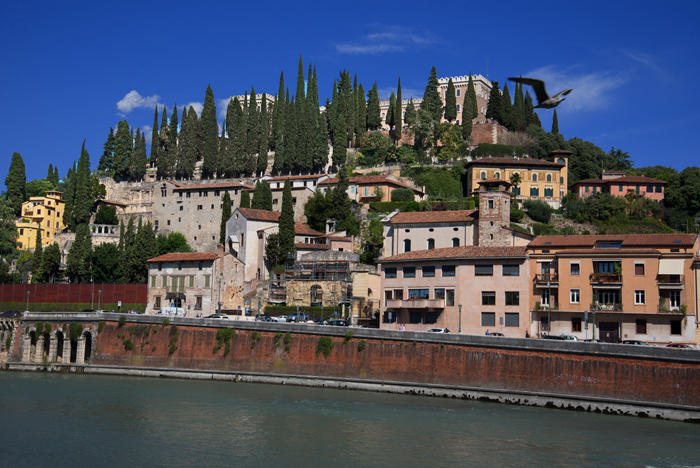 River Adige and Castle San Pietro

Castel San Pietro is located on the hill which was inhabited since Roman times of Verona.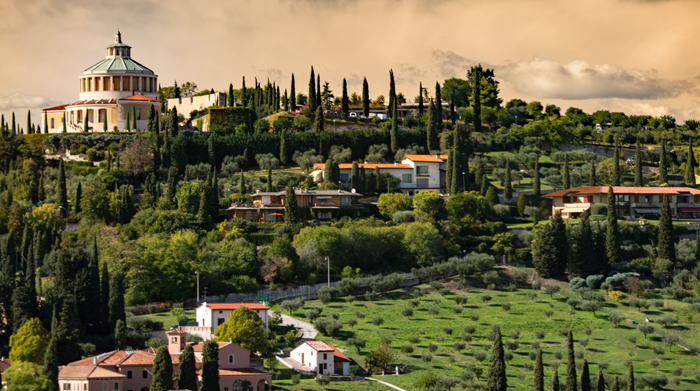 View to Sanctuary of the Lady of Lourdes (Santuario Madonna di Lourdes)

A shrine dedicated to Our Lady of Lourdes was built in the heart of Verona, Piazza Cittadella, in 1908. The bombing during 2nd Second World War swept away and destroyed the shrine in the city. Only the beautiful statue of the Immaculate Conception miraculously survived. After war the shrine was built on the place of an Austrian fortress, on the hill St. Leonardo overlooking the city. Today the shrine shows itself to the city as a blessing sign, as a place of rest and prayer for all.
If you are really very good on your feet then cross the Ponte Pietra and climb the steps to Castel San Pietro, you will be rewarded with formidable and unforgettable view of the city and its surroundings. But you can also take the funicular to "travel" to the Castel.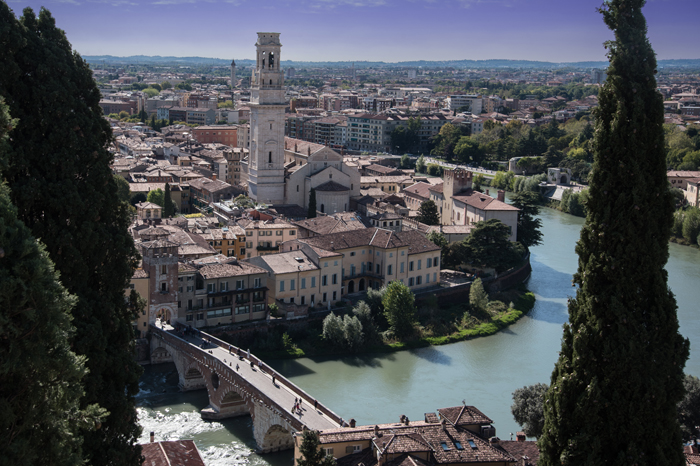 View from Castel San Pietro to Ponte Pietra and Duomo di Verona (Verona Cathedral)

Castel San Pietro is a lovely fortress, built in 1398, once used for military purposes due to the convenience it provided in controlling the city. The small square in front of the castle provides an excellent spot for stunning view of Verona. Going down from the castle back to the river is an easy walk through narrow walkway and many steps. But be careful by crossing the busy road between castle walkway and the Ponta Pietra.

The above lovely sunset photo shows River Adige, Ponte Pietra, Ponte Pietra Gate, the Duomo and San Giorgion in Braida. Photo taken from Castle San Pietro side. Cross the bridge and continue your walk towards Ponte Garibaldi, Ponte Vittoria to the oldest bridge in Verona, Ponte Scaligaro, which was completed in 100 BC.
However, during walking along the river bank you should, from time to time, leave the river path and explore the surrounding areas.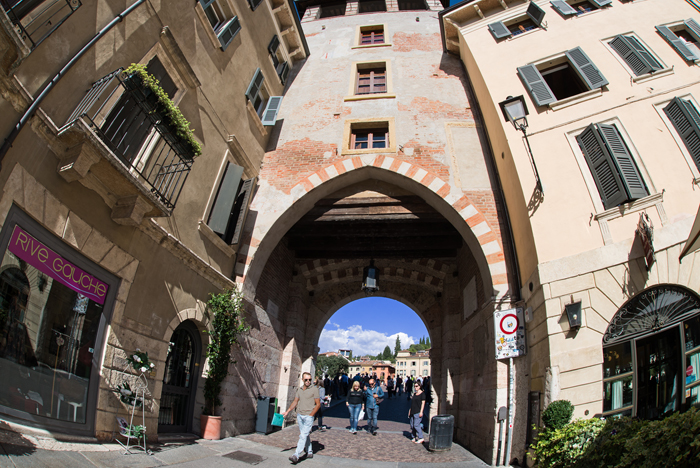 Ponte Pietra Gate an entry from river side to Old Town.

This old part of the city offers many picturesque corners with neat old buildings and small, but cosy, restaurants, bistros & coffee shops at very reasonable prices.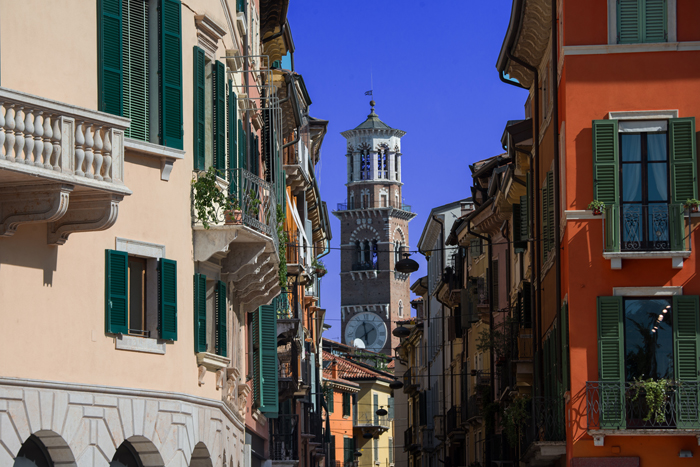 Lamberti Tower; view from Via Capello (Julia's House)

Lamberti Tower (Tore dei Lamberti) was built in the centre of the city by powerful Lamberti Family in 1172. It was built to keep an eye on Verona and warn the city of impending disasters such as fire or attacks by the Venetians.
The tower houses two famous bells, the Rengo and the Marangona, which kept time and regulated city life. The Marangona signaled the end of the working day for the artisans (craftsmen, manual workmen) and also sounded the alarm in case of fire, whilst the Rengo summoned the town Council and citizens of Verona in times of war. Visitors are allowed to enter the view platform. With its 84 meter it is the tallest tower in Verona.
Every time when I am on any photo tour I try not to miss fascinating, sometimes significant and sometimes just fine details. Verona's streets are offering marvellous details for photography in abundance. Just catch them.



Old houses with facades with balconies decorated with flowers in pots can be found everywhere in Verona's Old Town. It was also very nice in colours, but I've opted for monochrome conversion.

This is a typical window and balcony of traditional old house in Verona's Old Town. Red-orange house façade colour, blue sky and green plants, three typical colours in Verona.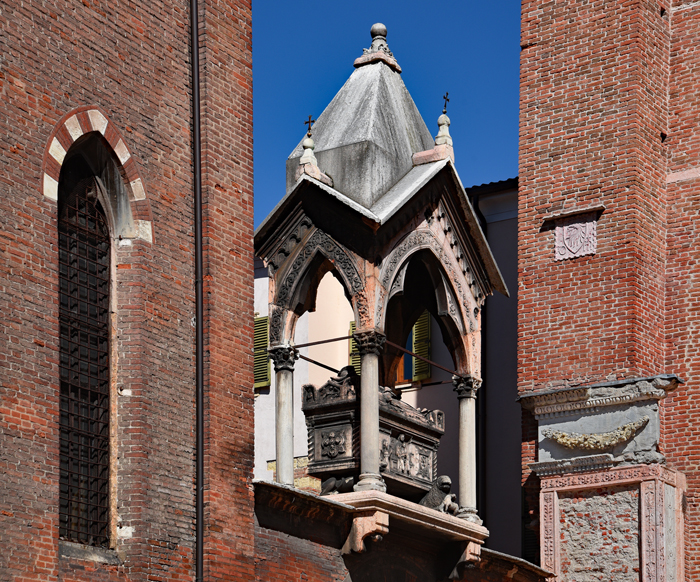 Church of St. Anastasia; Medieval Tomb on the Gate to the Church Yard with Dominican Convent
(Arca di Guglielmo da Castelbarco)

The Church of St. Anastasia (Chiesa Sant'Anastasia) is largest church in Verona. This massive Gothic brick building was built by the Dominicans between the 13th and the 15th century. It is located in the most ancient part of the city, very close to Ponte Pietra Gate. Medieval Tomb of Guglielmo da Castelbarco (1321) is a significant example of the 14th century sculpture architecture.



This photo is fascinating me very much, the superb wall details, the arrangement and excellent light and shadow play. And the orange-brown colour? It fits perfectly to Verona's Old Town.



Window photo from old house located on Piazza Bra, the city's market place. The pigeon waiting for an opportunity to grab something edible from the market……or just waiting for the partner?


"Entry Gate" to Spain

Unfortunately the "Gate to Spain" on Via Leoncino (just 250 meters from Roman Amphitheatre) was closed, so I could not see the embassy courtyard which might be also very interesting……for this story.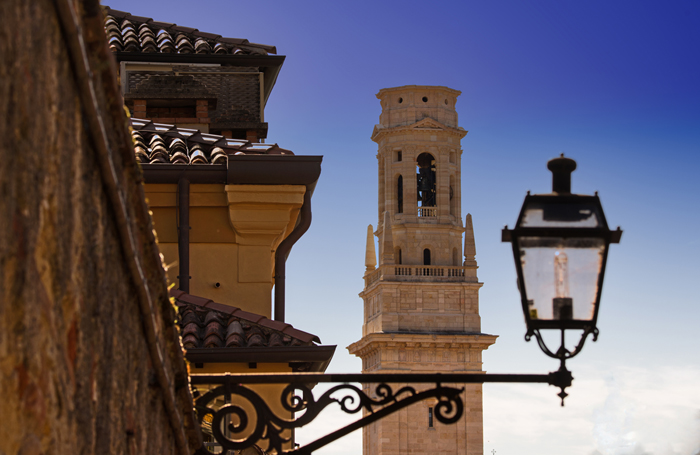 Typical Wrought Iron Street Lamp and the Cathedral Tower in Background

Behind the typical street lamp, majestic Cathedral of Verona (the Duomo Santa Maria Matricolare) was built in 1117-38, but many renovations were made later. It is a mix of Romanesque and Gothic elements.
But don't forget to return to the river which will guide you to the Castle Castelvecchio and to it connected Ponte Scaligaro.



On the way through Verona's Old Town the Adige River water is flowing under ten bridges. Ponte della Vittoria is one among them. The bridge construction began in 1928 and was completed in 1931; the inauguration took place in 1929. The bridge was named after the victory over Austro-Hungarian Monarchy in the First World War.
In background you can see the St. Eufemia Church and the Lamberti Tower.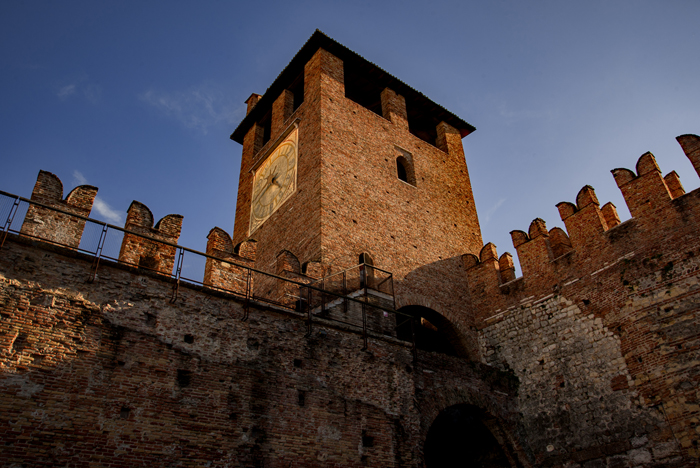 Castle Castelvecchio

Castlevecchio, a famous Verona old castle was built in the 14th century. An interesting aspect of the castle is that provision was made for an escape route across the family's private bridge, the Ponte Scaligero, to the north into Austria in the case of a local uprising against the family.
The castle was the most important military construction of the Scaliger dynasty that ruled the city in the Middle Ages, today it hosts the civic Castelvecchio Museum.
The Roman Arco dei Gavi is located just next to Ponte Scaligaro, it was built in the 1st century AD during Flavian period in honour of the Gavi family, important members of Veronese Roman society.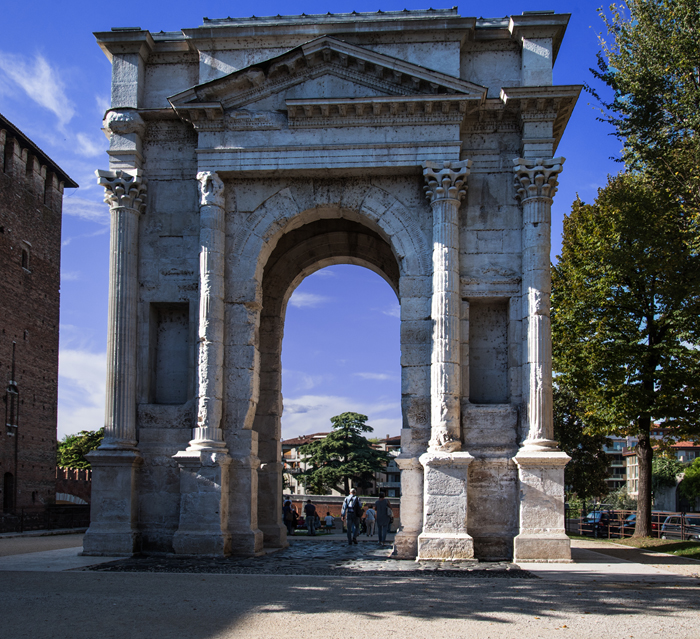 Arco dei Gavi

From this place a 10-15 minutes short walk through via Roma takes you back to the tour starting point, to Piazza Bra. You will pass along many small and larger shops offering various articles, good opportunity to buy something from Verona here.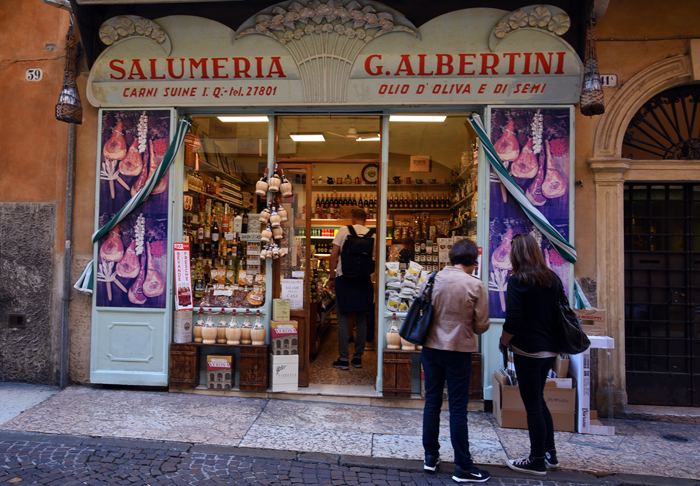 Delicatessen Shop on via Rome

Piazza Bra excellent place to relax and recover from this long "journey" in one of many superb eating & drinking places.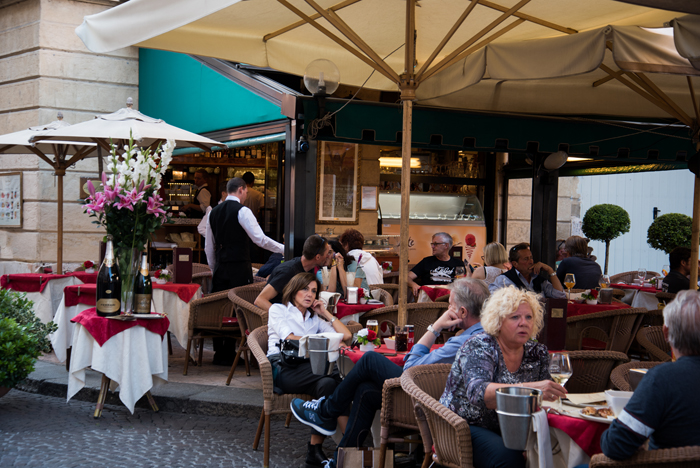 Piazza Bra Bristo

Insider advice: the ice cream is superb here, must try.
But walking around and admire beautiful places alone is not enough for us, so we have to eat and drink as well. And Verona is the right place for culinary activities.
What to eat and drink in Verona? It is not easy to answer this question, the food & drink offer range is quite large in Verona.
What you must know is that rice is widely grown in Northern Italy, so risotto is a very popular dish in Verona. Try Risotto al Tastasal or Risotto All'amarone.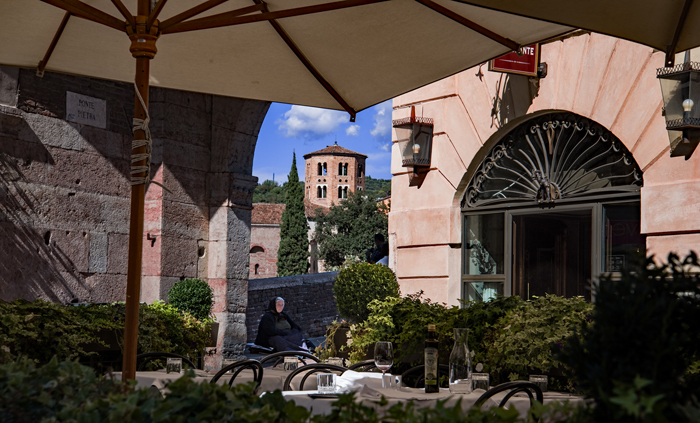 View from small Garden Restaurant

I love Italian pasta dishes, and the lasagna I was eating in small street garden restaurant was really wonderful. Actually we have been very lucky to score a table for us in this small restaurant, not far away from the Ponte Pietra Gate.
The lasagna tasted very good with company of an excellent local white wine from southern sunny coast of Lake Garda, the Lugana made from Trebbiano Soave Grape.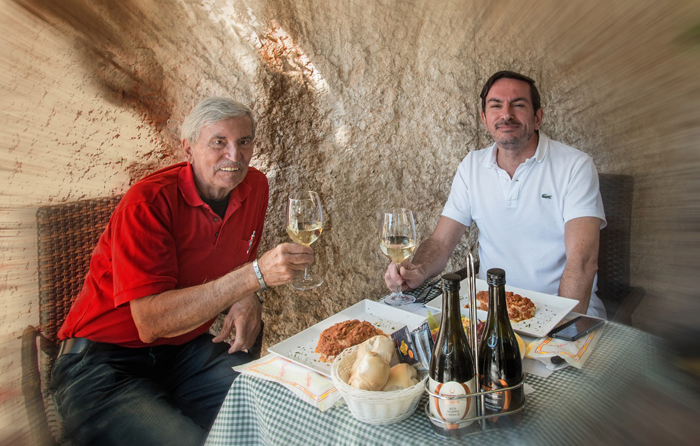 Author Miro Susta and his son Roman wish you a very good trip to this beautiful city.

I did not try it, but the local people say that the horse meat is very popular in Verona. We should try a horse steak served with polenta together with glass of red Bardolino wine, the superior local wine from eastern slopes of Lake Garda, maybe next time.
If you like something stronger then try the Italian Grappa a brandy made from the pressed grape pulp, skins, and stems that remain after the grapes are crushed and pressed to extract most of the juice for wine. However, this is not only local drink, it is one of the most popular alcoholic drink in whole Italy.
And do not forget the tasty ice cream(s) as well as famous Italian Espresso and Cappuccino with double Espresso.
The beverage prices in Verona are affordable but if you like to save some money find a nice place in many of the side roads. We have, for example, paid for two milk coffees and two espressos in small side road coffee shop only 5 Euro (see also Tip 4 and 6).

I apologize if I have forgotten anything very important and substantial, if I have done it please feel free to use the "Blog Comments" at the end of this article.

You may ask "how to travel to Verona"?
You can fly in (the airport is located 13 km from Piazza Bra), use the train (the train station is located 3 km from Piazza Bra) or Bus (the bus station is located 2.5 km from Piazza Bra), or you can drive in (accessible from highway A4 "Milano-Venice"). Arriving with own car you must prearrange the car parking. The best way is to find the accommodation with free or low price car parking.
For one day trip, use available centrally located car parking facilities, expensive but affordable and comfortable.
If you are planning any trip to Venice go in the way of safety, and be back in the way of love. Verona is a unique open-air museum that offers a lively and multicultural city and nightlife. The local people are very nice and polite, ready to help with advice in case you need it.

Verona made me wish I had more time to explore this beautiful city. But, if you're short on time, like I was, there was still quite a lot to see to make it a worthwhile trip and will have you longing for more time here and plan a return visit.
However, if you have a little bit more time available do not miss exploring other parts of this wonderful city and also beautiful Garda Lake, just 30 car minutes' drive from central Verona.



Keep in mind that Verona is a city with a passion for the arts as evident in the number of art museums, castles, old squares, fortifications, century's old churches and number of well-preserved Roman ruins it houses.

At the end of this travel story please find out some useful tips.
* If possible, visit Verona during off peak season (the best is March – June & September – October) when it is not very crowded and also not very hot. Especially the spring is beautiful there.

* Juliet house is closed during the night, but there is an opportunity to see the courtyard from the store next to Juliet house; but the store house owner would expect that you spend some small money in his shop.

* Many covered parking houses charging the full day even if you leaving after few hours. Find a well situated parking near the city centre and do not move the car to other placed during whole day.

* "Pane & Coperto", is essentially a service charge that restaurants add to the bill for each guest. It can be zero or as little as 50 cents – 1 Euro and as much as 3 to 6 Euros per person in more touristy places. The amount is not always indicated in the menu. It is advisable to clarify it before placing order.

* It is good to carry small bottle of water during sunny warm days. However there are many small bistros on the way offering affordable cold water and other drinks.

* Use the small restaurants, bistros and coffee shops in the side roads patronized mostly by local residents. It is not only cheaper but also quieter, away from the hustle and bustle of crowded tourist places.

* It is up to you whether you leave tip in restaurant or not. Local people usually round up the amount in case that the service was very good.

* Do not go to restaurants with staff in the front door which is inviting you to come in; usually high price class at lower quality.

* If you have more time go also to other places additionally to those I have introduced to you in this story. Verona and it surrounding is gold mine for photographers at all skill levels. There is so much to discover also in the areas out of city centre.

* Do not forget to take with you enough cash. Many restaurants, bistros and coffee shops (especially the smaller ones) do not accept credit cards. Also many shop accept only cash.

* If you like to have dinner without hassle and available table go to the restaurant before 8pm. Local people eat late, the dinner hour in many places doesn't start until at least 8pm and later. But after 8pm the restaurants starting to be crowded.

* Beware of pocket thieves.



Few words at the end of this short travel story. There is a strong historical element beneath the Verona's skies. The entire travel story is set in Verona but we have two timelines, Verona in the past Roman and Middle Age time and the "present" time from 20th century until today. The historical element had me intrigued on writing this story, the "present" time is only a complementary addition but does not play the most important role in this story.
However, if you have an intention to travel to Verona I wish you a Happy and Safe Journey, hoping to hear from you that you returned safely and that you have enjoyed this magnificent "City of Love".
[email protected]
www.mrsphoto.net