Linelle Deunk: Well known Dutch Photographer
Live interview by Marc van Kempen (PhotographerNL)


As soon as I saw photos of the talented Dutch photographer Linelle Deunk I was intrigued and wanted to find out more about her. She agreed to see me at her home. I was welcomed warmly and we had a long and interesting talk.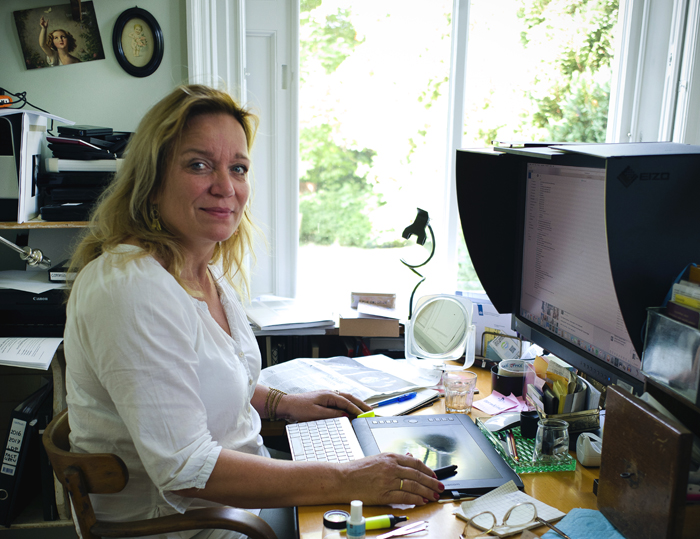 Portrait of Linelle Deunk by Marc van Kempen, taken during the interview.
Can you tell me something about your background?
My father worked in the Military and was based in Germany at the time of my birth. I was attending Dutch school there and had a protective, calm and fun childhood. Later we moved back to the Netherlands.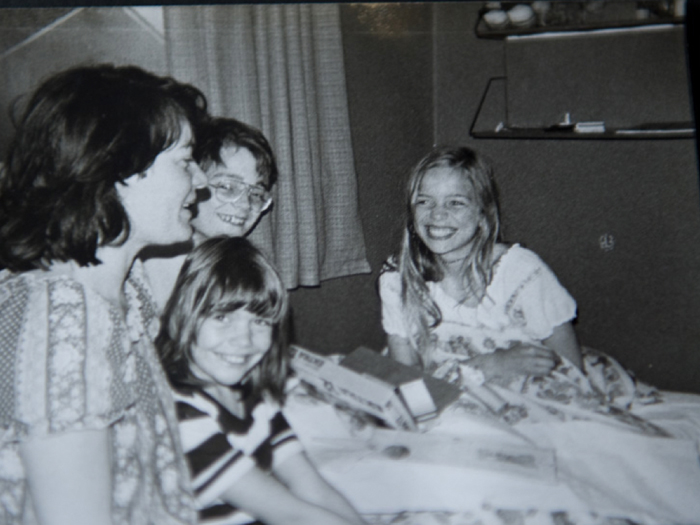 First camera on Linelle Deunk's 11th birthday.

On my 11th birthday I received a simple little Kodak camera and loved taking pictures of friends and family. During my high school years I didn't pursue photography anymore.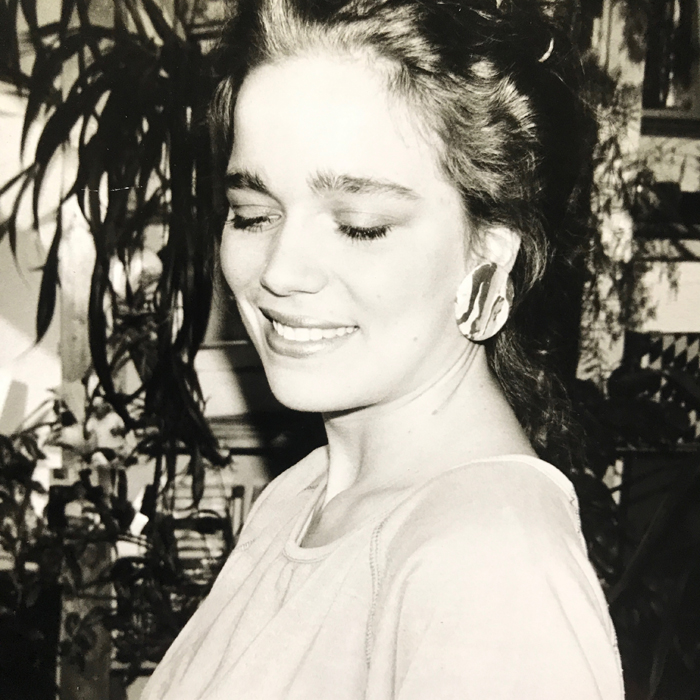 Self portrait around 1984 Nijmegen.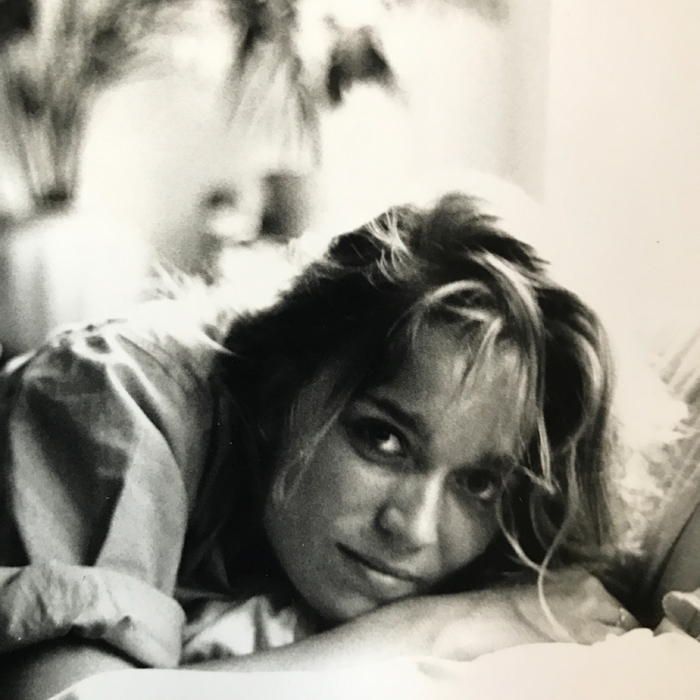 (
Self portrait around 1989 Amsterdam.
At the end of secondary school a friend of mine wanted to become a photographer. That sounded attractive to me but I was good in sports and I decided to go to University and study Physical Education. My parents left me entirely free in my choice but if I studied in Nijmegen (where we lived at the time) I would have to stay at home. I wanted to leave Nijmegen and decided to go to Amsterdam. I had a fantastic time there, loved my studies and was involved in lots of sports. And then I started working.
I have a brother and a sister. At the time my sister worked for the United Nations and was based in Zambia. When I visited my sister there with my eldest child my sister asked me just before I was flying back to Holland how my job was. I noticed that I only mentioned things that had little to do with the content of my work, like great colleagues, the interesting study I was still taking and the freedom of how to organize my workload. In Zambia I woke with the sounds of Africa and I felt very calm and happy. I realized I could never relive the time that my children were growing up. When I came home a few days later I quit my job. It was one of the best decisions I have ever taken. I never wanted to be a full-time employee again.
As a new start my husband gave me a digital camera. I again had an offer to come and work for my old employer but decided to first do something completely different. I wanted to learn to make the pictures I had in my head.
I enrolled at the Photo Academy in Amsterdam. I wanted to learn how the camera worked. I was a total beginner but had always looked at my environment in stills. My teacher motivated and stimulated me enormously. She was clear and straightforward. I owe a lot to her.
Everything changed during this course. I was like a child who is first seeing the world. The light, the people, the spaces were amazing and so were the possibilities. And the relation I had to other people changed. Before that I was quite rational, probably because of my studies but now a more personal, more intimate side of me flourished. I was probably used to not showing certain feelings because I felt it was not appropriate. It was comfortable to know that you don't have to stick with these old traditional values.
My youth was certainly the basis for how I was developing this way of looking at others and at myself. I have never felt excluded but in every child there is a need to manifest himself regardless of where he comes come. I have always learned to never look down or look up to others.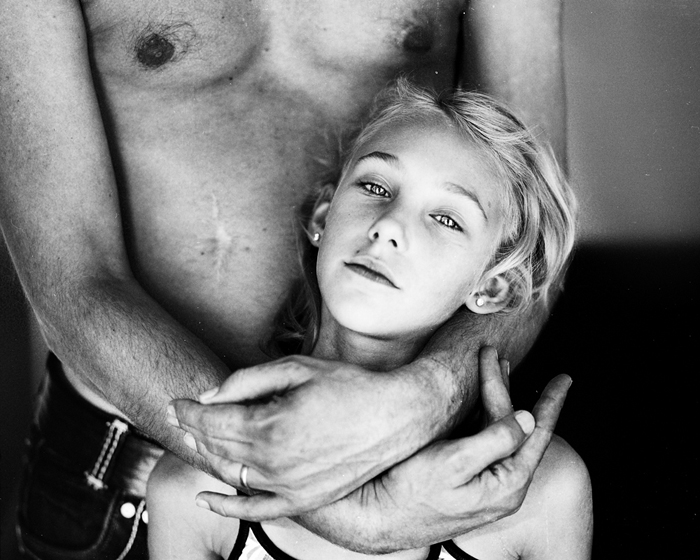 Pien 2010.

Pien met haan 2010.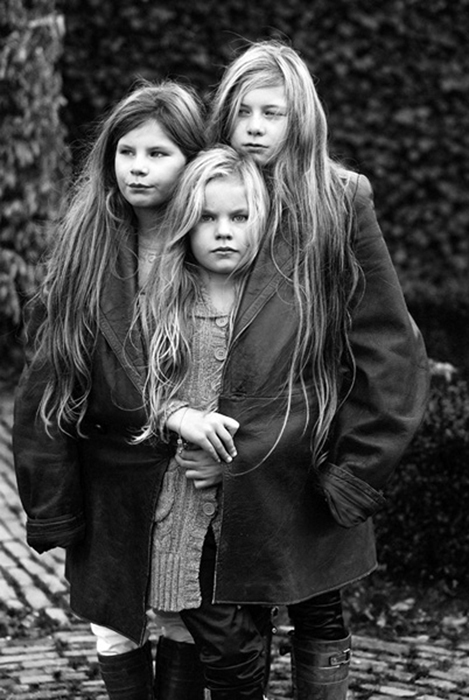 Sistory (portrait on location).
What are the most important things you learned in your course?
Even though I was used to finishing everything I started, I felt that I wasn't ready to pass my final exams. I did well and loved all I learned at the Photo Academy but I didn't finish the entire course. Instead I did an extra year in which I started experimenting a lot more. My teacher in that year was Joost van den Broek who at the time worked mostly for the Volkskrant (a Dutch daily newspaper). Everything started making sense. He stimulated me to work more freely and only to edit afterwards. Everything became a lot clearer to me: I knew where I wanted to go.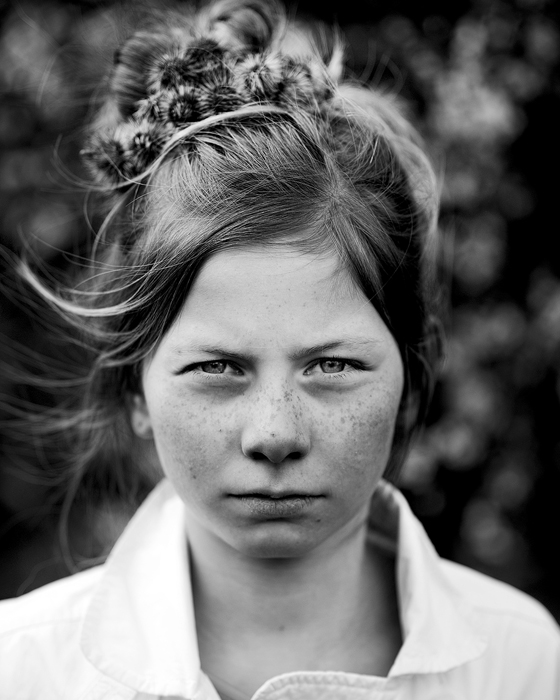 Rosemarijn.
I enjoy talking about my work; about the circumstances and about the people I met. Not to boast or to tell everyone why I did such and such. I don't like to criticize others, even if their work is not at all my style. This is not false modesty but I rather stay away from it. I wasn't raised competitively and I still am not. Everyone has something to offer and all this comparing is not my thing.
Clients mostly give me assignments that suit my style and my person. I form part of a team: the model, the editorial staff, the photographer, the image editors and the page layout. The model usually has no say in my choice or in the editor's choice. But I do try, sometimes a bit against the editor's choice, to vary the images. To have only intense looking people in your morning paper is not so fun upon waking up, a variation with more cheerful images reads more easily.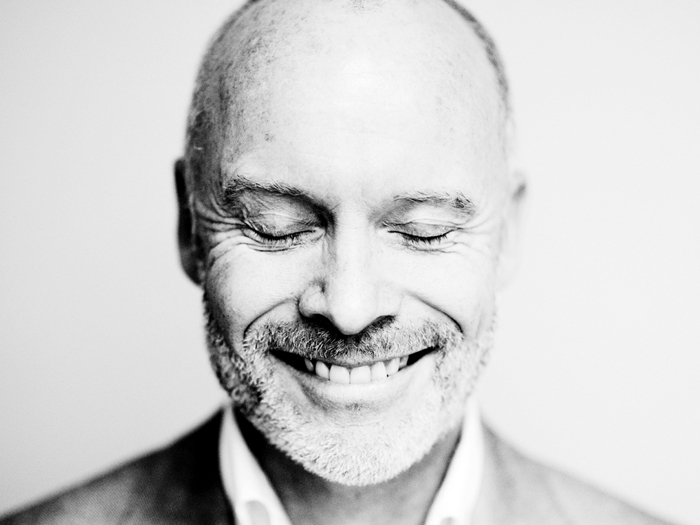 Mart Visser (Volkskrant).
For which papers and magazines do you work at the moment?
The Volkskrant, the Volkskrant Magazine, Psychology Magazine, Yoga magazine, Radar Magazine, Plus Magazine and magazines for organizations like the Salvation Army. Also for television programmes like "Hij is een zij" en "Boer zoekt vrouw International". I also contribute to books, last year a book about famous Dutchmen and care for demented people.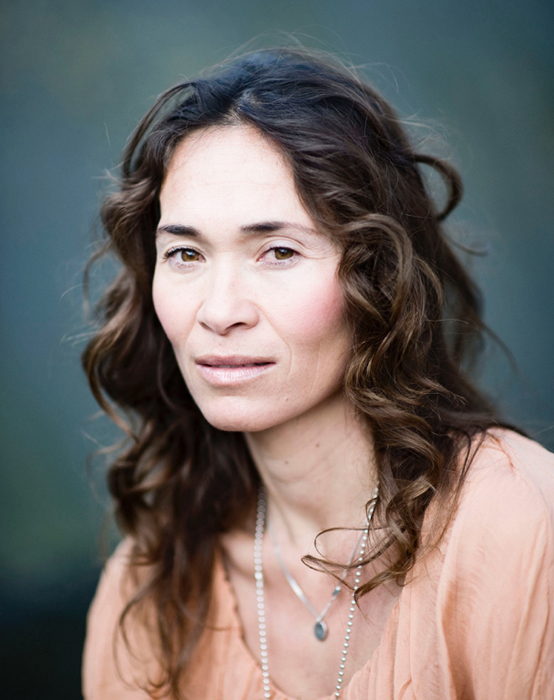 Bibian Mentel (Psychology Magazine).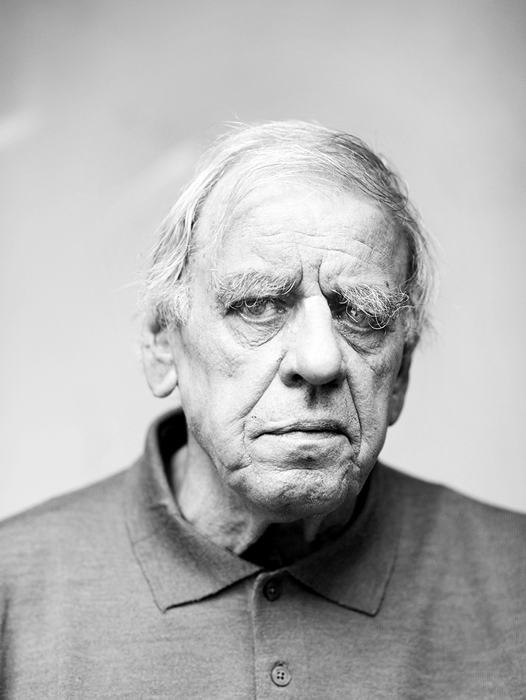 Jeroen Brouwers (Volkskrant).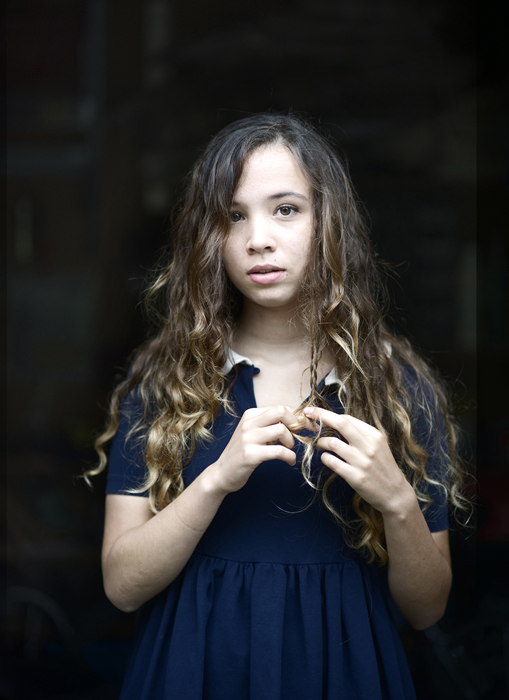 Burnout youth (Psychology Magazine).
Do you have to sell yourself or do the assignments come in by themselves?
Since finishing my studies in 2010 I have been working at the Volkskrant and I have never had to go out to find work. I am represented by the Kahmann Gallery and through them new work flows my way. I also try to do one free project each year, sometimes together with a journalist. This is always about a subject I care about or a very newsworthy subject. Examples are an extended interview with a man who was covered in scars from burning or someone who has a locked-in syndrome. Also series about the so-called "crazy dads", about youth in a special care farm, youth with burn scars, and young men on the island of KOS during the great refugee crisis in 2015.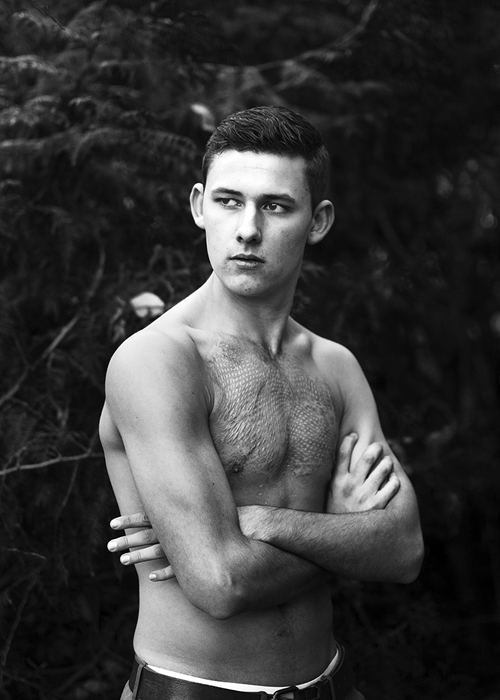 Lennart 19 years, victim of fireworks.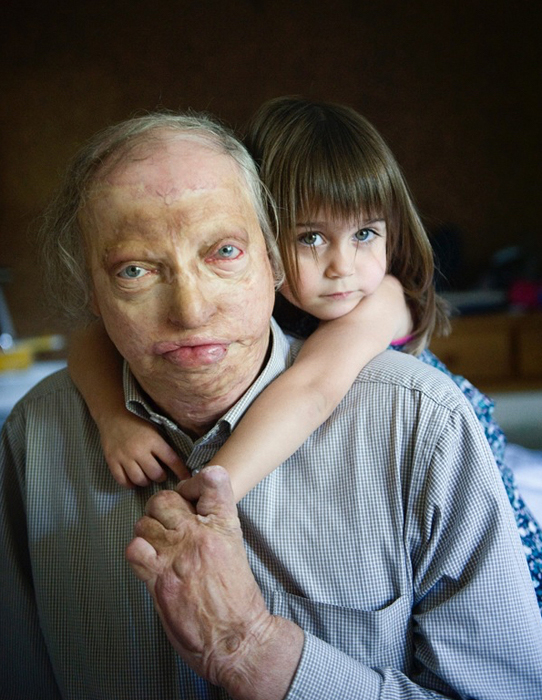 Living with burns (Volkskrant).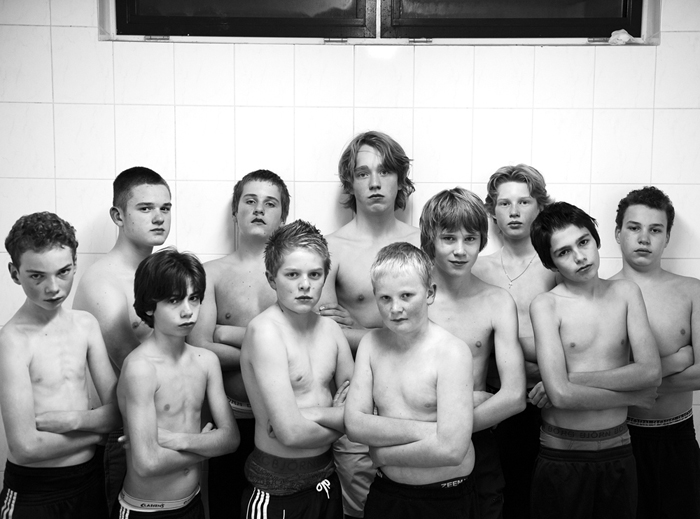 Youth in a special care farm (Volkskrant Magazine).
How does you free work sell itself?
I wanted to spend some of my time at home with the children because they were growing up so quickly. But funny enough my last child left home yesterday so I will have some more time. Maybe I'll choose to do more free work for selected media or organizations. I don't do my free work to make money; I have my income from paid assignments. Being represented at the Kahmann Gallery in Amsterdam gives me a lot of exposure. This is very helpful. Right now I am busy with a project that no one has seen yet. I discussed it in the first place with the Gallery.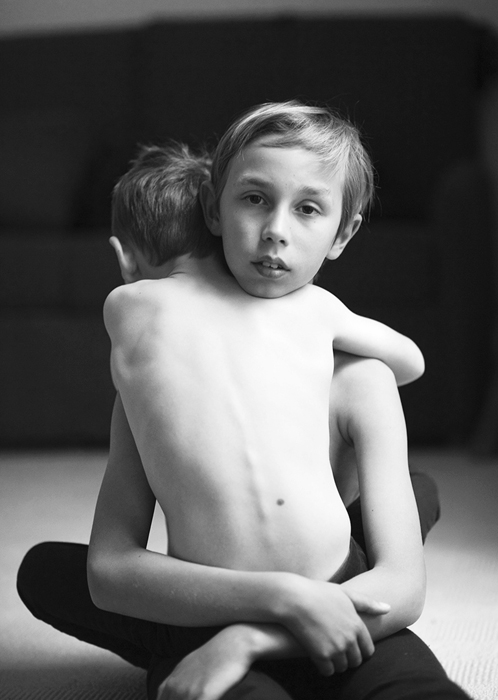 Sasha & Raphael.
As a photographer you can also send your photos in to photo competitions to show your work and to get it evaluated. I occasionally do that but I am not very consistent. The Silver Camera is a Dutch photo award. One of the advantages of sending work in is that you learn to make a selection. I also make series and present them to a newspaper. There is more chance of having it published if you discuss a project first with the editors.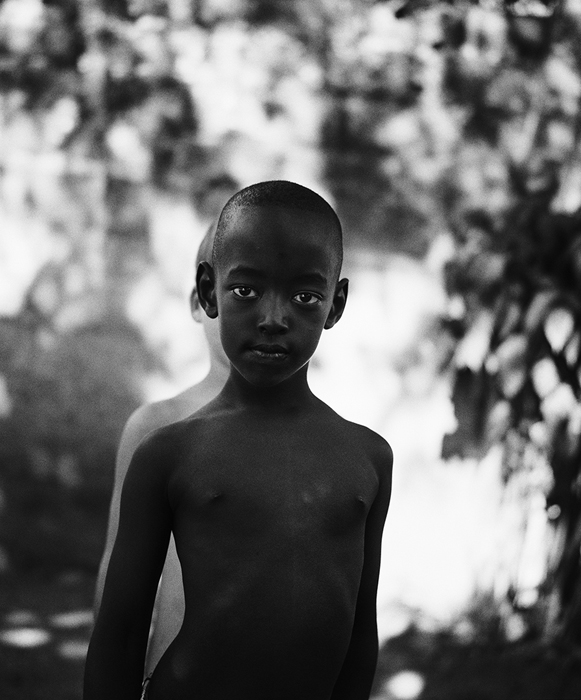 Kunda & Tristan 6 years, Zambia (Silver Camera).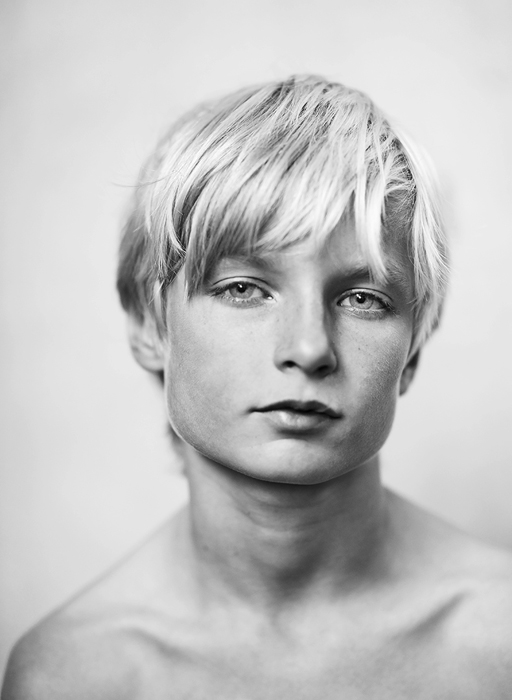 Retief, 10 years (Silver Camera, series "about ten").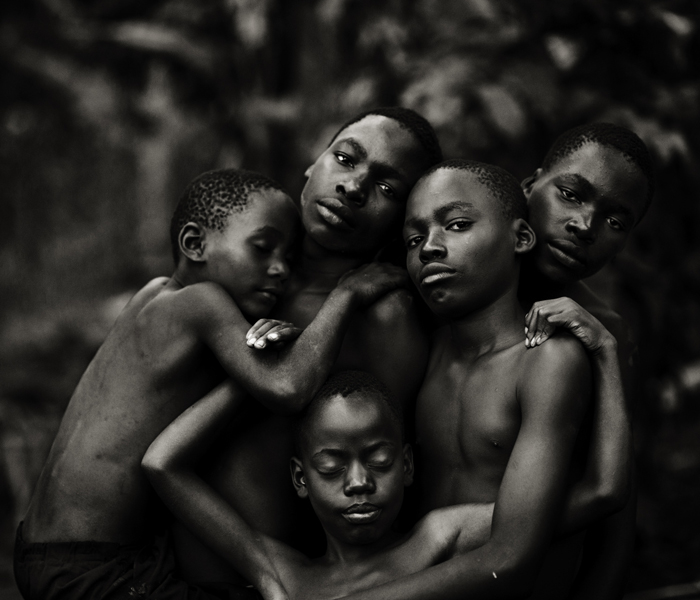 Band of brothers (various prizes, one of them the SO-Award).
Do you archive your work securely?
I keep all my work securely but I still have heaps of hard disks that are waiting to be archived on my server. When you have a good system it's easier to retrieve images. When you have a lot of work these jobs are not prioritized. I am a member of Lumenphoto and since a few months I am regularly updating portraits.
What is Lumenphoto? Do they sell your work?
It is a portrait database founded by Roland Buiting. He negotiates and sells the licenses of my portraits for use by third parties. Very convenient because I no longer have to deal with the financial side, because I redirect everyone who wants to use an image of me to him. Another advantage is that there is an attractive overview of my portraits online.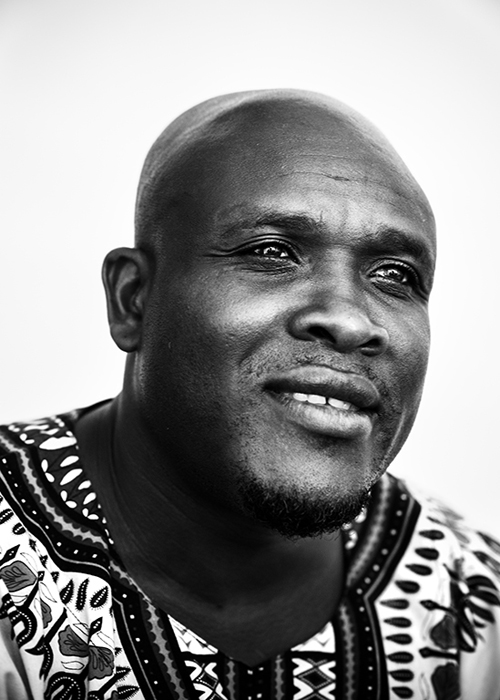 Christian Gyan, 2017.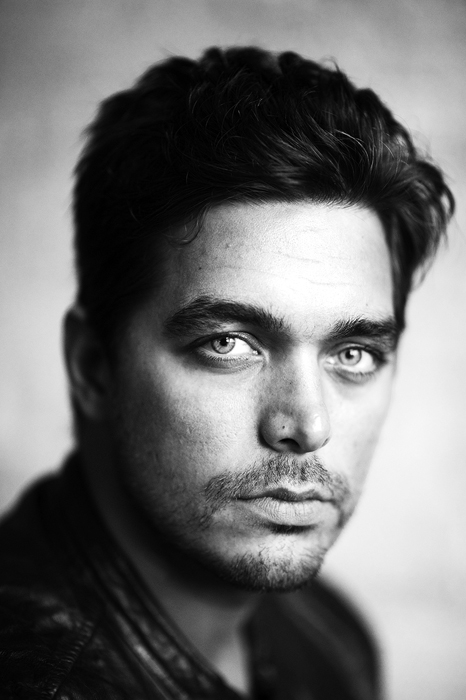 Waylon.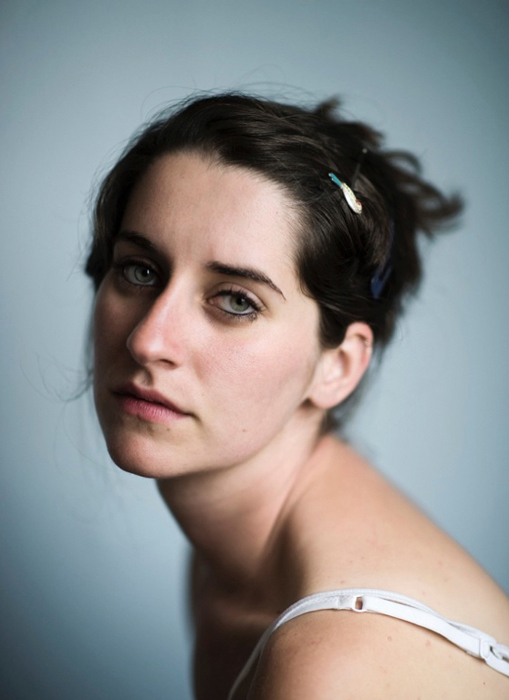 Eefje de Visser.
How do you control the use of your images? What are you doing to restrict that?
Sometimes an image is taken from the internet and then used. I am very careful with the protection of my models. I watch out that images aren't used in the wrong context. For instance when they are looking for an image in a story about Lolita's and they want to use a young girl I photographed.
I have become very strict when dealing with paid licenses. It doesn't have to be a lot. The principle is that it is work and there should be a budget for it. I also do that to increase the awareness that photographers also have to pay their bills and to protect my younger colleagues. On the other hand I do contribute free of charge to charities. I feel that is how I give back to the community. I also have a foundation "The White Cows Foundation" that I started after a commissioned trip to Uganda. We help with putting smart girls into good schools so they'll have more chances in the future. You can look at our site to get more information.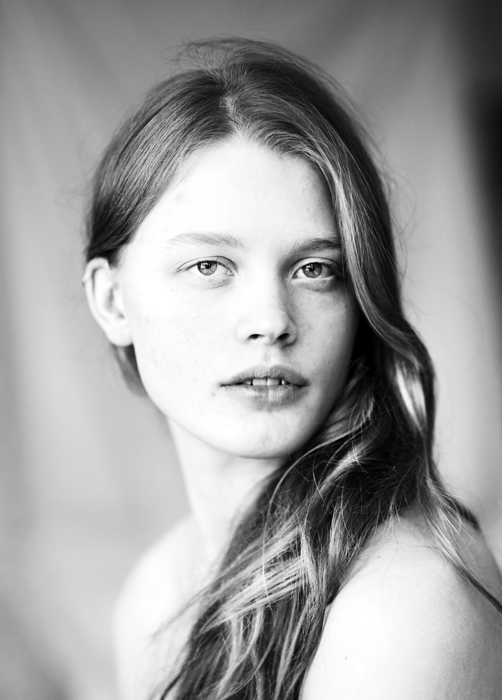 Lotte Klaver, for the Usher Foundation.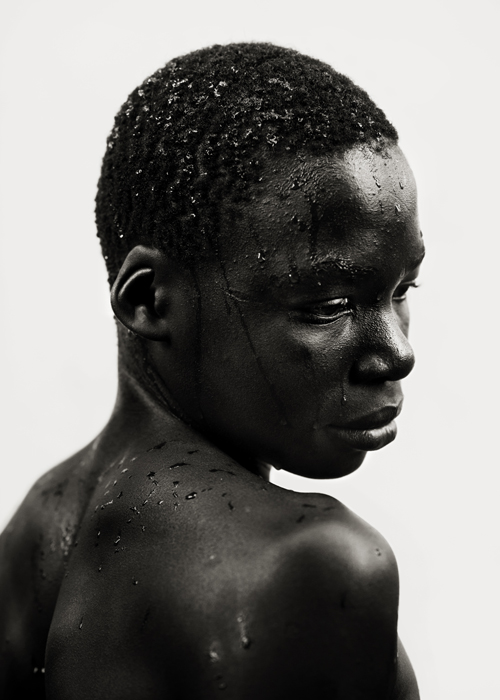 James, Uganda (Marie-Stella Maris, White Cows Foundation).
Have you noticed that photography for magazines sometimes is a sort of final point?
No, all magazines pay for work that is delivered. When there is interest in my work I react with: "How nice that you are interested. What kind of fee do you have in mind?" Then I'll get an idea how serious they are. Lately I have simply referred potential clients to Lumenphoto; that way I don't have to deal with it.
Which photo are you most proud of?
I am not easily proud but the portrait of "Jan Hoet" is an image I still like to look at because the process and the person were really fun to work with. Jan was a very friendly man. He said: "You are the artist, just tell me what to do." It turned out really well, not black and white but a blue monochrome. I also particularly like some images from my series made in Uganda: "This world is not mine".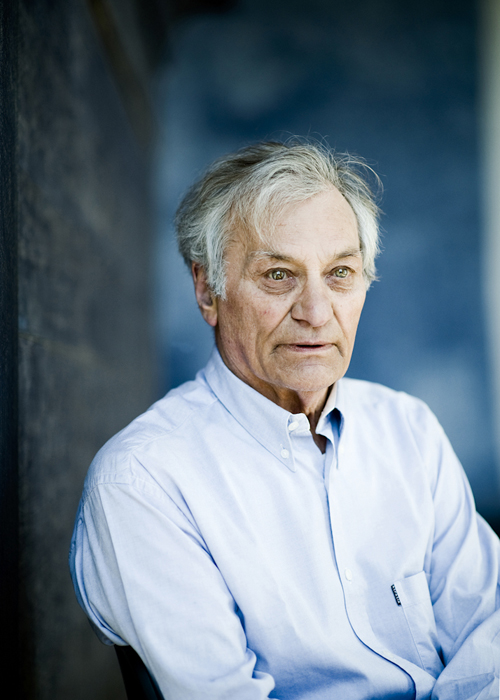 Jan Hoet.
I usually don't give my photos a title nor do I give an explanation. A photo doesn't need it; the spectator can fill that in, often based on his own experiences. That makes it personal. It's better when the viewer doesn't know much but that he becomes curious. Who is it? Who are you? That's what interests me. A title is often nothing more than a name and a date.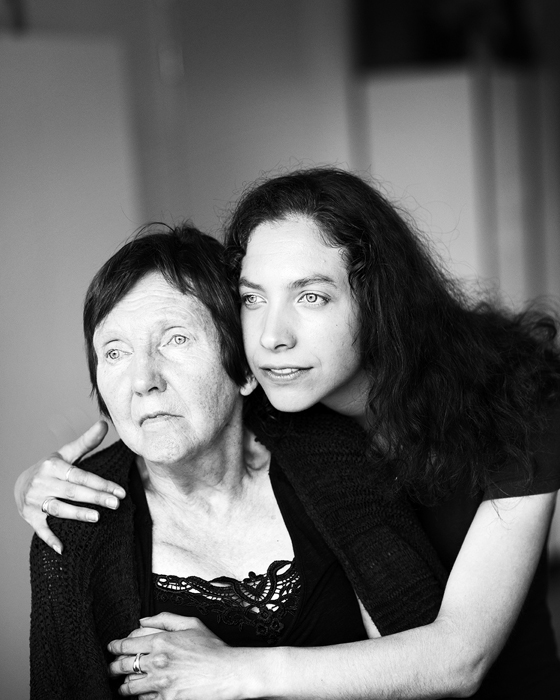 Cathelijne and mother (Series 'Family Care giver.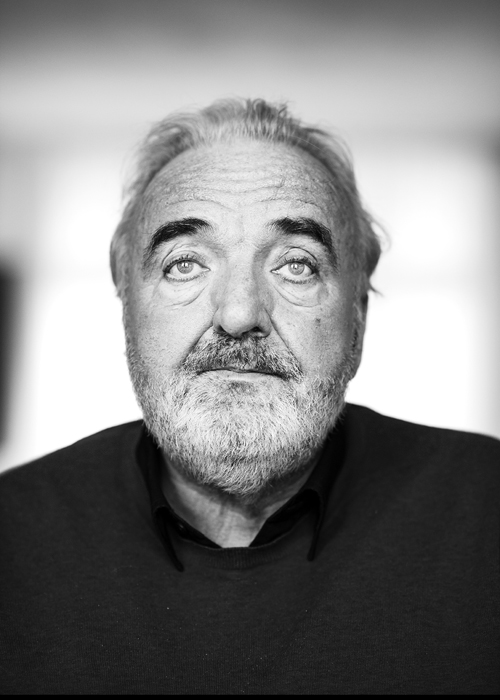 Michel van Dousselaere, 2016 (Dementia, book "The most beautiful place is memory").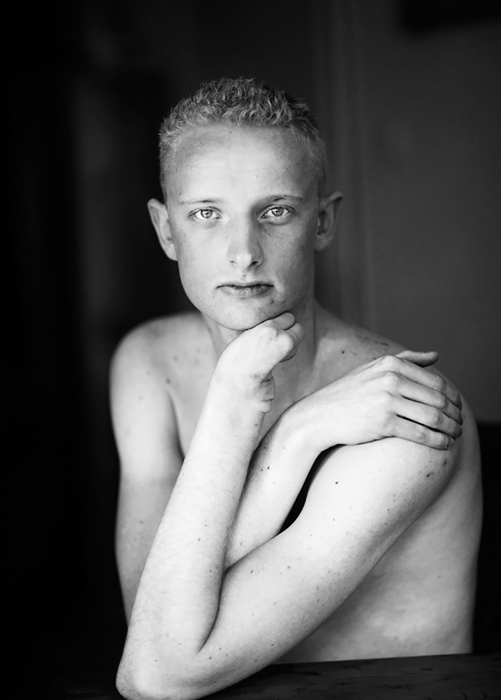 Paul Permentier, burn victim (free project).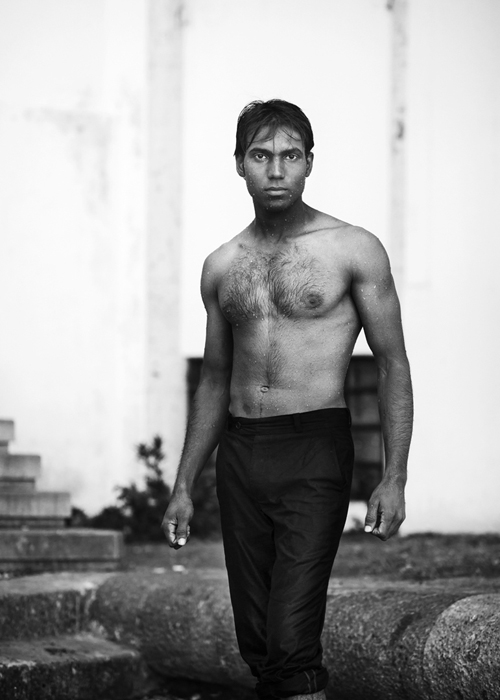 Kos – 14 - Omar (project "Sons of the world", Kos 2015).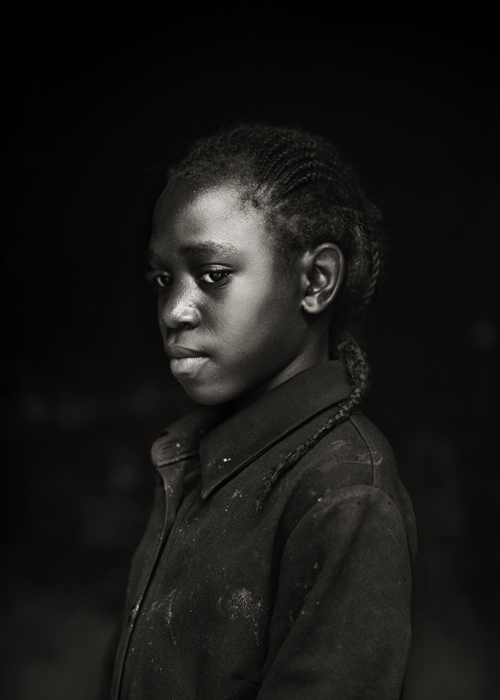 Promise's sister, 10 years (Series "This world is not mine", Uganda, 2014 for Marie-Stella Maris.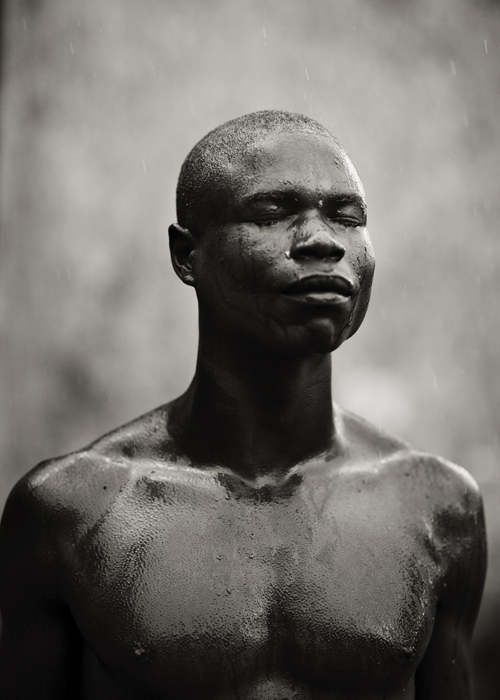 Paul, 16 years (Series "This world is not mine", Uganda 2014 for Marie-Stella Maris).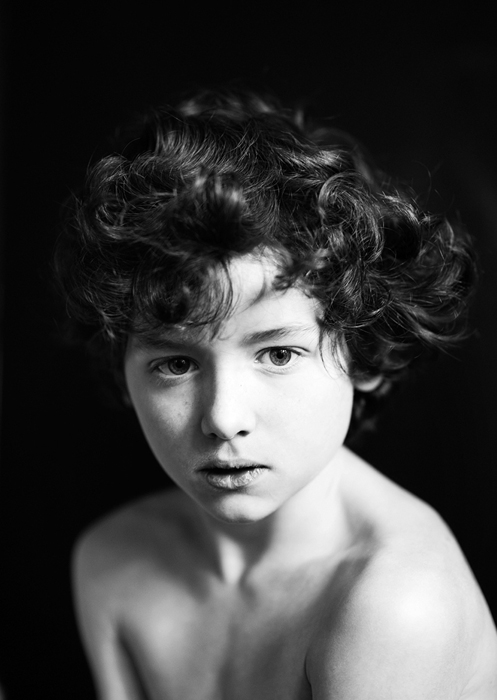 Timmer 2013 (private project).
How do you frame your photos?
I use handmade wooden frames made by Lex Lijsten in Arnhem. All prints are on aquarelle paper with museum glass.
Thank you very much for your hospitality and your story, Linelle.
View more works of Linelle Deunk here.