We are happy to feature the brilliant Swedish photographer, Tommy Ingberg. His endless creativity expressed in his surreal images is beyond sublime. Enjoy reading more about the man behind these fabulous creations.
Can you tell us some more about yourself, Tommy?
I am a photographer and visual artist from Sweden, born in 1980. I live in Nyköping, a beautiful small town about an hour south of Stockholm. I have been photographing since I was a child and have tried all types of photography. Right now I work with photography and digital image editing, creating minimalistic and self-reflecting surreal photo montages dealing with human nature, feelings and thoughts.
I have been doing traditional photography for a long time, but about five years ago, during a rough period of my life, I started creating surreal photo montages dealing with my feelings and inner life. Although I have always felt a "need" to create I don't think I ever thought it to be about more than just creating pretty pictures. This time it was different, it was a way for me to try to sort out what was going on inside me, I stopped trying to make what I thought was "art" or "good photography" to others and made pictures just for me, because I needed to. I stopped caring about what other people might think of my work.
By crossing that line I was free to tell my own stories, and by crossing the line from photography into photo montages I had the tools to actually tell those stories. The reward was twofold, it helped me as a sort of therapy and in my art I also found a purpose, something I love doing and can be proud of.
I think that we all in our own way search for answers, trying to make sense of life, the world and being. For me, this is something I do through creating pictures.
What first attracted you to photography?
When I was 15 years old I got my first "real" camera, a Praktica with two lenses. It had no auto focus and the metering did not work. I spent endless hours experimenting and shooting as much film as I could afford. It was then I really decided that I wanted to do photography. I needed a way to express myself, and instead of playing in a band, painting or writing I chose photography. What followed were several years of intensive photography but it was first when I could afford a digital camera that I really started to develop, thanks to the fact that I could see the result directly in the camera, the whole process of trial and error was sped up tremendously by not having to wait for the pictures to come back from the lab.
Since then I have tried several areas of photography; portraits, concert photography, street photography, nature photography and everything in between. I can't tell you why I chose photography, but there is something about it that really speaks to me. Even nowadays I can still feel that excitement when I know that I just captured a great picture, often when something unexpected happens in front of the camera. No matter how well you plan your shoots, there is still an element of chance involved and I love that about photography.

You have a very personal photographic vision. Can you describe it ?
With my surrealistic work i am trying to explain something abstract like a feeling or a thought, expressing the subconscious with a picture. For my work I use my own inner life, thoughts and feelings as seeds for my pictures. In that sense the work is very personal, almost like a visual diary. Despite this subjectiveness in the process I hope that the work can engage the viewer in her or his own terms. I want the viewers to produce their own questions and answers when looking at the pictures, my own interpretations are really irrelevant in this context.
I try to make simple, scaled back compositions with few elements, where every part adds to the story. By making them devoid of any distractions like elaborate backdrops or figures in the foreground I also try to achieve a kind of dreamlike silence. Sometimes less is more, and for me one of the most interesting challenges of creating this kind of work is to try and find a simple but yet ambiguous visual representation of something very complex.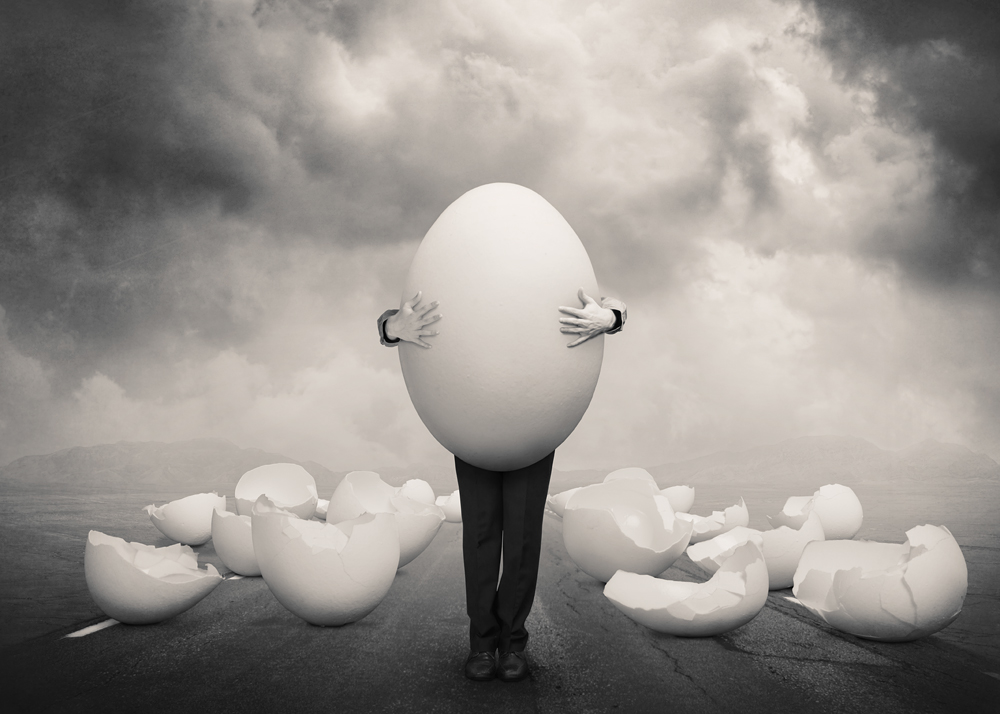 How important is the story behind an image? Is it more important than technical perfection?
I think that the story and content of an artwork is absolutely more important than technical perfection. If there is no communication or story it's just empty imagery, and kind of meaningless. As long as lacking technical skills don't get in the way of the story being told I would even say that I generally prefer work that's not completely perfect, it's somehow more interesting.
What advice can you give to a beginner in creatively edited photography?
I learned, and am still learning, by practicing. If there is something I don't know how to do I try to look it up on the Internet. It's a fantastic source of information and I owe a lot to all the kind people sharing their knowledge and writing tutorials. For me it's always been easier to have a vision of what I want to achieve and then trying to find a way to do it, rather than doing exercises in a book or a workshop. But of course, that's different from person to person. If there is one important advice I have it would be to pay attention to your source files. Spend as much time, or more, with the camera as you do with Photoshop. If you plan and execute your shots well and with the final picture in mind, the Photoshop work will be a lot easier.
Do you have some favourite photographers and how did they inspire you to develop your own style?
During my years of photographing and trying to find my own voice I have tried almost every kind of photography you can think of, and I've been influenced by many different photographers working in widely different fields of photography. To name I few off the top of my head: Henri Cartier-Bresson, Diane Arbus, David LaChapelle and Anton Corbijn. But there are really too many to name, I have consumed a lot of photography through the years. What inspires me about all these great photographers is their ability to capture an expression. It's kind of a vague term, but I don't know how to put it in words, there is something about great photography that evokes an emotional response in me that I don't often get from other types of visual art. Even though my work nowadays visually is more related to painting than traditional photography it is still in terms of source material 100% photographic, and I try to incorporate that unique characteristic of photography into my work.
How do your see your work in the future? Any specific directions or goals that you wish to achieve?
Right now I'm focusing on creating new work and developing my craft. In May my work is being exhibited during the International biennial of photography, arranged by the National Museum of Photography in Colombia. Other than that I don't have any concrete plans. Last year was turbulent with a lot of things stealing focus from creating. I also became a father for the first time. Now I'm just enjoying a calm period of creating and spending as much time with my family as I can.
What do you think about 1X as a home base for your work ?
I have been on 1X for may years now and I think it's a fantastic site with a high level of quality. I am thankful for getting the chance to share my work and story with you!