I've always loved making "living" still life photos. I believe that chess pieces, clothespins, fruit or even keys can tell stories better than people. In fact, chess pieces are my favorite models.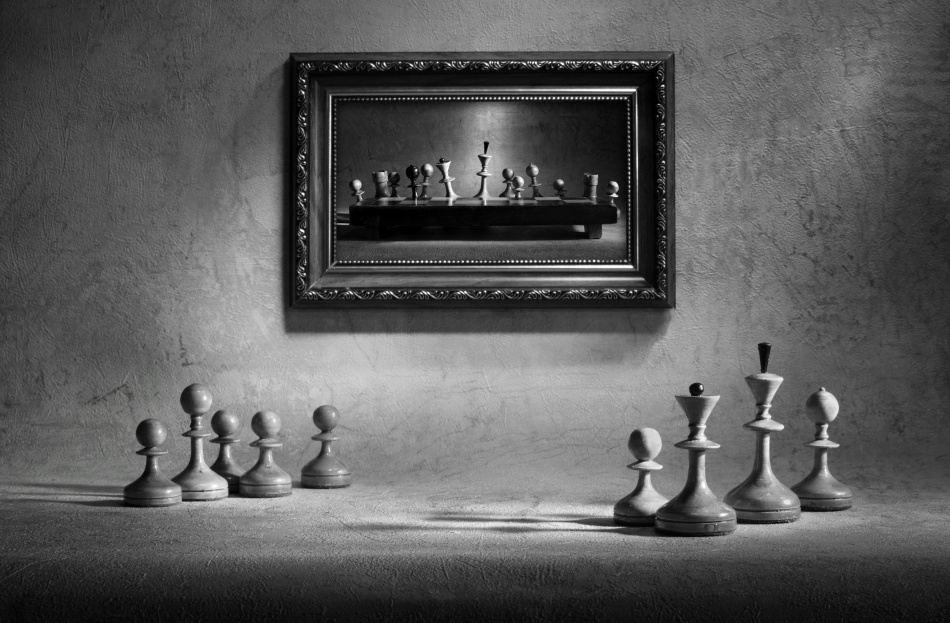 Canon 5D Mark II . 50mm f/1.4 . 50mmmm . 10ss . f/1.16 . ISO 160
This time I decided to make a story about chess pieces who visit an art exhibition. At first I wanted to make an exhibition of modern art for them, but then I decided to create something more classical. I chose a well-known piece of art to copy. I really love Leonardo da Vinci's work, and I love the book "The Da Vinci Code." The book helped me to decide which chess pieces to choose for the photo.
These photos were taken in a small dark room. I didn't use any special studio equipment. I used my table for this still life, a roll of vinyl wallpaper as the background, a tripod and a pocket flashlight with 6 light-emitting diodes (LEDs) as a light brush. I first shot the photo with the chess pieces standing in a "museum" and "looking" at the picture. There was no picture, of course. I just put an empty frame on the background. The second picture was the "Last Supper." I used the same background and the same light brush. Both pictures were shot in RAW format.
"In this series, I tried to show what the chess pieces feel, think and do when they are not obligated to follow the rules of the game."
This photo is a part of my "Chess project." In this series, I tried to show what the chess pieces feel, think and do when they are not obligated to follow the rules of the game. With this photo, I tried to tell three stories: the story about the Last Supper; the story about the chess pieces who can live a life not limited by the rules of the game; and the story behind it, written by Dan Brown. I placed a queen near the king to make my picture resemble the one in the book "The Da Vinci Code."
The reactions after making the image public made me quite happy. Some people wrote to me that they had read (or reread) the book after seeing my photo. Some people said that they bought books to learn more about da Vinci and his works.
Of course, there were people who did not like Dan Brown's theory and, in turn, decided they didn't like my photo either. There were some discussions about it. But I think that all the discussions are good for a photographer because they indicate that the concept is interesting and worthy of conversation.
I used Digital Photo Professional (DPP) to process the RAW images and Photoshop CS3 to create the final image.
1) I opened the RAW files in Digital Photo Professional (DPP) and converted them to black and white while adding some contrast. I then saved the images as TIFF files.
2) The TIFFs were opened in Photoshop CS3. I inserted the "Last Supper" photo inside the frame on the first photo. Here I had to add some shadows inside the frame.
3) After that, I merged the two layers and the work was finished.
1) To emulate this lighting effect, use a simple LED flashlight. If you wish to have soft light and soft shadows, then spread some hand cream on the lens of your pocket flashlight. It is good to refresh it every fifteen minutes — don't let it dry.
2) Always use a light brush in darkness. Be sure that no light leaks into your room when you take the photo. Even an illuminated computer monitor can spoil the result. It's better to use a blue or white colored light beam if you wish to convert the color photo to black and white in post-processing.
3) Take at least five frames of every photo. Each time, the trajectory of your light brush will differ slightly. You can choose the best version after the photo shoot.
Photography is the best way your friends can see the world through your eyes. I am a senior lecturer in a university (Candidate of Economics) and a PR manager in Russia, but photography is the best part of my life. I enjoy participating in different photo exhibitions and projects in Russia and other countries. I take part in charity exhibitions that help lonely people and homeless animals, and I've organized one as well. It was very interesting to work on a project with other photographers. I hope to do it again.