Can you tell us something more about your work flow?

Once I have an idea, at first I go and take the necessary shots I need. I then begin working on my main background as at most times, it consists of several photos. On completion of the background, I work on my main subject matter. At the end, I adjust the tones, lighting contrast and the general mood. Sometimes, the whole process is all spontaneous, I simply pick a photo that I like and begin working on it. The ideas and the mood comes to me while I am working.
What is your most important advice to a beginner in Artsy, Mood or Creative Edit Photography and how do you get started?
Firstly, my advice is to improve photography techniques, and to never go for costly gear. Beginners should learn as much as they can about the software they want to work with. Reading books is important as they are gateways to words unknown to us and help us with our own creativity. Studying work created by other photographers, illustrations, drawings and paintings. Finding out what element of their work attracts them. And last but not least is patience. Nothing can be achieved with haste. Especially in editing. It not only requires a lot of practising, it sometimes takes hours, even days, to finalize an image.
Who are your favorite photographers and more importantly, how has your appreciation of their work affected how you approach your own photography?
My favorite is Jerry Uelsmann. I also like the work of artists such as Ivana Stojakovic, Dariusz Klimczak, Michal Karcz, Nikolina Petolas, Marcin Sacha, Pierre Pellegrini, Nathan Wirth and my friends Milad Safabakhsh and Kamyar Adl. They all inspire me in different ways.
Describe your favorite photograph taken by you and why it is special to you?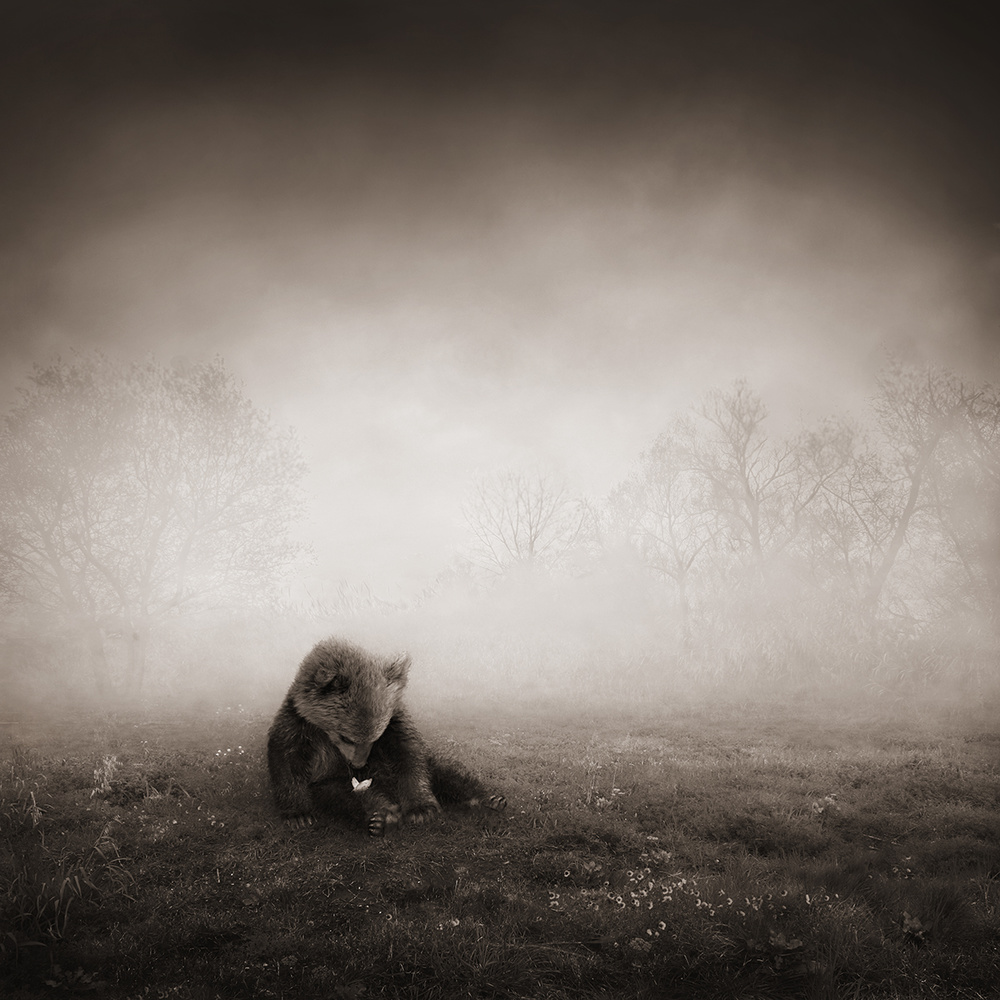 At the moment, my favorite photos are the ones with the bear cub in them. A friend of mine who is an environmental activist and works voluntarily at a wildlife animal shelter in Tehran called me and told me that they had brought in a little bear cub. The cub's mother had been killed by hunters and she was left alone in the wild. Fortunately she had been found and brought there. They named her Dena. I could hear her cries before I could even see her. Later I was told that the cub cries for her mother and is feeling lonely. I got the permission to enter her cage as she was still very little and couldn't do me any harm.
After I played with her for a little she started to eat then she went into a corner and slept. In the meantime, I took as many pictures as possible of her. I couldn't stop thinking about her and started to imagine her in places that she deserved to be instead of captivity. Imaging her as a free and happy little cub helped me to overcome the immense sadness I felt for her.
Is there anything else you wish to add and what do you think about 1X as a home base for your work?
First I would like to thank you dear Yvette for the interview. 1X is very popular among photographers in Iran and I enjoy the curating system 1X has in place. The quality images published are amazing. 1X has introduced me to many great photographers, wonderful photography and various genres from all around the world.