by Editor Wicher Bos
Tom Hegen is an award-winning German photographer known for his aerial photography projects. The focus of these projects is on landscapes that have been altered by human intervention.
The Salt series is iconic already, the almost abstract images show human impact with a convincing intensity and beauty. Other recent projects were photographing, tulip fields, coal mines, forestry and waterways coloured by industrial waste.
One of his latest projects is named after the Paris Agreement objective, Two Degrees Celsius, in which Tom documents the effects of global warming by photographing the Arctic ice sheet from an air plane.
Very happy that he is willing to free up some valuable time for the 1x.com community and provide some background to his photography.

COAL MINES SERIES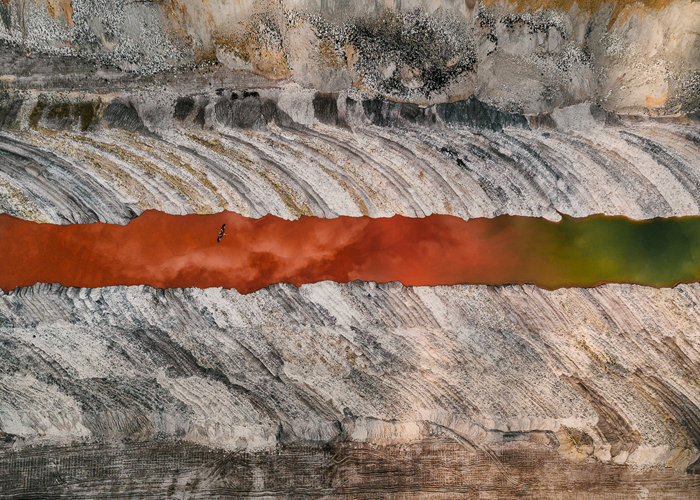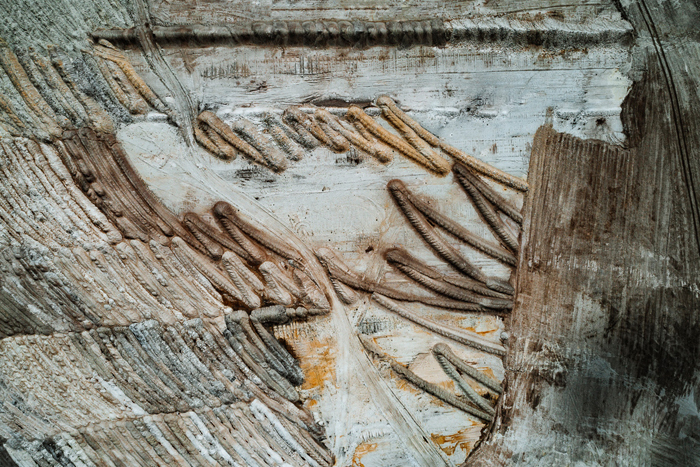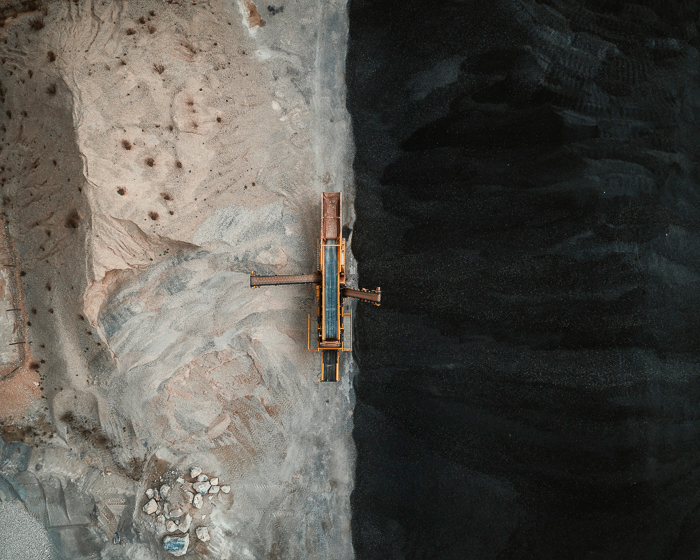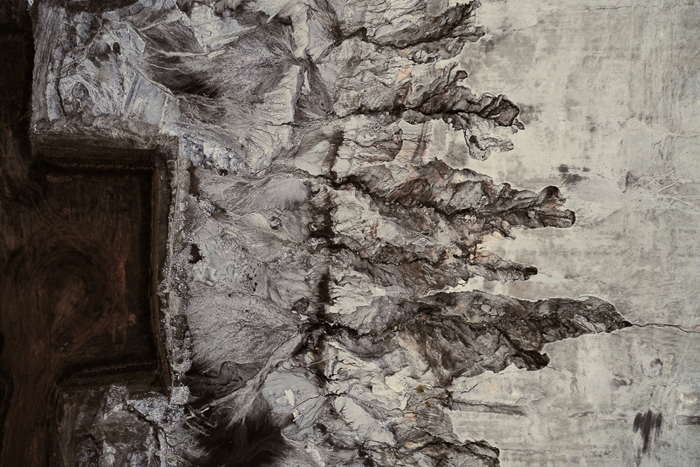 To start, who is photographer Tom Hegen?
I am a photographer, specialized in aerial photography. Before I came to aerial photography, I started off with classic landscape photography but soon realized that those sugar-coated shots do not represent their real environment. I began to question the term »landscape« in a sense of »landscaping«. As a consequence, I now focus on landscapes that show the impact of human prescience on earth.
How did it all begin, there are many ways to expose human impact on the environment, how did you come to make aerial photography?
I am interested in the concept of the Anthropocene. It is a term used by scientists which theorize that humans, in recent centuries, have become one of the most important factors influencing the biological, geological and atmospheric processes on Earth. Some of the most significant changes in the Anthropocene include climate change, the ozone hole in the Antarctic, rapidly rising sea levels, and landscape changes caused by river shifts or the degradation of raw materials. In my photography, I explore the origin and scale of that idea in an effort to understand the dimensions of man's intervention in natural spaces and to direct attention toward how humans can take responsibility. Aerial photography is a compelling way to document those issues as it basically makes the dimensions of human force on earth visible and it enables to show subjects in connection to their environment on a much larger scale.
How do you select your landscapes? Can you explore these landscapes in advance? There must be some plan, I suppose?
My photography projects are very much research driven. I do a lot of research on the subject before taking the actual photos. It takes a whole lot of preparations to get a project on track. I am always planning my projects a good time before the actual production. Preparation is really important when it comes to aerial photography. It really helps for a safe and successful aerial production. I basically work with a four-step-method of research, concept, execution and evaluation. For scouting the locations, I also use high-resolution satellite software to get a better idea of the landscape.

TWO DEGREES CELSIUS SERIES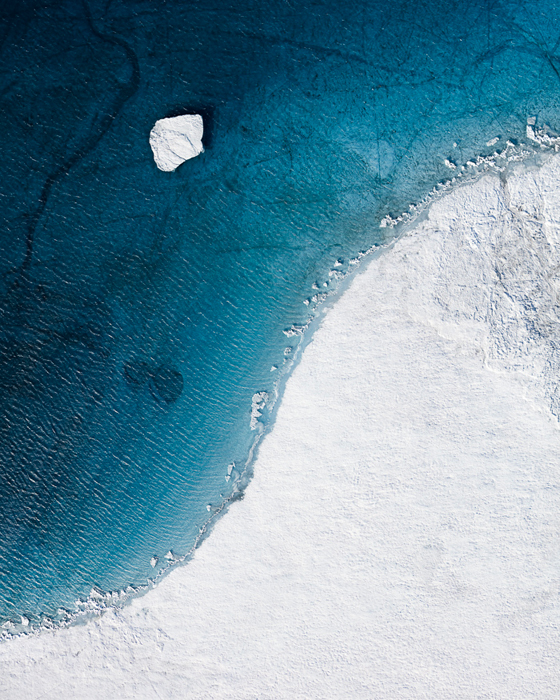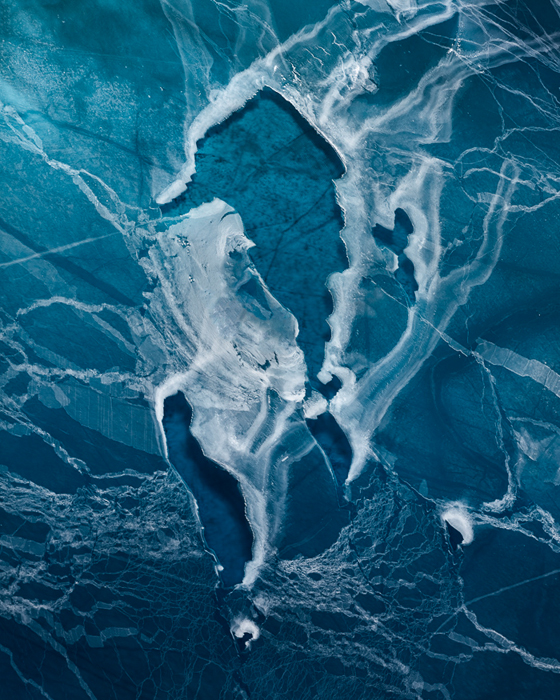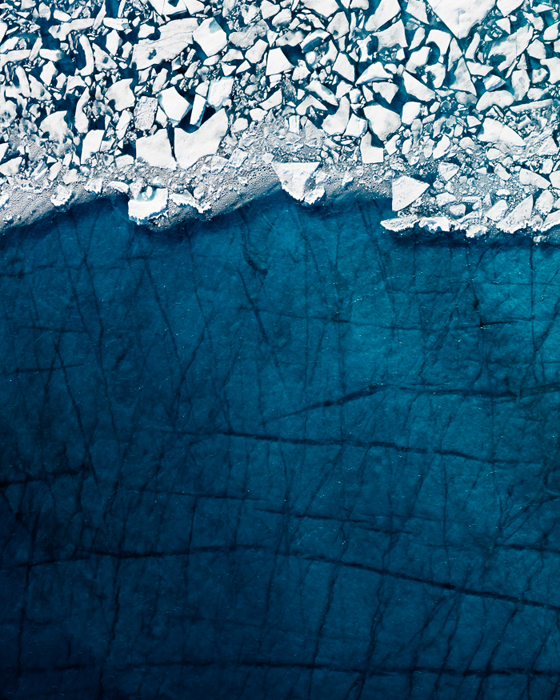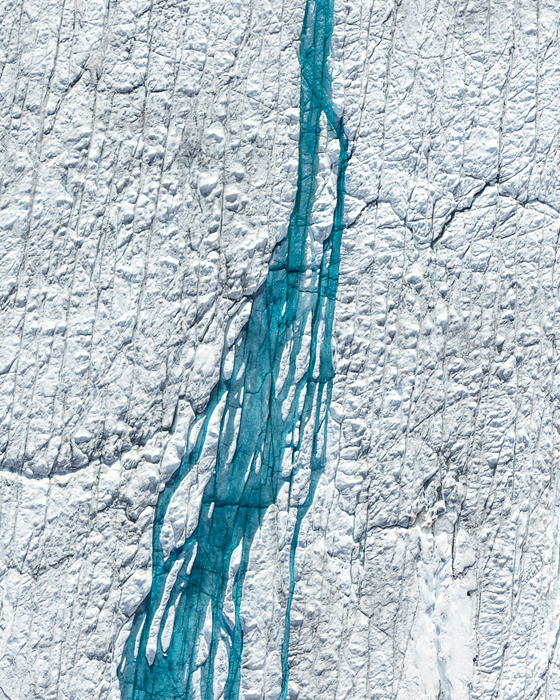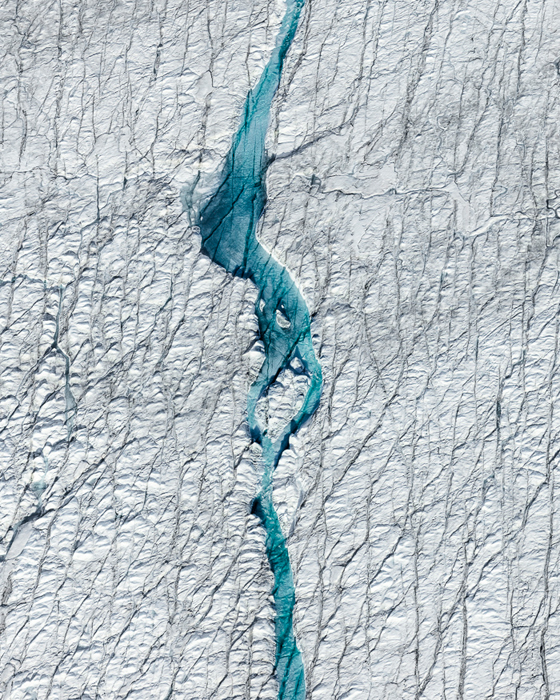 Your focus is on the relationships between humans and their natural environment – can you give some examples that clarify how you approach this, and what selections you make?
The idea of my photography projects is to raise peoples awareness of environmental relevant issues. But I don't see myself as the guy who is pointing the finger on saying what we've done wrong. I would more like to inspire people to think about how we have an impact on our environment. Therefore, I try to focus on landscapes, that show the impact of human presence on earth. On how we claim our environment in order to meet our needs. I see myself as a frame builder, who frames the canvas earth, where we are painting on.
As we are an artistic photography platform: What in your opinion, makes a good photograph?
Besides the technical and aesthetic part of a photograph, I think it a photo has to tell a story in some kind. There are so many brilliant photographers and great photos out there. For me, however, the message of the picture is very important.
How important is post-processing your images? Do you restrict yourself in this respect? How do you decide when you're done?
Post-processing is part of my photography workflow. I think of every image as a piece of artwork, that could be hung on a wall. However, I try to restrict myself to "don't remove, what has been there and don't add that has not been there".
Is there in your portfolio one image that in particular makes you feel proud or has a special emotion to it? Why?
The photographs from my recent project »Two Degrees Celsius Series« are personally very meaningful to me as they were really hard to shoot. I took the images on a couple of flights with a small air plane over the Arctic Ice Sheet. There is a big difference in photographing from an air plane or a helicopter. Helicopters can hover over one particular spot. Air planes not. Imagine shooting out of an open window of a moving car with 150km/h, with a 200mm zoom lens an animal in 500-meter distance.
Can you elaborate on what is it specifically you want people to see?
The idea of my photography is to create an awareness of environmental relevant issues. I use abstraction and aesthetisation to get the viewer's attention on topics, they wouldn't necessarily focus on. I hope that people start asking on what they are looking at and to start thinking of how that affects our planet. With my photography, I would like to start a discussion on how we can make our planet sustainable for further generations.

SALT SERIES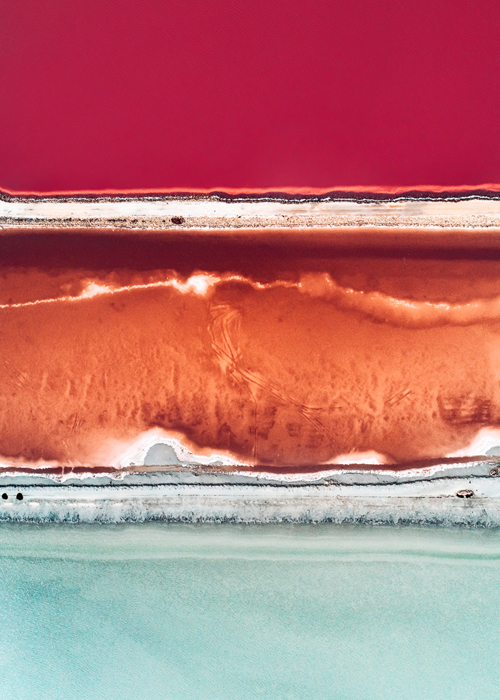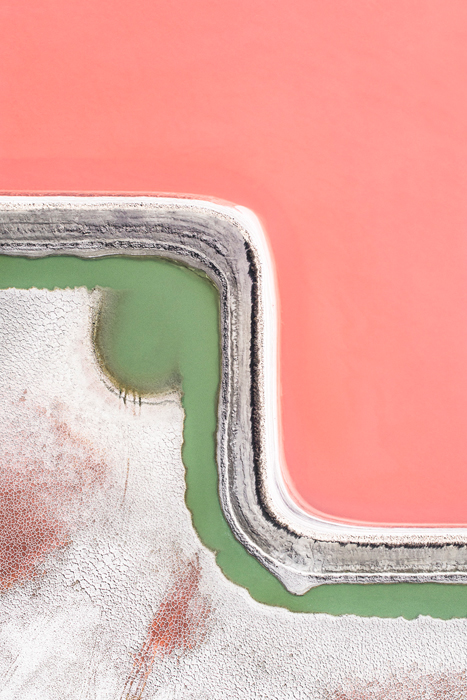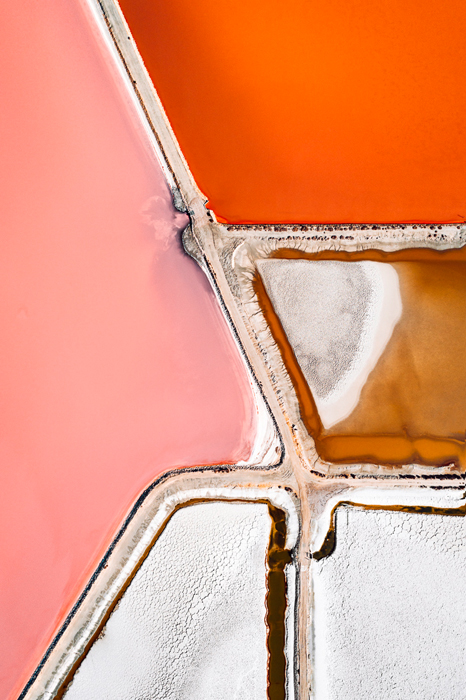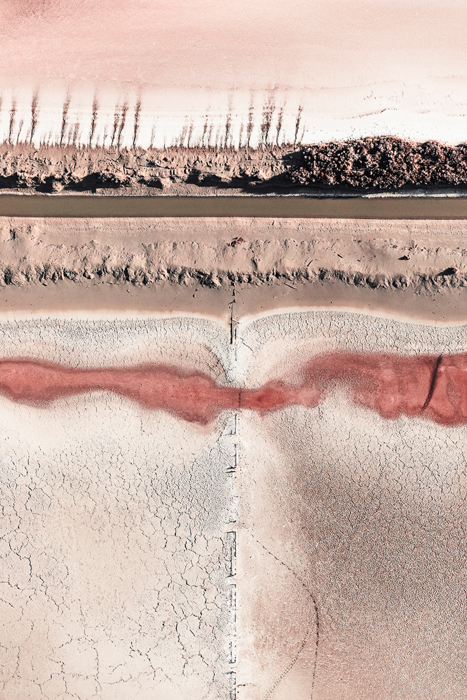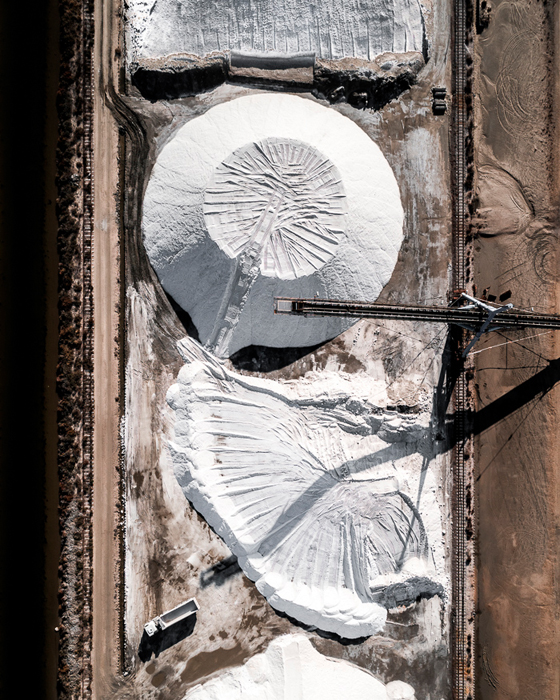 What other artists, be them photographers or not, do you see as examples or do you admire and why?
I really enjoy looking at the work of abstract painter like Mark Rothko or Jackson Pollock and how they managed to create an exciting composition with few stylistic elements. I also admire the work of aerial photographer pioneers Georg Gerster (Switzerland) and Yann Arthus-Bertrand (France).
Is there anything else you wish to add?
In November 2018, I published my first aerial photography book »HABITAT«. The photo project »Habitat« deals with human intervention in natural environments. It raises the question of when man's influence on Earth began and how our civilization has developed since that. The book "Habitat" documents the relationship between man and nature by aerial photography. Five chapters and 90 photographs show traces of human presence on Earth. Each chapter is supplemented by some representative facts and infographics that illustrate to which extent we claim our environment in order to meet our needs. The book can be purchased through my website www.tomhegen.de

Thank you, Tom Hegen for sharing more about your passion in life and in photography. We're excited to see what works of art you come up with next.

ALL PHOTOS COURTESY TOM HEGEN © Tom Hegen
For further reference see Tom's website: www.tomhegen.de
Instagram: @Tomhegen.de