Spotlight Series II
by Graham Daly
In the second installment of my new Spotlight Series articles, whereby I focus the spotlight on particular 1x Members and their images as well as their techniques, I will be shining the spotlight on Redmere Photography and getting a behind-the-scenes look on how the "Black on Black" image was produced.

Who is "Redmere Photography"?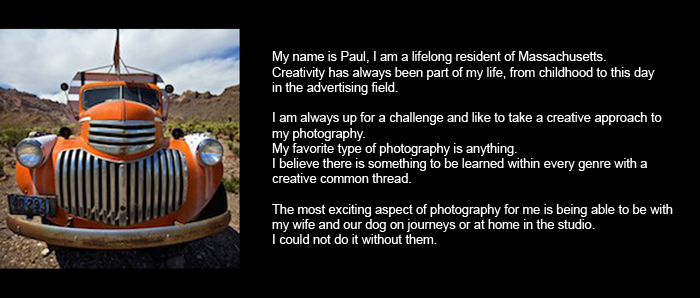 When did you join the 1x community? What do you like most about 1x?
It was all just a learning process in the beginning, so I would move from one community to another. As you navigate through the photo sharing communities, you learn about caliber and distinctness. I joined the 1x community in 2013. It was during the point when I had committed to photography seriously. I had come upon 1x looking for a better platform to showcase my work and get new inspiration. Its concept was an intriguing one—"curation". I asked myself, do I have the talent to do that?
The 1x community brings a caliber that truly is upper echelon. The talent is outstanding from their creativity to professionalism. It is a pleasure to be able to contribute to the 1x catalog and hope for many more. I am thankful to be associated with a community with so much talent.
I see a lot of Still Life / Product Photography images in your 1x portfolio. Would you consider this to be your main or preferred genre of photography?
No, just one of them. Still life is great because you control the scene, lighting and time to work. I often work in the middle of the night or leave it for the next day for a revisit. The other genres are not quite the same, which makes it unique. I also shoot abstract, architecture, conceptual, interiors, landscape, portraiture and stock photography. I truly believe that variety is the spice of life. It all depends on the day and everyday is different for me. That variety makes me happy. It gives me something new to look forward to. If I am frustrated, I can move on to another idea, concept or genre. It must be my personality, but it works for me.
Do you provide these style of images on a commercial basis? Is commercial Product Photography a hard field to get into and get established in?
Not on a commercial basis, but there always opportunities out there. The majority of my work is personal development and then comes contracts for clients. It is a constant learning process, it just gets easier the more you do it. I use the same equipment for all my genres of work. My Still Life work is done without a huge investment in studio space and equipment. Conveniently, I can just go downstairs to do this work anytime.
While browsing through your great portfolio here on 1x, I came across your image entitled "Black on Black". It really is a great shot. Could you explain and walk us through how exactly you went about producing this fine piece of imagery?
Thank you, I am glad you like it. The concept came about from a competition on a photo-sharing site for the theme of "Coffee". The shot did not take very long to setup and shoot. Start to finish was about 90 minutes including post processing. The concept was to shoot an image that was super high contrast black and white with wisps of steam coming off the coffee within the cup.
First I placed down a 24" x 48" black acrylic sheet and cleaned it thoroughly. Dust is always and issue no matter how much you clean acrylic. With this material you will always spend some time removing dust spots. One just needs to accept this.
Then I placed a black foam board toward the back of acrylic sheet to help maintain the seamless black environment.
The lighting setup is quite simple, a single Canon 600ET-RX Speedlite in a Profoto 1x4 strip softbox and a PocketWizard remote trigger. The light was positioned on the right side and behind the cup. The softbox was in a position that only directed light forward not toward the background. A white bounce card was then added directly opposite the light source to help illuminate and define the opposite side while illuminating the spoon handle.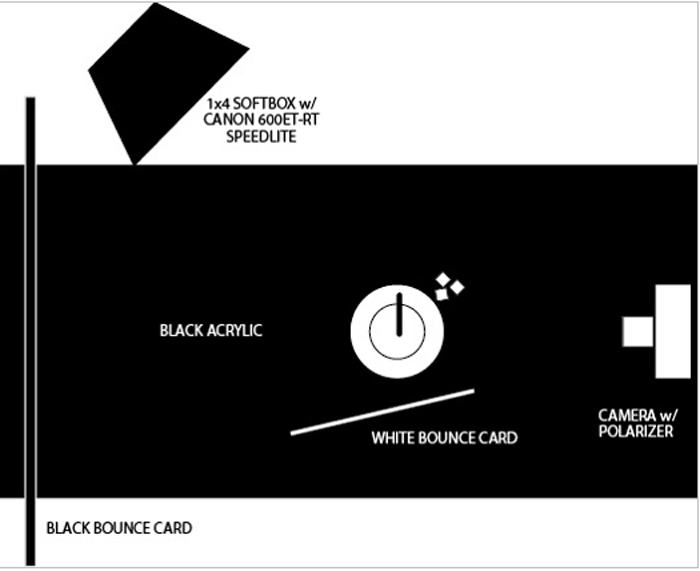 For this idea, staging the elements was trial and error throughout the shoot. The overall thought was to place black against white where ever I could to create layering and dimension for depth.
The choice of lens was one of my favorite prime lens, Canon EF100mm ƒ2.8L Macro IS USM. This is my go-to for most work like this for the sharpness and focus distance. Typically when shooting with acrylic, I will additionally use a BW polarizing filter to help control reflections.
Post work was done primarily in Adobe Lightroom then Adobe Photoshop for the final touch of steam.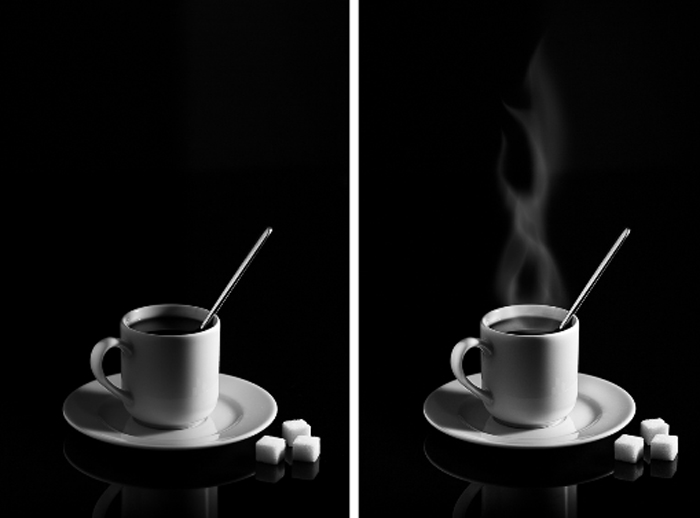 Image was shot hand-held using the RAW file form with an ƒ/5.6 aperture, a shutter speed of 1/160th of a second and ISO 100.
My 90-minute investment turned out well. "Black on Black" went on the win 1st place in that competition, curated on 1x and Editors Choice on 500px.
I noticed you used Black Acrylic as the surface of the shot which of course is great for providing a clean single reflection for the subject itself. I too have used this type of surface but I have often found it to contain a nasty static charge which always attracts every single piece of dust in the environment around it and this ends up being captured in the exposure. How do you overcome this?
I know exactly where you are coming from, been there and done that!. Like I mentioned, with this material you will always spend some time removing dust spots, you just need to accept it. But additional to the dust, acrylic is very easy to scratch. When I first started using this material I came across a product called NOVUS 7100 Polishing Kit. It is a three-bottle kit that has different strengths for scratches as well as cleaner with anti-static properties. It has helped to manage this common problem, but not fully solve it.
Another trick that I use to battle the dust issue is to shoot the background to extreme black or white. I find that managing the light falloff is a necessity to minimize cleanup in post.
Optionally, a piece of glass with a black cloth underneath can also work to create this type of reflectivity.
In your opinion, what kind of setup and materials would someone need in order to produce shots like this? Can you recommend a budget setup for beginners as well as a more finely-tuned setup for working professionals looking to break into the commercial Product Photography arena?
This is a technique of shooting that can give impressive results.

On a fundamental level it would be an acrylic sheet. I have a black and a white version. You can also transform a black or white sheet into a gradated one. It is done by a strategically placed bounce card or softbox applying the inverse square rule. My 24"x48" sheets were $40-US each.
Bounce cards are always a necessity. I use white foam core for reflectivity and black foam core to absorb or flag light. You can't have too many of those. 18"x24" $3-US each
A polarizer is optional, but does add control with a penalty of loss of light, 1–1.5 stops. On the plus side, it is also a multi-purpose tool for your bag. Prices vary, $25-US and up.
In the end it is not a huge investment, but they are the fundamental tools.
Finally, what advice would you provide to aspiring photographers looking to get themselves established in this area of photography?
First and foremost, it is about doing. Developing your skills goes a long way. These fundamental concepts can be applied to other situations.
Shoot in RAW format, it is the only way to capture images. You will never go back!
Learn lighting techniques for different types of materials. Lighting plays a very important role with objects in still life. You will also need to train your eyes to see what is missing and balance what should be seen.
It is all about creating volume, depth and definition.
The best part is that you are in control of the light.
Without light you would not have an image.