Published by Yvette Depaepe in collaboration with Alfred Forns, Head of the Senior Critics
1x has a unique feature the founders are very proud of: the photo critique. Members can submit pictures to a team of knowledgeable senior critics. Their feedback is useful, interesting and enriching even for the best of us.
Critique on the photo 'Ready for take off" submitted by Gerda J. Hoogerwerf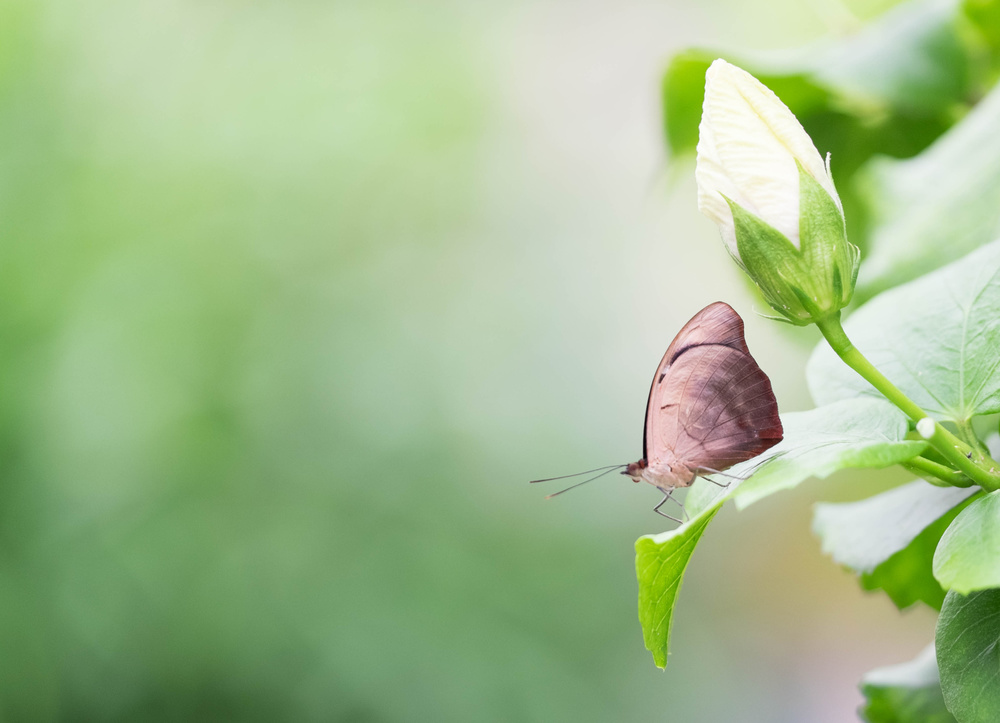 There it is! That one single moment in which she holds still, before conquering her world. Timing is everything and you're trying to keep your cool. Then she takes off and you can only be grateful for the wonders of nature.
Even though I think this is a strong subject and calm composition, I think it may lack some spunk, some originality. It's a crop of a wider shot and in the wider shot the colours of the butterfly re-appear.
Any ideas on improving this photo technically or in post-processing?
__________________________________________________________________________________


Member Miro Susta
Nice butterfly and flower photo. Maybe I can give you some hints for improvement.
Try to slightly darken the butterfly and increase a bit the contrast to make the texture more visible.
Also try to darken the white flower and the leaves. Both are too bright. If you have Photoshop you can play a bit with highlight, shadow, black, white...
There is too much empty space at the left. I'd crop it a bit and I'd also flip the photo horizontally.
Gerda J. Hoogerwerf
I find your first tip very valuable. I can imagine more definition in the wings will let the butterfly stand out more. I feel a bit reluctant to apply your second tip because I don't find the leafs of the plant very beautiful, especially the broken twig. I'd rather leave them high key, so this flaw doesn't stand out much and doesn't draw too much attention, distracting from the butterfly. I do think though, that the flower could use a bit more definition too. I will certainly take your advice into consideration and play around a bit.
__________________________________________________________________________________

Senior Critic Steven T
It's a lovely, delicate image of the butterfly. The background blur isolates the subject nicely, and the warm tones of the insect help it stand out against the overall cool, green theme.
My comments will overlap Miro's.
The highlights should be darker - there is some wonderful texture available in the flower petals. I realize there is nothing 'clipped', and you wanted high key - but some subtle textures in the bright areas would be a nice addition, I think.
The broken stem could easily be fixed. If you're a Photoshop user, then try outlining the round white area roughly with the Lasso tool, then go to 'Edit>Fill>Content Aware'. Click 'OK, and it should disappear and blend in. A few clicks of the 'Clone' tool set to 50% Opacity will finish up if it's not perfect.
As for cropping, I suggest 8 wide and 10 high, keeping all of the right and cutting much of the left. Maybe the empty space is to leave room for the butterfly to take off in that direction - it does look as thought it's just about to launch - but I think less space would accomplish that just as well.
More sharpness for the butterfly's wings would be good too.
As for flipping left-to-right, it's something to try to see if the image feels more 'balanced' when reversed. It doesn't hurt to make that experiment part of your everyday editing workflow. Sometimes it helps a composition, sometimes it doesn't. With a keyboard shortcut, you can do it very quickly.
Those are just my opinions, of course. Things to be tried to see if you like them.
Thank you for posting your photos in Critique, and for including the exposure data. It is often very useful as we try to understand the image and offer suggestions. You've probably noticed that 1X removes EXIF data during the upload process.
I see you've just joined this year. Welcome! Your portfolio has some very good images of nature details. Congratulations on already having one image published. That is impressive.
The Critique section works best when lots of ideas and opinions are exchanged. If you see some work here that you'd like to comment on, I hope you will.
Gerda J. Hoogerwerf
Thanks for your compliments and suggestions. I will definitely look into a few of them, especially those about the details in the wings and flower. I think I have a 10 wide and 8 high crop somewhere, but you're suggesting a portrait crop, right? The flipping is interesting and I'll apply that more often, to see how that works for me. I'm a Lightroom user, but I'll try and see what I can do from there with regards to the broken stem too. I do know the 'spot removal/clone' option there. Maybe they would at least slightly improve that area.