by Editor Miro Susta

Before beginning with this Rajasthan photo travel story I owe you to answer one simple question, is it worthwhile going to India?
However, I am of the opinion that it would be more appropriate to ask yourself whether you're up to it.
And, the fact is, I believe that many people aren't. We can't expect that life in India will be the same for us outside of our own environment. India is a very hard country in which to travel.
You need to remain strong and patient so as to put up with the hassles that you'll likely have to face, often on a daily basis.
India is, to my mind, a land of contradictions. Extraordinary landscapes; incredible temples and monuments; and beautiful and fascinating people. Yet corruption; extremes of wealth and poverty; and the vestiges of the caste system continue to hold this country back.
I have been fortunate to visit India on a number of occasions, both as a businessman and as a tourist in the period between 1986 and now.
I've visited 18 Indian states (out of 29) but I felt in love with two of them, the Desert State of Rajasthan and the "God's Own Country" the green Kerala.
Even that this article is dedicated to Rajasthan, I hope I'll be able introduce you Kerala some time later this year.
It was interesting for me, an outsider in India, to watch many changes during these many years, to see this great melting pot lurch forward into the modern world.
India is well progressing on its way to becoming one of the economic leaders, but a great number of population remain still poorly educated and economically disadvantaged.
India is mainly a Hindu country but with around the same number of Muslims as its neighbour Pakistan where Islam is the main religion.
India is the largest democracy in the world, but it is also a country where many of the nation's most significant sites ban photography, due to the perception that photos can be aids to terrorism.
So why do I went back, again and again? Because of country's extraordinary landscapes, majestic palaces, temples and forts, incredible monuments; and the, as I already said, the beautiful & fascinating people.



This travel story will bring you to some beautiful areas of desert State of Rajasthan. I hope that you will enjoy it.
The state of Rajasthan is the jewel in India's crown, it is the Land of the Kings, it is home to the chivalrous Rajput's, and its battle-scarred heritage has bestowed legacies of pride and tradition.
But Rajasthan is also home of forts and beautiful palaces that grab every visitor attention.
During this I've used my "older" Nikon D7000 camera along with "old faithful" Nikkor 18-200mm lens.
The photographs in this article contains general view and some larger details of Amer Fort (called also Amber Fort), Jaipur's City Place and Bikaner's Junagarh Fort along with some Rajasthan people's snapshots.
Along with photographs captured by myself, you will find here beautiful photos from Rajasthan taken by 1x members. Just click on the images and you will be directed to their portfolios.
Many thanks to all authors.

Amer Fort visitors have many options, to walk around and enjoy the colourful architecture, view down to the Maota Lake and the hills on the other side of the valley or even to take an elephant ride from the lake to the fort.

As everywhere at Indian heritage places also Amer Fort offers many nice, interesting spots for detail and snapshot photography. Just go for it.



On the way to Jaipur along the Maota Lake don't miss the view up to unforgettable majestic Amer Fort.

After short, 45 minutes, drive from Amer we arrive in the Pink City of Jaipur. Jaipur is one of most beautiful and magnetic cities of India. The culture, architecture, traditions, art, jewellery and textiles of Jaipur have always charmed the travellers. It is one city that, even after modernization, still holds to its roots and values.
There is something in the atmosphere of Jaipur that brings joy and delight as soon as you set foot in the city. The pink colour of the city brings out a romantic charm that captivates every heart.
The Jaipur's pink Palace of Winds (called Hawa Mahal) may be the first building which will attract visitor's attention after entering the city. The 953 windows covering the façade were designed to allow the ladies of royal court watch the drama of the streets unobserved behind their delicate latticework.
Another Jaipur's jewel is the famous City Palace, located in the heart of the Pink City of Jaipur. This palace also includes the famous 'Chandra Mahal' and 'Mubarak Mahal', and other buildings which form a part of the palace complex.



The palace was built between 1729 and 1732 AD by Sawai Jai Singh II a ruler living in Amer. The architectural styles are largely based on a fusion of Rajput, Mughal and European styles.

Today, the 'Chandra Mahal' has been turned into a museum which is home to unique handcrafted products, various uniforms of the rulers, old guns and many more things pertaining to the royal heritage of the City Palace.

Depending on traffic, the car drive from Jaipur to Bikaner can take between 5 and 7 hours. But it is interesting journey through the desert area, small towns and villages. Great opportunity for capturing "Photos from the Car".
In Bikaner don't miss the fantastic Junagarh Fort which offers many excellent photo subjects. Walk through the beautiful interior rooms or to visit the interesting museum.
Don't forget the Details
Having your camera during visiting these beautiful historical places you should observe and capture some architectural and artistic details. This is not easy task, as there is a great abundance of spectacular photo motives available.



The Ganesh Door, also called the Leheriya (waves) gate, is on the Northwest side of the City Palace courtyard. It is in a gorgeous green colour, indicating spring and dedicated to Lord Ganesha.

Balcony over Peacock Gate located in the inner courtyard of the City Palace. The northeaster Peacock Gate represents autumn and dedicated to Lord Vishnu.
The old city centre of Jaipur is famous for its pink colour tones.
People add more life to your photos.
India is a fabulous place for photography when it comes to its people. Many Indians are more than happy to oblige if you ask to take their photograph.
This is in contrast to the response you can expect in most Western cities, where most of us are reluctant to allow a stranger to point a camera at us at close range.

In fact, the problem in India tends to be that as soon as you are given permission to take someone's photograph, they are surrounded within seconds by a crowd of family and friends, all wanting to be in the picture, so getting the snapshot you hoped for becomes very difficult.
In terms of candid people photography in India, the best strategy is to shoot quickly if you want a candid shot.
Work at becoming familiar with the angle of view of the lens you have on your camera, so you can as far as possible envisage the framing and composition before you raise the camera to your eye and consider manual pre-focusing to minimise the delay between raising the camera and pressing the shutter.

Candid photography is something which tends to polarise opinions, with some feeling that it is intrusive and an invasion of privacy, while others feel that it is quite acceptable.

Photos from the Car
Having car with the driver allowing you to take interesting snapshots without any delays and time consuming preparations (see also "Tips" hereunder). There are always many interesting subjects for your camera. Just keep your eyes open and have the camera ready.
Following some examples, photos from along the road taken in the State of Rajasthan. Bullock cart is a typical transportation vehicle in this part of the world.



The travellers can see many camels in Rajasthan, especially in the desert areas.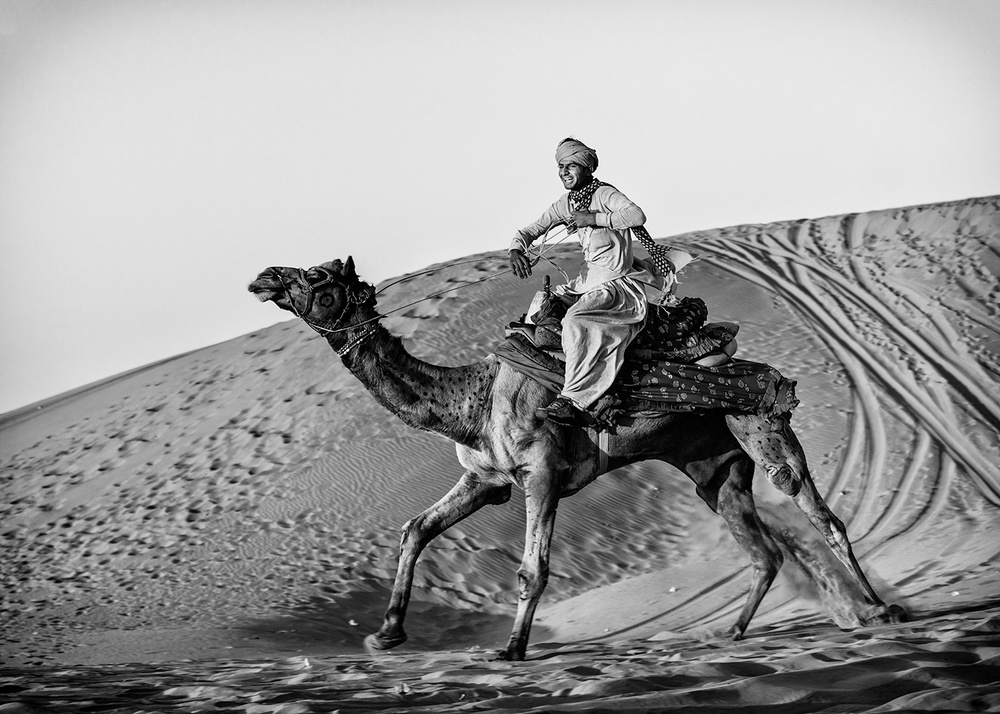 Typical Indian road milestone photo taken from the car on the way from Bikaner to Agra near the small town of Benisar in State of Rajasthan.

By travelling with car we can find and see the many ways of peoples living in the country. There are so many interesting places situated across the country.
Road houses, shops, restaurants are another most common sight in India. One can spot small tea drinking shops under banyan tree at roadside. Apart from the above listed things, there are many more interesting facts about the Indian streets, colourful or even less colourful.

Sunset over Desert
During winter months you can see beautiful sunset over the desert areas.
The clean, dry air creates together with undergoing sun most beautiful colours.



Dishes from Rajasthan Jaipur's Food Paradise
Jaipur people love their food and it is evident in their preparations, the fabulous cuisine makes the state distinctive and popular.
Don't leave Jaipur without trying dal bati churma, laal maas, kachoris or ghevar. Bati is a baked ball made from flour which is then covered in ghee and eaten with the dal. Churma is a flaky sweet dish made from flour that goes with the dish.

Unfortunately I do not have proper, presentable photo from Rajasthan restaurant or any dish.
Where to Stay?
This is a very good question. My advice is very simple. Be selective. Cheap hotel can be at the end very expensive, even after coming back from India to your home. See also Tip No. 10. For example one night in Jaipur three star acceptable hotel comes to around 25-50USD (depending on the season).
Some useful Tips for India Travellers.
* The best time to visit Rajasthan is the northern winter time from October till March with severe variation in temperatures during the day and the night. During this period the desert sun is not as intense and the days are pleasant. The air is usually very dry and the visibility very good, favourable for outdoor photographers.
* For travelling in Rajasthan (and generally in India) it is highly recommendable to hire a car with driver. The driver shall be able to communicate in English language. Having car and driver you will be able to take excellent photographs from the road and the surroundings without taking care about the traffic.
* Try to visit all historical places during normal working days. Avoid weekends and school holiday times. During working days the places will be less crowded, so you get more space without crowd for your photos.
* Don't leave your tripod at home. In order to get detail photos with respectable sharpness the use of tripod is an absolute muss. However be aware of the fact that tripod is not allowed to use in some areas like museum rooms and similar. Do not presume you can setup a tripod in a public space. If you impede the flow of other individuals you will likely be told to move along by the police. Please check your rights with your local guide.
* Don't take personal articles which can be considered as dangerous, for example large knives. Many places are using scanning (airport like) facilities at the entry gates.
* If possible engage local guide, these guy a usually not very expensive. He will guide you to most interesting places, if necessary negotiate on your behalf with local staff, help you in case you did anything wrong and will be your language interpreter.
* Do not try to pay people for the privilege of photographing them when creating street photos. If you ask someone whether you can photograph him (her or them) and he (she or they) insist on payment, just move on, no matter how fascinating he (she or they) appear. However, carry some small gifts like pencils, sweets, etc., to give.

* Shooting photos in large Indian cities with GPS location embedded is very useful, as it enable you to check the exact location e.g. on Google Maps, so you can return to the same place the next day, if necessary.
* Ladies do not walk in the countryside on your own. Take your mobile phone always with you. Don't wear skimpy or revealing clothing. Don't accept any kind of alcoholic drink and don't be friendly with men who approach you at tourist sites or hotel.
* Be choosy in hotel selection. Cheap is not always cheap. The low cost hotel are usually not very clean. Three star and higher are usually acceptable for westerners. Drink only bottled water and if possible drinks without ice.

Explore Rajasthan, the jewel in India's crown. From fairy-tale palaces and epic forts to colourful festivals and wildlife encounters, this is India at its vibrant best.

If you're headed to Rajasthan soon, get ready for a trip to remember, you are about to tick something major off your bucket list…