by Editor Peter Walmsley
Marrakech... The very name conjures up images of the exotic of spice markets and traditional artisans haggling to get the best deal, an onslaught to the senses of sight and sound and smells and a quaint mixture of old and new.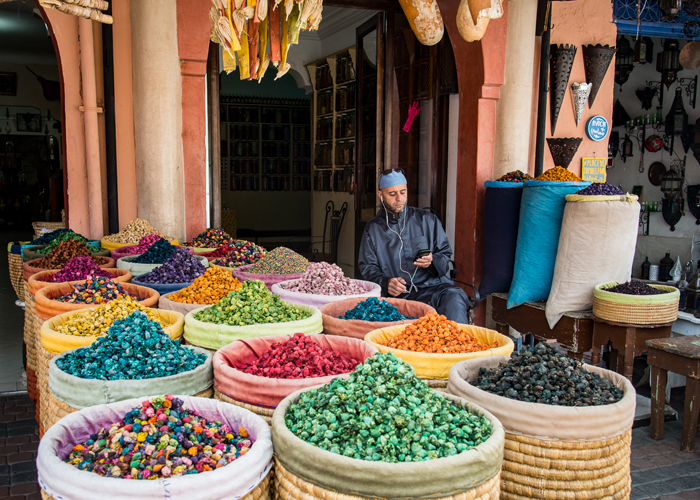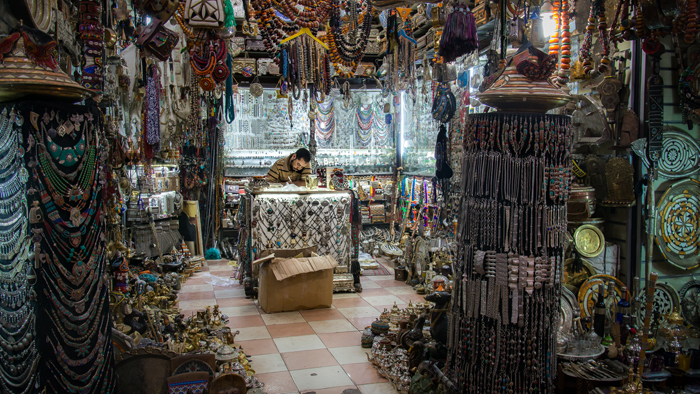 But how to capture that photographically?
Following a recent visit, here are my recommendations.
The primary area is the medina, the old fortified walled city and the cultural heart of Marrakech. The social centre of the medina is the Jemaa El F'naa square (actually an 'L' shape). Many tourists choose to stay in the medina in small guest houses called Riads. Typically comprising no more than 3 or 4 guest rooms, these good value hostelries are full of character and run by their owners who are eager to please. Often entered through an innocuous door down a small side street, they usually open out into a mini oasis with cooling pool in a courtyard setting as if in a filmset.
As tourist destinations go, I'd say that Marrakech should be on the 'advanced' list. The medina is a maze. If that's where you're staying your first visit should be with a guide, booked in advance. Attempts at DIY navigation will invariably result in getting lost and whilst locals will be all too willing to help out, it will usually come at a price. Pickpockets are rife too: both my wife and I were victims on separate occasions, though we both managed to stop the thefts before it was too late. Even our local guide complained at having his phone stolen.
And photographically, whilst opportunities for colourful and charming pictures abound at every few paces in the streets and souks of the medina, actually capturing those images is difficult as many of the local people are not willing to have their pictures taken or request payment for the privilege. So, what to do? Here are some tips that I picked up the hard way.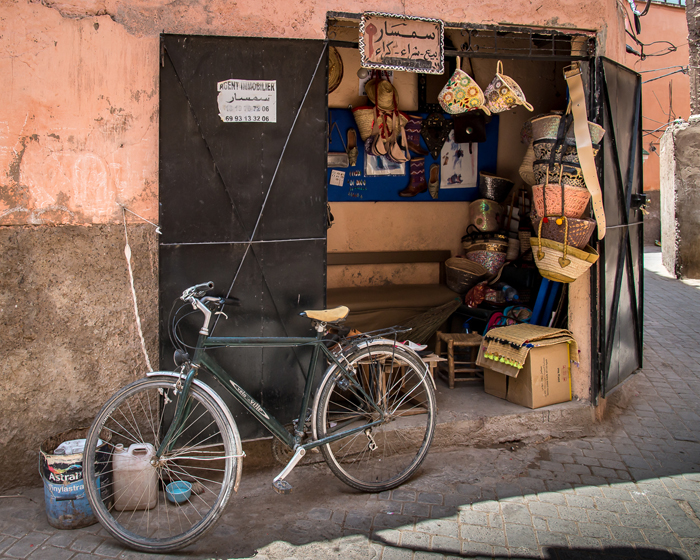 Within central Marrakech, the medina itself is photographically the most interesting area though with the exception of the Koutoubia mosque, most of the buildings are only a few stories high and there are no significant opportunities for dramatic cityscapes. If you do want a high vantage point in the Jemaa El F'naa square, a number of cafés offer roof terrace views for the price of a drink or two, though competition for space at sunset can be high.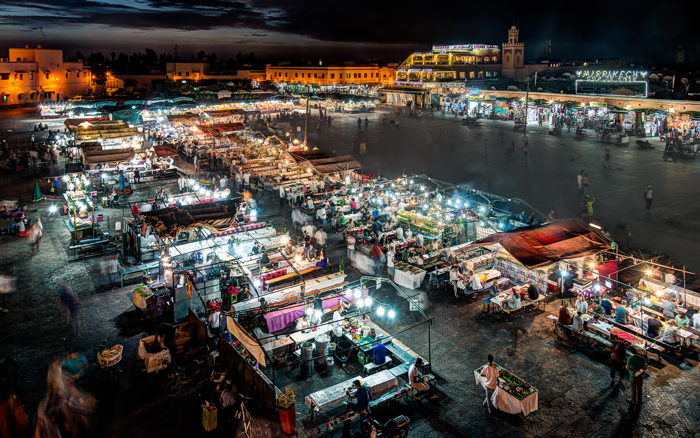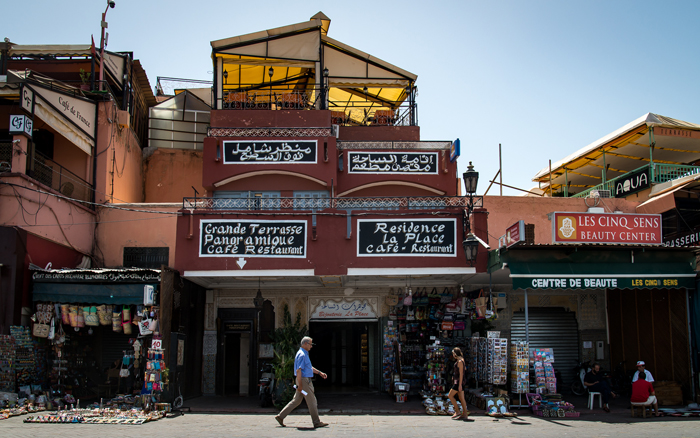 Down on the ground and within the square itself, numerous street artists perform but at the first sign of a raised camera, payment will be requested. Such tourist shots are not in any case the targets of 1x photographers but quick technique can produce some good street photography and after dusk, the brightly illuminated fruit and vegetable stalls and street food vendors become a little easier to capture. Be warned though, locals are eagle-eyed and you're unlikely to escape any photographic expedition without a heckling or two. Be calm and polite and walk on.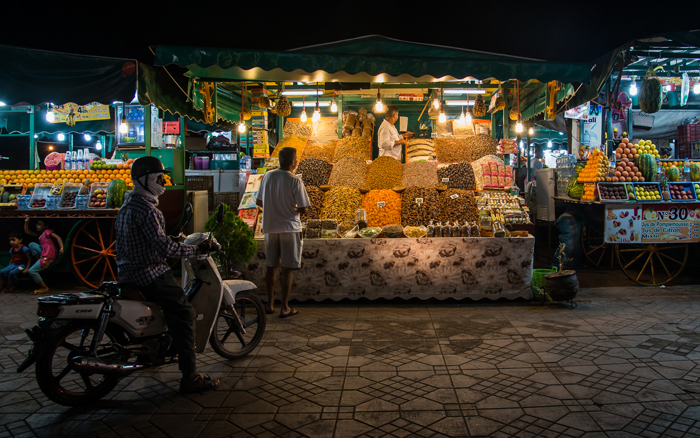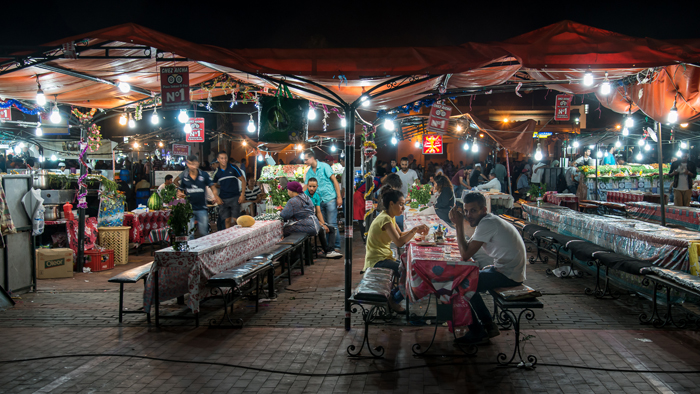 The souks themselves are helpfully divided into product groups such as bags, shoes and other leatherware; copper and ironmongery; clothing and brightly dyed fabrics; fruit, vegetables and other foods and so on. The streets are narrow and often partially covered with slatted roofs which mean that light levels are low and space is at a premium. In these conditions, I wind my ISO setting up to 800 or 1250 and juggle the best compromise between depth of field and shutter speed, often ending up with 1/10s or slower at f5.6 on my 24 – 120mm trusty 'walkabout' lens.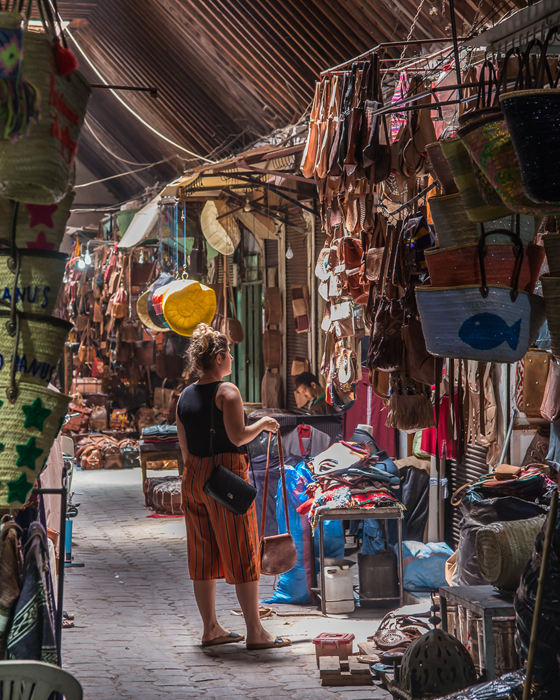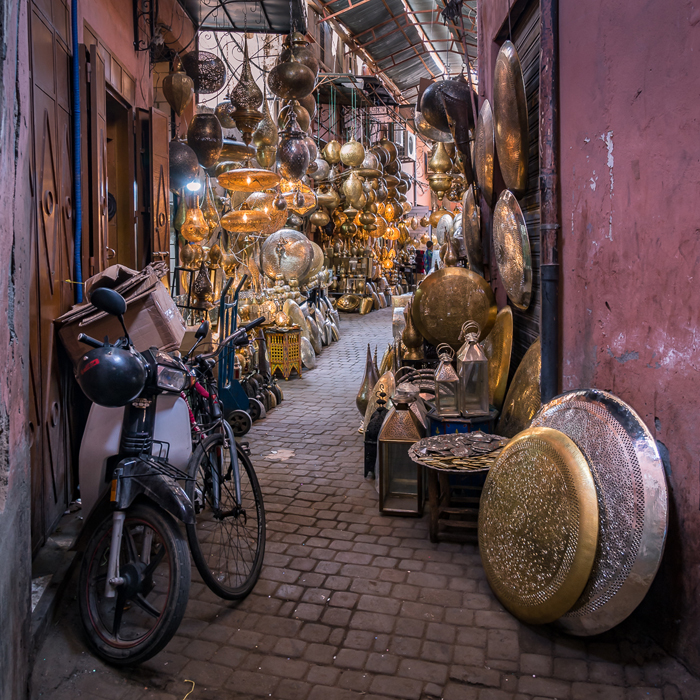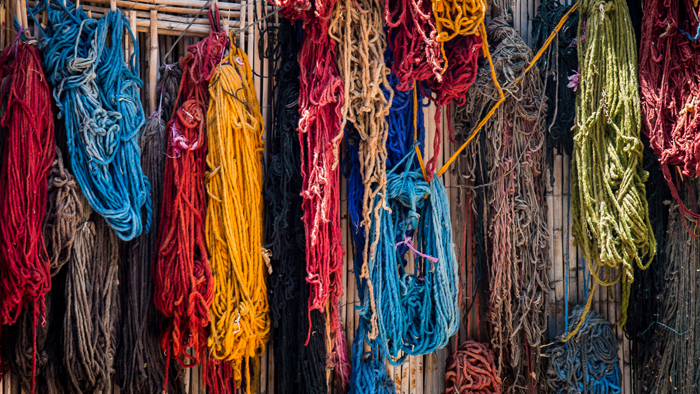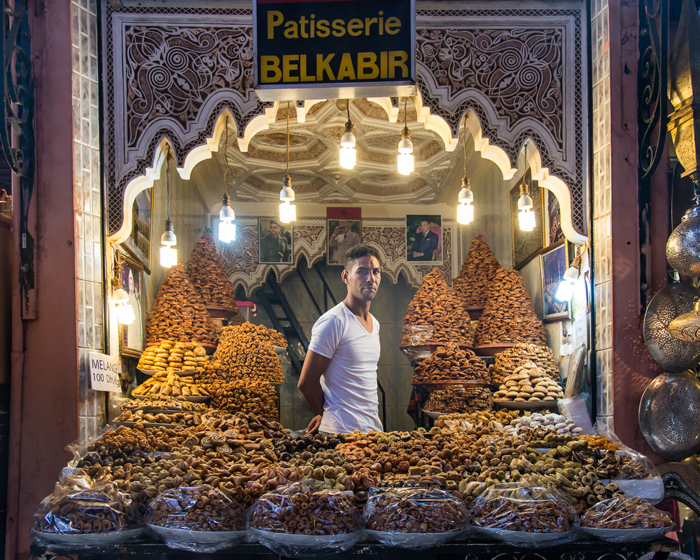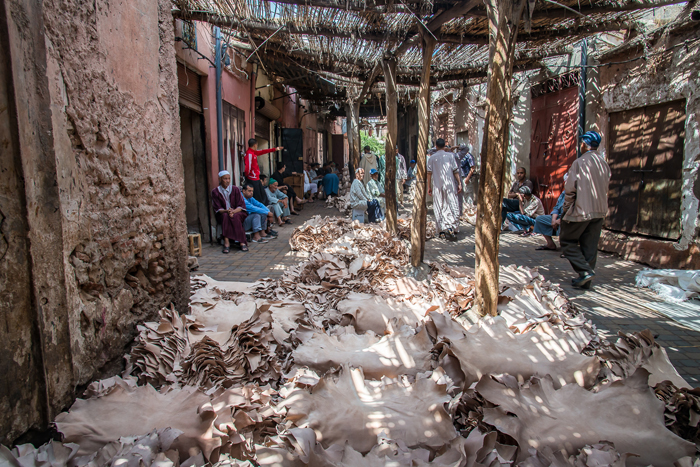 For street photography, I try to avoid long telephoto lenses because there's no engagement with the subject, though in the photographer unfriendly environment of the medina, it was tempting. In the narrow streets, a wide angle setting was often used which kept everything in focus and helped to include people without obviously pointing the camera in their direction. Sometimes, I asked to take a storekeeper's picture and about 50% of the time they agreed. Buying something from the store such as a bag of nuts increased the chance of success. In general though, setting exposure in advance, positioning and waiting for the right composition and then working at speed and moving quickly on worked best.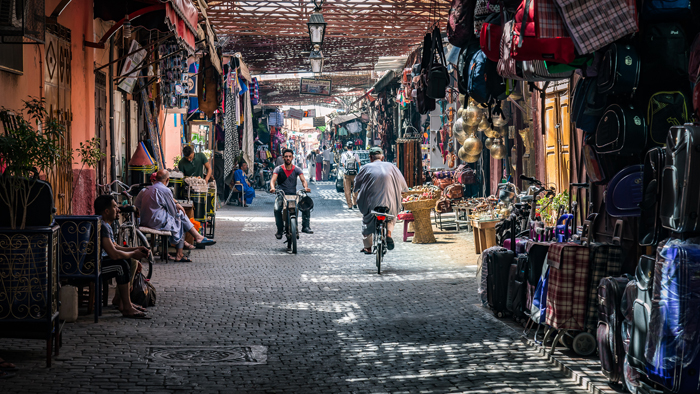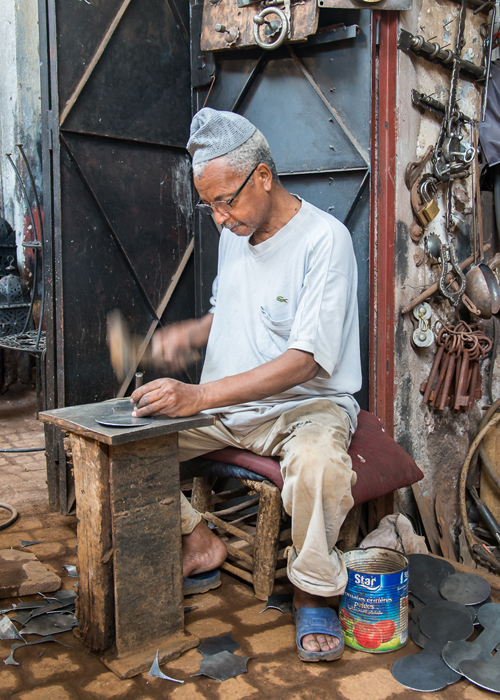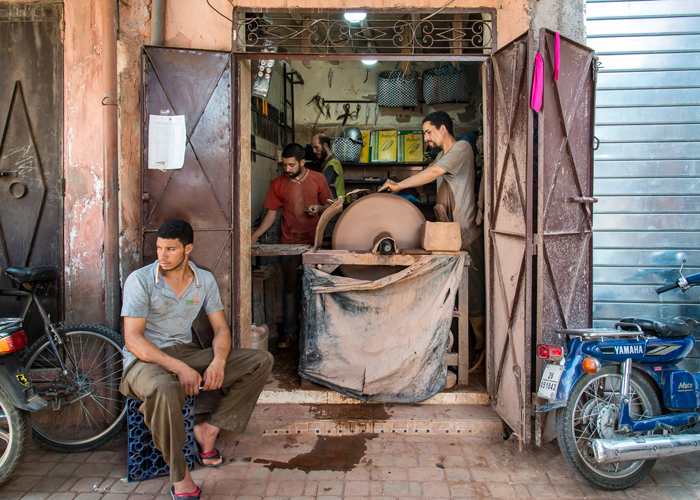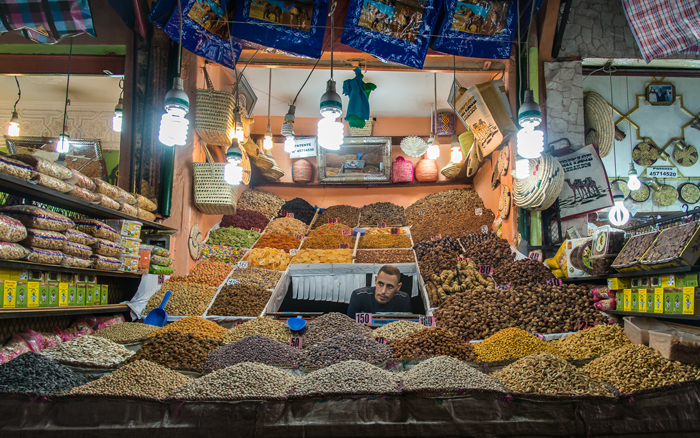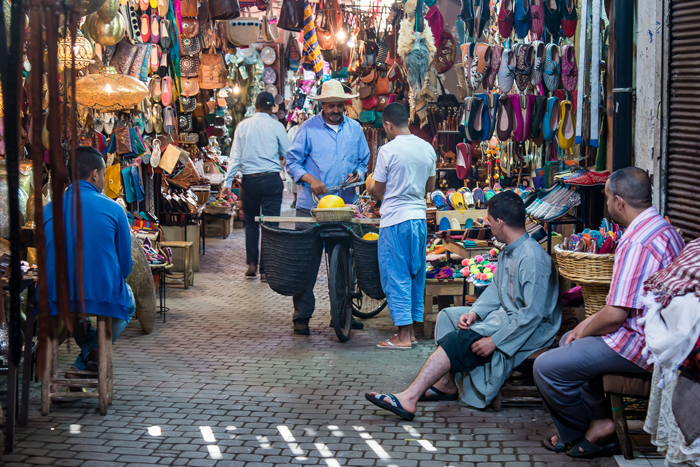 Engaging a local guide also increased the chances of success, partly because they can seek permission on your behalf and partly because you have the confidence of someone to argue for you if things go wrong. They can also take you to areas you would not normally find by yourself such as the tanneries and carry the bonus that they know the price to pay if you wish to buy local goods.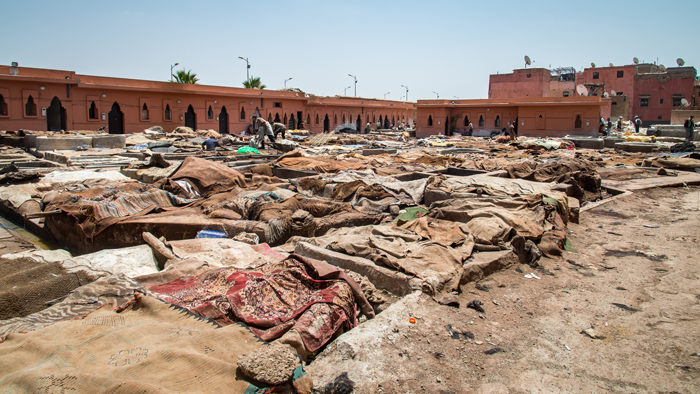 Away from the hustle and bustle of the souks are a number of historical palaces and gardens, including the garden of Yves St. Laurent. These are less interesting from a street photography perspective though do provide the opportunity to capture the history and architecture of this fascinating culture. A 5 day visit is about the right length of stay.