This week we are very happy to feature our talented street photographer and 1x curator Ricky Siegers! Like the successful street photographer he is Ricky has a special eye for capturing fleeting moments that would easily pass someone else by. Enjoy selected images by Ricky at the end of the interview! Big thanks to Yvette Depaepe for conducting this interview.


Briefly tell us about yourself, your hobbies and other jobs.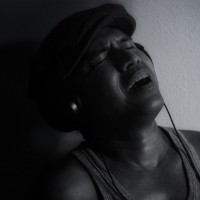 I am Indonesian living in Amsterdam, the Netherlands. Before I called myself a photographer I used to work in hospitality. I graduated from hotel school in Indonesia. Then I took my extension in California, USA. I've traveled a lot in my hospitality carreer since my job is opening hotels. Seven years ago I quit my job and became a photographer (I like to call myself professional). Since junior high, I have been interested in social culture, life and the study of how people interact with each other. That is why I am so in love with taking pictures of people moving, interacting, basically anything to do with people around me.
How has your history and life experiences affected your photography?
I used to call myself a world citizen. I've traveled a lot because of my work, and I also traveled a lot in my childhood because my father's work brought us to many different places. It is no wonder that in all of my work I like to explore people and culture.
Which are your most important experiences that have influenced your art?
As I wrote above, I've been in many places! The beauty of those places and the memories that I have with the people there, developped my way of seeing a scenery or social fragment from daily life.
What first attracted you to photography?
It all started with a Kodak instamatic given to me from my father and I was amazed with the results at that time.
Describe your overall photographic vision.
I like to put street stories or people's daily social life in good frames. What I mean is, I love to have my street pictures balanced with a good composition. Even though I like raw street photography too.
Why are you so drawn to street photography?
I love street photography because of the diversity of human races and cultures. I find it exciting just to observe people before taking their picture.

Is the story behind a photograph or technical perfection more important?
The story always comes first, that is why I like to play with the titles of my works. Of course the technical aspect is also important. It adds value to your work too.

What generally is your relationship to your subject matter beyond being an observer?
The only relationship I have with my subjects is a soul connection for being in this social life circus together. It is my honor to capture their souls and their stories in my pictures.
What is your most important advice to a beginner in street photography and how do you get started?
Don't you worry too much about technique, street photography is how you observe people and understand them and catch that moment in your camera. The most important thing is blending in with your surroundings and not making your subjects alarmed by your presence. You only have a couple of shots to capture the moment. If you take more than 3 or 4 shots, people may get annoyed by you and your camera.
Who are your favorite photographers and more importantly, how has your appreciation of their work affected how you approach your own photography?
Of course, Henry Cartier Bresson. Consciously or unconsciously, his work is always in the back of my mind. I wish I could create phenomenal work like he did. I love the black and white "colors" of Ansel Adam's work. He is the pioneer of black and white photography. I love the dynamic work of Alexey Titarenko. And of course, my local hero from Amsterdam, Cor Jaring. I am a big fan of his work. He is known for his Provo Time in Amsterdam (flower generation) and the famous photo "Bed-in for Peace" with John Lennon and Yoko Ono. I am lucky because I know him in person and I had a chance to talk to him about his work! Of course I have many favorite photographers here on 1X. I love the work of Andre du Plessis, Tatsuo Suzuki and many others whose work I enjoy looking at too.
Is there any specific photo taken by another photographer that has inspired you more than others and why?
I think Cor Jaring is the answer, since we both life in Amsterdam.
Are there any specific directions that you would like to take your photography in the future or any specific goals that you wish to achieve?
I would love to see my work printed 10 by 20 meters and hanging in a famous street like Times square or hanging in a famous museum like the Rijk Museum in Amsterdam. Honestly I don't know, I am quite happy with what I am achieving now, but sure, I want more! I have had lots of exposure from exhibitions, from being published in an art book and for being featured in a magazine! But I want more!
Describe your favorite photograph taken by you and why it is special to you?
I love them all, I don't have a favorite photo. I took each one of them with love.