When it comes to black and white street photography, few can measure themselves with Laura Mexia whose inspiring and distinctive style is a highlight of the genre. We already know her great photos, now it's about time we get to know some more about herself. Thanks to Yvette Depaepe for conducting the interview. You will find more photos in the end of the article.

Briefly tell us about yourself, your hobbies and other jobs.

My name is Laura Mexia, I was born in Elvas, Portugal but I live in Algarve in a little town near Portimão (Lagoa) since 2001. I am a teacher of natural sciences and math, a mother of five and I love it. My only hobby is photography; I don't have too much time to spend on it, but all my free time is around photography.

How has your history and life experiences affected your photography?

My interest in photography started in 2008 when a friend and teacher in my school bought a new camera and started to photograph. At that time I had a little camera (a Nikon S1) and begun photographing everything and everyone all the time. Later, we created a photography club at school with our students and that was very important to me because I had to "study" the theory behind photography in order to be able to teach it to my students. I joined some Portuguese photography sites and started to share my photos, see other's work and that inspired me to improve myself.

What first attracted you to photography?

I always felt attracted to black and white photography since my early days. For me, B&W photography has an emotional charge that color can't achieve.
Describe your overall photographic vision.
I am always drawn to a photograph that can mess with my emotions and / or senses in just one second. This "rule" works for me in two ways: when I look at someone elses picture and also when I take a photograph of my own. That's why many of my photographs are the result of a single shot, the upshot of a few seconds that caught my eye.

Why are you so drawn by street photography?

For me, street photography was born from the union of two passions: people and math. I love photographing people but I lack the "courage" to ask for their permission and this doesn't seem right to me. Since I have academic training in math, I found myself shooting people as if they were living parts of a very geometric,cold environment full of patterns. This way of photographing works for me as an instinctive and almost immediate act.
What is more important to you, the story behind an image or the technical perfection?
If you asked me this question a few years ago, I would have said that the story was more important in a photograph and that technical perfection, including technical editing, were not very significant in an image. I'm learning how to edit and I have dedicated my time to reading about composition and other technical aspects since 2012, although I never went to a photography school.
Looking back to my oldest photos, I would say with certainty that although the story is the basis of a good photograph. it is essential to learn the technique to be able to develop this art and to do something different in photography.

What generally is your relationship to your subject matter beyond being an observer?
As I had explained earlier, I try to portray people as characters that give life to a very standardized and cold environment. So I have an ambiguous relationship with people I photograph. Generally, I do not get involved personally with the people I photograph: they are usually photographed when they are at a distance from me or moving in the opposite direction to me, so that people can not be identified. But, paradoxically I end up having a personal relationship with the people I photograph because I always try to find a position, a framework or composition that gives them a soul and a human story in a depersonalized, cold environment. I am always separate from my characters but close enough to give them life and a story in impersonal urban settings.
What is your most important advice to a beginner in street photography and how do you get started?

Being a street photographer requires a different attitude of others photographers who work in another genre. It is necessary to get out on the street with the ability of "seeing" what surrounds us, be attentive to details, to the events that are happening.
It is essential to know how to look with discerning eyes and to try to "anticipate" the moment. Always have a lot of patience and wait for that very moment.
We work with a number of factors:
- environmental elements (lines, points of interest, forms) in order to be able to compose the picture.
- environmental weather conditions (light, shadows, rain, sun, clouds or clear skies)
In my case, I always like to add a human presence to the photo. I wait for the right person in the right place and when it happens, try to do something different from what has already been done.
It is important to learn to rely on our way of "seeing the world" and in the way we shoot. Above all, a photo has to be a way to find ourselves.

My biggest advice to anyone starting in photography is to find his/her way of photographing. Try to learn and develop photographic skills. Never give up! Spend time looking at good photography, and most importantly, have fun doing it.

Who are your favorite photographers and more importantly, how has your appreciation of their work affected how you approach your own photography?
I love the work of Elliott Erwitt and the way he caught the absurd, the ironic situations in everyday street scenes. I also admire the work of Henry Cartier-Bresson. I am a big fan of these two photographers.
Here on 1x, I like the work of many talented photographers specializing in different categories or genres:
- In the street category : Tatsuo Suzuki, Ricky Siegers, Diego Bardone, Mirela Momanu.
- In abstract or graphic compositions : Paulo Abrantes, Anna Niemiec, Jacqueline Hammer.
- In creativity and humour : Mario Grobensky, Christine von Diepenbroek, Monica Bekkers, John Wilhelm.
- In portraits : Alessandro Bergamini, Piet Flour, Simona Forte, Yvette Leur.
- In Fine Art Nude : Arkadiusz Branicki, Anca Cernoschy, Yaroslav Vasiliev- Apostol, Olga Mest.
- In architecture : Peter Bigorajsky, Henk van Maastricht, Jef van den Houte, Gilbert Claes, Harry lieber.
And so, so many others that inspire me everyday ....


Are there any specific directions that you would like to take your photography in the future or any specific goals that you wish to achieve?
Photography for me is just a hobby, it's not what I do for a living. However, and to be honest, I would like to progress as far as I can in the world of photography. I recently published my first book which can only be bought online.

I hope this is the first step of many.

Describe your favorite photograph taken by you and why it is special to you?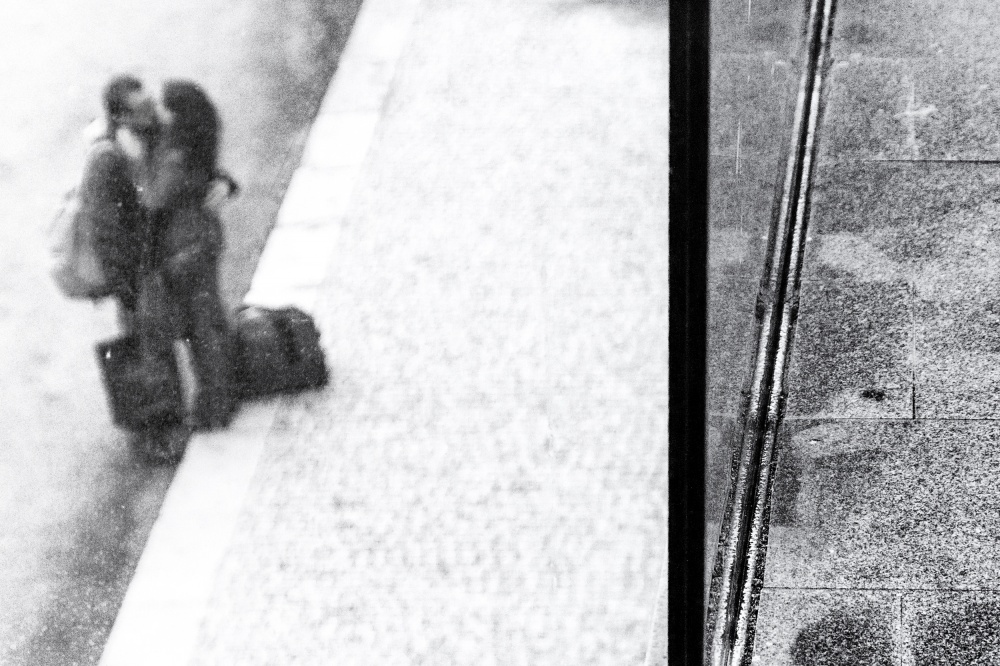 This is my favorite photo. It conveys to me many good feelings and energies. It was taken during one of the happiest weekends I ever spent and reminds me of my loving relationship. On the other hand, it was also my first photograph chosen for the 1x yearbook "Passion".
Is there anything else you wish to add and what do you think about 1X as a home base for your work?
It was two years ago, July, when I first visited the 1X site. When I saw all the wonderful photographs I remember feeling that I could never take those kind of beautiful images.
But I never stopped visiting the site and ended up posting my photos on it. When my first photograph was published I had an almost indescribable feeling of having accomplished a very difficult goal.
By looking at all the excellent photos published here on 1X, I have no doubt that it played a large part in my progress as a photographer. The 1X community has motivated and inspired me.
I also have to thank you, Yvette for the support that you have always given me since the first day on the site. For those who begin shooting, this support that you give is very important. I feel honored that you have chosen me for this interview among so many fabulous artists. I thank you from the bottom of my heart, dear Yvette.