Jose C. Lobato's work is soulful and moody, whatever the subject is. He has his own style mainly due to the masterful processing of his images. He started photography in the world of chemicals and succesfully switched to the digital world, exploring the endless possibilities it offers. Thanks to Yvette Depaepe for conducting the interview. You will find more photos by the end of the article.
Thanks for taking the time to tell us more about yourself, Jose. What are your hobbies and other jobs beside photography?
I was born in Zamora, a small historic Spanish city, but shortly after that my family moved to Madrid where I grew up, studied and started working. Today I live in Asturias, a green and mountainous location in northern Spain. My work has little to do with photography. It consists of boring administrative and bureaucratic issues. So photography is simply my hobby, recording stolen moments of my family, my wife and son whom I want to thank.
I love to travel when I can. I enjoy walking (trekking through the countryside, sometimes combining my photography with collecting mushrooms. I also really like movies and reading.

What first attracted you to photography and what were your most important life experiences that influenced your art?
My first contact with photography I owe to my older brother. He had an old Nikon and went outside to look for what he called "his reports". He was an amateur wanting to improve, so he set up his own home lab where I worked as an unpaid assistant. Once I acquired my own camera, I started to take my first photographs. I followed all the courses available to me and just like him, I had my own home lab where I studied the mysteries of chemical development.
Since then I visited all the exhibitions I could and I continued taking courses and purchasing photography books. Today I have a small library of which I am very proud, and from which I'm still drawing inspiration and good ideas.
Once digital photography appeared, like everyone else I switched to it. I practice and test all the techniques available in the digital world and try to improve as best I can.

What is it that makes you so passionate?
The first thing that struck me about photography, the first thing that attracted me to it is it's ability to tell a story in a single frame, one shot ! To capture with as much detail as possible a scene, a street, a landscape, a situation. The old saying : "a picture is worth a thousand words !" is true. The capability to capture a unique moment that will never develop the same way, with the same light, makes me search everyday for new stories and descriptions of the places where I live and the places where I travel.

Do you have a specific photographic vision?
I think my approach to photography has no limits but unfortunately my current skills do have limits. A person who enjoys photography must follow his inspiration and must try everything to fulfill it. It is important to find a style and feel comfortable with what one does and If people enjoy your work it is even better.
For me photography is an major art. It's a great way to express yourself. You just have to find your own personal style.

Whether it is landscape or cityscape, your work is mainly black and white. What made you choose it and why are you so drawn to it?
My preference for black and white was always there from the very beginning. The basis and inspiration of my photography started in the dark room. Back then color development was expensive and complicated to do at home and those limitations inevitably made me focus on black and white.
The purity of photography's roots attracted me to those techniques. Even now with so many more possibilities available color is still my second choice except for landscapes. If I'm shooting cityscapes, architecture or street photography with anonymous characters, black and white is still my absolute preference.
I keep seeing these scenes in monochrome and I think that they have a more powerful impact in black and white rather than in color.

What is most essential in your work, technical perfection or the story behind your images?
I believe that everything has its importance when taking a picture, everything has its weight. And I think for the best result you must find a balance between the art and the story it tells. However, if I have no choice or or if the situation requires it, I focus on the moment and on the story. Street photographs that tell a story are in my view the essence of this art, the origin and the basis of what later has become a lot of possibilities and styles. A stolen kiss, a touch, a gesture are impossible to improve with post-processing techniques.

How do you approach your "subject" beyond being an observer?
Well, I think that my relationship with my subjects remains that of only being an observer. When I'm looking at a landscape, a cityscape or any architecture, I begin by analyzing what I see before me and from that moment until I shoot the image, my role is none other than to show what I see from my point of view ... Solely and exclusively.
When it comes to street photography, my role is that of a narrator. I want to freeze a moment, tell a story and hope that everyone who sees the image imagines a story of their own.

Can you give some advice to beginners in landscape photography and what are the most important facts they have to keep in mind when getting started?
I don't normally give advice but the best thing to do in my opinion is to find a good website to give you inspiration, develop your own style and way of seeing and understanding photography. This applies to all categories.
In any case I would say that you first have to discover the environment. Become something of a film maker and study the location. Go there at different times of the day, check the different lighting conditions, camera angles or opportunities to include people or other elements in the scene. Once all the possibilities are in your mind, than shoot the scene in a way that best matches what you visualized. Use post processing to finalize your vision. This applies to any landscape, whether natural or urban.

Who are your favorite photographers and more importantly, how did they inspire you to find your own approach and style?
Well, the list is endless. There are a few classics that have inspired me from the beginning and are still very important to me today. Cartier Bresson, Doisneau, Brassai, Held, Haas, and for landscapes, Ansel Adams. There are also lesser known but equally great Spanish photographers like Garcia Rodero, Centelles ... and of course, a number of fantastic photographers here at 1x.

Do you have specific goals that you wish to achieve in the future?
My goals do not go beyond having fun doing what I do. I want to enjoy it and hope that others enjoy it as well. I want to keep improving, learning, trying new techniques and exploring the range of possibilities digital photography now provides us with.

Can you tell us about your favorite photograph taken by you and why it is special to you?
This is a difficult task. I have several that are my favorites but I picked this one for emotional reasons rather than technical reasons.
It is my first analogue photo where I was fully satisfied with the result. It is a scene related to Easter in Toro, a small Spanish town where this religious festival is deeply rooted. I went there to get a good story about the event. I arrived early and walked through the streets. I saw coming towards me a group of people dressed for the procession that would take place that morning. They were laughing and joking in contradiction to the seriousness of the religious event. I aimed and fired several times. This is the one I like the most because the young girl made eye contact with me. It departs somewhat from an urban landscape but street photography is also a natural part of me. It is not an artistic masterpiece nor does it have the best framing but as I said, when the story is good, it overrides technique.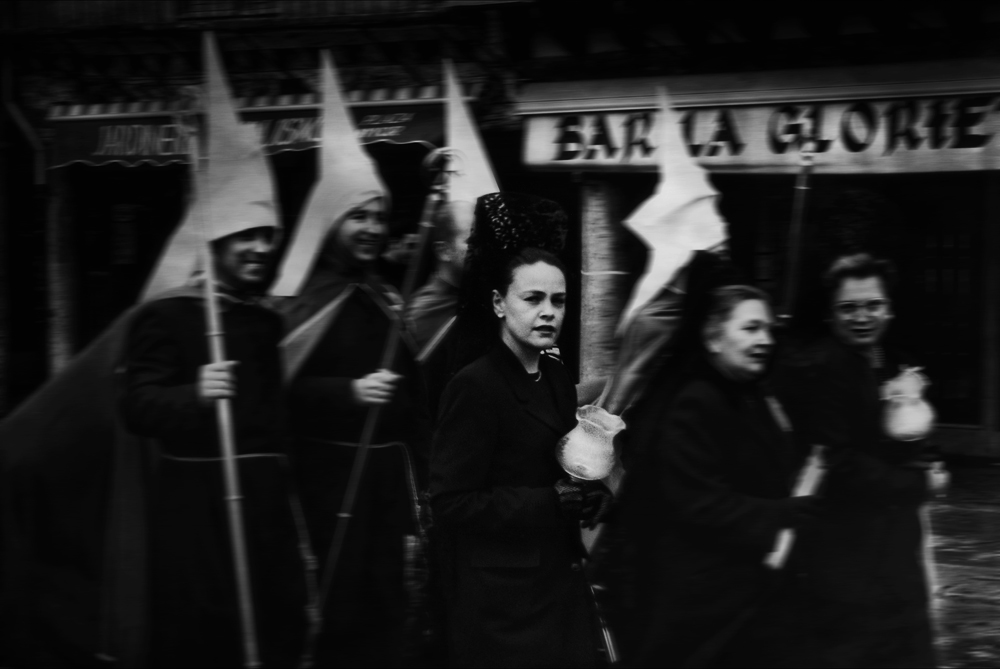 And last but not least, Jose : what does 1x mean to you as a home base for your work?
1x is a fantastic place to learn from the very best. There are many websites about photography but none match the quality of 1X. Here we can admire the magnificent work of amazing photographers from around the world. We all want our work to be published but all it takes is a review of the latest published photographs to realize that there is always someone better than us. Not only is it an amazing place to improve our skills but it also does a very good job of holding our ego in check and delivers a good dose of humility every now and than.