Please tell us about yourself, Jacqueline.
I'm a passionate amateur photographer living in Cairns, Australia. I have been interested in taking photos since childhood. As a young child I grew up seeing my Dad's wonderful display of black and white prints on the walls of our house. We lived in London and he took documentary-style photos of people and urban scenes. We also regularly visited Austria, where my Mum is from, and there he took rural scenes, farmers and animals. I also featured in many of his photos. He did his own darkroom developing, so when older I got to see and participate in the process of film developing. I did have several cameras as a teenager/young adult and went on to take many photos of my travels through Europe, the Middle East, and then Australia.

I married an Australian, Peter, and after both working in the UK for 5 years we headed to Australia to live, first to Sydney and then to Cairns in the Tropical Far North. During this time I was working as a Health Information Manager in various hospitals. We enjoyed bush walking on the weekends so I got to take lots of photos of natural scenery. I also loved Australian animals so tried to capture wild animals and birds whenever I could. We came to Cairns in 1999 and here there is an exceptional diversity of nature subjects to photograph in a variety of different habitats, including tropical rain forest. I had four children between 2001-2007 so at that time was mainly taking family snaps, but the digital age had come and I got my first DSLR in 2005. I was hooked but didn't know much about using it or post-processing! I went on a course titled 'How to use your digital camera' and then knew what the possibilities were. I wanted to reach a high standard and meet other photographers so joined a local camera club. I started entering monthly competitions and did well, so then joined the Australian Photographic Society and started entering National and International competitions.

Life with four children became very busy. My family is very musical and life now revolves around music lessons, practice, busking, rehearsals and performances. I fit in my photography as best I can around their schedule and try and go on camera club outings whenever I can, with the Cairns Photographic Society.

How has your history and life experiences affected and influenced your photography?
Many things have affected or influenced my photography - seeing prints on the walls, traveling, having children, coming to a new country where landscapes and nature are so different. These were the subjects I originally liked to shoot. Once I started competing in International Competitions, I saw what type of creative (altered reality) photos were being produced, and thought 'wow - I wish I knew how to do that'. Cairns Photographic Society started introducing a Creative Competition each month, so I thought I would give it a try. I started learning the basics of Photoshop and using layers. I loved the freedom of creating whatever I wanted. I also submitted and critiqued photos online with the Australian Photographic Society, so was slowly but surely improving and trying out new ideas. In 2013 I became involved in 1x.com and was amazed to see what some of the photographers were producing. There were many new ideas and concepts that I had never seen before. These photos definitely influenced my future direction in photography. Having children around also influences my work, I am frequently surrounded by fantasy-type images whether in the form of book illustrations, computer games, movies or something they create themselves. When I get an idea for a creative photo I sketch it in a book - I now have many sketches and often refer to them for ideas - sometimes it could be months or years before I finally make the photo.

Your work is very diversified: abstract, still life, creative edit. Why are you so drawn by these specific styles?
Creative edit and still life allow total freedom and control, which is why I love them. I can create whatever story I want, control the lighting, subject matter, and shoot and edit at any time of day. They are very flexible. I also like to use everyday objects and turn them into something special or unique. This often ends up in an abstract form. I love architecture too, but have to work hard to find suitable subjects in the small city where I live, with no other big cities nearby (Brisbane is a two-hour flight away). The lighting is very harsh here too, which has also influenced what I shoot. I find that abstract architecture works OK with the harsh light. I also love using telephoto lenses which often results in small parts of the whole, leading to abstract and minimalism. Taking photos of large buildings or whole buildings doesn't usually work, as in Cairns there are so many obstructions in front of buildings, such as trees or overhangs. This also makes shooting upward somewhat difficult. I love visiting big cities where there are skyscrapers! I also love abstract because subject matter is everywhere and the possibilities of creating something new are endless. With abstract there is also the element of intrigue, people often ask 'what is that?'

What is more important to you, the story behind your images or the technical perfection?
This depends on what type of photograph I am taking. In some situations the story is very important, such as in creative or nature, but in abstract other things play a more important role such as lighting, mood, originality, intrigue and visual appeal. So a story is not always necessary. It is great to have technical perfection, and I think this is especially important in minimalist photography. However other times the story might outweigh technical perfection but it is good to have both whenever possible.

Do you prepare carefully the locations or settings before shooting?
For still life photography, yes, I do put in a lot of preparation. I now have a dedicated area in my office to do still life. I have all my props within reach and carefully organized. So far I have only used natural light. If it is not quite producing the right effect, I use card or reflectors to alter it. I have custom made settings for still life on my camera and use a tripod and live view for focus. For creative work I often prepare subjects to include in my photos, trying to get the lighting to match. Often I will just use what I already have from previous shoots. For architecture I don't plan much, I wander and look and shoot, but readily go back again to experience different lighting, changes to buildings or their surroundings.

What gear do you use and what software to process your images?
I use two Canon DSLRs - Canon 5D Mk III and an old Canon 50D which is still working well. I use the 5D for still life, and the 50D for nature and telephoto work for extra reach. I have an assortment of Canon and Sigma lenses including wide angle, macro, zooms, telephoto. I use a combination of Lightroom and Photoshop to work on my images, I can't be without either of them! I first process in Lightroom and then go into Photoshop for working on layers, cloning, and selective adjustments. I create virtual copies in Lightroom and try different processing or filters and then compare them before settling on the one best shot.

Who are your favorite photographers and more importantly, how has your appreciation of their work affected how you approach your own photography?
I follow many photographers on 1x. Their subjects are diverse - some I follow to gain inspiration for subjects that I don't generally shoot, such as portraits or landscapes eg Lisa Holloway, Florence Menu, Petar Sabol, Ignacio Palacios. Others I watch because they shoot similar subjects to me. Some of my favourites are Olavo Azevedo, Victoria Ivanova, Peter Bigorajski, Huib Limberg, Gilbert Claes, Ben Goossens, Hossein Zare, Natalia Baras, Wieteke de Kogel, Juan de Villalba, Dimitar Lazarov. Their ideas and creations constantly inspire me.

Is there any specific photo taken by another photographer that has inspired you a big deal and why?
One of my favourite photos is one taken by Arnold Newman of Igor Stravinsky. I love the composition and graphic quality, and the idea of how to capture a special musical portrait, something I would like to do with my own family one day.

Are there any specific directions that you would like to take your photography in the future or any specific goals that you wish to achieve?
I would like to expand further into creative work, exploring surreal photo art and improving my editing skills. Still life is an aspect of photography that fits well into my lifestyle, so this will be something I will continue with. I love to turn ordinary subjects into the extraordinary through my still life and abstract work. I feel there are endless opportunities with this. Also we recently got a new puppy, the first time I have ever had a dog. I've started to photograph him and really enjoyed it, and it's nice to have something new and different to photograph. Having a such a lively subject is quite a contrast and challenge for me!

Describe your favorite photograph taken by you and why it is special to you?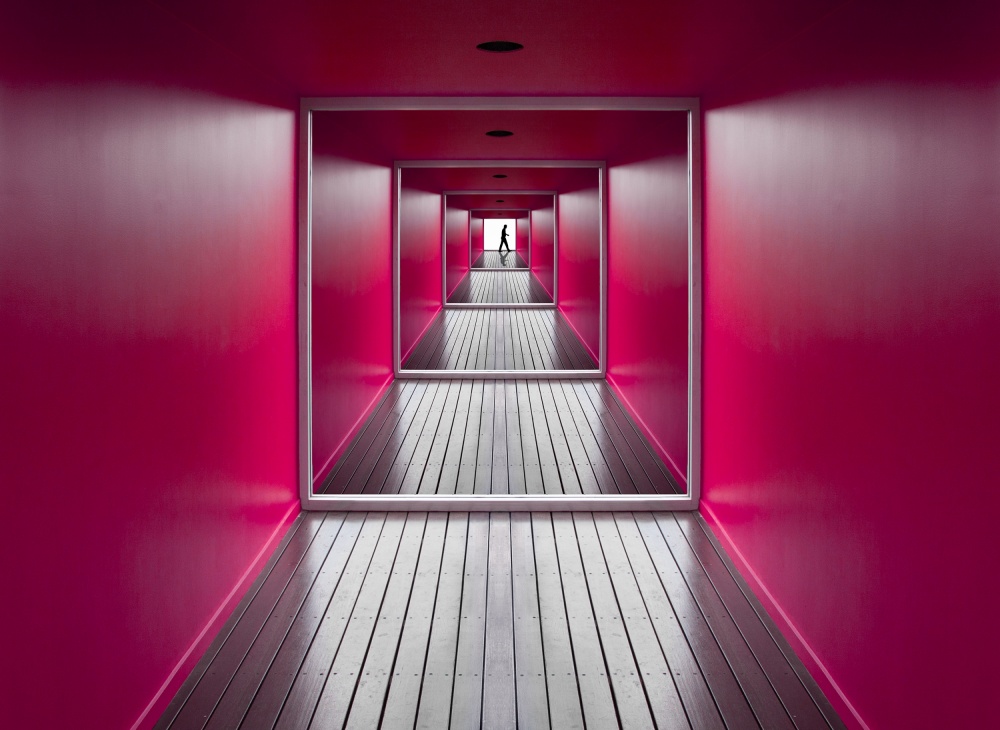 My favourite photo is Exit, partly because I managed to create something colourful and unique out of this structure, and partly because of the success of this image. It has been my most successful one in competitions and has won numerous awards. It was taken on holiday in Brisbane last year and I have good memories of that holiday and the place where this was taken, the Roma Street Parklands. I actually created this specifically for the 1x weekly theme 'Pink' but had to change the colour as the structure is in fact red. I also like the concept of pictures within pictures, as shown here in this image and some of my other works.

Is there anything else you wish to add and what do you think about 1X as a home base for your work?
1x is a very inspiring place. It has definitely influenced my photographic work. For anyone wanting to improve their photography and get inspiration, this is a great place to come. What I also like about 1x is the acceptance of many diverse styles of photography - it is great to find a welcoming place for styles such as graphic and artistic, humorous and minimalist. I love the diversity of photography and the fact that all types are recognized and appreciated here.