Dr. Akira Takaue is awarded photographer of the week! He is a long time 1x member and a very skilled architecture photographer with some of the most popular architecutre photos in our entire gallery. Thanks to Yvette Depaepe for doing the interview! More photos at the end.

Briefly tell us about yourself, your hobbies and other jobs.
I am an International Structural Engineer, Architect and Project Manager of international mega projects worldwide such as long-span cable supported bridges and relevant mega architectures. I have completed a Doctoral Degree (Dr.Eng., Ph.D.) in Structural Mechanics specializing in bridges and architectures and I am also involved with academic activity for these fields of study in various international educationalestablishments and conferences.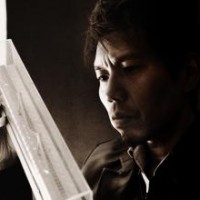 Describe your overall photographic vision.
As an international structural engineer I would like to express not just city sceneries but conceptual cityscapes using fine art photography and my experience in the field of landscape architecture design. My goal is rooted in both the logic of structural mechanics and material engineering as well as the finer artistic elements that make a building and its photograph successful.
What first attracted you to photography?
I have been fortunate enough to visit a lot of places, not only in Tokyo but also around the world. I first bought a camera just for taking shots of the interesting sceneries in these foreign countries, but gradually my mind has changed. The reason why I'm interested in photography came initially from simply taking photographs of bridges and buildings I've designed. However, recently I saw some wonderful artistic architectural photographs in several web galleries and international photograph magazines and I have been passionately interested in this category of fine-art photography ever since.
Why are you so drawn to architecture photography?
I like to produce conceptual urban scapes using the fields of Aesthetic Design and Structural Mechanics including material engineering. I also like to highlight not only famous structures but "Common Structures" too that are usually seen in every town. The photogenic subjects regarding structures may not be limited to the famous and the popular. Even if the structures are nameless and common in shape, they were thoughtfully designed, planned carefully, calculated in depth and constructed precisely, which is the crystallization of engineering. I like to produce artistic images of such structures based on the logic of Landscape Architecture Design and the structural properties of the building.
What is more important to you, the story behind an image or the technical perfection?
Both of them are important, the priority may depend on the motif and subject.
What generally is your relationship to your subject matter beyond being an observer?
I'm an architect who is always considering the harmonization between designed structures and neighboring road structures from various view points. I strongly believe that an architect or structural engineer should not only use their skill of engeering but also the information photography can contain, at least about the structures they are in charge of. That would be one of their responsibilities towards the public.
Who are your favorite photographers and more importantly, how has your appreciation of their work affected how you approach your own photography?
I respect all of the fine art photographers in the category of architecture and city scape, whom I have met and talked in various galleries and photo exhibitions, contests as well as on facebook. I'm influenced by all of them.
Are there any specific directions that you would like to take your photography in the future or any specific goals that you wish to achieve?
For the moment, I'm concentrating on modern conceptual urban scapes from various perspectives. In the future I would like to expand the subjects to historical structures without regard to western and eastern styles.
/