Bella von Einsiedel is a talented young artist who's creativity is endless. Through her work she expresses how she sees and feel the world and how she succeeds to escape the daily grind. Discover her amazing images and enter her fantastic and magical world. Thanks to Yvette Depaepe for conducting the interview. You will find more images by the end of the article.

Please introduce yourself, Bella.
I'm a mother, I'm a dreamer, I'm an office clerk, I'm a conceptual photographer.
I was born in a small town in the former German Democratic Republic and now I live in Berlin with my family.
At age 17 I got an analog camera and started to take a lot of pictures and I enjoyed it. However I was just a shutter bug and I never had any intention of becoming a photographer or devoting myself more to photography. My passion for photography began at the age of 23 when I met a friend passing by on a bicycle with a camera around her neck. Back then I had a lot of stress and my friend evoked a certain happiness that I wished to feel as well: a few days later I bought my first reflex camera. In the beginning my images were of nature, landscapes and stills but watching my child growing up changed my life irrevocably and I discovered my passion for portraits.

Do you have a specific photographic vision, Bella?
In my opinion, photography is a gift because it provides a chance to escape the daily grind and to express ones feelings. Photography begins in the heart and is a mirror to the soul.

You are really drawn by conceptual photography. Where do you get your inspiration for your motives?
My ambition is to create distinctive photos: I want everyone to be able to see the world through my eyes and feel what I feel. Sometimes I dream of photo ideas. Then I get up and write it down or try to remember it. But unfortunately, I often forget. And sometimes I have an idea when I hear a song line when watching a movie or if I'm just walking around. Then I always take my phone and scribble sketches. Some sketches look funny and others look quite the same as the final image.
Also my family is a great source of inspiration. They always support me and for that I am very grateful.

Is the story behind your images more important than technical perfection?
This question isn't answered easily because I think that a good image often requires both - quality and a story. There are images that were perfectly done in Photoshop but some of them are without a soul, or even without a statement. They are to perfect and too sterile. On the other hand, I think it's a pity when I see an amazing concept and the quality is poor. Low quality can also destroy an image. That's why I think, that an image needs soul and quality.
My models are friends, family, friends of friends, or customers who have contacted me. I love to create individual stories for each person. Every job is a new challenge for me, for my imagination and my skills in image processing.

What is your most important advice to a beginner in conceptual photography and how do you get started?My advice: Try, try, try. Even if your ideas are bizarre and not to everyone's taste they are important for the developmental process as an artist. When I started I had absolutely no knowledge of photo editing and my pictures were awful but all these ideas were in my head and thus I began to deal with Photoshop and Co. It wasn't easy. I'm still learning and it takes a lot of time but if you really want it you realize that it's worth it. I also think it's important to have / to create your own style. There are many artists at 1x which have a recognizable style and I think it's a good place to develop your own style, one that people can recognize immediately – in the best case: because they are good and not because they are bad :)

Who are your favorite photographers and more importantly, how has your appreciation of their work affected how you approach your own photography?
One of my favorite photographers is Richard Avedon whose images I adore because they are full of soul. He shocks but also impresses people with his pictures. It doesn't matter what kind of reaction an image evokes, but it should trigger a reaction.

Are there any specific directions that you would like to take your photography in the future or any specific goals that you wish to achieve?
Two years ago I never thought about the possibility of being awarded internationally. Thus, I achieved more than I ever hoped for. I am happy if there are a few people who like my pictures or if my pictures trigger a feeling.

Describe your favorite photograph taken by you and why it is special to you?
It isn't easy to make a decision. I like the picture "upside down", because it's an image without rules. The whole world is upside down, no law of gravity, but the bird is flying in the right direction, the hair and skirt are flying in the wrong direction, the cord of the skirt is flying in the right direction and so on.... Sometimes you feel like you're going to be spat out by the world and then you no longer know which way is up and which is down. On the other hand it also shows the eternal dream of flying, the dream to tinker your own world and to drift.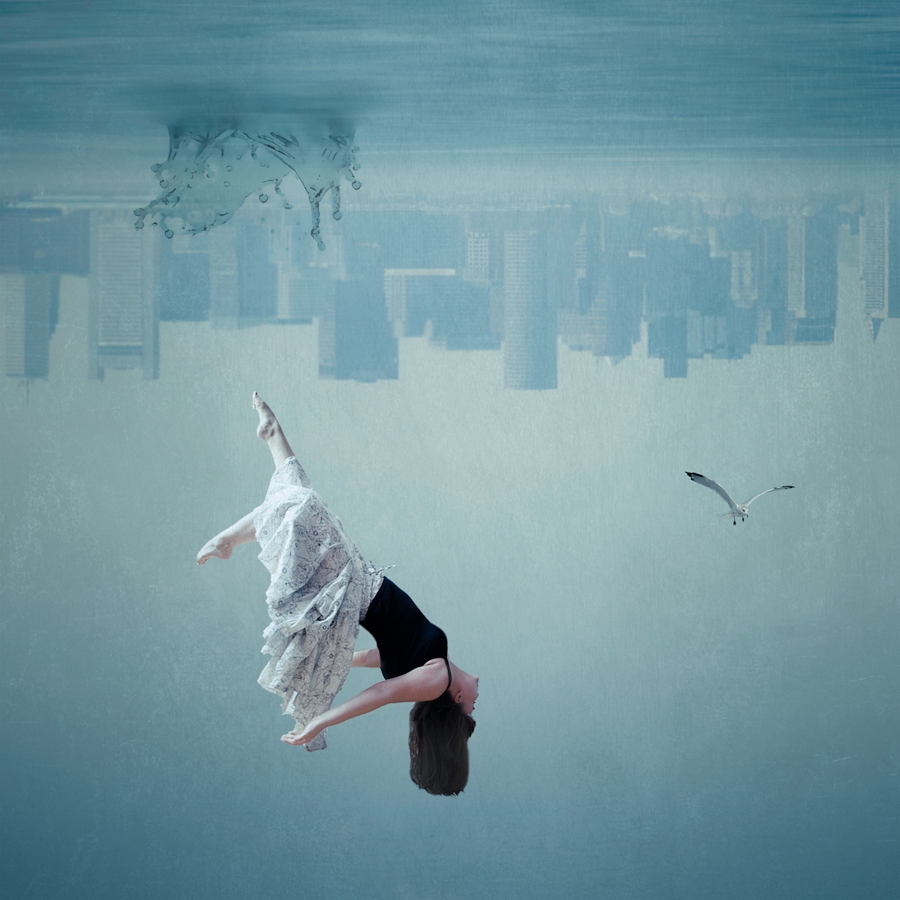 I
s there anything else you wish to add and what do you think about 1X as a home base for your work ?

1x is a good platform for photographers and photo artists. Beginners can get inspiration and advanced photographers can present their works internationally. The fact that the images are curated also increases the quality of the page.