Photostory by Yan Zhang
"Dad, how long will we stay here? I am very cold" my daughter Feili asked.
"Maybe 3 or 4 hours, I don't know" I replied.
"If you are cold, you can walk around to keep your body warm, but please don't walk too close to this spot, otherwise the tripod will shake" I added.
It was 3:45am on 4 July 2015, the temperature was below zero degree Celsius – a typical winter in the New Zealand mountains. My daughter and I were at a small tarn (mountain lake) not far from Paukakai Hut in Mount Taranaki, where I was taking photographs of this beautiful volcanic mountain. By the end, we stayed more than 5 hours at this spot. That morning was definitely an unforgettable experience for Feili, though for me it was one of several winter mountain expeditions I had undertaken in New Zealand in recent years.
Mount Taranaki – A Beautiful Volcanic Mountain
Mount Taranaki, also called Mount Egmont is an active but quiescent stratovolcano located in the Taranaki region on the west coast of the North Island of New Zealand. Its last eruption was back in 1854.
While Captain Cook named the mountain Egmont in 1772, the Maori have called it Taranaki for many centuries. The Maori word tara means mountain peak, and naki means shining. So in Maori language, Taranaki means a shining mountain peak.
Compared with many other volcanic mountains in New Zealand, Mount Taranaki has its unique features. When approaching the west coast region on the North Island, on a sunny day one can see the unique cone-shaped mountain summit from a very far distance. This 2518 meter high mountain is one of the most symmetrical volcanic cones in the world. During the winter period, more snow covers the mountain peak, which makes this magnificent mountain even more impressive.
I have been fascinated by this mountain when I first saw its picture on the Internet several years ago. In recent years, with my increasing interest in mountaineering and mountain photography, I have decided that I will climb to the summit of Mount Taranaki in the near future. This trip was my first attempt to obtain first-hand knowledge and experience about this mountain.
Our Journey
My daughter Feili and I arrived at Auckland Airport in the afternoon of 29 June 2015. We then drove directly towards Hamilton – New Zealand's fourth biggest city,halfway between Auckland and New Plymouth. We stayed overnight in Hamilton. This gave us sufficient time to go to the local outdoor warehouse to purchase our backpacking supplies.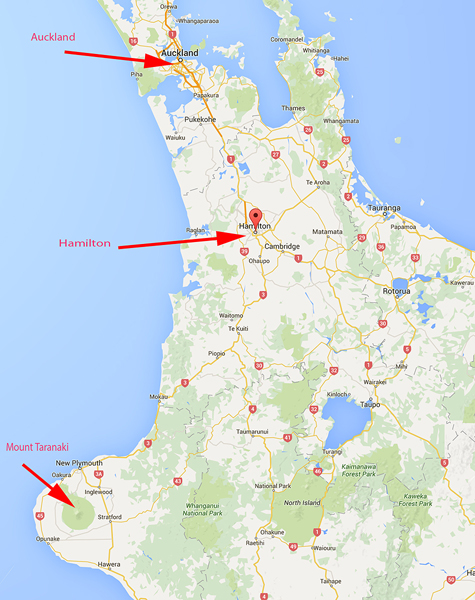 Auckland - Hamilton - New Plymouth
It is worth mentioning that New Plymouth is a small city that lies closest to Mount Taranaki, and hence for many people going to the mountain, it is generally used as a base for their expeditions. But for this trip, we did not go to New Plymouth first, because driving from Auckland takes about 5 hours and we would not have had enough time to buy supplies for our next day's mountain journey.
Day 1 (30 June 2015)
When the first light appeared, we left Hamilton and directly headed to Mount Taranaki. It took us about 4 hours drive to arrive at the Visitor Centre of Taranaki National Park.
My initial plan for exploring this mountain was to first hike to Syme Hut – an alp hut in the south of the park, from there I would be able to obtain some essential knowledge of climbing to the mountain summit for my future trip. Syme Hut is just beside the 1962-meter Fanthams Peak and also relatively close to the mountain summit. It is the last man-made shelter for people to climb the south face of the summit.
Although I am confident to trek to Syme Hut on my own during the winter season, the Visitor Centre staff warned me that it would not be safe for me to take my daughter to that height as she had no mountaineering experience. After discussing with the staff about my aim to photograph the summit of Mount Taranaki, the staff suggested to us that it would be a better option to hike to the Maketawa Hut, located to the northeast of the summit.
By checking the Topo map, we could see that this location was relatively close to the summit and less popular for general backpackers, without compromising the interesting view of the mountain from there. So we decided to hike to this hut and stay one night there.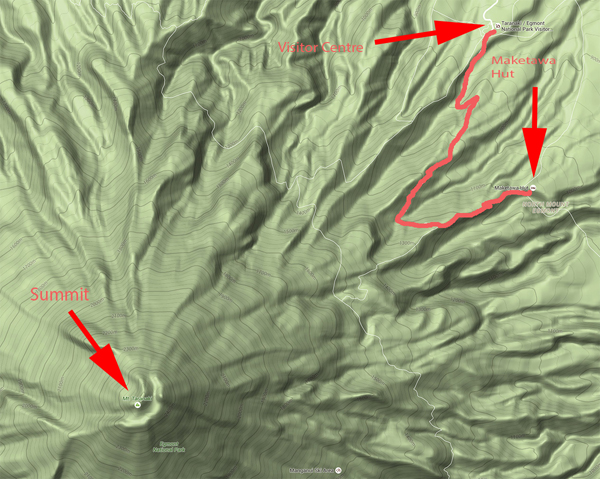 Visitor Center - Maketawa Hut - Mountain Summit
The red line shows our trekking path towards Maketawa Hut. We hiked in a very heavy foggy condition, and could not see what the trail condition was like beyond the warning sign. But overall, it was a comfortable hike for both of us. We finally arrived at the hut in late afternoon.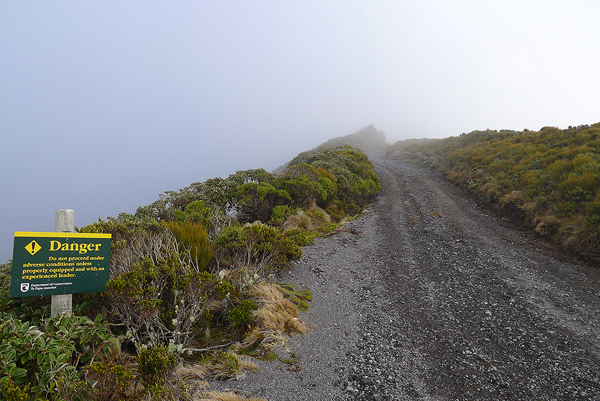 Along our hike, we came to an intersection where one direction leads towards to the summit. But we could not see anything far beyond the sign due to the heavy fog.
After we set up our beds, I walked around the hut and tried to find the direction to the mountain summit. But the visibility was so poor that we could not see anything beyond 20 meters. I wondered whether we arrived at the wrong place with no view of the summit at all. However my GPS indicated the mountain should be there right in front of us.
By 9pm, when I checked the weather outside the hut, the mist was gone and the huge mountain summit suddenly appeared right in front of me. It was so big and close, and I realised that we were actually surrounded by that magnificent mountain. After I took a few shots, it became foggy again. I had to go back to the hut and slept. I woke up several times during the night, and finally, around 4am, I walked out of the hut, got to an open spot and started to shoot star trails over the summit.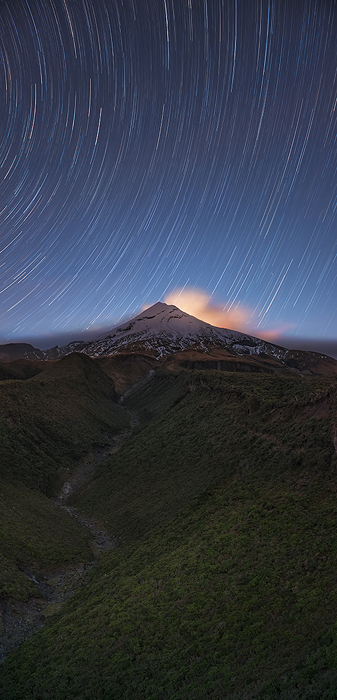 Star trails over the summit of Mount Taranaki. This image was a result of an equivalent 90 minutes exposure. By the time I completed the exposure, the mountain summit was beginning to be lit by the rising sun on the right side of my camera.
Day 2 and Day 3 (1-2 July 2015)
It was a sunny day on the 1st of July. After finishing my morning shoot near the hut, we hiked in another direction back to the Visitor Centre. As planned earlier, we would directly head to Pouakai Hut – a major mountain hut located in the far northwest side of the mountain summit, as shown on this map.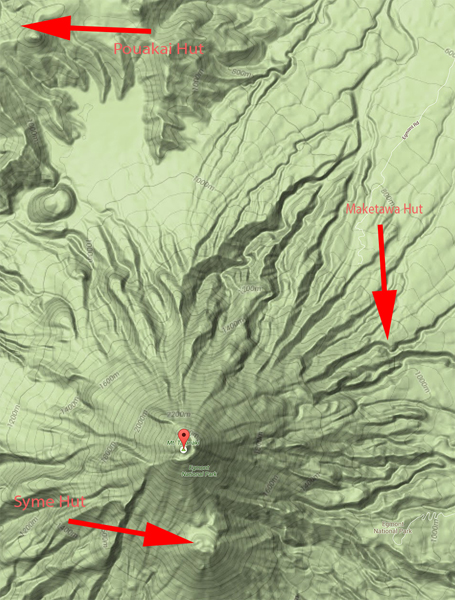 Syme Hut - Summit - Maketawa Hut - Pouakai Hut
I checked the weather broadcast again at the Visitor Centre, and learned that possibly a storm would come to the area around the 2nd or 3rd of July. So instead of going on July 1st , we decided to hike to Pouakai Hut the next day in order to catch up with the bad weather. I was hoping that by the time the storm passed, there would be interesting weather and light conditions for photography.
So my daughter and I went to New Plymouth and stayed one night there. This also gave us an opportunity to get some rest. In the evening, we took a sightseeing walk along the city's western shoreline.
Next day early morning, we left our motel and started our journey towards Pouakai Hut. It took a 30 minutes drive to reach the trailhead from New Plymouth. However, when we started to hike, a gust of wind drove down to the valley and it began to rain.
It was not pleasant to hike in the rain, though the trail itself was just a moderate level of difficulty. By the time we arrived at the hut, both of us were drenched. Fortunately, the hut was well equipped and we were able to make a fire to dry our clothes.
Day 4 and Day 5 (3rd and 4th of July 2015)
July 3rd, 2015 was definitely a dramatic day. At midnight of July 2nd , a severe storm attacked the area, just as predicted by the local weather broadcasting service. Although we were aware of the coming storm, we simply were not prepared for how strong and wild it was.
For the whole day, we could not go anywhere and had to stay at the hut. Outside, the wind howled wildly and the rain fell fiercely to the ground. We could feel the wooden hut shaking constantly.
I had experienced several episodes of bad weather in the New Zealand Mountains since 2013, but this time I simply felt a true outrage from nature mother. The wind speed was once over 120 km/hour. As such, an official warning was issued from the Park Visitor Centre concerning this area.
The storm gradually ceased at 8:30pm, and the mountain returned to its calmness, although it was still drizzling. I came out of the hut, and saw a full moon was rising from the east, and surprisingly, a beautiful moon-bow appeared in the west. I went back to fetch my tripod and camera and made a number of shots to capture this amazing moment, as shown in here.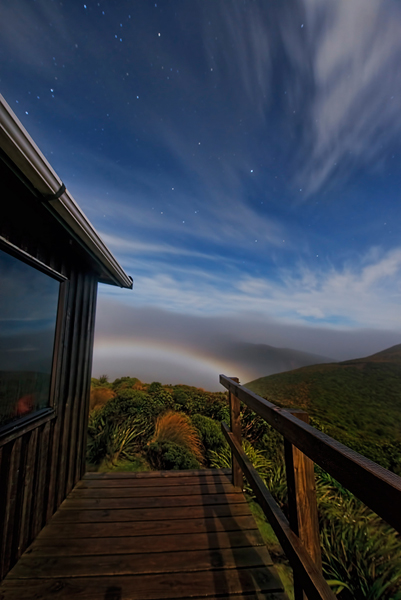 Starry sky and a moon-bow in front of Pouakai Hut
I woke up at 3:00am. By looking through the window, I knew that our 20 hours bearing with such severe weather finally came to an end. I called Feili and asked her whether she wanted to go with me to my photography spot at this time and she agreed.. We arrived at the spot at 3:30am. The scene was just stunning: it was calm ,many stars sparkling in the sky, while the lower level clouds appeared moving fast at the same time. Because it was a full moon night, it was bright enough for me to move around and compose the scenes from different angles. The following Photo 7 was one of many photos I took during this period of time.
When the first light appeared from the east, the sky changed dramatically, with the reflection in the tarn, it illustrated one of the most beautiful symmetric mountain scenes I had ever seen.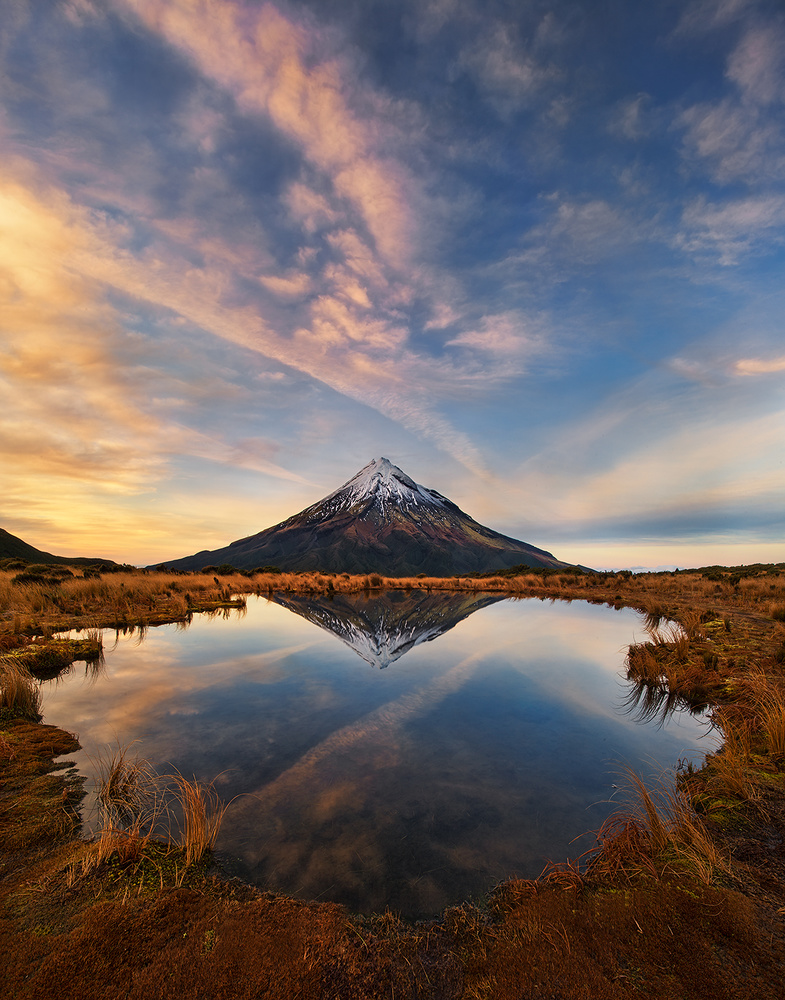 Winter Sunrise at Mount Taranaki
We stayed in this spot until 9:00am in the morning. While I didn't feel time passing, because of a concentration with my shooting, my daughter Feili had to bear with such freezing cold for more than 5 hours without having anything to do. After the trip, I asked Feili whether she would like to go with me to the New Zealand mountains again, "Of course", she said, "except for the freezing morning shooting part!" I understood that this had been a quite painful experience.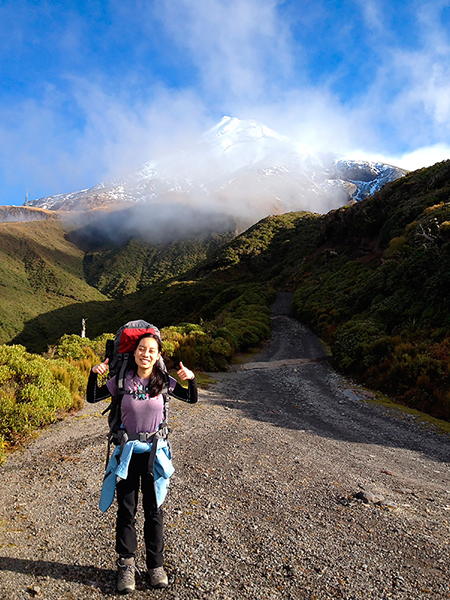 Feili proudly completed her tramping journey
Just as the sun rose, the whole mountain was covered by sunshine. It was time now to get off the mountain. We went back to the hut, had a quick breakfast, and packed our stuff. After experiencing yesterday's severe storm, we both felt great relief on the way home …
Some Final Words
Reaching the summit of Mount Taranaki is a challenging mountaineering task. This trip has given me essential knowledge of how I could achieve my goal. A plan has already been set up and I am on my way of preparations for this new mountaineering and photography project.

Besides the mountain climb, Mount Taranaki is also a special and interesting place for general hiking and backpacking activities. For people who just want to undertake such activities in this mountain region, I would like to give the following two suggestions:
Use mountain huts as much as you can during your trip. All mountain huts in this national park are well equipped with water supply, bunk beds and toilets. These huts are also located in different directions and areas within the park, and are connected via well marked hiking trails.
Weather in this area is quite unpredictable. Storms could come anytime and only attack a local part of this mountain. If you plan a multiple-day backpacking trip, you may consider to carry at least one day extra food rations, in case you get stuck there due to bad weather.
In recent years, Yan Zhang has devoted a great deal of efforts to exploring alpine mountains in New Zealand from both the mountaineering and photography perspective. Yan resides in Sydney, Australia with his wife and two daughters.
http://yanzhangphotography.com