"Photography is a wonderful journey"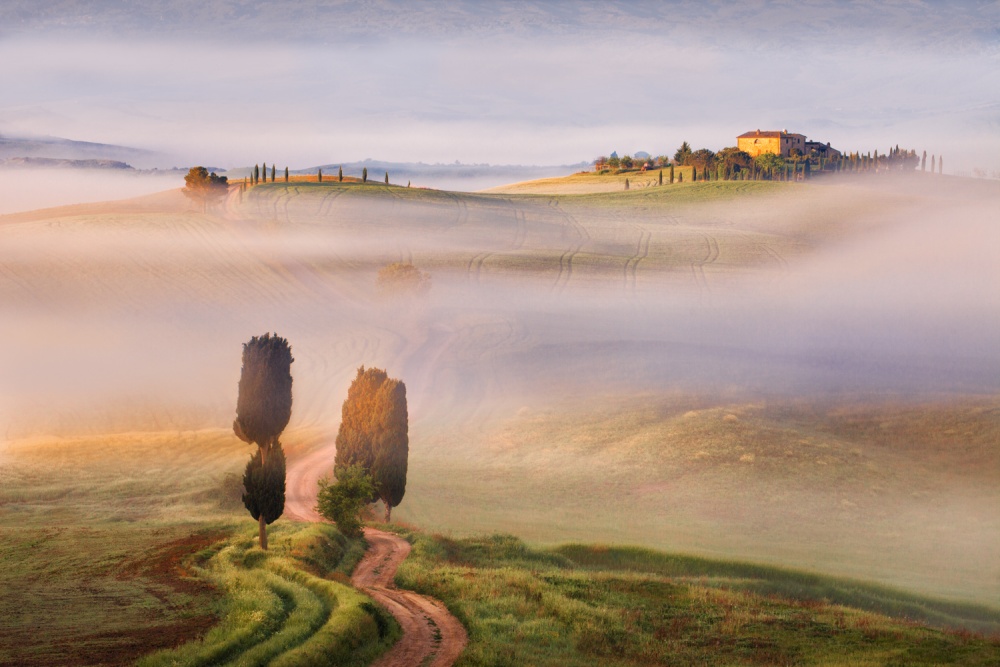 Hardest working man

For a long time I have wondered what makes the photos of Peter Svoboda so special. Landscape photography is a very popular genre and there are many wonderful landscape photographers out there. Still, no photographs look quite like Peter's.

Saying that it's because they are in black & white is making it too easy. Peter Svoboda has several photos in full color that in other regards don't differ much. So what is it then? Is it the composition? The amount of grain? The lighting or the clouds that always seem to be exactly where they should be. How does he do it? Maybe he is just lucky to be at the right place at the right time.
Peter Svoboda was born in the city of Kosice in Slovakia, where he still lives. As a teenager he expressed his interest in art in several ways. He made canvas oil paintings and did graphic work. He later attended art school where he got the opportunity to further develop his artistic talents in drawing and water color painting. It was around that time that his father introduced him to the allure of photography and he made his first black & white photographs. In the beginning, taking photos was only a way for him to capture motifs that he later could recreate in paint. What kind of motifs? Landscapes, of course!

After graduating Medical University, he started working and was forced to prioritize among his activities in art. As a result, the painting and drawing had to step aside in favor of photography. The choice of focusing on landscapes was natural:
"I'm a rather outdoor type of person and I'm spending most of my leisure activities in nature. Especially mountain biking, running, hiking and ski mountaineering. Of course with my camera, searching for interesting places and planning my next trips."

It's sometimes claimed that being under pressure is useful for the creative mind. With Peter Svoboda, this seems to be true. He finds that the busier his schedule is, the more inspiration he finds in those valuable silent moments:

"Photography is something of an escape to another dimension for me. Hard to describe in words, but I'm addicted to it for sure!"
Despite the fact that his photos look very well thought out and are exceptionally well composed, Peter still considers himself a passionate photographer simply searching for special and rare moments:
"My effort is to get photos that are easy to read, atmospheric and impressive. Those are the shots I'm satisfied with. I'm hunting for the special moments and moods. It doesn't matter if success comes after the 20th or 30th visit to the same place. Those photos with a mood or a story have a value for me every time I take them."

This is also his philosophy when he is reviewing photos as a curator. He can have oversight with minior technichal and compositional issues, if the photo is strong in message, story, mood or estheatics:

"Try to shoot special moments and places. Find a different point of view, story, message or a mood. Then success has to come!"
A common misstake that he feels many novice photographers do is to take too many photos, instead of taking photos that really counts:
"In our digital age it's so "cheap" to shoot even 200-300 pictures during an hour, but try to imagine that you have a limited amount of shots only. Look around with your eyes wide open and press the trigger in the moment when you consider it's worth doing so".

He feels that becoming a good photographer is a process that deserves to take some time:

"Photography is a wonderful journey and also learning itself is a beautiful process. My advice is that each photographer should do his work with an effort, it must bring a joy. Never hurry. Go your own way and don't try to copy someone else's work, because then the photographs will not tell much about you."
Perhaps the photos of Peter Svoboda tell me more about him than I first thought. All the hard work and all the time spent by going to the same place 30 times, just to be there when the conditions are just right. It's all there for everyone to see. In the grain, in the light and in the clouds. Magical moments turned into magical photos.