"They're all part of the odyssey"

With a background from both Sotheby's auctions and Tate Modern Art, she couldn't be better suited for her role as a 1x curator. As a graphic designer, she has made 1xMagazine the beautiful read that it is. It's easy to forget that Lara Kantardjian is also an exceptional photographer.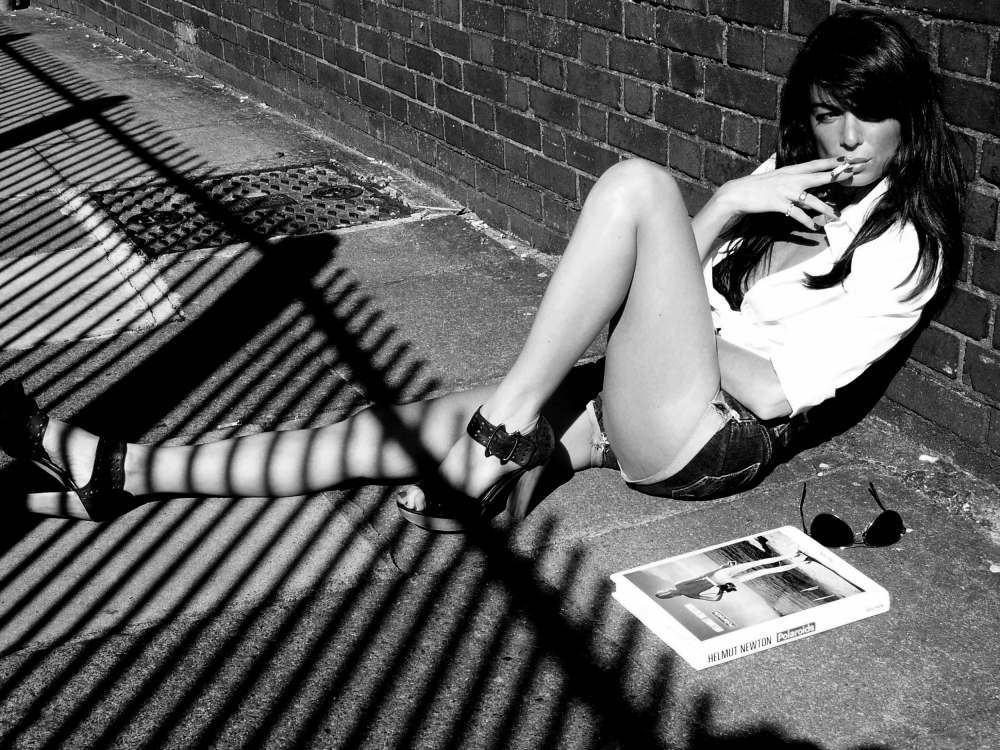 Freeze frame

When you look at the photos of Lara Kantardjian, you may get the feeling that you are actually watching a frame from a movie. Her photos bring a sense of past and future like few others. You get a feel of what happened before the shot was taken and what might happen next. It's like someone has pushed the pause button on the video remote.

Lara Kantardijan has a most impressive background as a curator. She has a genuine education in photography and art with several diplomas, including a Masters Degree, from some of the best schools in the field. She has since then had an internship at Sotheby's auctions and has attended the curational training program at Tate Modern Art.
As a child, she was very interested in painting and drawing. It wasnt until she opened a book and found a loose photographic print inserted between the pages, that she realized what an impact a photo could have:

"The photograph was unlike anything I had seen before. I was transfixed by the intensity of the light, the compositional style, the shallow depth of field, the film grain, the sombre yet sensual mood the image captured. That photograph changed my way of seeing and set my heart on an SLR. And with my first, I felt a whole world had opened"
Despite now being a very accomplished photographer with over 15 years of experience as an edtior and graphic designer, she describes her photographic vision through a movie quote;

"You will find me always using the quote "A film is never really good unless the camera is an eye in the head of a poet" by Orson Welles. As a Fine art photographer, I strive for something like that.
I have always been interested in poetic light, mood, atmosphere, details and the sublime whatever my camera is pointed to. Making the ordinary stream of daily life into something extraordinary. I am interested in the human condition in its most honest, inward, solitary state – be it melancholic or simply contemplative."
The fact that she likes to shoot with old fashioned film also has a practical impact on her photography;

"Working with film, everything is slow. Not the act of taking a photo as such but the limitations of 12 exposures on a 120 film or 36 on a 35mm makes you work in a very focused manner. I call it a heightened sense of seeing and feeling. I use a compact digital camera in the same way."
If you would like to add a music track to Lara's photographs, you would probably find that slow, seductive jazzy music would make a perfect fit. This makes perfect sense, since it's that kind of music that Lara likes to listen to while she's taking them;
"I listen to very specific music when taking photos. The same slow ambient Jazz noir tracks are on my ipod when taking photos in the city at night or around dawn."
Lara is a photographer who is very consistent in her own style. There are variations in her work, but they are within her stylistic frame. Her best advice to new photographers is to be true to their own style;
"Create work that speaks to you. Find a style and subject/s that excited you. Photograph everything that you connect with in that particular style. Give yourself projects. Learn the basics and rules of photography. Experiment and break them to see where it takes you. Surprise yourself."

When Lara reviews a photo, she always starts by trying to understand what the photographer's intention was. She tries to take in the story, mood, scene, style, orginality, creativity, message and composition. She finds these qualities more significant than technical perfection;
"As a film photographer, technical perfection doesn't interest me as such. I appreciate it and there are certain genres where it is essential to some level for sure, but in general if the image is strong enough and engaging overall the technical quality is not that important. You only have to look at examples from the history of pre-digital photography to see that."
Most important of all she thinks is courage. Courage to show originality. This goes for all art forms. Work of great originality that dare to be different and unique stands a greater chance to not be understood at all. Lara thinks more photographers should take that risk.
With her affection for movie quotes and background music, one could sometimes wish that she had a videocamera rather than a still camera so we could see what happens next. But maybe it's true that some things are best left to the imagination. According to Lara herself, everything is already there;
"For me each photo has its own story. Some are like poems; some are novels and some are what I call the cinematic moment. They're all part of the odyssey."