I started off like many other photographers with capturing the beauty of the landscapes but I swiftly realized that there is more to it and I got drawn to Fine art and the so called conceptual, creative edit photography. Once you step into this infinite unknown world there is no way back, it is only you and these three aspects and of course your imagination.
Nowadays the differentiation has almost completely evaporated and these principles itself have a huge impact on your final image. With that in mind you can't create something rather complicated without missing one of those 3 things. My aspiration is to balance it all.
There is always a relationship with my human psyche ever since I started to create images. It naturally started to evolve no matter the subject nor the concept beyond. Sometimes there is no darker place as our own thoughts.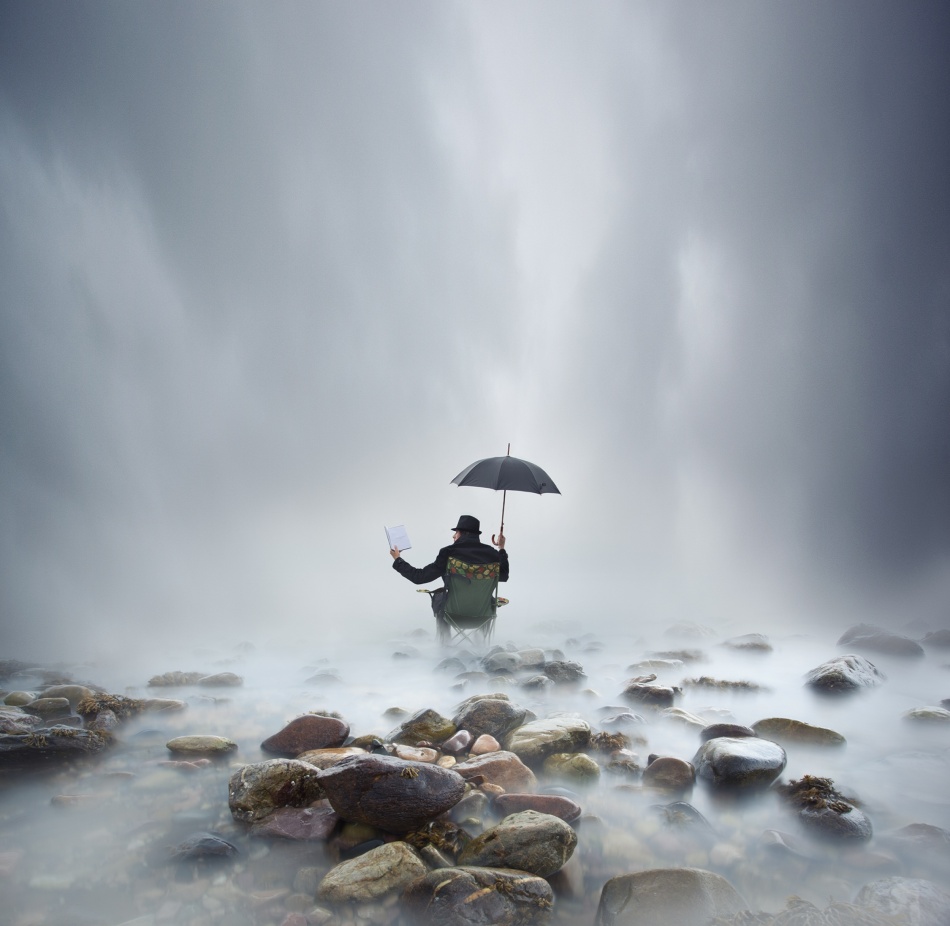 I keep looking for random places, sometimes with no intention of discovering anything and sometimes with a huge promise for myself to have everything in place just as I wanted.
I shoot with Mark II and use very few lenses canon 17-40, samyang 14, canon70-200, canon 24-70 and that is pretty much it. At the beginning I used to shoot 99% of my work with sigma 10mm.I am using Photoshop since the very beginning, nothing else really.
The aggregate vision starts with either a simple or more profound concept. Sometimes the initial idea is very clear other times nebulous. From that point onwards my brain is trying to catch tiny little pieces of anything that surrounds me and the general process is mostly done all in my head. Yet I have to agree it may be a bit of an unconventional way of accomplishing it but it has proven to be the most efficient way for me to work like that.
Patience and hard work are essential when starting seriously with photography. I spent an enormous amount of time on my pc. I began with simple tutorials and was looking for all kinds of information on the Internet.
My favorite photographers are many but one of them I particularly like is Dean West. His world of fantasy, unconventional dreams and approach to parallel worlds has had a huge impact on my future photo manipulations.
My all-favorite image is taken by Magnum Photographer Josef Koudelka. It is really distinctive in the way in which it depicts freedom. It represents a seagull flying over the sea. It is a beautiful BW creation that makes me feel good and relaxed.
I will continue doing what I have been doing till now, trying to come up with extraordinary concepts that people might find interesting in some way. Although I am pretty sure creative edit cannot be for every viewer.
My own favorite image taken by me is "Let the Life Flow in". The building in which the image was taken had a magical and mystical atmosphere with its own authenticity. The light, the abandoned place and myself being there all alone: it has all come together in that very place.