by Yan Zhang
In this high tech digital era, photographers have increasing freedom of making their photographs both in the shooting field and post-processing. But I always believe that as an art form, some essence of photography should remain unaffected by the technology evolution. Photographers who understand the essence of this art form may only produce the vital and genuine works.
Jonathan Zhang, travel and landscape photographer is one such photographer whom I have known for several years.
I first got to know Jon from his extensive travel blogs back in 2010. I was not only amazed by the breathtaking images, but I was also very touched by Jon's travel stories in which he shared his unique travel experiences to many exotic places with different cultures, people and landscapes. In fact, Jon's travel story and images of his first New Zealand visit in 2009 motivated me to participate in a New Zealand photography expedition in 2011. That experience eventually reshaped my photography journey.

Jon is a photographer whose works often evoke audience's emotions. Whether his work involves is a giant waterfall, a ridged mountain, or a peaceful lake shore, Jon's images always illustrate the dramatic contrast between men and nature and reveals our engagement with the natural environment. Long exposure is another characteristic of Jon's landscape photography. Many of Jon's images are taken using long exposure technique that creates some beautiful motion and dreamy effects.
We first met in Patagonia in April 2015 when we were both undertaking photography expeditions. Through our more frequent communications and meetings in recent years, I got to know more about Jon's travel and photography journey. Curiosity about the world and a passion for nature has led Jon to reach many faraway lands across the world.

Friends have called him a super traveller. I must admit the images and stories that Jon brought to us were not simply from a traveller's eyes – they were from a worldly voyager's viewpoint. Photo 8 and Photo 11, for instance, are good examples showing Jon's photography style. His works are rich with people and culture elements, while his landscape images such as Photo 13 often give us impressive grandness of the surroundings that is exemplified by the presence of a person.
In the following, I am excited to share with our 1X audience my very recent interview with Jonathan Zhang. We will get to know his stories and personal visions about photography, together with a number of stunning images he took over the years. I am sure that from this interview, we will witness Jon's talent and dedication, and be inspired to continue our own personal practice in photography.
Hi Jon, I am glad you accepted our invitation to have this interview with 1X. I understand that you probably are quite new to our 1X community. But you have a lot of followers and fans on social media such as Facebook, Meipian, Weibo, etc., and people there are familiar with your photography works.
I think it is very valuable for our 1X audience to know some talent photographers like you outside the 1X community.
First of all, can you tell us something about yourself? Where do you live and what is your current occupation? How did you get into photography? I know your main photography works are in travel and landscape. Do you have particular interests and focuses in your photography in general?
Hi Yan, thank you for inviting me for this interview. It's always nice to chat with great photographers like you. I came to the States for college back in 1991 and since then I pretty much spent my past twenty-six years living in California with some short detours into Oregon. I currently live in Irvine, a town about an hour south of Los Angeles. I work for Qualcomm as a senior engineering director focusing on the design of telecommunication integrated circuits.
I started my interests in photography back around 1996. At first, I was really more attracted to the mechanical aspects of the cameras and lenses, there was no iPhones or PSP back then, so cameras and lenses were the gadgets that fascinated me with their details and complexity. Only after I obtained my Nikon D3 in 2008 I started doing photography more seriously.
My primary interests are in landscape and travel photography which come naturally as I very much enjoy traveling. I tend to do long exposure shots more than anything else – I really like the expression of how moving objects such as clouds and waterfalls, under long exposure, bring a sense of motion into a still image. I am also interested in portraiture but I haven't had time to really dig into the area. If I had time I would hope to get more into portraiture.
"Weather Break"

In your landscape photography, what are your preferred locations and climates, and why are they so appealing to you?
I love winter-scape, scenes with ice and snow and most of my travels in the past few years have been to the Arctic regions. This started with my trip to Iceland back in 2010, which was much before the crowd hit the region. Afterwards it was Norway, Greenland, then the Southern part of the world of the amazing Patagonia and Antarctica, and many trips to the beautiful Canadian Rockies.
What amazed me the most was how warm the sunlight gets in these regions, especially in winter, there's certainly also the bonus of Northern lights. To me snow and ice bring a lot of simplicity and pureness, great shapes and textures into an image. I also prefer cold weather as it usually provides better visibility through the air giving an image very good clarity and crispiness.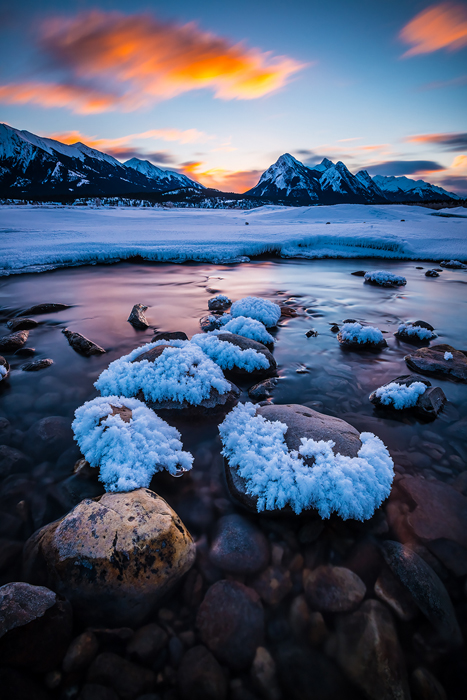 "Unfrozen"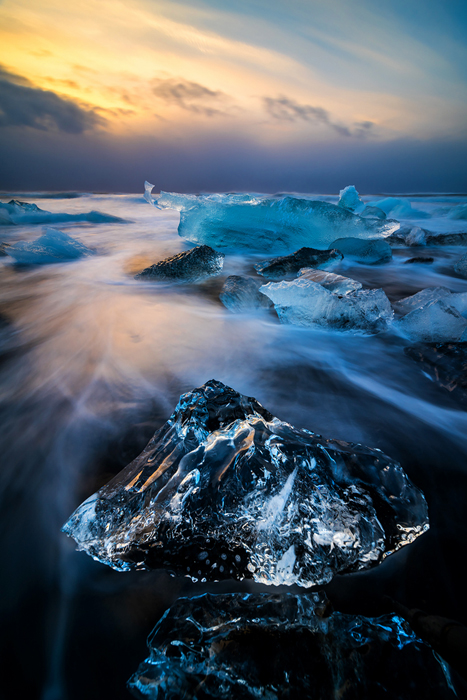 "Floating Crystals"


One particular feature I really like in your photography is that many of your landscape images include human elements, which not just provide a visible scaling of the place you photographed, but also show an engagement between nature and men through story telling. This is not easy to achieve in many circumstances. May you share with us what your ideas and motivations for taking these types of photographs?
To me an image with a human figure would definitely help to reveal the scale of the scene. I also think that the inclusion of a human figure especially a view from the rear would provide the viewer a sense of engagement, a feeling of being part of the scene observing the scenery alongside. I do also feel that doing so would bring an extra piece of story line into an image, the image no longer presents just the lighting, the details of nature, but also provides more space for imagination.
"Misty Canyon"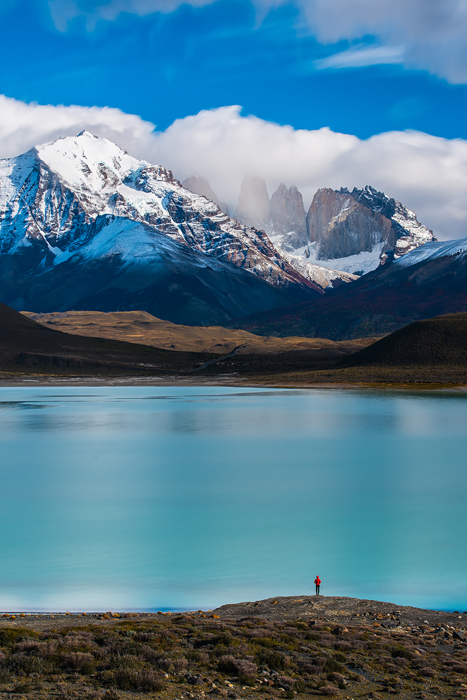 "The Torres"

You probably are one of the few photographers I know who has travelled to so many different places around the world. Some of your images, for instance those taken in Sri Lanka, exhibit strong cultural features. May you share with us some of your experiences of visiting these places with interesting cultural diversity? And what is your view of showing such cultural features in travel photography?
I also consider myself very fortunate to have been able to visit many beautiful places.
"Happiness is only real when shared" I really favour this phrase from the movie <Into the Wild> and sharing was exactly what I did. A few years back I used to submit many images to places such as Panoramio, TrekEarth and NG's YourShot, at the time there were not as many travel images around the web as today and I used to get emails from total strangers around the world letting me know that viewing my images really gave them a chance of seeing the places – it has been the best fulfilment for me.
It always amazes me how the places and the people could be so different, the food they cook, the colour combos they use to decorate and to wear, and the music they create and play. I guess these are all part of the personality of a place and its people. All these create much more impact to me than simply finding the best location for a shot.
Many places I visited were also much poorer regions of the world where many things don't come so easily as in my daily life in the States. But a lot of times I am surprised that the lack of resources or technical advancement or convenience, does not really come in as a penalty to affect the happiness of the local people. In contrast, they usually gave me a feeling of having even better enjoyment of their life – the feeling I only remember of experiencing far in the past when I was still a kid. I really hope that I could spread such joy through my images.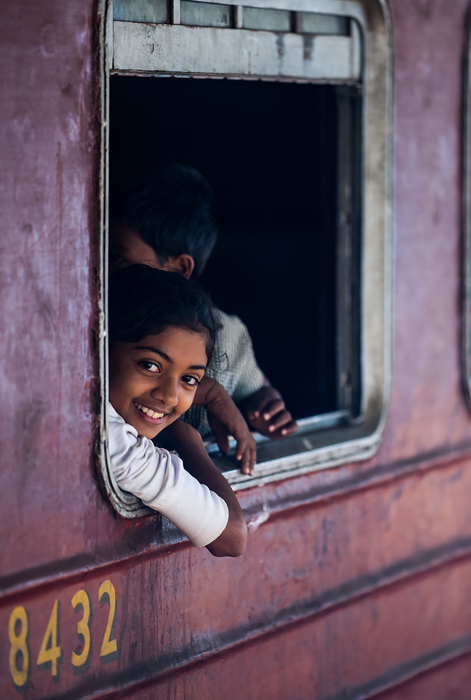 "Smile of Ceylon"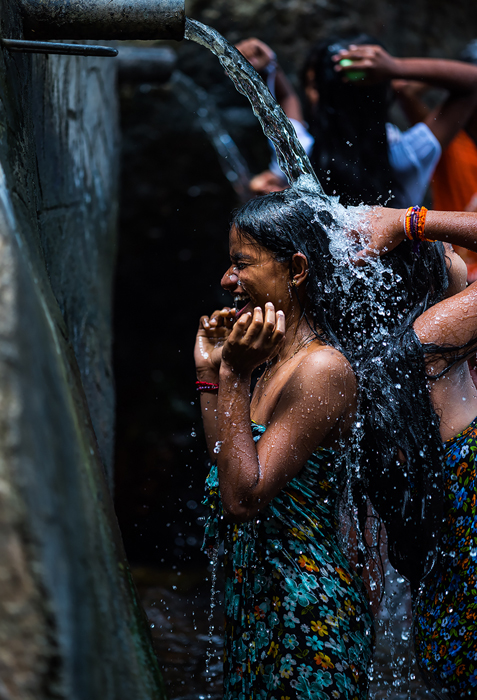 "Summer Joy"

Who are your favourite photographers and more importantly, how has your appreciation of their work affected your own photography? May you take one specific photo from your favourite photographer and explain how this image inspired you?
I am a big fan of Max Rive and Marc Adamus. To me, they represent the best of landscape photography today. There's always so much to learn from looking at their captures, how they manage lighting, how they frame things and especially expressing or amplifying things creatively with a wide angle shot. Certainly applying such learning to my own captures is still very challenging, but I now do think things over more than before when I try to setup a new shot.
This is a technical issue. What gear do you use? Do you use different cameras in different photography scenarios? Now more and more people use drones for aerial photography, which opens a new dimension in photography. Have you had experience of using a drone in your photography? And what are your views for this new approach in photography?
I have been a Nikon shooter since the film days, now I am using a D810 as my primary body. Most of the time, I also bring a D800 with me as a backup. I also just ordered a new D850 and am really looking forward to this new camera. I use prime lenses from Zeiss and Laowa. For instance, for most of my landscape shots I use a wide-angle lens such as the Laowa 12mm or the Zeiss 15mm. For portraiture, I usually use Zeiss 55mm, 85mm and 135mm.
I recently also acquired a Panasonic GH5 for video capture. With the new GH5 I paired it with a Laowa 7.5mm, Panasonic's 14-140mm and Leica's 100-400mm. I use this set mostly for videography work, where the gear requirements are just very different from what I'd need for capturing still images.
At the same time, I am considering possibly moving to Sony camp mostly because Sony's a7 series provides a good combination of features fit for both still and video work, very difficult decision for sure.
I purchased my first drone last August, which was a DJI Phantom 4. Soon after the purchase, the Mavic came out and right away I switched to it for its size and weight since I happen to bring drones with me on my hiking trips. I now enjoy drone photography and videography very much. It is now part of the gears I always bring with me no matter where I go for shooting. Drone provides me a very different perspective, a completely new dimension. Many places are no longer flat from an altitude high above the ground, I would say it gives me angles where using a tripod or handheld simply can't do the job.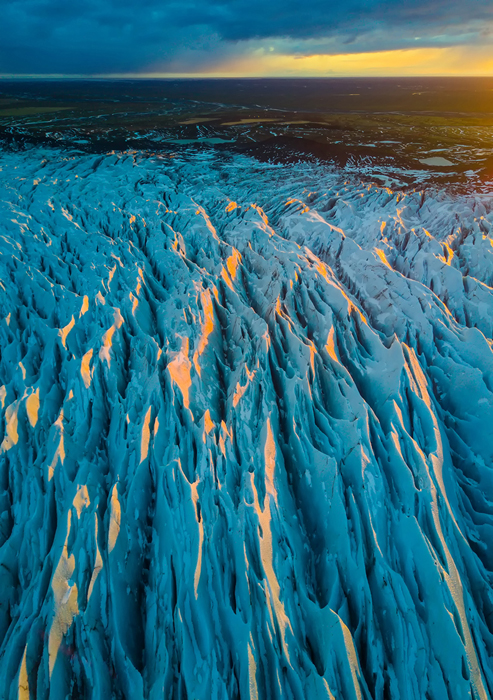 "Glacier Sunset"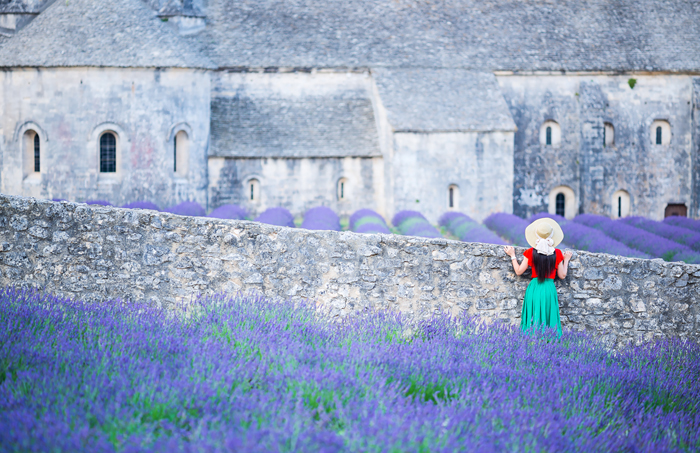 "Senanque Abbey"

May you describe one of your favourite photographs taken by you, and share with us why it is so special to you?
This image was taken in the small fishing village of Reine, Lofoten Islands, Norway. To me an image really represents a moment in time, a piece of my memory, and this was why the image is very special to me.
It was a very cloudy morning. I should say that I didn't really expect anything dramatic to happen as it looked to be plain and grey for the entire morning. At sunrise, the sun suddenly broke out of a small gap over on the horizon and lit up the village and the mountain nearby. The Arctic winter light was so amazingly warm contrasting to the blue and cool hue from the massive clouds in the sky. But that was not it. As the sunrise progressed, it started to snow, beautiful snowflakes pouring down lighted up by the warm sun in front of the bluish backdrop of snowing mountains. Too bad at the time I wasn't into timelapse or video shooting, it would have been great if I was able to capture the event in its entirety, but for sure it was a something I'd never forget.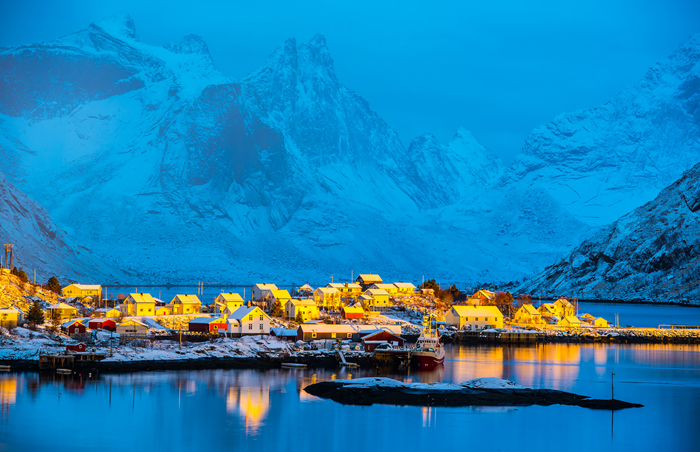 "Winter Contrast"

As a travel and landscape photographer, I understand that you must plan things ahead. Are there any specific destinations that you would like to take your photography in the near future? And why are these places so attractive to you?
I have been to Norway and Iceland four times and Greenland two times in the past few years. Now with a drone, I would really love to pay a few more trips to these places and try to take some drone images and videos. Personally, I would rate Norway the most beautiful country I have visited so far; the grand fjords, the endless sharp peaks crafted by ancient glacier movements, the strange and fascinating rock formations. I can never seem to get tired of the place. Iceland also offers many fascinating scenes you find at no other places, there are also many locations I'd like to explore around Greenland. During the past trips to these locations I basically did still image capture only. For the upcoming trips I plan to do more timelapse captures and drone photo or videography.
Finally, what is your most important advice to a beginner in Travel and Landscape Photography and how do they get started?
I would say to always look at other people's work to learn how they create more drama and bring more emotion into an image using different techniques, but don't always just try to mimic what other people do. Try to look for what really clicks for you, and build up your special expressions, as well as your own photographic language and style.
Thanks very much Jon, today's interview is really interesting. I am sure our audiences will be inspired by your story and images. I wish you all the best in your photography journey.
Jonathan Zhang Photography Bio
Jonathan Zhang – originally from Beijing, China, came to the United States for college back in 1991 and since has been living around Los Angeles, California. Currently as a Senior Engineering Director for Qualcomm, he works in the field of communication integrated circuit design.
Jon's primary interests are travel and photography. He has visited and photographed more than thirty countries in the past ten years. As a known style of his photographic work, he is adept at blending human elements into the natural environment to enhance the perspective of grand landscape while providing audience a sense of being part of the scene. He is also good at utilizing long exposure to highlight objects of movement. He enjoys Arctic landscapes and has had experience photographing Norway, Iceland and Greenland.
Jonathan Zhang has been a member of the 4aperture photography team, and a licensed photographer of Getty Images. His images have also been published in magazines such as Popular Photography and Travel Photography. Jon has also been co-authored multiple Chinese photographic publications.
See more on Jonathan Zhang's photography website