by Editor David Williams
The name 'Jigokudani' means "Hell's Valley" due to the steam and boiling water that bubbles out of small crevices in the frozen ground. It is surrounded by steep cliffs and dense forest. Jigokudani is very nearly as far north as it gets for the snow monkeys. It is around -10 degrees in the winter and snow covers the ground for four months of the year.
In this article I am going to share with you my trip to Jigokudani. This place is well documented by National Geographic, LIFE magazine and other big names in the industry. It originally was wildlife and still is, but after decades of tourism it now has a touristic feel about it.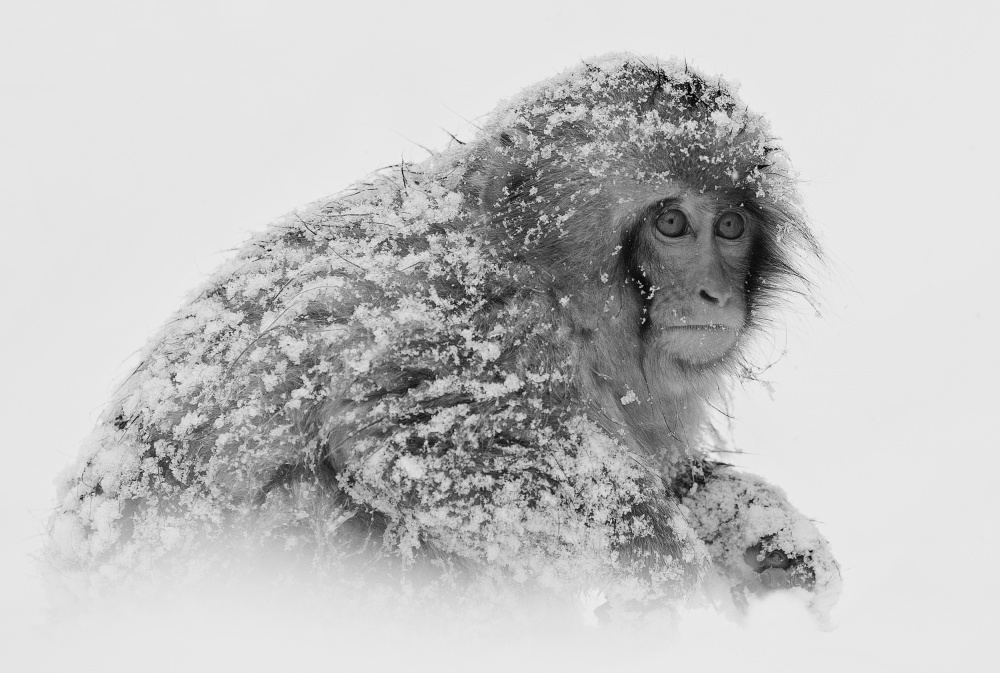 "Snow Monkey" by C.S. Tjandra

A little backstory
Back in the late 50' early 60's a traditional Japanese guest house named Korakukan had an 'onsen' (natural hot spring). It was the only guest house in the Jigokudani area. The monkeys would watch humans soaking in the hot spring and soon they copied the behaviour themselves. They became the only monkeys in the world to enjoy bathing in 'onsens'.

"Steam from an onsen" by David Williams

Seeing bathing monkeys immediately proved popular with visitors, but there were serious repercussions for the guest house, obviously the hygiene of the 'onsen' water. The monkey park had to be moved and baths were created in the park just for the monkeys, using the local hot spring source. Originally fencing was used to keep the monkeys away from the human villages. But the cost and allowing the monkeys to have their freedom won the day.


"happy monkey" by David Williams

So, the daily practice of feeding the monkeys began. This was to encourage them to stay in the park rather than head down to the villages below.
On my trip there I was up at 04:00am, got the train to Tokyo, then I got the bullet train to Nagano and had time to kill before getting another train named "snow monkey express" this was a short pleasant trip through the wilderness of Nagoya before arriving at Yudanaka Stn.


"Nagano station" by David Williams
"View from the train" by David Williams
"One side" by David Williams

There I was greeted by the hotel I was staying at and they drove me to the hotel which is literally at start of the walk to the mountains.
"Before the walk" by David Williams

There is a gift shop just before the real walk begins and they sell all kinds of things as well as climbing boots etc. for those who didn't pack correctly!


"Shop" by David Williams
"Curious" by David Williams

After a quite scary 40 minutes walk through the mountains I reached the park, paid my entrance fee and was greeted by a baby monkey who followed me around for about 20 minutes.

Things to keep in mind
Snow monkeys will usually only bathe in the 'onsen' during the very cold season. This can be from December to late February. The best time to go is January to February though. I found during the week is also best if you want to avoid the huge crowds. I read about people being disappointed that there was no snow and looked like a construction site… well firstly you should check the weather and secondly yes, it is very rocky hence being in the wild. There are fences built into the rocks which is for the safety of the monkeys and nothing else.

"safety of nets" by David Williams

Also, there are pipes which bring the 'onsen' water to the bathing area. The monkeys enjoy these pipes as they are of course very warm for them to enjoy laying on.


"warm pipe" by David Williams
"pipes 2" by David Williams
Opening and closing times:
Winter (around November to around March)
Opening time around 9:00 Closing time around 16:00
Summer (around April to around October
Opening time around 8:30 Closing time around 17:00
Rules:
These are a few rules I will mention.
- If you have a disability and need an assist dog, the dog is still not allowed to enter.
- Do not feed the monkeys
- Do not open plastic bags as the monkeys will automatically think its food and may jump into it.
- NO smoking in the whole area except for one tiny square seating area at the entrance to the park.
- NO food or drink is for sale there
- NO selfie sticks (awesome)
- You cannot use a wheelchair
- You cannot enter drunk
- Do not touch the monkeys
How to get there:
From the Kanto area
Tokyo Hokuriku Shinkansen (through Nagano Station) / Kagayaki / Hakutaka / Asama / Fastest 79 minutes Nagano Station Nagano Electric Railway Limited Express / 38 minutes Yudanaka Bus / 15 minutes Kamibayashi hot spring bus stop Walking / 35 minutes Jigokudani Monkey Park
Tokyo Hokuriku Shinkansen (through Nagano Station) / Kagayaki / Hakutaka / Asama / Fastest 79 minutes Nagano Station Shiga Kogen express bus (※) / 41 minutes Snow Monkey Park Walking / 35 minutes Jigokudani Monkey Park
(Please visit the official website for all details and access information)
Closing words:
It is quite an amazing place to visit and I go there every year. It is open all year round with no closing days except for extreme weather conditions. The monkeys are very relaxed in their natural environment and I saw next to no fighting. As a zoo photographer it did make me feel a lot more for the animals at the zoo, as I witnessed such a huge difference.

"Jump 2" by David Williams
"Jump" by David Williams

See more on David Williams' website
http://www.davidwphotography.com