John Fan has met the world famous photographer Yueheng Duan. You will find more photos by the end of the article.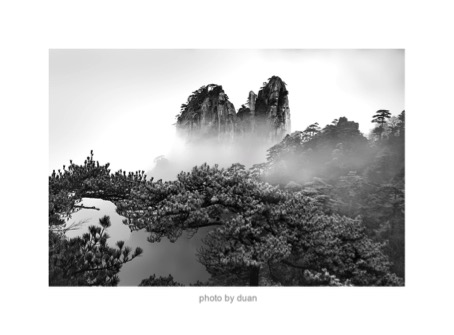 Earlier in his life, Duan worked in the farmland, in the military, and in journalism. Nowadays, Yueheng Duan travels between China and Canada as one of the most well-known photographers on both side of the Pacific Ocean. Despite his colorful life, his photography is the exact opposite. He strips all colors from the nature world and distills his work into a pure art form consisting of black, white and shades of grey in between. His black and white photography mixes eastern philosophy with western spirit, bringing peace and tranquility to millions of admirers worldwide.

When did you start your photography career?
After being sent to countryside as "educated youth" during Culture Revolution, I served in the army in 1970's as a signaler. One day, a friend of mine asked me to help him to develop some films in the darkroom. I was so amazed by the images developed from films. From that on, I started having interest in photography.
After leaving the military service, I got married, had a daughter and worked as a reporter. My reporter salary was merely 37.5 yuan a month, but I bought my first camera for 70 yuan. Those days, photography was an extravagance; a roll of film would cost 2.5 yuan. You can see how much I spent on my photography passion.

How did your photography career take off?
I immigrated to Canada in 2002. It was a difficult time in my life and through my photography I tried to survive in the western world. My success is largely due to my persistence in my photographic art. My style is deeply rooted in China. It reflects my eastern philosophy and my artistic vision. I like landscape because I love nature. Nature brings us enormous beauty in which I find peace and inspiration.
In the digital age, I bought my first Canon 5D in 2006. With digital, I have more freedom for post processing. It rejuvenated my creativity. In 2008, my work started to gain widespread acceptance in China.

Why do you like Black and White?
In comparison to color photography, I prefer black and white photography. It creates a texture of clarity and intensity better than the clamorous nature of color photography. I remember the first time I viewed the masterpieces of black and white photography by Ansel Adams at the Chinese National Art Gallery, I was greatly inspired.
In 2002, when I immigrated to Canada, Fuji provided me color slides for two years. It was autumn in Canada. Nature bursts with color. The color images came out very pretty. But I found myself gradually losing interest after going through 200 rolls of films in a year. I wanted more in my images than simple beauty. Color photography was not the imagery I desired. So I went out and bought large amount of black and white films and equipment, started to focus on black and white.

Do you have any advise to young photographers?
When you reach a bottleneck in your creativity, you need to adjust your thought process, your photography techniques, continue to explore, and more importantly, find out what defines you as a photographer. Once you find yourself, don't try to follow others because they are getting popular with different styles. I continue to experiment ways to merge film and digital techniques so that I can use digital technology in black and white photography to achieve my artistic vision. I spent seven and half years to photograph Lake Ontario. Finally, my persistence is amply rewarded.