Today
Christoph Hessel
will take us back to a railwaystation in Hannover, where he shot his beautiful photo "Passanger". This is how he did it.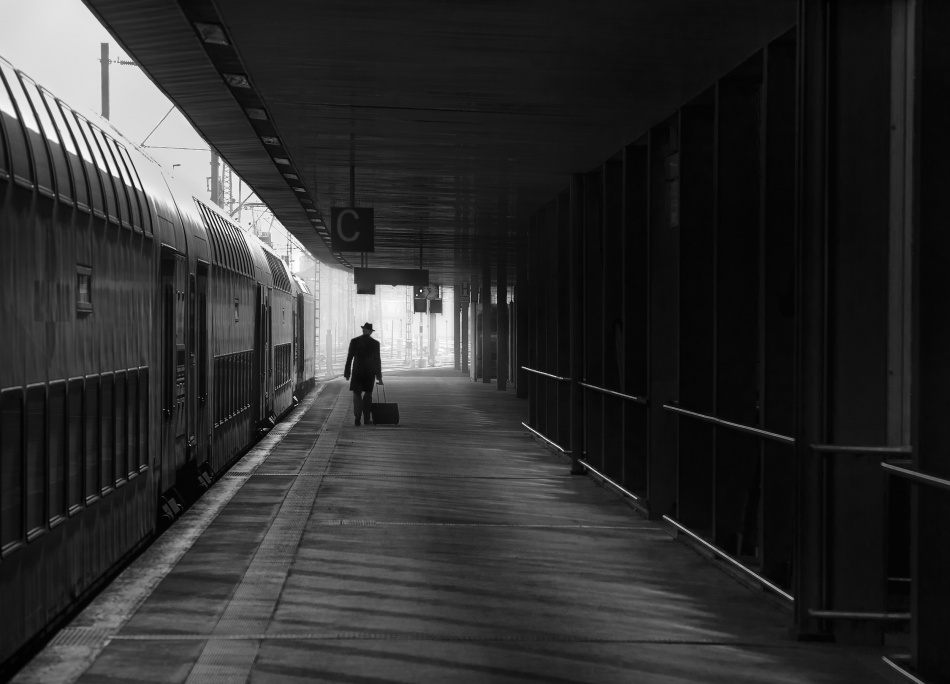 Nikon D3, 120mm, f/5.6, 1/1000, ISO 800.
CONTEXT
I am sure all of us are attracted somehow by railwaystations. They are very much symbol as well for departure as for arrival, for leaving as for coming home.

Besides being so intense emotionally, they are at the same time a very busy, public place.

My intention that day was to capture as many interesting people, monents and situations as possible. I went to the Hannover Central Station, a busy place, and decided to use the 80-200 f2.8, as it offers faster reaction.

I saw him, dressed in a wonderful timeless style. The platform was empty, and the light wonderful. And what luck, he wasn't even in a hurry, as is usual in this situation. He really went up and down three times, before deciding, where to enter the train. Luck, a seldom circumstance in street photography. He realized of course my capturing, smiled and acted as if not realized. Again a seldom luck.

Back at home, already in first sight I realized that this one was the best. His position, the dusty light in BG, all seemed to fit.

PROCESSING
I use a laptop with Windows 7 64, PS CS 5, and an Eizo display, raw processing with ACR.

In ACR I only adjusted whitebalance a bit towards warm. Lifted the clearity and opened to photoshop.

I cropped very little bit from the right and top of image, and adjusted the colorcontrasts, before converting it to b/w in Nik Silver. I increased contrasts in levels. No additional sharpening.


HINTS
- What "strategy" is the best? Searching a fix place, deciding about frame and waiting for something to happen, or walking around?

- Walk, and keep your eyes open. Look for eye-contact as well as for all that's happening around you.

- Be 100% awake when looking for street shots.

BIOGRAPHY
Christoph Hessel is a lawyer based in Hannover, Germany. He his a highly appreciated photographer who has proven his skills in many different genres. His his married to Marei, who is also a photographer.