Today we will take a look at something as ordinarily as a staircase, but from a different angle. Belgian photographer Marc Apers shows us how small adjustments to a photograph can create something new altogether.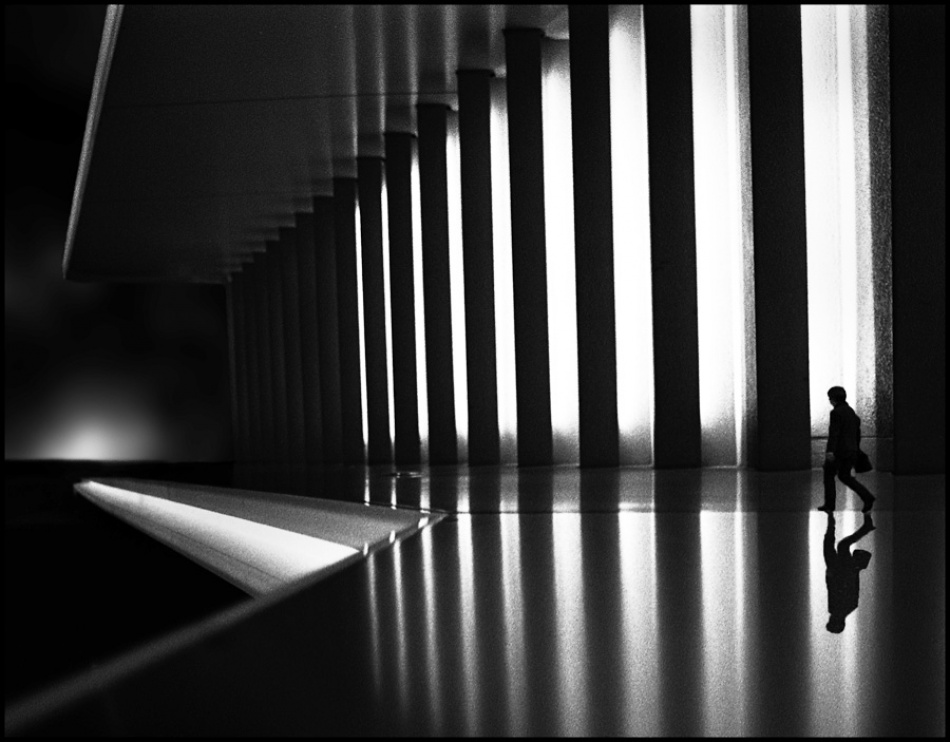 NIKON F3, prime 24 mm, Aperture f/8.0 Exposure time 1/8 sec, No flash used.


CONTEXT

This image was made during a visit to the Ruhr area in Germany.
The original photo is in fact a vertical staircase, being illuminated. I felt that this image became a lot stronger when rotated 90° counter clockwise. By doing that, I wanted to create the impression of a gallery hall.
I always try to bring a story in my images. In order to complete the 'story' of the gallery, I added at the right of the image a small figure, together with his reflection. Additionally I created some extra light at the end of the gallery to give the image a sort of alienating effect.

With this photo I wanted to create a strong graphic effect in 'black and white', in contrast to the lonely visitor, walking in this gallery but at the end still reaching his destination.
I dit not only get a lot of positive reactions on this image, but many also recognized the expression in it that wanted to create.

The original photo is an analogue image made with a NIKON F3 camera, using a prime 24 mm Nikon lens. The film was a KODAK Tri-X 400 Pro.

The film was processed in Microdol X (1/3) and digitalized with an EPSON Perfection V700 Photo Scanner.

PROCESSING
All processing was done in Photoshop CS3.

For converting my images to 'Black and white', I always start by applying a gradient map. It gives you a first and rather good impression of the B/W strength of the image.
Then I will further refine the B/W tone rendering of the image. I do this by making a curve adjustment layer and optimize through that specific tones of the image (by making them lighter or darker). I do apply several of those curves adjustment layers.
To further make the whites stronger and more 'vivid', I use the high pass filter at a setting of 0,9 with a overlay blending mode.

The figure in the image came from an other photo and was resized in the right dimensions. The reflection was made by selecting it partly and using the transform tool to have the reflection in the right place.

HINTS
⁃ Try to 'tell' something through your image and try to create a 'wow' feeling for the viewer.
⁃ Make your composition not too complicated, but emphasize a few essential elements in it. The main
topic has to catch immediate attention.
⁃ Use your tone rendering to support and to optimize the composition: brightness/contrast throughout the
image, deep blacks, vivid whites.

BIOGRAPHY
Marc Apers is a Belgian photographer with over 100 photos published at 1x. He describes himself as a "classical photographer" in the way that he emphazises that it is important to start with a 'good' image that stands on its own in the capture itself.

He is a skilled documentary photographer with a talent of making portraits of people in their natural environment, always using natural light.

His initial steps in photography were color slides , but soon he turned to B/W photography. After working almost 20 years in the darkroom, 2010 he finally made the decision to go digital.