CONTEXT
The background for creating this image, is the fact that my father was a very good chess player. That's what created the idea. I already had the complete setting it in my mind for several weeks, but I could not find chess-pieces in the correct small size I needed for the shot. No shop sold these small items. Finally I was able to borrow them from someone else.
The complete setting was placed on a couch. For the background I used a white cloth which covered the seat back of the couch. A little table for the set up was already present. I also used two lamps, one in front of the scene - a daylight lamp - and one on the left side of the setting. Additional daylight came in from behind. The light is very important, I dont have sunlight in my house and can only take photos when the light outside is very bright, so I get a "good" light inside. Sometimes I do use a big reflector too, I place it on a chair behind me.
I didn´t use a tripod, because these animals move all the time, and it was just more handy to do it without. But because of that, I had to use a high iso (800 iso). Then marmalade was placed on two black Chess-pieces (one for each rat).
When the setting was completed, I took the rats and let them free on each side of the table. They went to the chess pieces at the same time. But within a few seconds the table and chess pieces tumbled down and the whole setting was completely mixed up. I had to be very fast! This happened several times, so I had to start over again and again. I cannot remember how often I had to rearrange the complete set up to have at least one good photo.
THE PICTURE
This is just a single shot, no double or multiple layer combination, no photoshop manipulation.
I used a Canon 50D and a Canon 50 mm 1.4
Shutterspeed: 1/200 sec. F5. Focal length: 50mm. ISO: 800.
The lighting was a halogen lamp and a 100 W daylight lamp.
PROCESSING
Photoshop CS3 was used for postprocessing. I did some sharpening, a bit of level adjustment. No further adjustments necessary, except a bit of cropping.
OUTCOME
I like a little humour in life, there is already so much tragedy in the world and I hope I can bring a smile to people with my photos. I hope people will like my photograph and smile about it. The reactions have been much more positive than I expected.
HINTS
Things to think about: Choose a subject that you really like, that makes the best photos I think.
Prepare your camera settings, before you take the photo.
I am more of a creative person than a technical person, but its important to know a bit about the technical aspects of photography, that´s why I read a lot about the subject.
BIOGRAPHY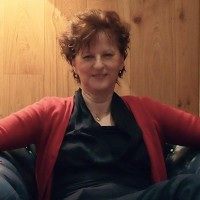 When it comes to this photo, I liked the outcome, because it shows exactly what I had in mind.
I live in the Netherlands and photography is my greatest hobby, besides music, painting and drawing. From time to time I earn some money through my photos and recently had an offer for a book to be published.
Why I take photos? It's a way to express myself and a form of art. I also love macro photography and all the beautiful colors there, which can be found in nature.
Since I am a christian, I hope my photos may reflect a little bit of Gods beautiful creation!