Monique has made a name for herself here at 1x as one best in the child photography genre. Today she will guide us through the creation of one her many appreciated photos, "Expanding the horizons of imagination".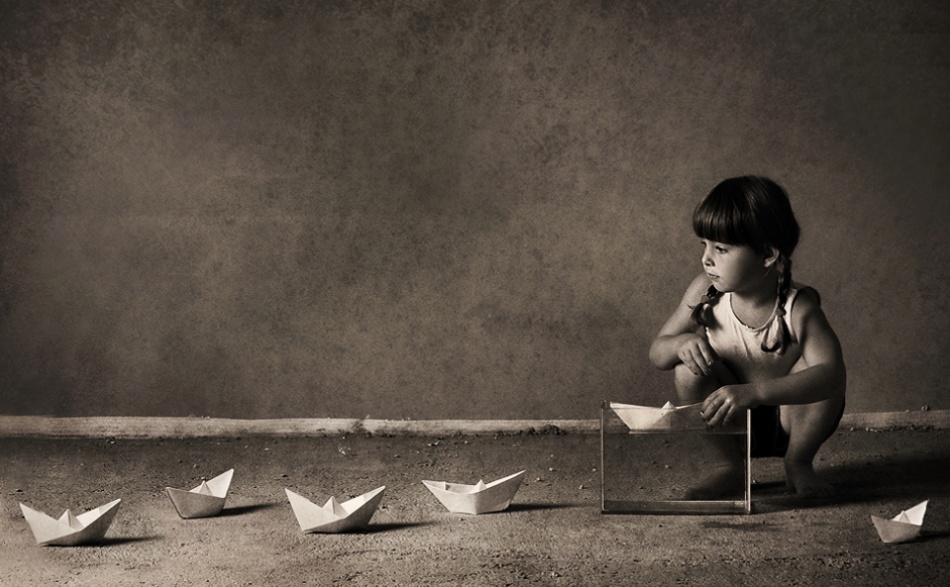 NIKON D80, Sigma 24-60 f/2.8 mm lens, ISO 200, Focal length 32 mm, Aperture f/8.0, shutter speed 1/80 sec.
CONTEXT
This photo was taken last summer.
 We were renovating our house. The rooms were still empty, without any furniture in it.
 It didn't look cosy, but I have always wanted to take photos in such surroundings.
 Near the window there was still an empty aquarium. One day I just looked at it and had the idea about a little girl, playing with some boats.
 So I did put some water in the aquarium, made a few paper boats and just waited until my daughter Maja would get interested in this little scenery I had prepared. She came in after a while and got totally engrossed by it.
 I took my camera and took several pictures.

With this image I wanted to show the world of a little child, left alone with his or her own dreams and imagination. It shows also that a child doesn't need much to feel free and to have a lot of fun. I hope that viewers, seeing this image, will share my emotions and will have the same feeling. As if I am 5 again myself: me and my simple and safe world, where everything is possible.

After publication I got a lot of positive reactions, which of course made me very happy and also means a lot to me.

PROCESSING

All my photos are shot directly in JPG. For processing I did use Corel Paint Shop Pro.

First I cropped somewhat the image and cloned out a disturbing socket behind my daughter. Then I converted it to B/W, using desaturations. The contrast and tone curves were then further optimized.

At the end I created a separate layer, applied some texture on it and blended it with the original photo using 'soft light' as blending mode. I lowered the opacity to 30%.

I erased then the texture from my daughter and some other elements to get a more natural look. The texture, being brown, was then slightly desaturated, to give the photo this light brownish tint at the end.

Finally the layers ware merged together.

HINTS

⁃ Let your imagination work; look for good ideas. Have an open eye for the world around you.

⁃ Try to create something more than the average.

⁃ Don't just take pictures, but try to say something and wait for the right moment to take your picture.

BIOGRAPHY

Monique is an amateur photographer from Poland and a proud mother of two lovely children. Being somewhat shy, photography is for her a way of getting to talk to people. She feels that she can say so much through her images, without having to leave her home. Today, she has well over a hundered photos published at 1x.