Hajdu Tamas is one of the most talented and creative Romanian photographers based in the beautiful Maramureș region of Romania and a veterinarian by trade. I first learned about Hajdu's photos when LensCulture featured his story depicting the everyday life in an eastern European neighborhood. His pictures capture the humorously absurd, ironic but also tragic pieces of the day-by-day life.
He held multiple exhibits in Romania and abroad, he won various photography contests and his works are published and highly appreciated in famous magazines: Independent, The Guardian, La Republica, Vice, BoredPanda, LensCulture, FeatureShot, etc.
Hajdu simply defines himself as a fine art documentarist, a subtle and thoughtful storyteller documenting the sides of the Romanian neighborhoods 'life still looking disoriented nowadays in the perpetual transition from communism to capitalism.
Please join me in discovering more about Hajdu Tamas and his endeavor to picture the life as a balanced compound of smart humor, raw reality, compassion, sadness and fine-art minimalism!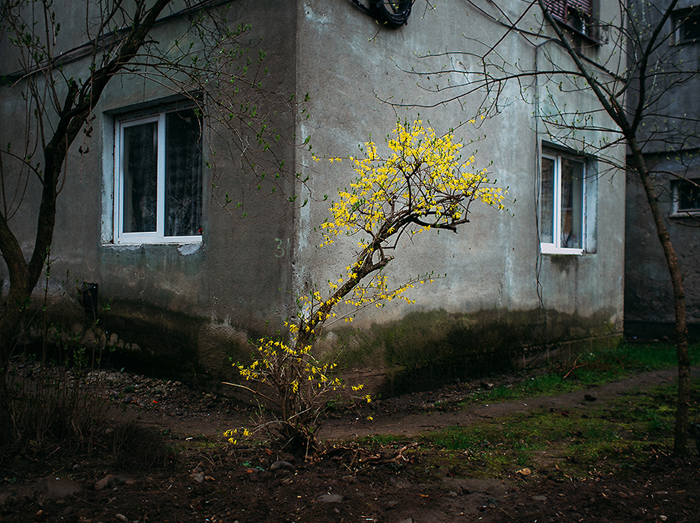 Hajdu, thank you very much for accepting this interview for 1x Magazine! It is a honor for me! To begin, please introduce shortly Hajdu Tamas, the man behind the camera.
Thank you very much for the invitation! I have been a member for a very long time on 1x, and although in the recent years I have reduced the sites where I used to publish my photos (more on social media and blog) I remained faithful and I am greatly appreciative to the 1x community here!
Shortly about myself: I am married and I have a wonderful little girl for almost eight years. My profession is a veterinarian, I work in a diagnostic laboratory. Photography it is a hobby for me and I practice it more during the weekends.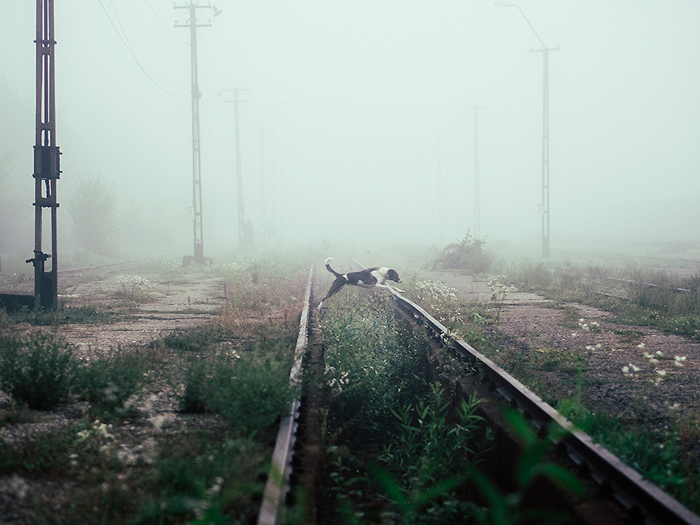 You said once that you have started shooting consciously since 2005. What attracted you for making the next steps in photography?
For me it was a spontaneous evolution, I did not force anything. I enjoyed photography only from the passion for the visual arts. I was attracted to the fact that I could perfectly express my hidden thoughts and that I could show the world to the people around in the way I perceive it.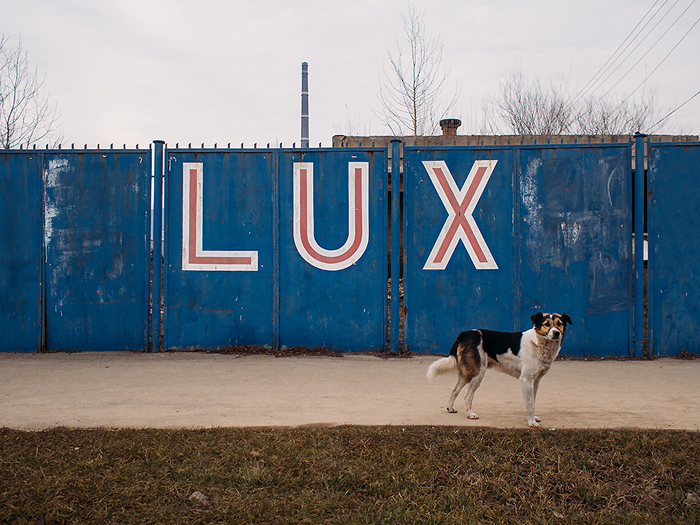 You are a veterinarian by trade and some of your photographic projects are about animals (e.g. "Dogs", "Caput", "Herbalizers", "The patient files" series). How the love for this job and for the animals have influenced you as a photographer?
I do not think they have influenced me, it was a parallel evolution I would say. It was normal to direct myself and start photographing the familiar things around me. Because of my job I am surrounded by animals, I know them very well, so it was normal to turn my lens towards them.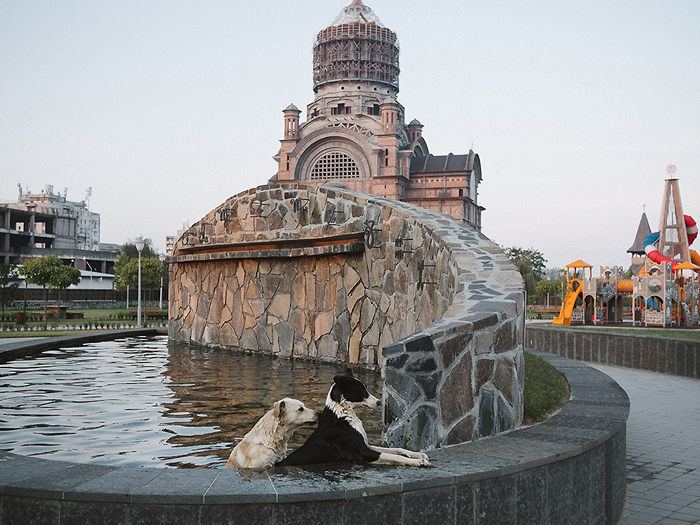 Your street photos are taken around the blocks neighborhoods, parks and garages. What is your relationship with the people who are the subjects in your photos within these places? Do you prefer to interact with them?
It depends both on the situation and on the people I photograph. Most of the time I do not get to talk to them or we just communicate after I photograph them. I avoid the contact before I start shooting; only in more sensitive or intimate situations I ask for the permission to take the pictures. But in all the situations where I'm warned not to photograph or not to publish the pictures I comply; I consider that it is important to respect the other people's intimacy.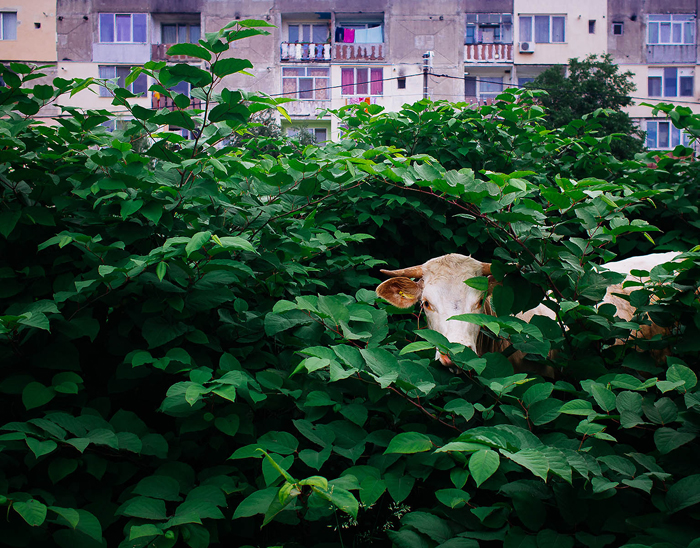 You were finalist at the Sony World Photography Awards for Open contest Travel section in 2013 with a photo also published on 1x.com. What this meant to you and how this influenced your photographic vision?
I can tell you that it was a crazy month after the finalists list was published, I gave a lot of interviews and that picture was circulated very much on the internet. How the tide came and gone; however, it remained a beautiful memory for me!
You are of the opinion that the spontaneity is defining for you. Can you please explain why?
I cannot really explain it, but I certainly can exemplify it. It's almost a rule for me. If I see a good subject to photograph, I shoot the first frame of the instinct, without thinking about it. If the subject is static, I shoot some more pictures, from another angle, with another exposure or another composition. When I first open the files later on my computer, always the first photo it is the best one and it's the one that gets further processed. Therefore, this is why I heavily rely on spontaneity!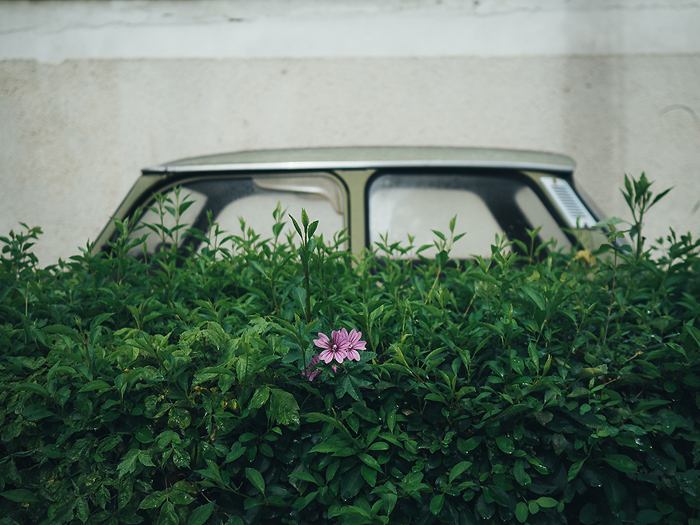 Hajdu, how would you define your photographic genre?
I have heard a good definition of the style I follow: fine art documentarist. This means that it has a documentary flavor (real situations, real people), but it also has a bit of fine art – when I'm more careful about details, composition, light, background, etc.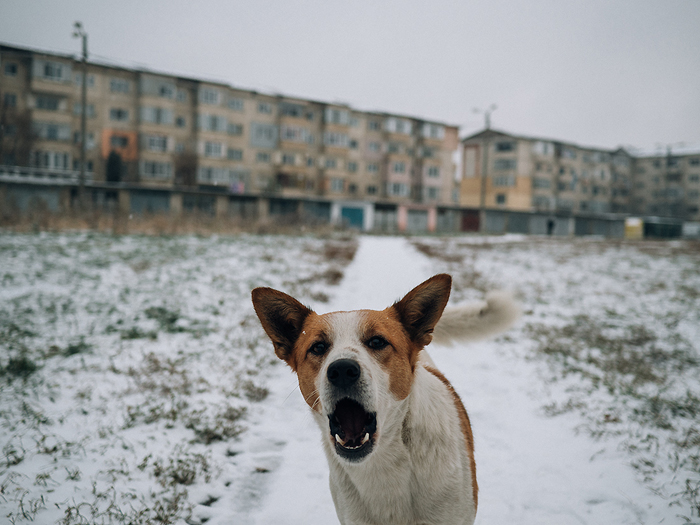 Most of your recent photos are minimalistic and often have an absurd humorous, ironic but also tragic interpretation of day-by-day life. How important is this kind of message in your photos?
I see myself as a fine-art documentary photographer of the day-by-day life because I want to tell stories through my photos, but in the way I perceive them: with humor, irony or dramatism. I also think that the humor catches the attention, it's like the nudes: you look without really wanting to :)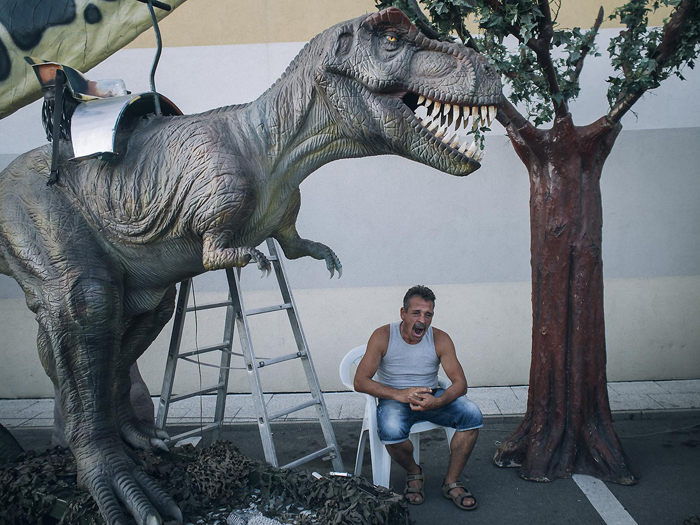 Another project of yours fascinates me as well: "Eastern bloc". Can you please tell us what was the idea behind it and what got you so interested in this project?
I find the Eastern European culture fascinating to me, and specifically the urban culture in our area. It is a kind of a transition from communism to modern capitalism, but somewhere at the beginning of the road we see that it failed lamentably and it develops in a chaotic direction both visually and socioeconomically.
This culture has managed to create some unique spaces in the city, and I'm not necessarily talking about what we see being created as a consequence of the lack of money, but about the imagination and lack of culture of the inhabitants, though having a great will for the progress specific to the people in the eastern European neighborhoods.
The image of the Eastern European backyards and garages it is usually disorderly. These are the places were stray dogs are silently walking like ghosts in the foggy morning, the emblematic and national Romanian cars (Dacia) are fixed and maintained by the passionate neighbors with practical know-how only and where one can hear the sound of backgammon dice or oriental-Romanian music. But this is also a place where the optimism can arise: the walls are painted in vivid colors, the graffiti messages are always original and humorous and the decaying cars (more than 20 years old) are mysteriously revived. Within this space I move, observe and document the everyday life tiny moments!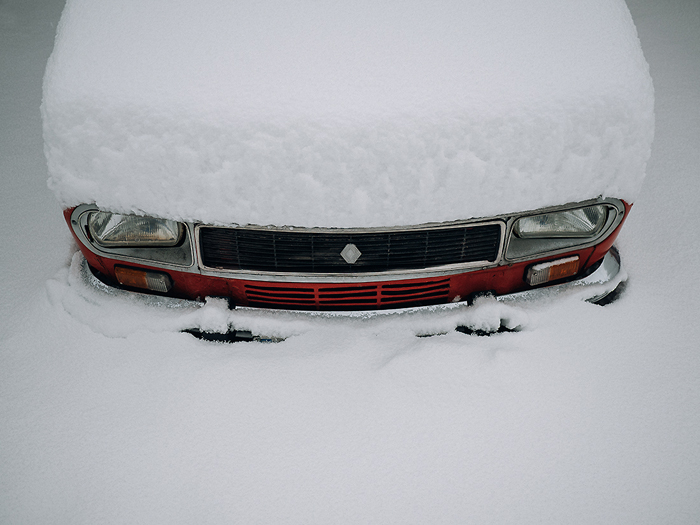 You are very successful in identifying and capturing in your photos the special moments of Romanian day-by-day life. Can you please describe your photo tour workflow?
First of all, I always have a camera with me. You never know when a subject appears in front of you! I go out to photograph mostly in weekends, in the morning when the light is better and the people are sleepier so they can be easily photographed. I usually go out with two more friends; it is a good opportunity to socialize besides photographing. There are days when I can make 2-3 good pictures, but there are also days when just the coffee after the photo tour saves the day :)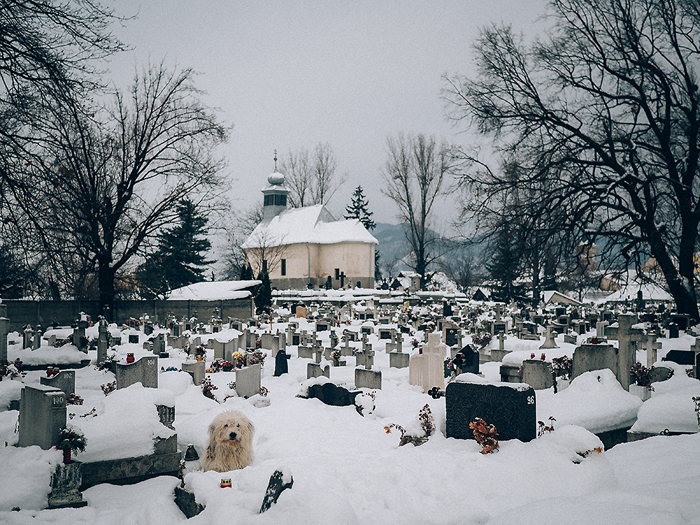 What photo gear do you prefer to use on street (e.g. camera, lens)? What is the minimal equipment set you would recommend for shooting on the streets?
I enjoy carrying a single-lens camera when going out for shooting. If I have more equipment with me, it tangles me more and it distracts me.
For the lens I prefer 35mm or 40mm focal (35mm equivalent). My favorite lens remains Panasonic 20mm f/1.7 - it's slow, noisy but produces some pictures of "magic", it's a kind of hate / love relationship :)
For the camera I use micro 4/3, currently an Olympus Pen F and I also have a Fuji X100T.
I would not recommend anyone a particular camera or lens for shooting in the streets, each one has to use what he or she likes; I do not think there is any bad photo equipment currently on the market.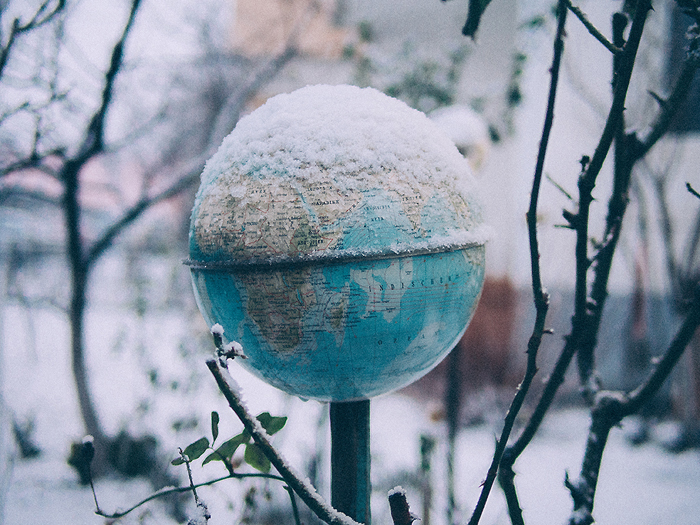 You are of the opinion that the photography it is, firstly, a turn of phrase and that the good photography is the one you cannot wait to publish/post it. What is more important for shooting good photos, from your perspective: the mood, the story behind the image, the composition or the technical perfection?
For me the story is primordial, a good picture should have an intriguing story behind. If you do not have a thrilling story, you may fill in the picture with a special atmosphere to a certain extent. The composition and the technical perfection are the secondary elements.
Let me ask you: if you have a poorly composed picture and it's not technically perfect but it's capable of transmitting a lot of emotion, will you post it or not? I tell you that I've posted such photos several times and I didn't regret it!
One of your successful projects is "Laboratories", some of the photos being published in 1x.com gallery. What first attracted you in this kind of fine art photography and why?
The series "Laboratories" it is for me a childhood joy transposed and converted to the years of maturity. Each of these photos it is a particular story of visual knowledge, happening in a deprecated scientific place and being orchestrated by the researcher photographer. All chaotic, dreamy, but still systematically organized.

You once said that there is no town where you cannot take good pictures and you don't believe in exotic, special remote places where you should travel to have some good pictures. What is the secret to take fascinating pictures in the nearby streets of neighborhoods or cities?
The secret is simple: you have to be more careful about what's around you. You can find anywhere something to photograph; not all the time and not at any time of the day, but certainly if you persevere and you do it for your pleasure and with a lot of passion, you can find special moments to be immortalized even in the backyard of your house.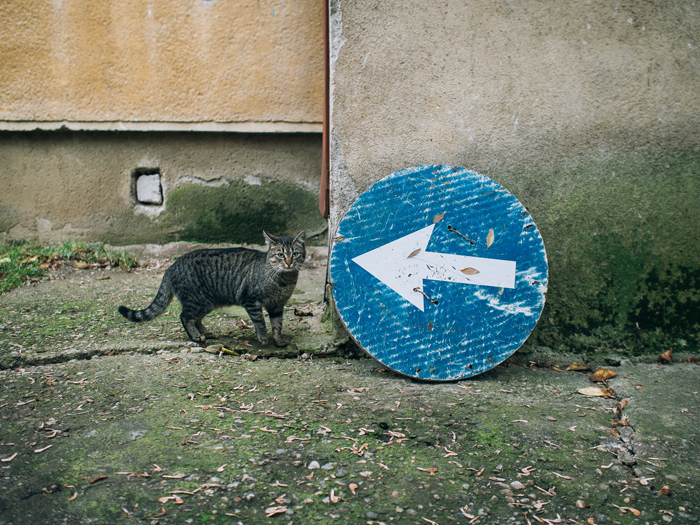 It is highly accepted that street photography is one of the most difficult genre to approach, mostly considering the people interaction. Would be your most important advice for the new comers in street photography?
For the interaction, I usually avoid the contact and the communication with the people before I photograph them. Apart from this, I would advise the new comers to have lot of patience and to wear comfortable shoes on the streets.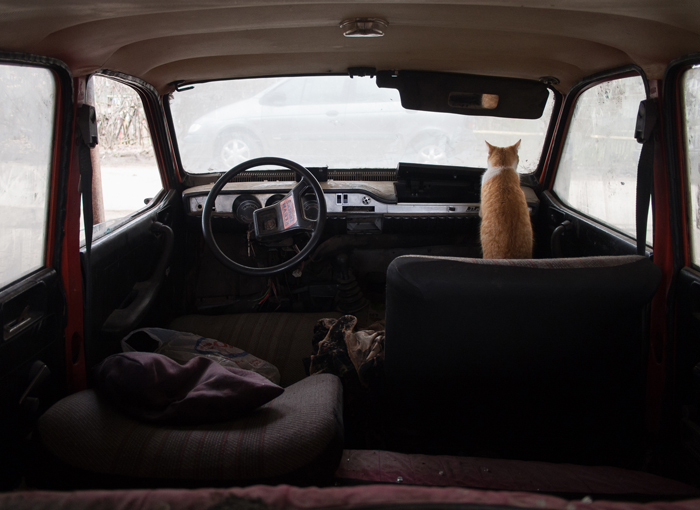 These is a question I have addressed to many Romanian photographers and I would like to know your answers, as well: who are your favorite photographers whose works influenced you and your photography?
I have a few photographers that have influenced me a lot, some of them have even opened my appetite for the street photography domain. I think I learned the most from Silviu Gheție, whom I consider a genius in this area, but the one who influenced me the most is Oleg Tishkovets, an Ukrainian artist who photographed the city of Baia Mare (Romania) in a special way - strange and fantastic. His works still fascinates me!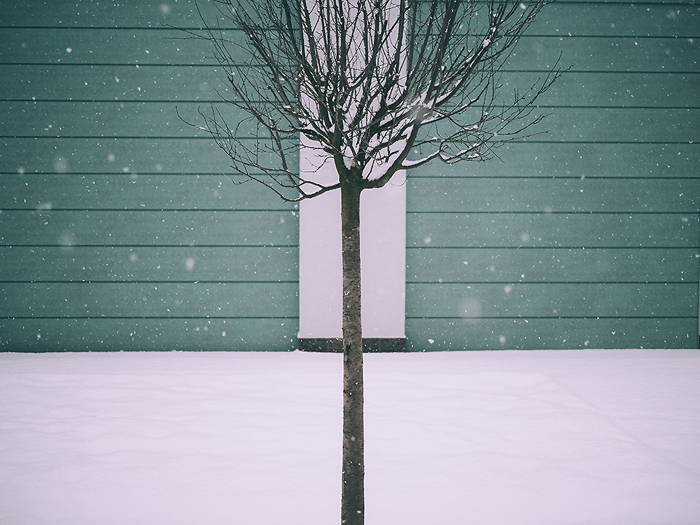 Most of the photographers have their favorite photo among their works. Can you please shortly present your favorite photo and the story behind it?
I do not have a favorite photo, I'm always looking forward to the next good picture. However, I have a picture I really care about, it's with Beastie, my dog that I love. I remember the day when I "torment" him to make this picture. It costed me a big chocolate; he was so angry because of wearing the "lamp", that he raised his head only when he saw the big chocolate.
Hajdu, your portfolio is impressive and inspiring and your photographic projects are highly recognized in Romania or worldwide. Now, we are about to conclude our interview and here is my final question: what other photographic projects are you considering for the future?
For the future I'm thinking of a personal album. For the moment it is only in my mind, but I hope it will soon be on the shelf in the library, too.