by Editor Miro Susta
After very, very long time of waiting, after clocking more than 4.5 million kilometres and spending more than 6,600 hours on board of an air plane, I finally got the opportunity to fly on commercial air plane over the North Pole.



This was a very long (12,600 km) flight from Toronto to Hong Kong, crossed 12 time zones within only 15 hours, very exhausting indeed, but I was rewarded by fabulous window view, especially when flying over white Polar Arctic Region.
I want to share that with you. Additionally to my photos I have also included four "on ground" photos from 1x-Photo Gallery in this article.

Great thanks to all four photographers, Sam Dobson, Alexandre Buisse, Sergey Pesterev and
Alexey Kharitonov (akharitonov).
For this flight on board of Boeing 777-300ER, I have booked window seat in the back of the plane and hoped on excellent weather condition with clear air. Seat in air plane's back section provide a very good window view without disturbing obstacles (wings and disturbing jet engine exhaust gas heat shimmer pushed from JET engines).
About three and half hours after take-off in Toronto the air plane reached the Arctic Polar Region and after six hours we flew over North Pole (more precisely about 40 km south of it).
When crossing the Arctic Polar Region the air plane was flying at slightly lower altitude of 8,800 meters (29,000 feet) above sea level.
Why only 8,800 meters? This was not a pilot's gift to offer us better view to fabulous deep frozen white countryside, this was for air plane safety reasons, to avoid any fuel solidification which can occur during prolonged duration of flight when crossing the Arctic Polar Region with intense cold environmental conditions.
First photo shows the overall flight route, captured from air plane screen. I have only added the yellow line, to mark-up the remaining route between actual air plane position and the final destination as well as red dot that marks the North Pole.



Clyde River lies in the Baffin Mountains which in turn form part of the Arctic Cordillera mountain range.

The population of Clyde River is 1,050. The coolest month in year is February with average day temperature of -25 °C and the warmest month is June with average day temperature of +9 °C.

Pond Inlet is located in northern Baffin Island and has population of 1,620. Pond Inlet is regularly accessible by air plane. The ocean is ice free for as long as three and a half months when tourist cruise ships visit and goods can be transported to the community.
Pond Inlet has a polar arctic climate with long very cold winters and short cool summers. Pond Inlet's average high for the year is −11.0°C while the average low for the year is −18.0°C. The daily mean for the coldest month, February, is −35°C and the daily mean for the warmest month, July, is 7°C.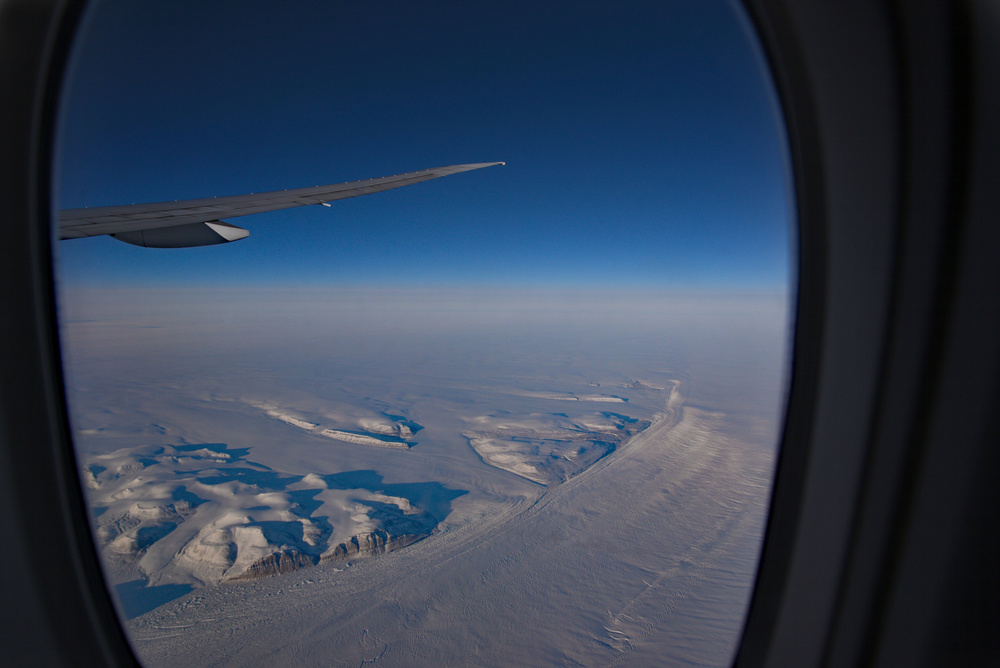 "Arctic Bay"by Miro Susta

Arctic Bay (population 868) experiences a cold climate, with long, very cold winters and short, cool summers. July is the only month with an average low temperature above freezing.

Resolute, located in Resolute Bay is one of the coldest inhabited places in the world, with an average yearly temperature of −15.7°C. Population 197 "Wikipedia".
From this point it takes three hours flight over Arctic Ocean to reach the Siberian north coast, with the North Pole somewhere in the middle.
The North Pole is located on deep frozen Arctic Ocean water, it is not very photogenic and not suitable for photographs taken from high altitude.
However I have discovered two nice "on ground" photos from North Pole in 1x-Photo Gallery. I wish to share them with you.

Following few photos from other side of Arctic Ocean, photos from deep frozen Northern Siberia in Russia.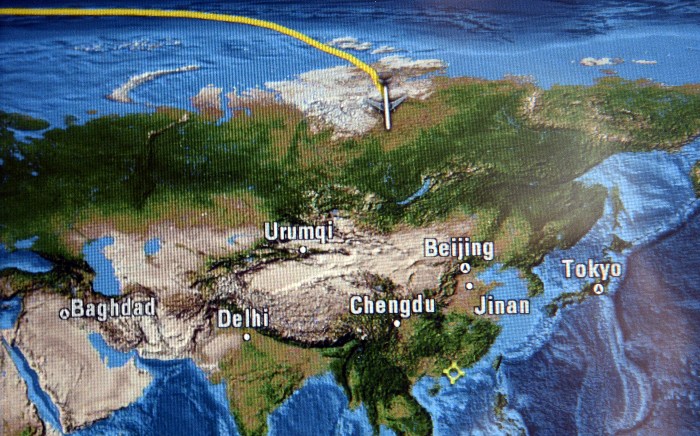 Flight location after crossing Arctic Ocean.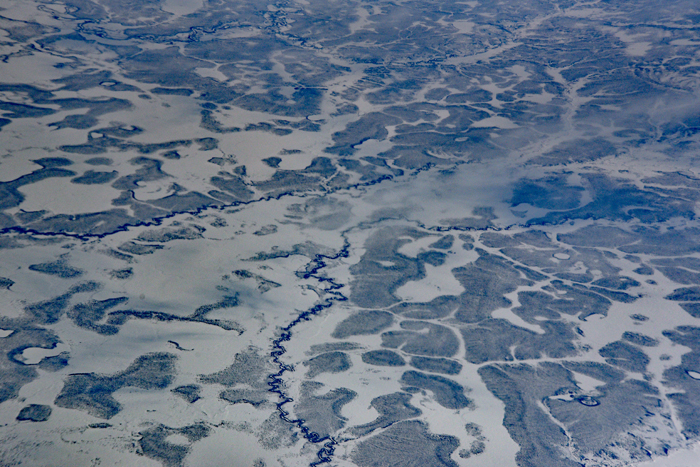 "Deep frozen country" by Miro Susta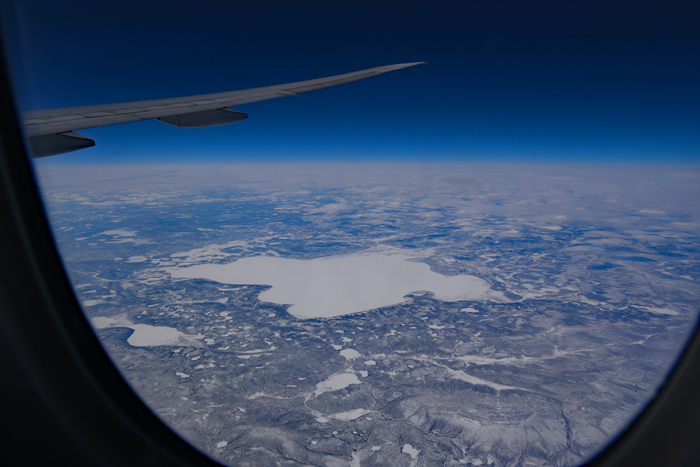 "Lake view" by Miro Susta

And I have also added two beautiful "on ground" images from 1x-Photo Gallery, "Frozen Baikal Sea". On route to Hong Kong we were flying over the Baikal Sea, but it was already a bit too dark to capture this large, beautiful lake from the air plane.



Before ending this story, I have added the following interesting information about scheduled commercial lights on polar routes.
Polar routes are used by commercial air planes regularly only in the northern hemisphere but not in the south (except some special flights).
Following some reasons for this.

* A twin engine passenger jet air plane (like Airbus 350 or Boeing 777) must always be within a certain distance of suitable airports or suitable air plane landing strips for diversion in case of emergencies (in real emergency even deep frozen water surface would do it). North Pole is located on deep frozen Arctic Ocean surrounded by land masses with towns with airports and/or air plane landing strips, so the Polar Arctic Zone route with reachable distance between the airports is suitable and has been approved for commercial flights over this zone.
* The south is a very different situation. Antarctica is a very large land mass, about 1.5 times the size of Canada. There are no larger towns with airports or air plane landing strips near the centre of Antarctica (South Pole). The South Pole route would still be very far from any emergency landing place. In addition to that, the climate conditions in Antarctica (Southern Polar Region) is much colder, and there are serious concerns about jet fuel solidification if a commercial flight were to spend too much time in those extremely cold conditions.
* Moreover, Antarctica's geography is much trickier as well, since there are mountain ranges in the Antarctic that can't exist on a floating icecap in the Arctic.
I hope that you have enjoyed this short photo story. If you have an intention to follow me then be sure to grab a window seat with free view on your next flight over this fabulous white landscape.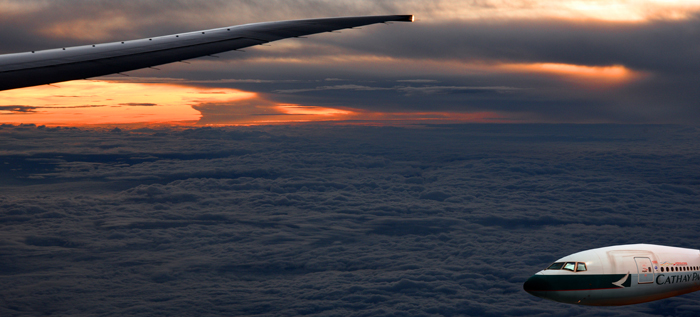 by Miro Susta

For further information how to take best photos from the air plane window please refer to past photo article in 1x-Magazine "The World from Above-Photographing from commercial airplane" and if you are interested in air planes do not miss our photo article "Air Planes: Flying Wonders" with many air plane photos and interesting facts about air plane, airports and air transportation.