by Editor Peter Walmsley
The Kumbh Mela is reputed to be the largest peacetime human gathering – ever. This year's event is forecast to attract some 150 million people over 8 weeks. That's a lot of people in a relatively small space. So how to go about photographing the event?
First a note about the event itself. Wikipedia reports the Kumbh Mela as a mass pilgrimage of faith in which Hindus gather to bathe in a Holy river. 4 melas or fairs are traditionally recognised which are held in rotation, the largest of which is the fair at Allahabad where the Ganges meets the Yamuna and the invisible Sarasvati river. Thus the event at any given location will only repeat every 12 years. Statistics for the event include the running of 800 special trains, the installation of 122,000 toilets and a dedicated central hospital. See the aerial shot taken from a local helicopter ride



We (a group of 12 photographers of several nationalities) camped in luxury organised tents, at a site about 5Km from the main ground, most of which is located on the sandy banks of the rivers. Temperatures fell to 9C° during the night yet rose to some 25C° during the day making it tricky to stay warm in the mornings and minimise kit to carry later in the day. Photographically one had to decide: there was going to be a lot of night shooting so a fast and/or stabilised zoom lens was the most versatile and first choice. A lot of dust in the air and heavy crowds meant that lens changes should be minimised.
After a versatile wide-angle to medium telephoto zoom, most of the photographers chose a longer telephoto for portrait shots.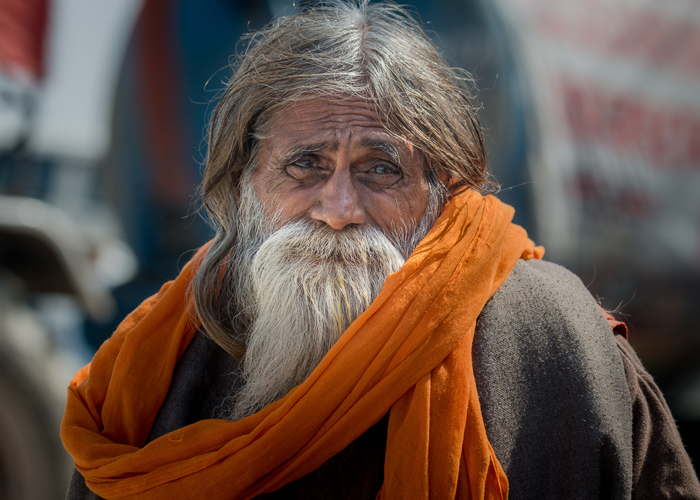 This was not a decision to be taken lightly: longer telephoto lenses are heavier, attract more attention and isolate the subject – usually a good point, but not when trying to capture the context of the event. I considered fast prime lenses like a 50mm and 85mm, primarily for the ability to isolate subjects from a busy background and did take the 50mm because it was small and light but as fast primes generally don't have vibration reduction/image stabilisation, I find them much more difficult to use in low light.
On day one, we did a 'recce' of the site. The fair is primarily a gathering of people. There are roadside food stalls, other services like hair cutting and a few sellers of memorabilia. Some religious and cultural organisations have large tents or enclosures to make an occasion of it and perhaps attract new members but there's not a lot else.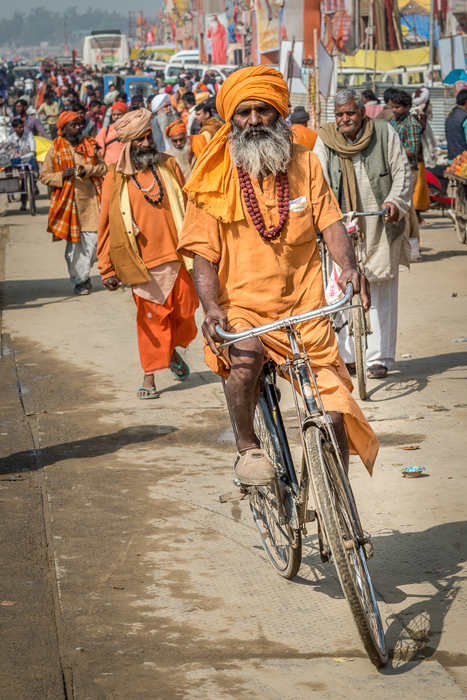 Light was good and opportunities for people watching extensive so it's important to have a plan rather than pointing your lens at anything that catches your eye, even though you still need to be alert to unexpected opportunities.
Of particular interest are the Naga Sadhus – a reclusive group of religious devotees who are rarely seen in public outside of the Kumbh festivals. Naked, other than for rosary beads and garlands, and smeared in ash, they have a special area within the festival in which they are camped.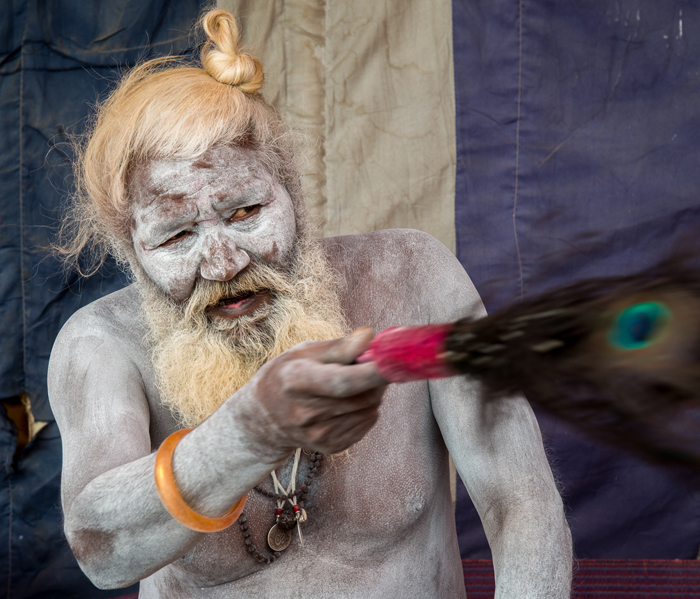 Notoriously temperamental and short tempered, one has to take care not to test their patience when taking photographs with one of our group receiving a vigorous thump on the lens.
After our morning/early afternoon recce, we returned to our 'glamping' for a late lunch, afternoon download of images and an early evening dinner. We then set out again at about 9pm, prepared to be up until the middle of the next day. Making our way back to the main area of the fair, we were fortunate to hail a tuk tuk. 12 people in a vehicle designed for 4 makes for a memorable experience but we arrived in the heart of the Mela at about 10pm having saved a good hour of walking.
The sun had long since set but the sky was bright with floodlights reflecting light from the smoky haze produced by hundreds of camp fires. Nevertheless, we were pushing the ISO. Some in the group set their cameras to auto ISO choosing a fixed wide aperture and a fast enough shutter speed of at least 1/50s. My own preference in these situations is to fix the aperture one stop down from wide open (at f5.6) and the ISO no higher than 1600 and let the shutter speed float. This typically produces speeds of between 1/5s and 1/30s. At the lower end, and with moving subjects, you know that the success rate is going to be low so careful and frequent shooting is the technique.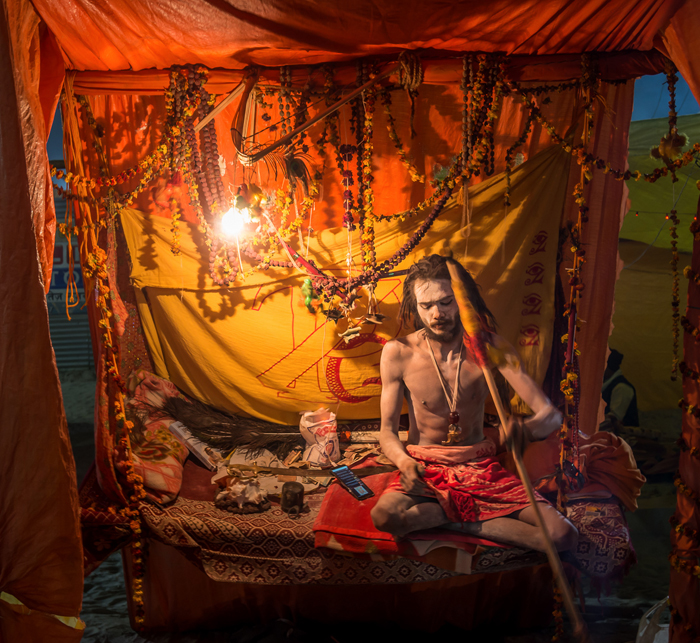 On arrival back in the Mela, our main port of call was again the Sadhu camp. Everyone was generally calmer at this time and apart from the low light challenge, it was possible to get a number of shots more easily than during the day, After about an hour we called a halt and were offered some sleeping space in one of the many tents.
The night however was very noisy and we were up again at 4am to be ready for the Shahi Snan (or royal dip) ceremony – one of 3 'official' bathing days. The Sadhus were up early too, preparing new recruits for initiation.
As dawn broke, the Sadhus led the procession down to the confluence of the 3 rivers to take a dip. We followed in the crush.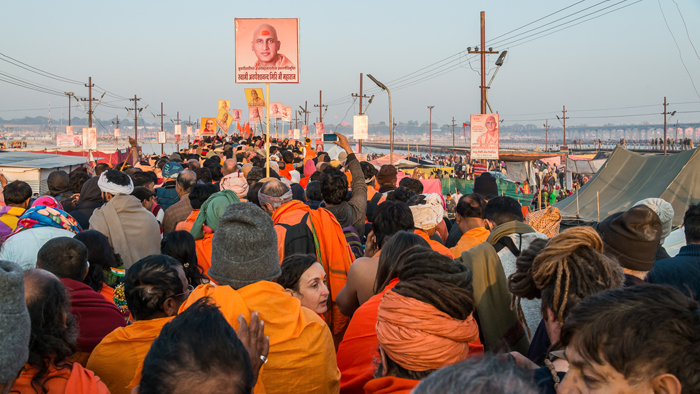 After the Sadhus have bathed, everyone else can go in.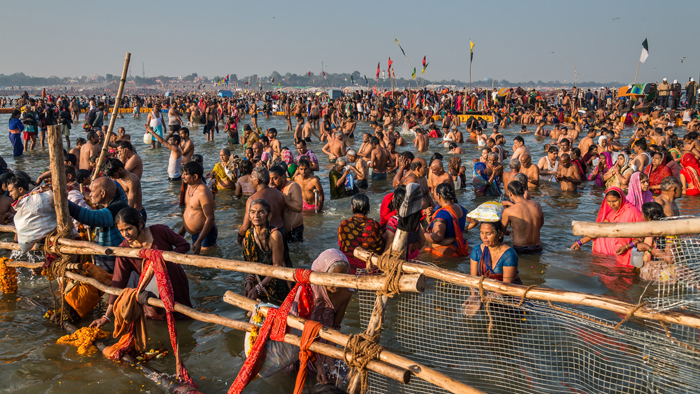 The rest of the morning was spent capturing a mixture of candid portraits and attractive group formations before returning to our campsite.
Photographically, shooting this type of event was certainly a challenge: bright sunlight and shadows at some times and low light at other times; other photographers jostling for space; rapid movement of the subjects a lot of the time; densely packed crowds; the long day; restricted opportunities for lens changing; and the need to carry all clothing and equipment around with you in a small rucksack. In such conditions, all the photographers agreed it was hard to get good pictures. Success comes from keeping an eye out for unusual opportunities and being patient enough to get them without crowds of people in the picture. A wide-angle to short telephoto zoom was certainly the most versatile lens but there was also opportunity to use a longer zoom for isolating portraits or a more extreme wide-angle for creative shots if you wanted to carry them.