by Yan Zhang
In December 2015, I undertook a new mountaineering expedition to the Southern Alps, South Island of New Zealand. During this period, I climbed in three different mountain areas: One in the Darran Mountains, and two in the Aoraki/Mount Cook. Climbing in the Darran Mountains was the most challenging task I have ever had since I started mountaineering practice, but it was also the most rewarding experience.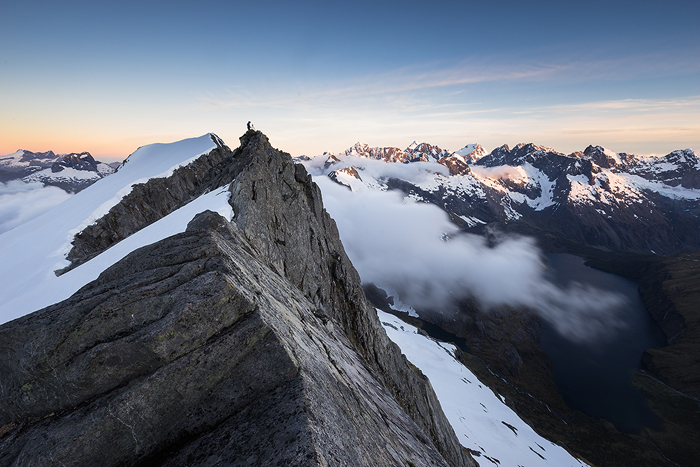 Yan was on a vantage point near Barrier Knob in Darran Mountains.

The Darran Mountains are located in the Fiordland National Park, a remote southeast corner in the South Island of New Zealand. It is an area where snow-capped mountains, rivers of ice, deep lakes, unbroken forest and tussock grasslands form a landscape of exceptional beauty, including the well-known Milford Sound.
Due to their unique geographic features, the Darran Mountains have offered a wide range of granite peaks that provide unlimited opportunities for adventurous climbers. The Darran Mountains not only have many extended mountain routes for classical alpine climbing, but also include various places for sport and rock climbing.
Climbing the Darran Mountains has been viewed as a kind of comprehensive mountaineering activities, as it involves some skills of rock climbing, snow and ice handling, and traversing over different types and difficult terrains. Since I knew the Darran Mountains, I have had a desire to climb in that area.
In November 2014, Mark and I set a plan to climb the Darran Mountains, but this plan had to be post-poned due to a continuous snowstorm in the Fiordland National Park region. One year later, when I returned to the South Island in December 2015, Mark and I finally got a chance to follow through with our plans.
Our original plan was to start from Homer Hut near the Homer Tunnel entrance on the way to Milford Sound, climb to Gertrude Saddle, camp there for one night, and then climb to Barrier Knob Barrier Peak Col on the second day, stay there for another two nights; finally return to Homer Hut on the fourth day. Our climbing route is described in the following map.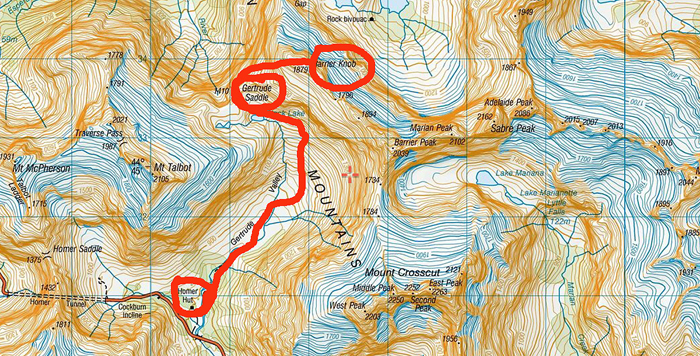 Darran Mountain Topo Map.

But by the time of December 9th,our scheduled date for climb, the weather was not fully settled, and it became uncertain whether we could execute our plan accordingly. Having examined the weather forecast and our climb plan, it seemed that there was a narrow weather window we could use. Mark suggested that we should continue our plan, but shorten it to a 3-day trip instead of a 4-day trip, so that we could have more control if the weather changed.
We drove directly from Queenstown to the Homer Hut on December 10th. Starting at 4pm from Homer Hut, we climbed in rough conditions - misty, drifting rain, cold, and the visibility was probably less than 15 meters. After two hours of a hard climb, we reached the Gertrude Saddle – a 500 meter vertical height from base and exposed terrain.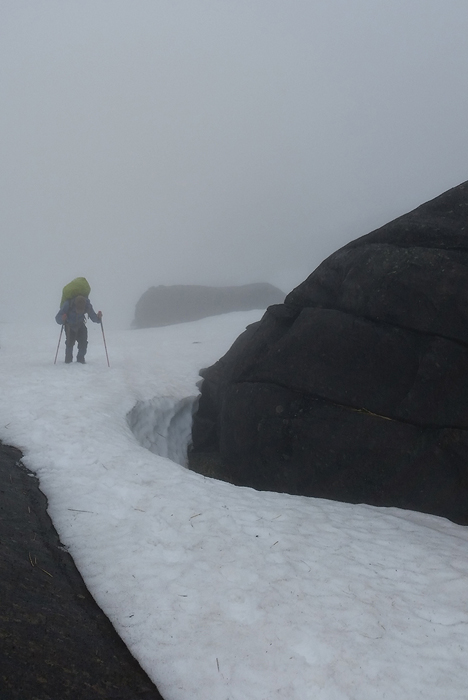 On the Route.

We had a short break at the Gertrude Saddle, then put on our crampons, fetched ice axes, and continued our climb towards the Barrier Knob. Not far above the Gertrude Saddle, it soon became a purely alpine environment – deep snow covered on the ground, the temperature dropped to minus 7 degrees Celsius, and the slope was getting more and more steep and icy. Literally, we climbed inside thick clouds, while I completely lost my sense of directions. Mark led the climb, and checked his GPS for directions from time to time. By 9pm, we finally reached our destination – the 1875 meters Barrier Knob Barrier Peak Col. I felt a big relief after this 1000 meters vertical climb in 5 hours.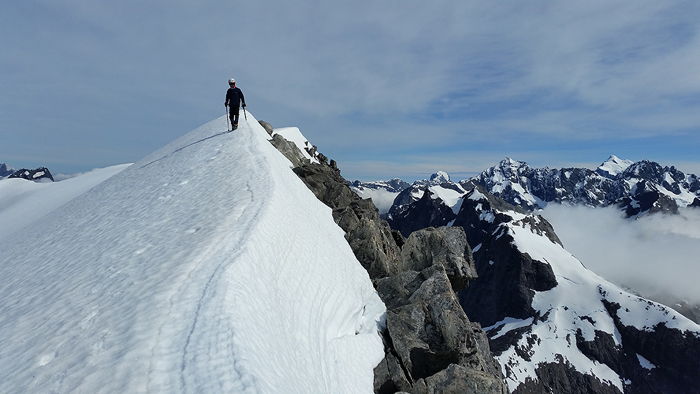 Yan was traversing along the glacier ridge.

The next day we got up at 3:00am and after having had cups of coffee, we started to climb towards a vantage point closer to Knob Barrier Peak, which was another 100 meters vertical height above our campsite. From the mountain ridge, we could get a grand view over the Darran Mountains. This part was even harder than the climb last night, as it was getting steeper and the icy surface was getting quite solid, so that each time I needed an extra effort to push my ice axe into the ground. At one particular stretch, I had to climb on a 15 meters high ice wall with 70 degrees. I was so fearful to fall. Mark said to me: "Trust your ice axe and concentrate on your feet!" Following Mark's instruction, I overcome my fear and finally climbed up to the top.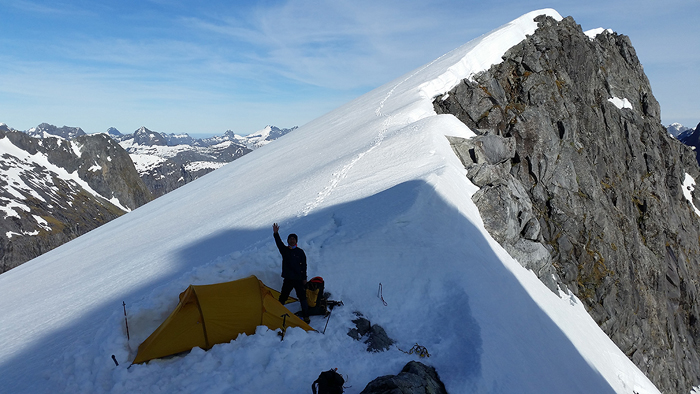 Our campsite.

That morning, we walked on a narrow mountain ridge from one spot to another; to take pictures from both sides of the ridge for more than four hours. The wind was strong and cold, and the clouds were below our feet. In order to operate my camera, one of my hands was exposed to the cold for so long that I almost got frostbite.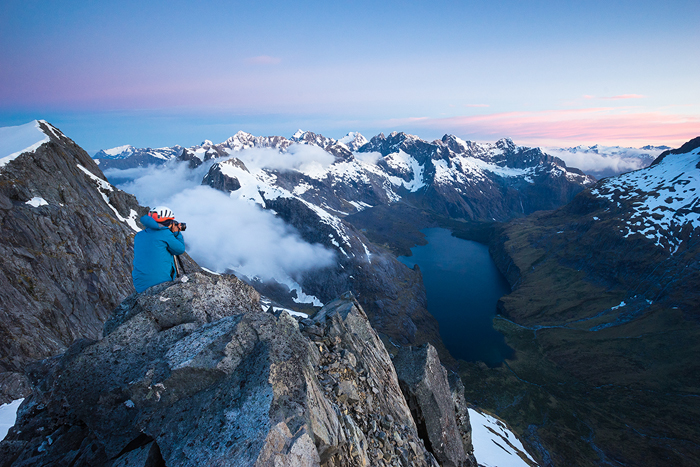 Morning Shoot.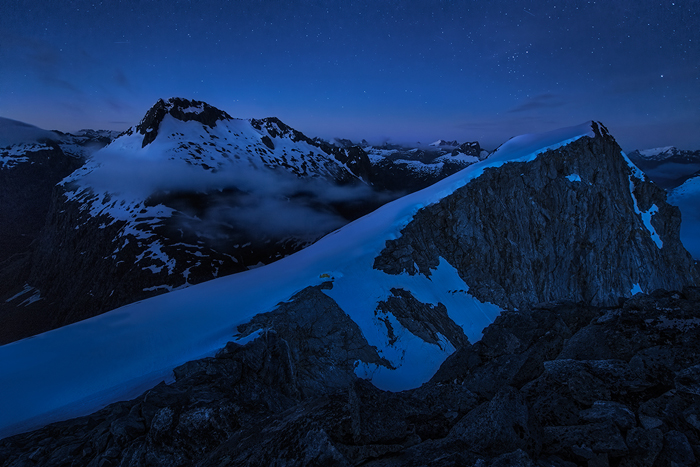 On the Edge of Blue Heaven – our tent on the edge was so tiny, viewing it from this high location.

From the image above, one can see our tiny tent on the edge and get a sense of the vast mountainous feature of this place. In fact, every time when I was in the mountains, I always inevitably felt how insignificant we were. Such feeling also invoked a deeper understanding of the relationship between men and mountains (and nature).
I have seen many images that claimed to be "mountain landscapes" in which a man or man-related subject is pretending to be a dominant focus. I simply think this is a wrong perspective if we take authenticity more seriously while being in the mountains.
Darran Mountains

After the morning shooting along the steep and rugged ridge near Barrier Knob, we began our descent. We went back to the Gertrude Saddle in two hours and camped there for another night. On the third day, the weather turned bad again. But we were confident to hike in the rain for three hours and got back to the Homer Hut safely.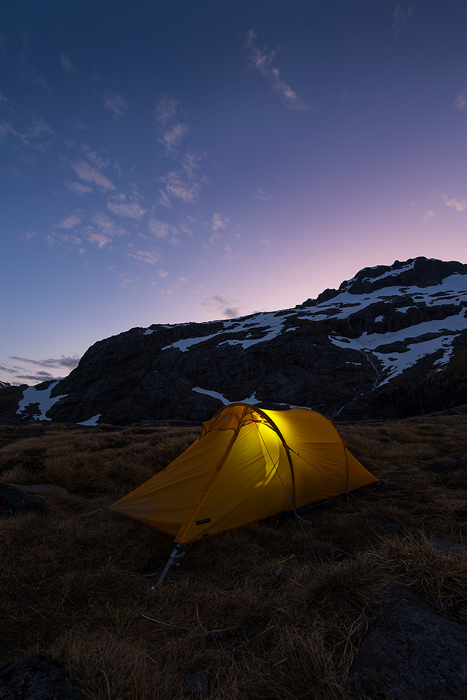 Camping at the Gertrude Saddle.