With D810, I use Nikkor AF­S 85mm F1.4 / Sigma 35mm F1.4 Art / Zeiss Makro Planar 50mm F2 / Zeiss Apo Sonnar 135mm F2.
With Sony A7RII, Batis 25mm F2 / Distagon 35mm F1.4 ZM. The shots published on 1x are mainly taken with Nikon.
I use a Thinktank bag, but I don't have any particular favourites in bags.

What software do you use to process your images?
I use Lightroom and Photoshop. Basically, I modify exposure in Lightroom, and add a retouch on colours, skins and particular parts in Photoshop. When I don't need Photoshop, I complete my image only in Lightroom.

Can you tell us something more about your workflow?
In Lightroom, I try to finish modifying exposure, because I don't care about exposure in Photoshop. Contrast should not be deeply manipulated in Lightroom, that is the role of Photoshop. Colors are mainly arranged in Photoshop, not in Lightroom.
Sometimes I need to modify the skin of models. Those modifications are done in Photoshop.
When I retouch the face of models, I don't use blending or Face-Aware Liquify. I don't think the technique is bad, but I want to capture the beauty as it is. In addition, every detail is the unique character of each model, so I don't want to deny their characteristics.
What is your most important advice to a beginner in Fine Art and Portrait photography and how do you get started?
If you want to take pictures of people, the most important advice is to respect your subject. Especially when you shoot nude photos. Models should agree to the session with no reservations. The photographer should be committed to treating the models with dignity and care.
Who are your favourite photographers and more importantly, how has your appreciation of their work affected how you approach your own photography?
I admire Gregory Crewdson, Paolo Pellegrin and Steve McCurry. In addition, I have a strong sympathy for Shuji Kobayashi (member shuji), a Japanese photographer. His concept and works are really great. But I am not only influenced by Japanese, everything and everyone in the world has had some kind of influence on me.
Of course, a lot of photographers inspired me as I have said above, but the deepest inspiration comes from the movies. I love David Mackenzie's "Perfect Sense" and the works by Tersem Singh. Above all, David Fincher's movie is the best one. When I watch his works, I realized I was affected and inspired so much by his works. Especially the suspense scenes that are ruled by silence and austerity.
Are there any specific directions that you would like to take your photography in the future or any specific goals that you wish to achieve?
One of my goals is to take the photo that I myself am satisfied with.
It is not until I can develop my skills to objectify my ideas that I can capture and realize my theme and emotion in my works. A lot of ideas and concepts come up in my mind every day, but for now I keep them just in my mind. Of course, I appreciate the awards and recognitions of my current works.

Describe your favourite photograph taken by you and why it is special to you?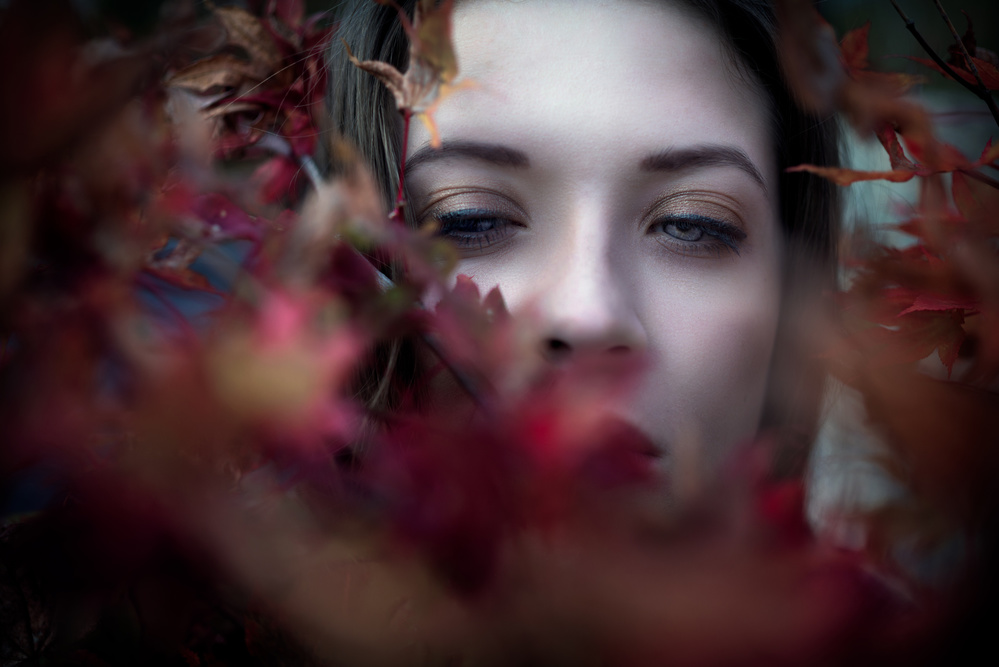 This work is taken 2 years ago, but is so memorable.
First, this was the result of hard working. I had a specific colour in my mind, but I had no way to create the colour. After madly repeating a lot of trial and errors, I could achieve it. This had not been a technical error on retouching, but just the problem of lighting on shooting. For me, that recognition was really important then, because I could understand that I was on my way to the correct destination.
Is there anything else you wish to add and what do you think about 1X as a home base for your work?
I hope 1x will continue to be the most difficult curating site where all photographers feel rejoiced when the works are published on the site. In addition, 1x should be more famous internationally. I knew you by chance, but 1x is not highly known in Japan. Your gallery's quality is the best in the world.