Adam Weh's portfolio is full of wonderful mellow and melancholic images. An inexhaustible source of inspiration and food for the soul. He quotes: 'Dark and moody pictures tell the true story of my inner self.' Adam wants to freeze moments that never were seen before and never will be after, expressing his feelings.
He also likes the minimalistic approach to photography and wants to create images that are reduced to the very core of the scenery. Images that are clear, calm, with only a few elements telling the full story. Let's listen to what he has to tell us and enjoy the poetry behind his work.

Thank you for taking the time for this interview, dear Adam.
Please, present yourself to our readers and fellow photographers.
I am 40 years old and I live in Wuppertal, Germany, since 1988. I work as a care worker in a home for disabled people. In my spare time I like to listen to music or to watch a movie. When there is time left, I grab one of my cameras and go out and shoot. I've been doing this since I can remember, but it was 2012 that I finally started to do it in a serious and ambitious way. Before that I was just doing random unplanned snapshots. I enjoy landscape and street photography most. I also enjoy editing my images into the vision I had when I took them.
When you look at my images, you will see that I always have been attracted to, and inspired by the dark side of life. It's the mellow and melancholic things I really feel at home with. My mind works a bit like listening to a sad song and yet feel the wonderful beauty in it. I have taken some very colourful and bright sunset images that many people loved, and I was quite successful at presenting such images at sites like 500px. But this bright and "happy" pictures have never really been "me". So I am continuously searching for a photographic style that suits my inner self better. It seems that my moody photography is the right path for me.

What influenced your art the most?
Being a big movie and music fan, my life has always been connected to art in some way. I take a lot of inspiration from film and music. And it was always the dark stuff that inspired me most. I listen to bands like "The Cure" or watch movies like "Pan's Labyrinth". Despite having a big sense of humour, I am not a big fan of "happy top40 music" or comedies. All my life I have felt an invisible boundary to mystic and gloomy art. It's fun to do nice sunsets and landscapes, but it's the dark and moody pictures that last and tell the true story of my inner self.
How did you come to photography?
To be frank, it was my own impatience and laziness. Since my childhood I loved to do art. I used to draw and paint as a child. But I never had the patience to work on a painting for days or even weeks. So when I got my first camera, I really enjoyed that I could create worlds and images so much faster through a viewfinder.
What means photography to you?
I want to capture time, to freeze a unique moment forever. A moment that has never been before and never will be after. Telling a story within one frame, express my feelings in 1/125s - it never stops fascinating me.
Your typical style and all of your work is full of poetry.
Why are you always processing your images to give them your very own mellow and melancholic look?
It's a "Bob Ross thing". In his shows he quite often said things like "it's your picture, it's your decision, you do what you want". Quite often I see something interesting and I take a picture of it. But in many cases there are elements in the frame that distract from the main object. Or the light conditions just weren't right for the mood that I wanted to express.
So these images did not tell the story I actually wanted to tell. Editing an image in photoshop gives me full power and control over a theme and over the emotions that I want to express. Creative editing gives me the power to turn a scenery the way I would like to show it.
What is more important to you, the mood,/story behind your images or the technical perfection?
As a landscape photographer I appreciate the image quality of modern cameras. I really value the advance in sharpness and dynamic range of modern cameras, especially when I want to capture a dramatic sunset. As a collector of vintage cameras I had some frustrating experiences when the technical limitations of an old camera have ruined a great scenery.
Yet I have learned that a perfectly exposed and sharp image is not enough. It's good to have it when it's needed, but it won't help when the image lacks emotion. Technical perfection by itself does not evoke the viewer's feelings. It does not tell a story and it cannot turn a boring subject into an outstanding one. Perfection does not arise emotions. But that is what I want to achieve. I believe that the story is more important. Technical perfection is - at least when I am not doing dramatic sunsets - nice to have but not necessary.
I feel attracted to the broken and dark things. Like dead trees, rain, fog, rust or abandoned factories. Even homeless people. But I do not want to do any harm. On the contrary: I have a heart for the lost and the underdogs. I always see the beauty in them. This is what I want to show, the beauty and respect that I feel. I would never want to mock or make fun of anything or anyone.
Do you prepare carefully the locations where you are intending to photograph?
Indeed, I do. For me, going on a holiday is rather a manic "go and search a new location" and "are 3 cameras really enough?" than just relaxing on a beach. I do a lot of scouting with my car, pre-checking the weather, when and where the sun will go down, also looking for new locations in photo communities and with google maps.
What gear and software do you use?
As a collector of vintage cameras, I have a lot to choose from. If I really had to, I would prefer the Olympus Pen-F for digital and the Canon AE1 for analog photography. Not because of the image quality, I have several cameras as my "workhorses". But both are such beautifully designed and crafted cameras, it's such a joy to use them.
Also I mostly use prime lenses. That is some sort of a self-imposed limitation. When I started to do photography, I had a Samsung NX300 camera with a kit zoom lens. I was doing pictures like crazy, tried different angles with different focal lenghts, not really knowing what I was doing. I have learned that the limitation of a fixed focal length is something that makes me more focused in my compositions.
The software I use is nothing special: Adobe Photoshop, Lightroom, Nik Collection.

Can you tell us something more about your work flow?
Usually I put my headphones on, start listening to my favourite music, maybe have a beer or so to relax. Then I just start. Most of the time, I have a vision in my head. I start to play around with layer masks, textures, filters, cut & paste, deleting or adding objects, until I finally have an image I think is worth presenting to the world.

What is your most important advice to a beginner in moody and poetic photography?
Have patience. Learn the basic stuff and then try to manifest your vision into an image.
Do you have one particular favourite photographer and more importantly, how has your appreciation of his work affected your style?
When I started to do photography, I have been watching a lot of youtube videos to learn about composition and post processing. It was the channel of Serge Ramelli that inspired me most. I liked his vibrant and colourful style. I was happy doing landscapes and sunsets.
Then something happened to me that was a complete gamechanger:
I discovered the work of Paulo Abrantes and I was blown away.
His works were a style of photograph I had never seen before. It completely changed my vision of what makes a great image. His pictures are unsharp, dark, grainy and - from a technical point of view - sometimes quite terrible. But at the same time, for the first time, I have seen photographs that weren't just beautiful - his photographs made me feel something. I still like do to my cheesy cliche sunset landscapes, just because it's fun.
But the work of Paulo Abrantes showed me that there is another approach to photography - an artistic one, one that captivates the viewer, one that makes a viewer halt and dive into a scenery. Serge Ramellis tutorials made me learn the basic stuff, but Paulo Abrantes work inspired me to be a true photographer.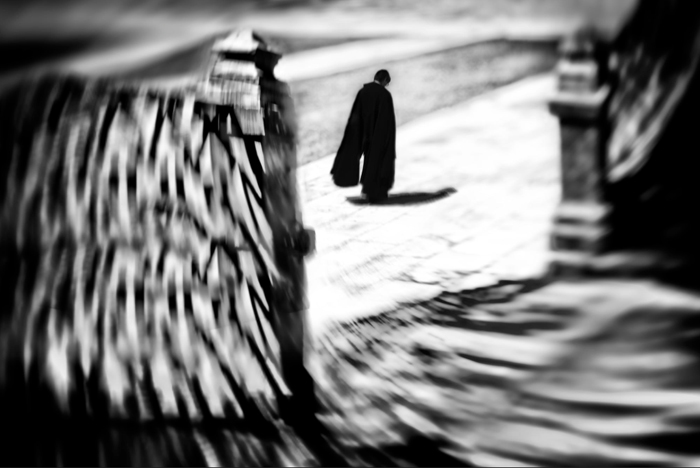 'Soon After Silence' by Paulo Abrantes

This is one of the first photos of Paulo Abrantes that I have discovered - the way he uses negative space and framing changed my understanding of photography.
Do you have specific goals you would like to take your photography in the future, Adam?
I like the minimalistic approach to photography - I want to create images that are reduced to the very core of the scenery. Images that are clear, calm, consist of only a few elements but still tell the full story. I am not there yet. But I am trying. I want to learn and experiment more. As an artist, I do not need money as a reward. But I'd love to be known and respected. Not in a popular way like i. e. Annie Leibovitz is, but occasionally being shown at exhibitions and so on, I'd really love that.
Which photograph taken by you is your favourite and why is it special to you?

I admit that this is a kind of a cliche lonely tree shot. But it is special for me because it's the first time I have completely achieved my vision. This is the way I'd love to shoot in the future: it's calm, minimalistic, without any distracting elements. It is melancholic - but somehow also beautiful and powerful.
How does it feel to have 1x as home base for your work?
When I first discovered 1x, that must have been 2015 or so, I was deeply impressed by the sheer quality of the photographs. It was a jaw-dropping experience. I haven't seen anything comparable before. It took me years of hesitation and doubt until I finally found the courage to present my humble work in this great community. My biggest fear was that I would sign up and all work I had put so much effort in would have been rejected. Having now 30 photographs published and now even being interviewed is more that I would have hoped for. It has exceeded my dreams and expectations by far. I cannot put into words how proud I am about these achievements. Now I want to continue, work harder and grow further as an artist. Thank you to everyone who has liked my images, to my followers, to the curators team and especially to Yvette for giving me this opportunity.