Minimalism is not as simple as it seems; it can easily become trivial and uninteresting. The trick, and the art, is to be very creative and sometimes depart from the general rules of composition, color and form.
As far as photography goes, I'm an all-rounder. In my early days, 40 years ago, I mostly shot studio portraits and landscapes. After a long period of inactivity due to my professional activities, I took it up again a few years ago, but this time with a digital camera. There are a lot of new opportunities offered now.


These days there are so many people walking around with cameras, and there are countless photographs being taken and uploaded to photo websites. This really made me think. It also prompted me to consciously move away from taking these kinds of mass photos, and now I rarely take any landscape, portrait, animal or street pictures at all. I have a lot of respect for the privacy of others and do not just take pictures of people on the street without their permission. This doesn't mean that I have no appreciation for those photographers who do. When such images are exceptional, then I can only admire them. I am completely open to every beautiful or special photograph in any category.
"A photo should not overwhelm the viewer with a tangle of lines, graphics and colors."
I wish to stand out from others by developing my own style based on austerity — especially where light and minimalism are concerned. A photo should not overwhelm the viewer with a tangle of lines, graphics and colors. I keep my images as quiet and simple as possible and pay a lot of attention to strong composition. Lines, surfaces and especially the light play an important role. Color also plays a huge role in radiating balance and pleasing the eye. I am constantly looking for the painter in me; black and white images are therefore limited in my portfolio.
With that said I should mention that, on the contrary, I do sometimes convert images to black and white, but only when it really delivers and only when it's obvious that color is not an option. This picture is an example of that, but here I used blue instead of black. If you are wondering why this photo is blue and white, the answer is simple: blue is my favorite color, and I wanted to give more contrast to the white, plastic letters.
" 'Get straight to the point' is my motto, and 'SI' does just that."
"SI" is a good example of my style. It consists of those few important elements I previously mentioned — simplicity, some lines and surfaces and a great emphasis on the light — and nothing more to distract the viewer. The main attractions are the strong composition and the minimalist character of the work. "Get straight to the point" is my motto, and "SI" does just that.
This attitude of mine has naturally led to some rather abstract works. It also gives me an enormous freedom. During my photo walkabouts, I constantly come across subjects that are worthy of photographing, and they are often small details. I spend a lot of time walking around in cities — not to meet people, but to search for simple, colorful and banal subjects. They are frequently unnoticed by most people, but are so beautiful to me because they have the potential to be transformed into works of art. The crowning glory for me is when I discover those gems that can be found on any street. My goal is to make art out of them, and that's how I wish to stand out from the crowd.
"During a walk along the beach, I saw these big plastic letters, at least 10 feet (3 meters) high, being used for a commercial advertisement."
During a walk along the beach, I saw these big plastic letters, at least 10 feet (3 meters) high, being used for a commercial advertisement. In the original photo you can see that the letters were very damaged, by both the weather and the tourists. The many stains and scratches are apparent in the photo, and the top of a girl's head is in the bottom-right portion of the frame as well; she was having fun climbing on the display.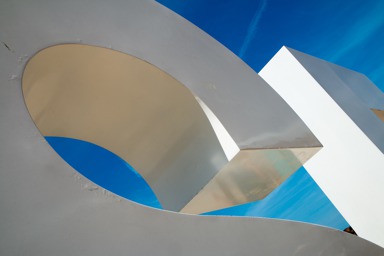 Because my favorite subjects are mainly abstract, I have adapted my photographic eye to photographic thinking. That's why I continually see interesting things during my walks. I don't need to wait for the perfect light, the right person and so on. My subjects are everywhere, and Photoshop helps me to fully utilize this medium and create uncommon pictures.
"I call myself a photographer/painter or painter/photographer; I haven't decided which one is more apt, so I use them interchangeably."
It is imperative that my photographic work somehow resembles a painting. I call myself a photographer/painter or painter/photographer; I haven't decided which one is more apt, so I use them interchangeably. Just as light plays a very important role, so does the atmosphere that exudes from a photo. Thanks to the processing, many of my works appear very soft, creating the illusion of a painting. Therefore it is possible that I am, perhaps unconsciously, influenced by the style of many famous painters.
The image was processed in Photoshop CS6.
1) I first removed the scratches, the damaged areas and the girl's head.
2) Since I had already made an image with white letters, I had an idea to work with dark blue to obtain more contrast in this photo. First, I removed the brightest spot of light on the "S" by replacing it with the same darker hue as the shadow beneath the arch.
3) Then I colored some parts of the letters blue. To do this I selected those parts with the Quick Selection tool and applied a Photo Filter.
4) I also applied the Gaussian Blur filter to those selections to create a smoother surface and put more contrast in those areas.
5) I cleaned up the two white parts using the Clone Stamp and Healing Brush tools. Next, I used the Quick Selection tool to select those two white areas, and then I applied both Clarity and Contrast to the selections, brightening and whitening those parts.
6) The small triangle on the right side still bothered me, so I removed it.
7) I was not satisfied with the color of the sky in the original image. I also wanted something more creative in the background, so I decided to use a cloudy sky image from my photo archives to replace the original sky. Once I matched the contrast in the new sky to the rest of the image, it then fit very well with the color tone of the letters. I chose dark blue because it works quite well with bright white. In this way I could immediately draw attention to the composition of the image.
Of course, the simplicity of the original image (the lines, the colors and the surfaces) made the post-processing quite easy and straightforward. I knew that would come in handy when I was shooting, and that was a real bonus!
A photo must attract attention so that the viewer takes the time to contemplate it. The original image evoked little emotion and required little attention, so I created the necessary atmosphere in post-processing.
I never take notes of the steps I make while I'm processing photos. It requires too much time and, moreover, it constrains my creativity. This way I never rely on my previous processing techniques, which keeps my work fresh and new.
Based on my experience with Photoshop, by experimenting with its tools, I have acquired the ability to look beyond a photograph while I'm shooting it and see its potential of becoming an interesting picture. Still, the fact remains that I have to shoot a good photo in the first place to be able to create something special in post-processing.
1) For abstract photography, try your best to isolate the subject as much as possible. Remove all unnecessary elements or put the subject in a contrasting color.
2) I rarely take a photo with automatic exposure, and I always set the shutter speed and aperture manually. This can lead to surprising photos, especially when I experiment with slow shutter speeds and allow the movement of the camera to add a blurred effect.
3) Experiment with your RAW images in Photoshop by using different filters without consulting books. This often gives your photos a unique, creative impact.
I was born in Diest, a small town located approximately 40 miles (65 km) from both Brussels and Antwerp. I am a teacher and started photography when I was 18 years old. Initially I started with film, making a dozen short films and participating in several national and international competitions. I also studied at the art academy of Hasselt.
I became president of an amateur film and photography club and switched to photography because making movies took too much time. In the eighties I started studying again, but due to my profession, I had no time for photography for more than 20 years. Seven years ago, I found more time and I started again with digital photography. A new world lay at my feet, and especially the processing of RAW images in Photoshop was a revelation. One of my dreams when I retire is to paint. For now, Photoshop is the perfect instrument to transform my photographs into paintings.
I joined several photo websites all over the world, and through these sites I discovered the power of my creativity and developed my own style. In my country I am known as a photographer of abstracts, and various people pressure me to organize workshops and exhibitions. I'm working on it.
My photographic style is a mix of color, lines, movement and objects that I transform into a painting containing a lot of emotion.