Mohammed Alnaser has for a long time astonished us with his amazing wild life photography. Besides his obvious technical talent, he is also very skilled at capture the true behavior of wild animals in real life situations. One of Mohammed's photos is being featured in the new 1x yearbook Memento. It's called "To Migrate" and shows us a moment from the great migration in Kenya.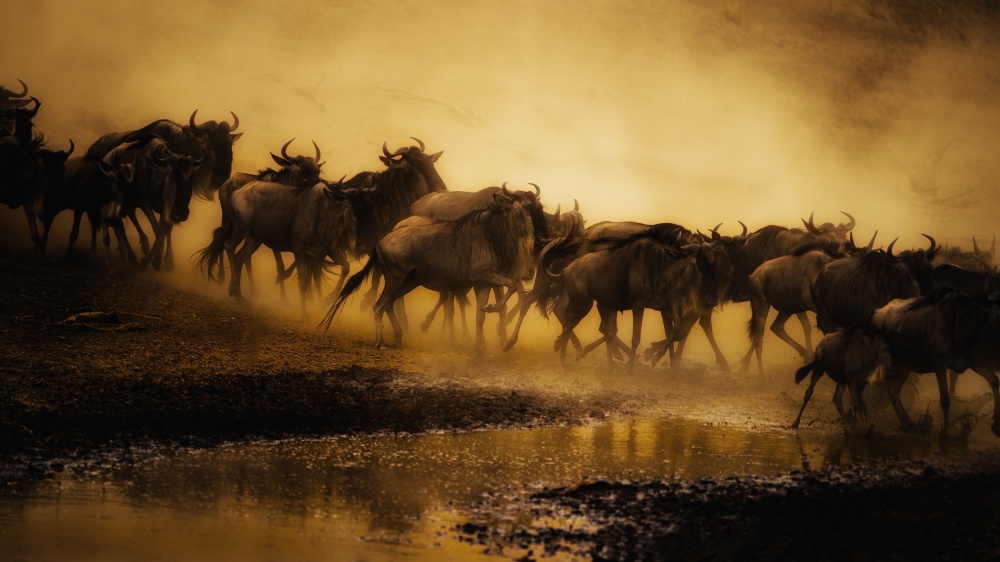 Mohammed tells us the story behind the photo;

The idea to visit Masai Mara National Park in Kenya originated when I was on another safari trip a month earlier in South Africa in July 2012. The ranger I meet every year in South Africa told me that I must visit Masai Mara to witness the "Great Migration" of wildebeests and zebras, and it would be ideal if I could do it as soon as possible. "August would be the perfect time," he said. As soon as I returned home, I booked the trip and started preparing for it.

On my first game drive in the Masai Mara, I was shown one of the spots where wildlife lovers gather, expecting and hoping that a wildebeest herd will cross the Mara River searching for fresh vegetation. I took a moment to observe the entire scene and noted the distance between me and the other side of the river where the animals were expected to appear. That's when I knew my only option was to use my Nikkor 400mm f/2.8 lens. I supported it with a pillow I borrowed, and I used the safari vehicle's roof as my main support.

I was lucky. Huge herds of wildebeests arrived ready to cross the river. I took so many photos, but I was mainly experimenting with different settings since I knew I would be coming to this spot again every day during my stay. The resulting photo was taken on the third day and at the same spot. That time, I was more prepared for the action to happen.

You can read the entire photo story on 1xLearning for a limited time. You will find the tutorial here. If you haven't ordered your copy of Memento yet, you can do it here.