by Editor Yvette Depaepe
Hua Zhu is a most skilled landscape photographer. His talent is endless. His photographic vision simply is BEAUTY. With his photographs, he wants to express what he's unable to tell us with words. It is all about those special moments in time when the natural world reveals its magic for a fraction of a second. Even more important is his statement concerning human activities which affect greatly our environment and destroyed already many natural sites. Hua wants to travel as much as possible to beautiful places and things while they still exist and inspire all to preserve the magic they carry before it's too late.
Let the flow of his photographs take us to another world and learn more about the strong personality behind his tremendous 'BEAUTY'ful photographs.

Dear Hua, can you briefly tell us about yourself, your hobbies and other jobs.
I am an amateur photographer and a medical school professor. I came to the USA as a graduate student from China in 1985. I like travel, nature, arts and sports.
How has your history and life experiences affected your photography?
I was born in Beijing. Both my parents are plant biologists. When I was young, my parents often took me to their department to see the animal and plant specimens, to look at microstructures of flowers and cells under the microscope, to hike in the mountains to see all different plants. These experiences made me love nature since I was very young.
My happy childhood was cut short by the Cultural Revolution, which began when I was 10 years old. What followed was the darkest decade of my life. There was a period of time, both my parents were targeted by the anti-intellectualists and were not allowed to go home. My sister and I spent many days home alone. We also spent a lot of time in the countryside. That was how I learned how people live at the bottom of society. In particular, I lived in the countryside of Tibet for two and a half years after graduation from high school. Because of these special experiences, I would like to photograph painting-like mountains and rivers and the people who have lived there for many generations.
What first attracted you to photography?
My father has a great love of the arts, which he passed on to me. He used to take lots of black and white pictures of my sister and me. He set up a photography studio in our half-bathroom, where I assisted him to develop the films and enlarge pictures. My father is my first and only photographic teacher and influenced me most. He taught me the science of photography, as well as a special way of viewing the world, as if through the lens of a camera.

Describe your overall photographic vision.
My photographic vision is beauty. This beauty is not just the photo itself, but story, emotion, heart and soul. I would like to use my photos to capture those beautiful moments to inspire myself and others.
Why are you so drawn by landscape and nature photography?
I was never skilled with words, so I cannot speak about the beauty I see. Photography is my way to express it. I think that there are special moments in time when the natural world reveals its magic for a fraction of a second. These are moments when there is so much beauty that nature almost seems imaginary. I want to find and capture exactly those moments when the real world becomes like poetry and legend, as if caught off-guard, as if life speaks an ancient language that we all know but no longer remember how to speak. This planet is so beautiful, and no one can see all of it. This is why I hope to bring to people meaningful photographs.

What is more important to you, the mood, story behind your images or the technical perfection?
The story behind is most important to me. Indeed, a good photo needs to be artistically appealing and all these three aspects are required. However, a photo with a story behind is most important - it is alive, it will touch and inspire people, and it will be remembered.
Do you prepare carefully the locations where you are intending to photograph?
In my early times as a photographer, I often travelled to some popular places without specific shooting plans. However, in recent years, because I am busy with work, I planned my trips more carefully and more efficiently to capture subjects I feel are special and interesting. I want to thank my good friend and 1x member, Wenjie Qiao (member wenjieqiao) , who developed a planning app for landscape photographers - Planit! This app allows me to simulate shooting situations with foregrounds and overlays of sun, moon, milky way, meteor showers, eclipses, rainbow and tide, so that I could plan my trips well and know precisely when I should be in position, where to setup my camera, and what composition and lens I should use. Here are some examples:

This "Three Wise Men" was taken on May 23, 2017 in the Bisti/de-Na-Zin Wilderness, New Mexico, USA. Using the Planit app, I realized that this was a perfect spot to capture the entire galaxy between 1:30-2:00 am, therefore, we went there at that time and shot this photo.

The "Starfish Rocks" are only accessible during the low tide. At high tide, it is not only impossible to see the starfish, but it can also be extremely dangerous. Planit's Tide Search feature helps me figuring out when there will be both low tide and the sunset.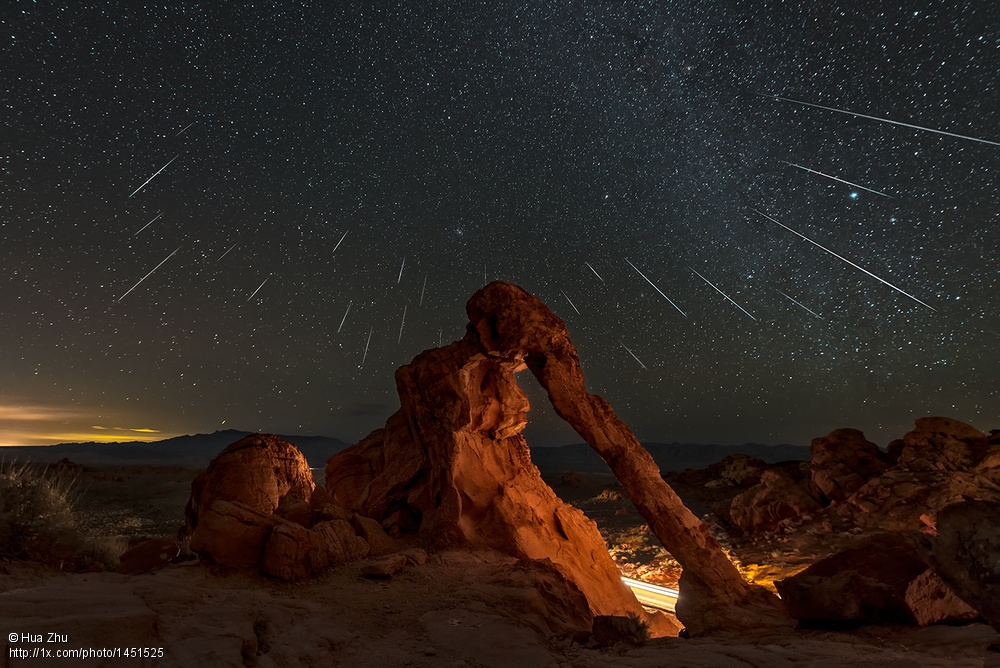 "Geminid meteor shower above the Elephant Rock"

In order to take Geminid meteor shower, I planted this Elephant Rock location in the Valley of Fire before my trip, including darkness, direction and time frame, so that I could catch a flight from the East to West, capture this photo, and flight back, all within two days.

This is a special photo taken at the Tunnel View, Yosemite National Park, USA on February 11, 2017, at around 3:30am. The full moon above me illuminated the fog in the valley and the surrounding snow-capped mountains. Surprisingly the rare lunar rainbow below the Bridalveil Fall was shown in the picture! Coincidentally, Qiao called me next day and told me that the "moonbow" could only be seen a few times of a year there, and this event can be calculated by Planit.

To demonstrate the correct consolation of moonbow by Planit, I went to Iceland and took this "Moonbow at Skogafoss".
What gear do you use (camera, lenses, bag)?
Since my first camera was Minolta film camera, and later Minolta was brought by Sony, I always use Sony cameras. Currently, I mainly use Sony Alpha a7 III mirrorless digital camera. Lenses I used often include Venus Optics Laowa 12mm f/2.8 Zero-D lens, Sigma 14mm f/1.8 DG HSM Art lens, Sony FE 16-35mm f/2.8 GM lens, Sony Sonnar T* 55mm f/1.8 ZA lens, Sony FE 70-200mm f/2.8 GM OSS lens, and Tamron SP 150-600mm f/5-6.3 Di VC USD G2 lens.
What software do you use to process your images?
Lightroom and Photoshop.
Can you tell us something more about your work flow?
I always start with Lightroom. I use Lightroom for managing, selecting and initial adjusting of my photos. Then I export the selected and adjusted images to Photoshop for further editing and retouching. I also use other software, such as ON1 Effects, Topaz Clarify and A.I. Gigapixel. Sometimes I bring the images back to Lightroom for final fine-tuning.
What is your most important advice to a beginner in landscape photography?
Improve overall artistic appreciation, learn from good photos, plan well, and do not over-do it with processing like Photoshop. Finding and capturing what you are passionate about, otherwise the photos will be just aesthetical shells and empty of soul.
Are there any specific directions that you would like to take your photography in the future or any specific goals that you wish to achieve?
Depending on my situation in the next few years and my time availability, I would like to plan my trips more carefully and shoot more interesting and unique scenes. Night photography is always my favourite.
Describe your favourite photograph taken by you and why it is special to you?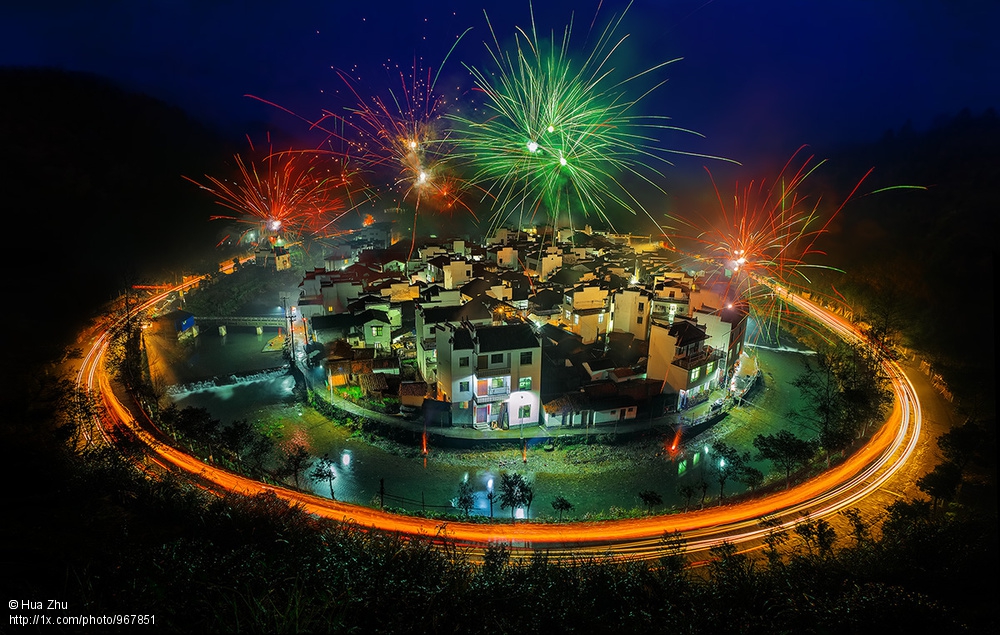 This photo is one of my favourites because it artistically expresses the idea of a circle, which is an important spiritual prototype in Chinese culture. It was taken in Jujing, a small ancient village in China. Jujing is known as the roundest village in China. In the last day of the Chinese New Year celebration, the village has a traditional dragon dancing activity, which has been around for about 1,000 years. No matter how far and how long you travel during the year, everyone comes home this day. After dark, each family will bring a piece of dragon light and connect them together into a long dragon. They dance around the village to celebrate New Year and scare away the evil ghosts. I planned this particular trip and used long exposure to emphasize the round concept. This photo was also selected by National Geographic as the Photo of the Day on January 1, 2018.
Is there anything else you wish to add and what do you think about 1X as a home base for your work?Thank you so much for this interview! I do not have my own photo site, therefore, 1x.com is my home. I am very happy to share my photos with others on 1x.com platform and benefit a lot from encouragements and learning from others.