Charlaine Gerber has a creative vision to not merely capture a realistic rendition or mere representation of the subject, but aims to produce a more personal, maybe evocative or atmospheric impression with her photos that might go beyond realism. She has a special interest to create a work of art or symbolism which can be interpreted in many different ways. She started a photography business with the name 'Pia Lux' which is the Latin phrase for 'Loving the Light'. She designed her own website and had 3 exhibitions, one at the end of 2015 and two in 2016. Charlaine and her partner opened a Fine Art photography shop in Paris 1 March 2016. She received her LPSSA honours panel last year and her APSSA panel recently. She is judging at salons and is invited to give presentations quite regularly. She also started giving workshops in Sept 2016.
Let's have a glimpse on the person behind her work and learn more about this talented and succesful artist photographer.

Many thanks for taking the time for this interview, Charlaine. Please tell us more about yourself, your hobbies and other jobs.
I have had a love for photography for many years, but had to focus on raising 4 children and working very hard, with the inevitable consequence that I never really got round to it.
About 5 years ago, bought a DSLR and joined the local photo club to learn how to use the camera. I am very thankful to now have the time and am be able to really focus on something that has become my passion and has only now realized that I have a talent that I can now pursue. My photography has now become a full time job, but I enjoy it so much that I never feel I am working! .
About three years ago, I realized that my passion is art photography, so I started to attend workshops with a photographer that has an art background. I realized that I want to do composites to create a fine art work that focuses on telling a story or conveying an emotion. I was skilled in using the computer, but knew very little about skills in Photoshop and I realized that I had the vision and the picture in my head of what I wanted to do, but lacked the skills. I started to follow tutorials and taught myself the necessary skills, with lots and lots of practice. I have never stopped learning and still do tutorials almost daily. I think this is key!

How did you first come to photography?
I think every person's history affects you and in the arts it must show in your work. Some emotions are deeply rooted in ones history and I find it impossible to think that it will not show through in my work. In fact I recognize some of it in my work.
I have a music background and play the piano and music influences me a lot. I also make AV's (Audiovisuals) that is put music to my photos to tell a story, and mostly use the lyrics of music as names for my photos. Here is an example of one of my AV's


I always loved taking photos of everything and challenging myself to show the subject in an unique way.
I had a particular interest in art photography from the start. I wanted to create unique photos and I had a creative vision to not merely capture a realistic rendition or mere representation of the subject, but aim to produce a more personal, maybe evocative or atmospheric impression with my photos that might go beyond realism.
To my mind it all starts with a concept, using photography and taking photos to use in composites and software programs to create a work of art or symbolism which can be interpreted in many different ways.It of course all starts with an idea and thinking 'out of the box', and as Ansel Adams said 'there is nothing worse than a sharp image of a fuzzy concept'

The diverse genres of my photography all have a fine art feel. 'Art Photography' is described as 'Photography created in accordance with vision of the photographer as artist.' There is a sense of silence within, a definite mood and it cannot be commercial, it will make you feel the atmosphere at which the sensor was opened. I also have a special interest in editing with photography and design software and see it as a challenge to study the techniques to create the effect that I would like in my final image. It is an integration of taking a good photo, having the concept and executing it by using different techniques. It starts with taking the photo.....I love to use movement, shallow depth of field, light (like shooting against the light) and mood to create photos that are different and unique and I believe that makes for art photos, to start off with.

Looking at your work, your primary goal seems to be the mood/story behind each photograph more than the technical perfection!
My inspiration comes from different places, sometimes, a very special or interesting subject or model, music, lyrics of music, sometimes a background, sometimes the story that needs to be told about the subject i.e. my 'Vintage dress 'series that tells the story of the sad history of the dress. I also make series of specific subjects i.e. 'Vintage dress series', Rain series, etc.
I then often have the concept or vision of what I would like to create, then need to plan the execution of the vision and the shoot. It is very important to me that my work tells a story and I spend a lot of time conveying mood in my work.
It therefore follows that technical perfection plays second fiddle, although I always start with a good photo and good editing. I spend a lot of time with making sure that he lighting, etc. is correct.

Can you describe your relationship to your subject matter beyond being an observer?
Here is my interpretation: 'I like to compare creating Fine Art composites with starting with a blank page or canvas, creating a picture, starting with my creative concept, my camera as a tool and with my knowledge of photography and experience, combine that with computer software skills and techniques to 'paint' a Fine Art photo which is then the end result.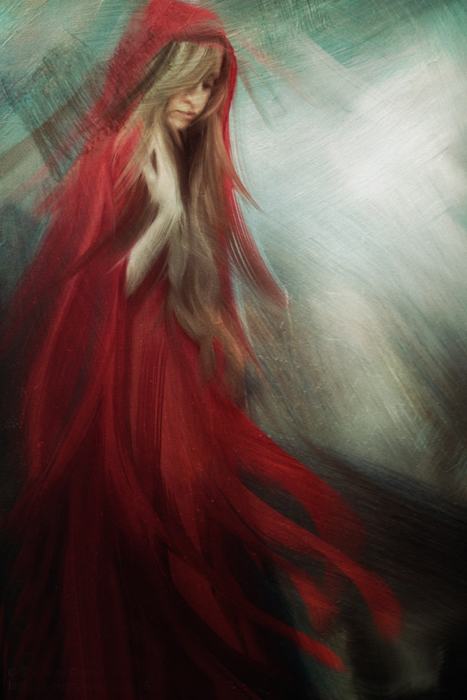 "...if I was the red and you were the blue..."
I started a photography business 2 years ago with the name 'Pia Lux' which is the Latin phrase for 'Loving the Light' and is the essence of the way I see photography and create art photography as I do...
I realized about two years ago that the people in the photography world like what I do and have achieved a few awards in salons, including 41 medals in national and international competitions in the last 2 years.
I also won the monochrome competition in the Image (official magazine of the South African PSSA) and an article of me and my work featured in the Dec 2015 issue of the 'Image' and my photos are regularly featured in a photography magazine and recently (Aug 2017) a 9 page article was published about me and my work and some featured as well.
I also started giving workshops in Sept 2016. I was asked to teach what I know and see it as a huge privilege and compliment. I had the vision of keeping it unique and doing it in a very special way, spoiling the people that come to my workshops in surroundings where they can live out there creativity.
It is the most satisfying feeling to be able to be creative and make art. Hopefully my photos will be my legacy and will leave something of myself for my children and my grandchildren and make the world richer for it.

Do you prepare carefully the set-up before each photo-shoot?
When I have a workshop or specific photo-shoot , I prepare intensively with a unique concept and how to execute it. I plan the background shots and the model/s. I very seldom work in a studio setup, I prefer natural light and movement in my models, taking photos against the light, slow shutter and shallow depth of field.
What gear and software do you use?
I have a Canon 5D, wide angle lens 16-35 mm, love love my 50 mm prime lens and then nave a 70-200 mm lens too, which I use quite a lot.
I use Lightroom and Photoshop.
I take photos in RAW , import into Lightroom, sort it out there and then send my photos to Photoshop for editing.
Please, can you give one important advice to a beginner in Fine Art and Mood Photography?
Decide what photographer/s you want to learn by, follow them and learn from them. Then find your own style and look at tutorials to learn the skills. Never stop learning and practising.
Who are your favourite photographers and more importantly, how has your appreciation of their work affected how you approach your own photography?
In the beginning I loved Brooke Shaden's rendering of her work and then developed my own style. She is a conceptual photographer, but I don't do conceptual photography that much, rather focus on art photography.
I particularly love this surreal photo of Brooke Shaden
and then rendering and studied it to make my own.
Do you have specific goals that you wish to achieve in the future?
I realize that I study art more than photography, so have a huge interest in art, I am reinventing myself from day to day and trying different styles.
I quote Hein Waschefort, a renowned photographer in South Africa on what he recently said about me in an article that was published in the Image magazine: "Charlaine to me is a refreshing breeze blowing over the hornets nest. A artist who chose the camera as her medium and , like any true artist, exploit, venture into, and push new boundaries month by month".
I started to study Art Masters and have a particular interest now in creating my own brushes in Photoshop and doing digital painting on my photos and at the moment that has really become a passion, but it hasn't really been accepted in South Africa as 'photography', but maybe more 'art', so I am not sure where that fits into the photography world. I see some of it has been published on 1x, so I am very happy and impressed with the vision of 1x regarding this.
Describe your favourite photograph taken by you and why it is special to you?
One of my favourite photos is 'In the Mist',

It is one of my first Fine art composites that I made. I took the background photos of the mist on a Smallholding here where I live in Witbank, South Africa on the banks of the river and the model is my daughter that ran in the veld for me to take photos. I still love the work, although there are technical issues that I can see now after 2 years of improving my skills.
How did you discover 1X and what do you thing about our site as a home base for your work?
I won the subscription to 1x in an international competition (received a gold medal) last year and didn't really give it any attention, till about three months ago. I realized that I have to put my work out there internationally, so started to submit my work on 1x. I wasn't sure what type of photos will be selected to be published and have done well so far. I only realized recently that I can send the photos for critique and to me that is very very valuable, so that I can learn from that.