Lars van de Goor's approach of photography is entirely his own. His first passion was music. When he started photography, the link between both was obvious: the composition. The fact that he has no formal training is something he's pleased about because he doesn't feel limited by any rules. Over time he learned through creating numerous over and under-composed and blurry images, and it enabled him to perfect his very own style.

Briefly tell us about yourself, your hobbies and other jobs.
I am a professional photographer and born in 1964 on a houseboat in the middle of lush farmland, where I grew up being virtually part of the nature that surrounded me. My first passion was music, joined by photography in 2007, and the link between both is composition.
How has your history and life experiences affected your photography?
I believe all of someone's experiences in life are reflected in the picture he or she takes. Therefore when you capture something in a fresh new way, it's almost like a signature. It's a particular way of perceiving the world or representing something in a way you like it to be.

Which are your most important experiences that has influenced your art?
When I just started, I went out shooting listening to music on my headphone. I guess the mood in the songs also helped creating my images. Also, I never edit my images without listening to music. So music certainly influenced my photography. Another great influence are the movies from the Chinese director Zhang Yimou. His use of colours are second to none. Also the Dutch romantic landscape painter Barend Cornelis Koekkoek still inspires me today.
What first attracted you to photography?
I first picked up a camera 10 yeas ago. I always noticed interesting things worth a photograph, but always invested my money in musical instruments. instead of camera equipment. When I finally bought my first camera, I stepped right into the digital age of photography. Because of the quality of my first camera, a Panasonic DMC FZ50 and the lack of any technical knowledge of photography, I started very early on with editing my images to make them look better.
Describe your overall photographic vision.
There is this vast thing called life and there is this tiny thing called a photo, which is nothing more than a framed fragment of the whole. All ingredients, like light, composition, location together with all of your own feelings and experiences, you have to put in that little image which must be attractive to the viewer.

Why are you so drawn by Landscape Photography?
Nature is what it is. It will not confirm to your needs and almost never looks they way you want it to be. I mean for the photo. You can tell a model what to do, a tree will not listen ;-) That's what I like about nature. So finding yourself in a place with perfect light conditions is a real privilege and therefore I always say loud: "Thank you" when I leave the spot.

What is more important to you, the mood,/story behind your images or the technical perfection?
Mood for sure. I am bored by technical perfection or perfection in general. Nevertheless I am always striving for perfection ;-)
What generally is your relationship to your subject matter beyond being an observer?
Being in Nature, connected to nature is very important for me. If I would have to hand in my camera tomorrow, I would still go.

Do you prepare carefully the locations where you are intending to photograph?
I do a lot of scouting. When the light is right, I know my spots.
What gear do you use (camera, lenses, bag)?
Hasselblad 1XD, HDC 45mm lens
Sony A7R2, 24-240, 16-35
Nikon D800, 70-200mm
Gitzo legs and RRS ballhead
What software do you use to process your images?
PS, LR, NIK & Topaz software
Can you tell us something more about your work flow?
It's very intuitive, besides some standard adjustments in Raw, I very much like to approach my images with fresh eyes. When editing I would like to be surprised by what a certain filter will do. It must inspire me to go on. Sometimes, or better said most times, an image dies, so to say, in the process and will not be worked on any further. It doesn't mean the photo is not good, but I can't uplift it at that moment. Therefore I almost never throw away my images. Years later, you might approach that image with whole new and other skills.

What is your most important advice to a beginner in Landscape Photography and how do you get started?
Most important is having fun and to love your subject

Don't look too much at others. That sounds a bit strange maybe, but when I started with photography, I did not know any rules, didn't know any famous photographers. I was not bound by any knowledge. Nothing wrong with that of course, but those things you can catch up later.

Look at your framed piece of life and see if it's giving you a little shiver or not. If you're not excited about it, don't expect others to be.

Who are your favourite photographers and more importantly, how has your appreciation of their work affected how you approach your own photography?
I do not have any particular favourite photographers, however I admire many. Especially those who have found their own style, search for unique locations or concepts and are willing to give up everything for photography. I must admit I am enjoying other peoples work, but I never study how it is be done. Once it's done by someone, you can try to copy or improve it, but that's not the kind of fun I am looking for.
Is there any specific photo taken by another photographer that has inspired you a lot and why?
If I have to mention one, however not a landscape photographer, it's Henri Cartier Bresson. Besides his marvellous work, it's the person itself that inspires me and his ability or openness to let things arise in front of his camera. There is not a specific image, but here is an example. It's full of mood, it tells a story.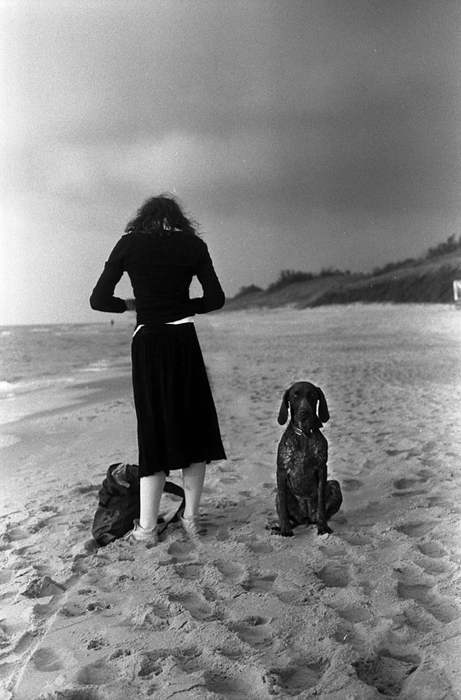 Photo by Henri Cartier Bresson
http://anneyhall.tumblr.com/post/359861425

Are there any specific directions that you would like to take your photography in the future or any specific goals that you wish to achieve?
September 2017, me and my wife will exchange our house for a mobile home and will travel Europe for some years. Like I mentioned earlier, for me it's important to discover new places and interesting situations. Our travel experiences and images can be followed on a blog on my website later this year.
Describe your favourite photograph taken by you and why it is special to you?
It's one of my favourites and called Alice.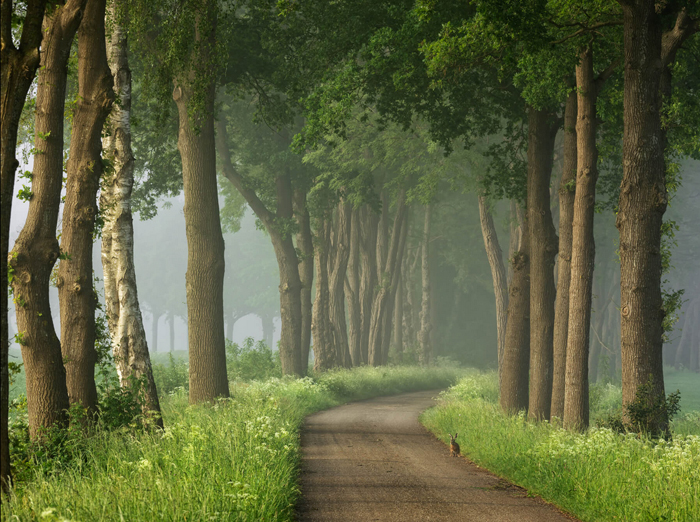 "Alice" (website Lars van de Goor)

I only had a short period of time to shoot images for the Hasselblad book 2016. Because the light in my images is a determining factor, I am depending on optimal conditions. This particular morning in spring, the light was pleasantly soft and as a bonus this hare came walking into my frame, stopped and looked straight into the camera.
Is there anything else you wish to add and what do you think about 1X as a home base for your work?
1X is a good place to showcase images for the serious photographer. Because of the curators the quality remains high unlike most other showcase platforms.
My website
My "Seebook"
More interviews