Life interview by Marc van Kempen
Patricia Steur is a top Dutch photographer. She started her singing career in the playback group "Groupies Delight". Started photography in 1974 with a preference for shooting concerts. She was able to get the great musicians of the time in front of her camera. Magazine "Hitkrant", discovered her. She also worked for "Oor" and "De Nieuwe Revu" (Dutch magazines). From there her photography career developed to a high level. She also loves painting. She is open-minded towards the world and towards people. Her portraits show the real person. That's why Patricia can't be called a glamour photographer but a photographer who tries to search for the soul of a person. She takes life as it presents itself. Who is Patricia and what makes her such a charming lady?
Patricia welcomed me in her house which doubles as her studio and showed me around. There was an energy in the house, which puts people immediately at ease. I looked and admired the many photos that were hanging on the walls. One of them especially caught my attention: "Kingi", a photo of a tattooed Maori man.
She then shows me her photo gallery
This is my great-grandfather with his Irish wife from the Fitzgerald clan.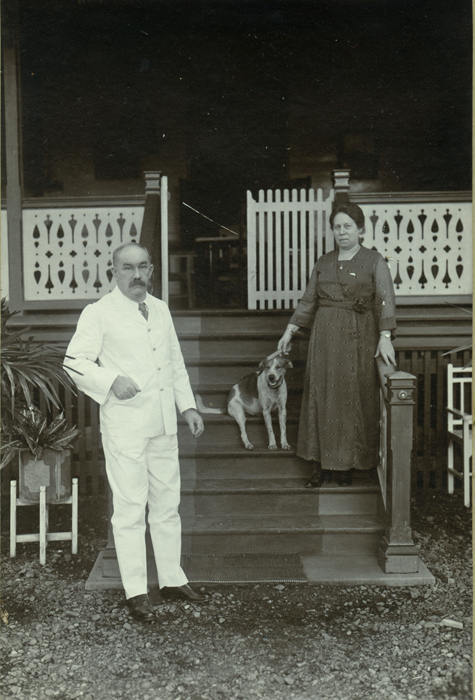 This is a picture of my father, a Latin-looking man but as Dutch as can be.
We then arrive at a marvellous portrait of Erik, her deceased husband. His name was Erik Hazelhoff Roelfzema (jr), the son of the legendary "Soldier of Orange". Patricia tells me that they had a very happy marriage and that he died at age 62 of cancer.
We arrive at a picture of Patricia's sister, published in her book "Dutch Beauty".
And this is a photo of her mother who lived until she was 94. Patricia is a spitting image of her.
Do you come from an artistic family?
My great grandfatherwas besides an engineer also a photographer – in 1878! And my father used to be a film-maker and photographer. He coloured his photos in with Ecoline ink. He could also draw and I had great admiration for his work. I wanted to study Art but was asked by my parents to first take a secretarial course. In case I couldn't make it as an artist. In between I was also a member of a band "Groupies Delight". I couldn't sing that well but good at performing and we were a big success, especially in Germany. We even made it to the top 10.
https://www.youtube.com/watch?2izZWEIE5dg
It didn't last too long and one day I asked my father if I could borrow his old Voigtlander and right away I felt "this is it". I first got a job working for a photographer.
In 1980 I started to work as an independent. I was always ready to attack a difficult assignment like the time when I really wanted to photograph the Beastie Boys. I just had the guts to push through and got 10 minutes to take my photos. A week later this series appeared in "De Nieuwe Revu". I thought: Yessss…."
It always works like that for me: I never see problems. I have a vision and that's what I follow. I just have to do it, go there. That's the clue of my whole life.
I also photographed the Dalai Lama and that photo appeared in several magazines and sold well.
How did you feel when you were a beginning photographer?
With the borrowed Voigtlander I just took random photos and I loved it. I started meeting people who could mean something for my career. I met this guy from the Hitkrant and told him that I wanted to take a photo of Eric Clapton. He arranged it for me and that became my first-published photo. I was in the pit with a lot of other photographers and I didn't like the fact that we were all going to make the same photos. At the next concert I knocked on the door of the dressing room and showed them one of my photos. They then knew that I could do something different and they let me in. They even phoned me to offer me a place on the stage. Some photographers were thinking "damned, that Steur girl is doing it again". But this way I was getting different photos.
Do you see advantages in being a woman photographer?
Oh yes, I have always taken advantage of that fact. But I would have acted the same way if I had been a man. Look at Anton Corbijn: he is one of the best photographers.
Anthony Kiedis of the Red Hot Chili Peppers called me. I didn't know at first who he was. He asked whether he could use one of my photos for his book "Scar Tissues". A photo with his back tattoo and nude Ione Skeye. His girlfriend at the time.
During the shoot I asked whether his girlfriend could be in the picture as well. She took her t-shirt off.
I do like fashion photography and take photos of well-known Dutch women in beautiful fashion of famous designers and these photos I combine with fish from the Internet. They are published in a very nice magazine called Vision.
I just knew I would become a famous photographer! At the time you were obliged to put your profession in your passport and I put in: photographer.
"FAKE IT UNTILL YOU MAKE IT"
Willy DeVille called me frequently to ask for another shoot. I have made a book about Willy.
Do people pay you when they ask for a photo shoot?
It depends. If I work for a magazine I get paid. But a lot of pictures I took because I liked it. And later on I made some money with it. My photos are protected by copyright. Although everybody is steeling from internet. It is difficult to protect it.
You have also photographed Andy Warhol.
Yes, that was someone I really wanted to photograph. I accompanied Apollonia van Ravenstein, who knew him, to New York. In the Factory I was able to take photos of him. At a certain moment, Andy asked everyone to stop working so he could concentrate on me. He loved being told how to pose and the result is the famous photo I took at that time.
You go on trips to take photos like the time you went on assignment for the Aids Fund.
That was for www.healthpromoters.com
Pregnant women with Aids could give birth to healthy babies thanks to a medicine that was provided through the Health Promoters fund. We bought beads and gave them to the local women. They made bracelets out of them. We then sold them in De Bijenkorf (Dutch Department store) and the proceeds were integrally transferred back to these women. I took a lot of photos in those townships of Johannesburg. One of the women was wearing a pink striped jogging suit which I didn't like very much, so I took a black table cloth from the table and draped it around her. This is the result. By the way this was photographed with natural light.
Do you always get people to do what you want?
Mostly yes! When visiting the Tate Museum in London I was inspired by Sir John Everett and got the idea of taking a photo of Sharon den Adel, the singer of "Within Temptation" in the water. She likes drama. It was hard to get hold of her and when I finally did I only had 1,5 hours to take a photo. It was a cold day in spring and when I suggested to lie in the water she agreed. I bought a small children's pool, put some water lilies in it and covered the bottom with a black cloth. It was very courageous of Sharon to step into the cold water but it produced a fantastic photo.
People seem to trust you that you will portray them in a favourable way.
Yes, I always want to portray someone in a flattering way. I want to get the best out of a person and I want to make the world a bit more beautiful by doing that.
I worked for a long time for "De Nieuwe Revu magazine. In this job I travelled the world. One of my trips was to Sicily where I sailed around the island and took photos with "Centerfold" a girls band.
https://www.youtube.com/watch?v=na_PpuH5Tzc
This was a sexy band and De Nieuwe Revu liked it and it sold very well.
I also photographed Hunter S. Thompson at a mercenary convention for De Nieuwe Revu. I got along with him very well. Too bad he committed suicide.
Tell me a bit about the books you have published.
I have made 9 books. The second one was named "De Laatste Ridders" [The last of the hero's.}
It started by photographing "Straathelden" (street heroes), people I met on the street who looked different. I shot these photos with a technical camera: a Cambo 4x5.
From the Straathelden the book "de Laatste Ridders" (Decorated Heroes) derived, a book about people who had been awarded for acts of bravery during the war called: "Militaire Willemsorde".
Erik Hazelhoff Roelfzema was one of them; the "Soldier of Orange" (de soldaat van Oranje) and I had to go to Hawaii for that, because he was living there. I was introduced to his son who turned out to be the love of my life and became my husband. We returned to the Netherlands and lived for a big part in a small village. When he died after 20 happy years I decided to return to Amsterdam and this house found me.
I never published a book out of my own pocket. Puplishers always asked me if they could make a book of my work.
You have had a lot of luck in your life. Does it just come your way?
That is a philosophical question because I sometimes ask myself whether luck just comes my way or whether I make it come my way. I think I have always known which cards to play to get somewhere. Main thing is that you are happy yourself and then happiness will come your way. Don't get involved in other people's jealousy and unhappiness. I also give this message to people in my master classes.
Tell me some more about these master classes.
The NRC (major Dutch newspaper) drew attention to these with 5 times large page supplements. That was direct publicity for me. I kind of got rediscovered as a photographer. All kinds of people come to these master classes: pensioneers, young film-makers, intellectuals and everything in between, besides photographers.
You also travelled a lot in New Zealand?
Henk Schiffmacher introduced me to "Gordon Toi". He is a Maori and a very important man in my life. I first met him in the tattoo museum of Henk. After that we had a big home-made meal and at the end of that he asked me if I wanted to photograph his clan. That was a fantastic experience. We travelled all around New Zealand. I was with "The Chief" so I was allowed to take photos wherever I wanted. Every time I was in New Zealand I came back to Holland to organize an exhibition of these photos. I always invited him and he would tattoo at the shows. We have done this of and on for 16 years. Through me he also met his present wife Yvanca.
What is the difference between your portraits and those of Jimmy Nelson?
You tell me!
You have also worked with fashion designer Mart Visser.
Yes, he liked me doing the photos because I have a different view than the traditional fashion photographer. I love to show the passion in people. Like an art collector or someone who is crazy about cars. With fashion photography I try to look for something special in the model and use my own instinct. I let Gordon Toi make fake tattoos on them. Combined with the high fashion it looked great.
Do you see similarities between your work and that of Govert de Roos?
We have both worked for the same photographer. Govert is also looking for passion and we have photographed a lot of the same people. We are good friends and can also work together very well. Sometimes we give workshops together.
Do you have tips for beginning photographers?
(Laughing) Don't start!! There is so much competition and you have to be so different and able to think out of the box. And I am not saying there is a box! You have to offer something that no one else is offering. It's easier to become an artist; there is more money in that. With photography it's very hard to make any money. Magazines can often not pay settled photographers anymore. Young people will sometimes do it for a ridiculously low price. And that hurts us, the settled photographers. But it also makes us inventive. Filming or the making of documentaries is a good example of that.
Networking is important. Passion is important. And take care of having a good and trusting relationship with your clients.
New book coming out: from Rosymary de Boer doing the interviews and me taking the pictures: "Opvallende zeventigers" A book about remarkable people of over 70 years.
Some of Patricia Steur's books
Websites on which to follow Patricia's work:
http://www.patriciasteur.com/photos/cat/dutch-beauty
https://nl-nl.facebook.com/visualartistpatriciasteur
https://twitter.com/patriciasteur?lang=nl