Close
How to control the light outdoors all day long using a huge DIY diffuser
By Mandy Schoch, 45min ago
Dee © Mandy Schoch
Note: This applies to all photographers, not only pet photographers. Just keep reading ...
I adore animals, and photographing them is one of my favorite pastimes. So a few years ago I decided to devote my spare time to photographing shelter animals. I met with the director of the local animal shelter, and after showing her some of my work, we agreed that I would give it a go. That's when she showed me the enclosed 20×20' pen where I would be shooting.

Well, it wasn't the most attractive spot, that's for sure. A chain-link fence surrounded the area, and the ground was covered with rocks. I knew that a large backdrop would take care of the fence and rocks issue, but the biggest problem was that the pen received bright sunlight all day long. I had to figure out a way to diffuse it if I was going to make some decent images of dogs.

Jitterbug © Mandy Schoch

After some head scratching, I had an idea. I bought two 108×72" inexpensive white shower curtains made of a semiopaque, soft, silky polyester material. The curtain bottoms were sewn together, creating a 9×12' piece of material, and I used 24 brass grommets (metal rings/eyelets) to reinforce the 12 holes on each end (the holes for shower curtain rings). I also picked up some thin climbing rope from a sporting goods store so I could securely tie the material to the fence without the rope loosening while I was shooting.
Bingo! In no time I had a lightweight, very portable and huge scrim (diffuser) that would cover my entire set and provide beautifully diffused light throughout the day.


This overcast sky is deceiving. Those grey morning clouds always burned off, resulting in a cloudless blue sky and bright sunlight day. (A quick tip too: I handheld the camera, and my knees and elbows were so thankful that I brought along that blue yoga mat!)


Diffusing strong sunlight is crucial to even out the light and prevent harsh shadows from falling on your subject. For you pet photographers, especially those who shoot for animal shelters, you may come across a similar situation, and this easy-to-make scrim really will make your photo shoot much more enjoyable.
Laverne and Shirley © Mandy Schoch


But any photographer who shoots outdoors — portraits, weddings, furniture, you name it — will find a big scrim like this very handy. You can tie it tightly to a tree, a flagpole, an overhang on a building, and you can always bring along heavy-duty C-stands if your location is barren. In that case, sandbags are a must to hold down the stands; otherwise, a good gust of wind will turn the scrim into a massive sail and carry your set straight into the next county.

That reminds me … always have a lot of Ziplock plastic bags with you. If the wind picks up, you can quickly fill them up with rocks, sand, etc., and you'll have instant sandbags for your backdrop or your stands.
As an aside, there is one more excellent way to use this scrim. You can also spread it out on the ground if you're photographing people in grass. Wedding photographers, for instance, would find this extremely helpful because it would reflect white, not green, onto skin and white wedding dresses. No more having to adjust the white balance in camera or correct it later in post-processing. Bonus!

Hope © Mandy Schoch

The images I have included were shot at different shelters and with different backgrounds, but they all were shot outdoors using the scrim. All are to show you how soft and even the light is, no matter the size of the subject, and how the catchlight produced by the scrim puts a sparkle in their eyes — that's especially helpful for the dark brown eyes that I often end up photographing.

Marco and Martin © Mandy Schoch

By the way, all of these dogs were adopted as soon as these photos hit their shelters' Facebook pages — that is such a great feeling. If you have some spare time on your hands and love animals, I encourage you to give it a try and support your local animal shelter. They really could use your help, and you will make some orphaned animals super happy too.

Uno © Mandy Schoch

If you have any questions about making this scrim, or anything else for that matter, fire away! I'm happy to help any way I can.


| | | |
| --- | --- | --- |
| | Mandy Schoch | |
Prints payments to more photographers than ever
By Thomas Brindt, 12h ago
We are happy to tell you that more 1x photographers than ever have earned money through 1x print sales. The idea behind the 1x prints partner network is to allow our photographers to make money on their work, without having to concern themselves with the production, delivery and administration.
We recently decreased the payment limit to 50 EUR or USD. At the same time we also raised the price for 1x prints by many of our partners. This makes it easier to reach the payment limit and today more than 130 photographers have recieved payments for prints sold during the last quarter.
By making your photos available for sale through 1x, you reach out to millions of potential customers and get much more exposure for your work. The 1x prints partner network is constantly growing and we are working hard to make sure that all 1x photos are treated as the works of art that they are.
Congratulations to all photographers who have sold prints through 1x!


| | | |
| --- | --- | --- |
| | Thomas Brindt | |
Weekly theme poverty winners
By Thomas Brindt, 1 day ago
Photography is not all about beautiful landscapes and impressive scenery. It's also about depicting the world we live in and unfortunatly poverty is a part of this world. According to the United Nations, more than a billion people live with less than a dollar per day.
The theme this time gave us examples of poverty from all over the world. Many depicted individuals suffering from poverty, while others were more conceptual in their output.



HONORABLE MENTIONS




| | | |
| --- | --- | --- |
| | Thomas Brindt | |
Upload photos to critique separately
By Thomas Brindt, 2 days ago
Many members have asked for a way to upload photos to the critique forum, without having to upload them to curation. You can now upload photos in the ordinary fashion and then select which photos you want to submit for critique or send to curation.
To submit a photo to the critique forum. Simply enter the cog wheel menu on the photo and select "post for critique".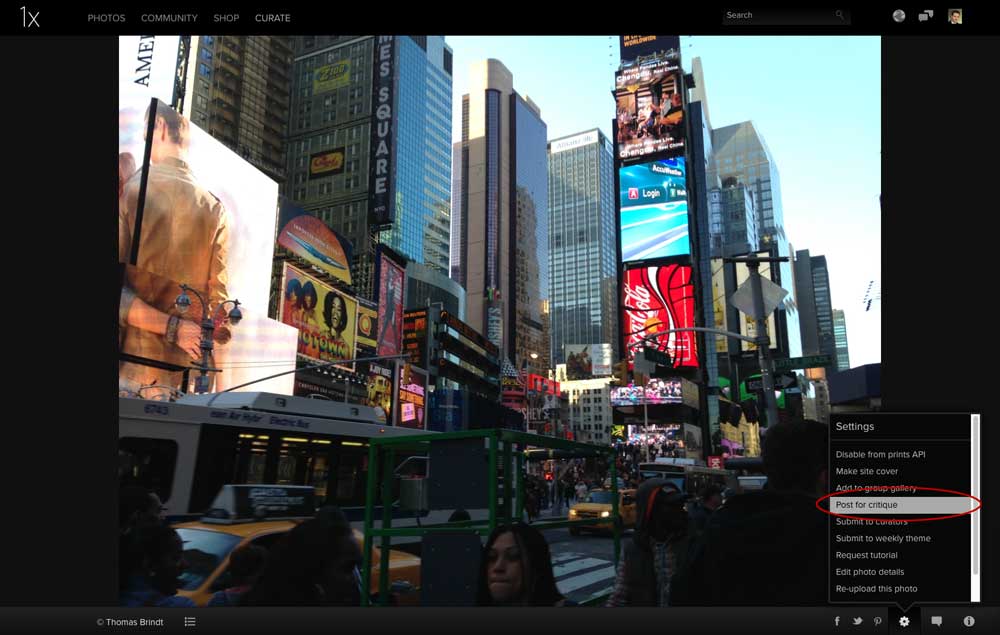 To submit a photo for curation, you can select "submit to the curators" either in the cog wheel menu or on the "photo details" page.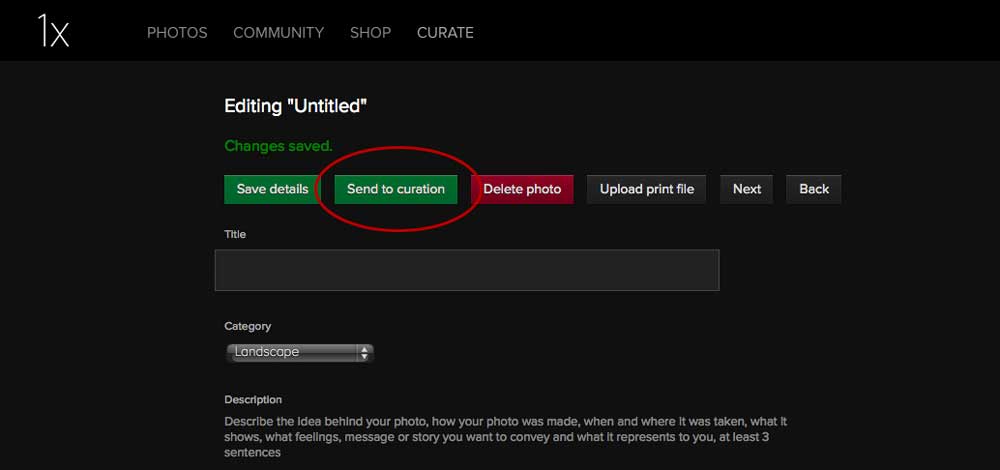 | | | |
| --- | --- | --- |
| | Thomas Brindt | |
Photographer of the week - Luis Bonito
By Thomas Brindt, 3 days ago
Everybody who has had the opportunity to meet Luis Bonito is charmed by his friendly and warm personality which is also apparent in his images.
While his work is very diversified, he loves to create images combining simple elements, always paying a lot of attention to the technical details. It's time to get to know some more about this very accomplished photographer. Thanks to Yvette Depaepe for conducting the interview. You will find more photos by the end of the article.


Can you briefly tell us some more about yourself, your hobbies and other jobs, Luis?
I am a retired Portuguese navy officer and marine engineer with a master of sciences degree in mechanical engineering.
After 11 years working on board ships, I taught technical drawing and computer assisted drawing in the Portuguese Naval College and in the New University of Lisbon. I remember that at the time I was too busy to think about photography.
However, photography is an old passion. Thirty years ago I was an enthusiastic photographer with my Olympus OM-10 and I did a lot of darkroom work. Then for some reason for many years, I stopped. Only later did I found my artistic expression with drawing and painting, mainly watercolors.
Three years ago I got "awakened" to photography again, this time discovering the amazing digital world.
At the present time, I dedicate most of my time to photography, almost a full time job.

About hobbies … A good part of my life is fulfilled with games. I love all type of games, puzzles, mathematical challenges, etc. I play bridge almost every day, sometimes in clubs but mostly online. I love to play strategy games as well.
The objective of these games is to win, but I get my greatest pleasure by understanding the games' mechanisms and strategies. Once that is achieved, I'll sometimes move on move on to another game :-)

What is it that made you such a passionated photographer?
My painting experience had an important role in my photography. Sometimes if I don't like a photo, I treat a photo like a canvas and set it aside and wait until I'm pleased with it until I am pleased with it. I must also add that my practice with computers and drawing software proved to be an advantage in using photography software.

Are there any important events in your life that have influenced your art?
My artistic side was discovered by my wife. She saw in some of my sketches and drawings a potential and she motivated me to develop my art skills. Until then I always imagined myself more as a technician. I took some lessons with a Portuguese aquarellist and afterwards I tried to find my own way.
Then came photography. Some years ago I created a blog to share my experiences of living abroad and I started taking photos with a small digital camera. It did not take long for the old passion to win and I had to get my first DLR Camera second hand.
Interestingly, with drawing and painting my favorite genre was portraiture but in photography I do not feel the impulse to shoot portraits. I do not know why. Creativity and imagination play a great role in my photographic world. Diversity as well.
I do not have a favorite genre in photography, I like to diversify and try many fields. I love to experiment. It is a great pleasure and fun to have an idea and then try to turn it into reality. Technique takes a lot to master and I pay much attention to technical details, sometimes too much.

Photography permits us to capture the instant. Within the visual capture I also keep the feelings and the memories of those moments. If I can pass my impressions and feelings to others, that is even better but one must realize that each person has a different perception of the image independently of the photographer.
I am also very interested with the technical aspects of photography. Perhaps that interest is due to my technical formation and my early profession in the engineering areas.

Do you have a specific photographic vision and can you describe it?
We may look to photography from many perspectives or points of view, but above all photography is a medium.

One may prefer to use the medium to just record moments, or to express feelings, or to use it for passing a message, and so on. The medium may or may not carry artistic aims, it depends on what we choose and how we use the devices or other tools. It is up to us to choose what photography can be.
Humor is very important to me, so whenever it is possible, humor is present in my work. I guess that is easy to observe in my portfolio.

Why are you so drawn to photography?
This question reminds me of another one friends frequently ask me: why don't I go on painting and drawing? It is a fact that during the last three years I did stop painting and I am completely drawn to photography?
One could say photography is a fast way to have a completed work. That can be true for some photos, but many take a long time to be finished. Surely there are other reasons but truly I must say I do not know.

Is the story behind and image more important to you than the technical perfection?
It depends. In a documentary image or with a shot on the run where one has to improvise, I guess I can forgive technical imperfections :-)
Any artistic expression has its technical foundations, without it I think that it is an accident. All the great painters had talent and many hours of technical development. Photography is not only to look and shoot. One has always to carry the full bag of knowledge and experiences.
This can apply to very small technical details. For instance, if I shoot a certain photo and know that my lens has a top performance with an f8 aperture, I should consider using that aperture as a preference. On the other hand, I may want to get a full depth and have to know the limits of my camera which may experience diffraction at high apertures.

Can you give some advice to a beginner in photography?
If one has the pleasure and will to shoot photographs one should try to understand the basics of photography. What things like aperture, shutter speed, depth of field, etc., mean.
The basic concepts are easy and everybody can find enough information online.
And of course, it is good practice to learn from the masters. There are many sites on the internet featuring plenty of great photographers and they can be inspiring and worth learning from.
And practice! Practice is the best way to learn.

Are there any specific direction you would like to take your photography in the future?
The goal is always to try to make something better, whatever that means to each individual.
The direction is like the freedom of the wind. I am so lucky I can do whatever I like without commitments.
Sometimes for instance, my projects are to photograph the tulip fields in Holland, other times I am glad to do studio work.

Which is your favorite photograph taken by you and why it is special to you?
This is a very special photo to me because the public appreciated it so much. I created the photo for the Weekly Theme "Car". I wanted "to play out of the box". The idea "switched on" in my head and I explained it to my wife while we had breakfast. The fun started that moment. When I realized how she laughed with my project I felt I was on the right path.
The final picture is a combination of several images. The airport picture was easy to find. In 2013 and 2014 I took some aerial shots during some flight tours. I chose Den Helder Airport in Netherlands, when we were landing after an unforgettable flight over the tulip fields. The car is a common Ford Focus that with some imagination can fly.
I was the driver and the photographer. I used my tablet to control the camera and with the tablet hidden on my lap I could see the image I shot. The inclination of the tea-whisky in the glass I imagined to do later in my homemade studio, but the processing result on the glass was good enough and I could avoid that work.
That was a lot of fun and it turned out very well, I was very pleased.

Please tell us how you experience 1x as a home base for your work, Luis?
1x has great artists and is a top photography site. I've found it to be a very stimulating experience.
Before 1x, I never thought I would make some creatively edited photos. With the amazing creative inputs of so many great artists on 1x I dared to make my own way.
The weekly theme is always a challenge to me, first to my memory because I try to recall what photos are candidates in my extensive collection, then it also stimulates my imagination to create new pictures.
Furthermore, in the 1x community I've found many friends, some whom I have had the pleasure to meet in person and it is always a great fun to take part in 1x themes or just visiting and commenting photos of other members.
I would like to take this opportunity to thank everyone who follows my work and comments my photos. Also, many thanks for all the endorsements.