Help us to find the best photos in the world and influence what's being published on 1x in the new "Curate" feature in the "Photos"-menu. Just like before the official crew has the final say, but feedback from the community is very useful for them.
You can also write comments on the photos, but never write just "nice photo" or "I don't like it", always be specific and explain why you think so. The comments will be rated by the crew and users depending on how useful they are and this will affect how much weight your votes will carry in the future. The more useful comments you write the more your votes will count.
How you vote and how much you vote will also affect the weight of your votes. If you vote a lot and write especially useful comments, you might even be recruited to the official curator crew after a while.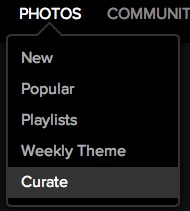 Vote on photos in "Curate".