by Editor Miro Susta

However, in the past and also in the present time their amount has been sharply reduced by man primarily because of agriculture and the use of wood for ship building, industrial use, burning (heating, cooking, etc.) and natural disasters like forest fires, tornados & hurricanes, flooding and miscellaneous diseases.

Trees have a significant impact on:
* Sunlight transmittance, in tree-growing area, the proportion of incident radiation compared to open areas is reduced to about 1/10 (in tropical rainforest up to 1/50).
* Carbon balance in nature (carbon accumulates in tree wood).
* Global water cycle.
* Physicochemical properties of soil, e.g.:
- elimination of foreign substances – allelopathy
- fall of leaves or needles - affecting pH, rate of decomposition
- growth of roots - pumping of nutrients or pumping of part of water
* Biological properties of soil, e.g.:
- preserving the richness of soil flora
- preserving the richness of soil fauna
* Overall impact on fauna and flora in the area.
Because of their longevity and size, trees have long been of importance as spiritual symbols, cultural monuments and landmarks.

Trees have long been planted along significant trails, roads and crossroads, small sacral buildings (chapels, crosses, churches).

Since the Middle Ages, parks have been established in which various original and non-native species of trees, including specially cultivated cultivars, were planted.

Trees (especially oaks) on pond dykes help to strengthen the dyke body with its roots.

Linear planting of trees is often used to visualize different parts of the landscape, but also to reduce noise and pollution. In a straight landscape, it functions as windbreaks.

Interesting Facts about Trees
Age recorder tree is the Norway Spruce called Old Tjikko. With its 9550 years it is the oldest living tree in the world. It grows in the Swedish National Park in Fulufjället Mountain. Despite its age, it is only five meters long.

The highest living tree is the evergreen Sequoia sempervirens "Hyperion" at Redwood National and State Parks, California, with a height of 115.85 m.

The largest tree is the evergreen Sequoia giganteum called "General Sherman" in the US Sequoia National Park, with a trunk volume/weight of 1486 m³/1385 tones, a height above base of 83.8 m; its trunk diameter at base is 11 m (circumference 34 m) and the diameter of the first main, largest branch is 2.1 m. It is 2,300-2,700 years old.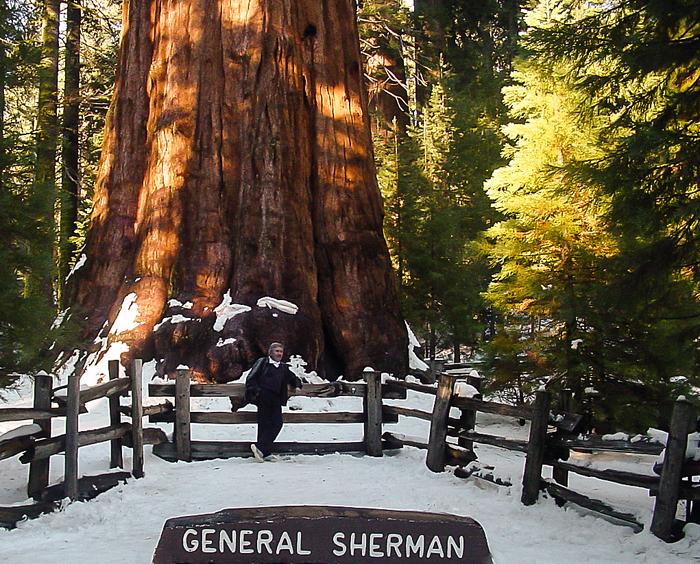 The tree that has reached the world's largest known trunk circumference is El Árbol del Tule (or Tulum) tree in southern Mexico with a trunk circumference of 44 m and a diameter of 14 m.

Dwarf Willow is known to be smallest trees of the world, its height rarely exceed 6 cm.

Several tall trees have been documented in history. The highest is the Douglas fir in the US, Whatcom County, Washington, which was cut in 1897. The New York Times reported a height of 142 meters (465 feet).

Tree with hardest wood is the Australian Buloke, ironwood tree that is native to Australia.

The tree with the heaviest wood is the Black Iron Wood, native Southern Florida, Caribbean, and Central America, specific weight 1,355 kg/m3.
The tree with softest and also lightest wood is the Balsa, native to tropical regions of the Americas, specific weight 150 kg/m3.

According to recent estimations and mapping around 3 trillion trees are growing on our planet; the leader is Russia with 640 billion, Canada 320 billion, Brazil 300 billion and USA 230 billion trees.

Suriname has the highest tree density with 95% covered in forest.

Worldwide there are 16 countries with less than 1% covered in forest.
Trees are grateful motif group to photograph
The photographer has enough time and can choose the image detail, the perspective and the perfect lighting conditions in peace.

The good
You will find trees right on your doorstep. The tree is a very symbolic subject and does not change its location. Therefore, trees are also perfect for photographically accompanying them for a year successions.

Some Camera Settings Tips
Photograph with the RAW format whenever possible.

Choose the largest possible image resolution for greater detail.

Keep an eye on the white balance when photographing in the JPG format and check the result on the monitor.

Select an aperture value of f/9 to f/13 (up to f/20 when photographing trees in backlight) to achieve the best sharpness.

Set lower sensitivity, ISO 50 – ISO 200. At these values, the camera sensors have usually the best color fidelity, crispest colors and excellent sharpness.
And remember: To get good photos, even a smartphone is enough. It is not the technique that makes a good picture, but the view of the subject.

If you are interested, you can find more tree photos on my websites Fascinating Trees and
Forest, Trees & Foliage.