"Where is this 3 years old little girl?" by Yvette Depaepe
This is a wonderful story that I like to share we you.

Two months ago, a long time planned journey to Nepal finally happened.
Marc Apers and his lovely wife Greetje, were travelling with me.
Before starting, I would like to recommand the travel company "Footprints Nepal Travels and Tours" hold by 1x member
Ajay Pant in Kathmandu. He organized our trip in a perfect way responding on our particular demands and guided us through several locations.
We arrived in Kathmandu the 13st of February, 2018.
Ajay was waiting to welcome us at the Airport and drove us to our hotel in Thamel.
Part of our journey was Pokhara and Astam.
Astam is an Annapurna Eco-Village composed of several cottages set amongst an eco-farm within a traditional Nepali village and the backdrop is the majestic Annapurna range. Fishtail mountain looms in all its glory!


Astam resort

The traditional village life in Nepal is truly based on the Eco friendly concept.
Astam means "Sunset Village". It stands as the best example of an Eco village in and around the Annapurna region. Astam is one of an unspoiled place in natural as well as cultural aspect.
The food is mostly grown in their own gardens without the use of chemical pesticides (bio-pesticides are used) and deliciously cooked in the traditional Nepali way.
Astam eco-village is easily reached by road and takes about 1 hour from Pokhara. However, it is more enjoyable to walk up from the highway.
I was persuaded that I never was in Astam before but Ajay told me that I was there during my stay as a volunteer in 2008. First I couldn't believe it.
Ajay explained to me that we were there on trekking but staid at a higher situated mountain hut.

"Mountain hut, Astam 10 years ago" by Yvette Depaepe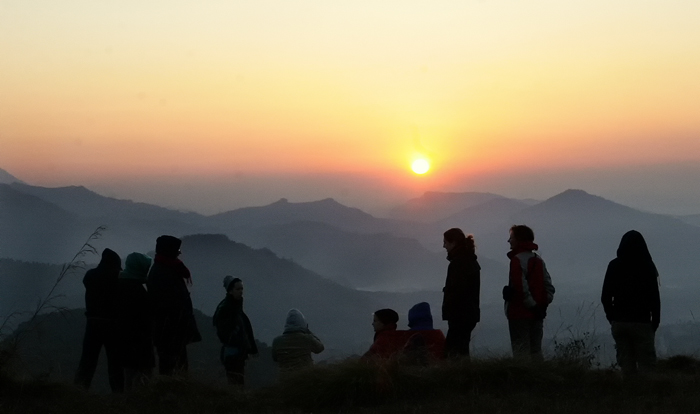 "Sunrise with the volonteers, Astam 10 years ago" by Yvette Depaepe

He also told me that I took many great shots in the village when we were trekking back to Pokhara.
To proof it, he asked for my I-Pad and went through my 1x portfolio and pointed out my all favourite image from a little girl about 3 years old, taken in Astam village 10 years ago.

The same day, we walked through the village asking if somebody recognized this little girl.
Unfortunately, not positive reactions...

"No idea... sorry" by Marc Apers

In the evening, we went for dinner in the resort itself. Many locals from all ages were there. Stubborn as he is, Ajay showed the picture of the little girl going from one local to another.
A very pleasant group conversation began and turned into a real investigation case.
Everybody was guessing who that child was. She was 3 years old ten years ago, so she should be 13 years old now. After discussing a long time, finally everybody agreed that this girl was Namrata.
The day after, early morning, we decided to go and look again for Namrata. Surprisingly, many locals we met the day before while having dinner came to help!!!

Walking through the village, one of the locals suddenly told us that he recognized the facade of the little house where I took the picture.
Unfortunately, the house was inhabited since a while. Another local told us that Namrata and her family moved to another house in the village and he knew their new place.
The whole group was triggered ;-)
We arrived on the other location. A women was busy outside and a young girl was sitting in front of the house. One of our "investigators" went to the lady and asked her if the young girl was Namrata. And YES, it was. The lady was Namrata's mom.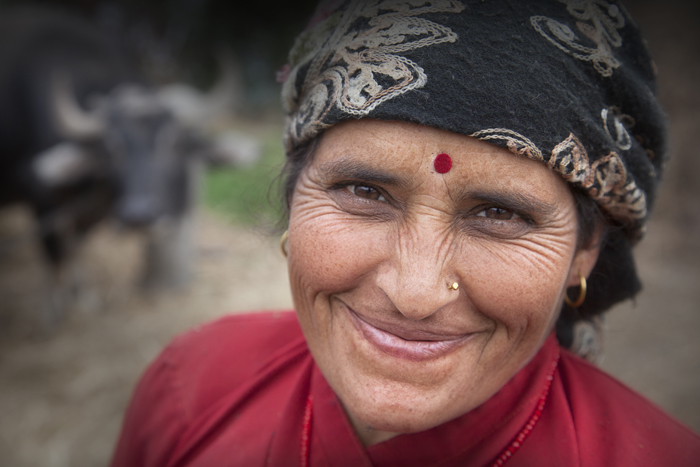 "Nambretta's mother" by Marc Apers

When we showed Namrata the picture taken 10 years ago, she was so amazed, pleased, a little embarrassed and started laughing nervously. She was looking at me with big wondering eyes.
Namrata and her mom gave us a warm welcome, served some tea and were chatting with us.
Of course, I took some new portraits of Namrata and Marc took a picture of the two of us.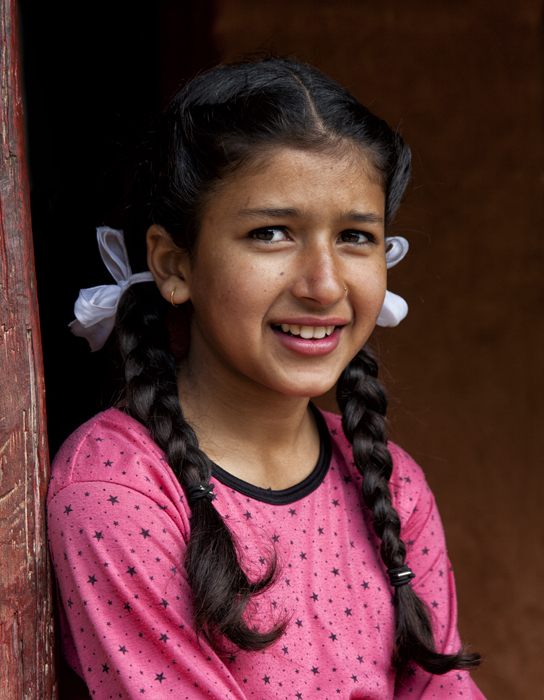 "Namrata, 10 years later" by Yvette Depaepe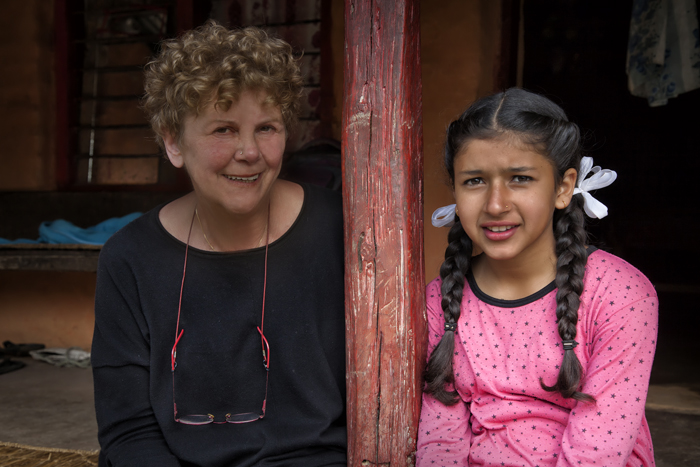 "Namrata and Yvette" by Marc Apers

What a day!!!
What a beautiful end of this story and what an amazing bonus to our trip!
I promised Namrata to send her prints from her portrait from 10 years ago and from the shots we took a decade later ;-).

If you plan to go to Nepal in the future, this is the address to be
Footprints Nepal Travels and Tours
GPO Box 8974, Kathmandu Nepal
Phone: +977 9851087899
E-Mail: [email protected]
Website: http://www.footprintsnepal.com

Nowhere in the world one can find the same concentration of cultures, art and tradition.
Follow your own steps to create positive footprints with responsible tourism... and let us be part of the changes taking CSR working together with Foundation Care for All