Imagine yourself on the beautiful plains of Masai mara on a wonderful twilight setting. You are shooting a beautiful gazelle grazing on the plains and all of a sudden there comes a cheetah pouncing on the kill. Its a challenging situation and all you can do is bump up the iso for the fastest possible shutter speed along with nailing the focus over the perfect moment......
Sony came up with an extremely elegant solution to such challenging situations, aiming to bring professionals from the venerated flagship models of canon and Nikon , launching their new flagship model, the Sony A9.


Sony intends to create a new camera line designed to offer demanding professionals shooting speeds exceeding its DSLR competition while providing state-of-the-art autofocus performance in a much smaller camera body.
What takes the Sony a9 a big notch ahead of its compatriots are its speed, the form factor ,the myriad of phase detection AF points and the in body image stabilization features.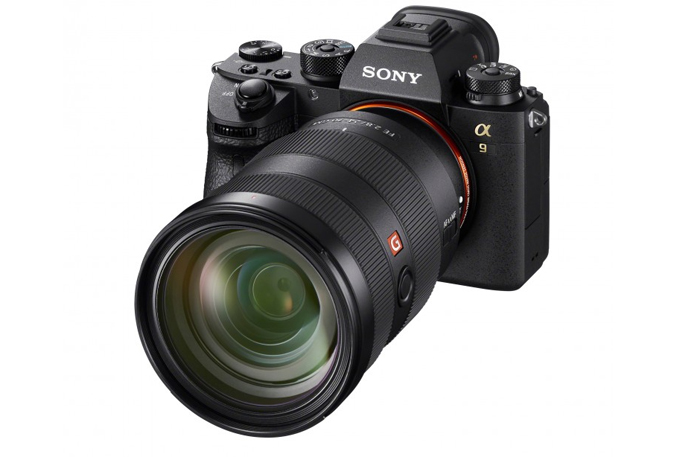 Let's dig deeper into those specifications that may make this camera the ultimate choice of professionals in the coming years.
Body
It has subtle changes to the a7 body with stacked, independent Drive and Focus Mode dials so one doesn't need to scroll through the menu to set a custom function.
Dedicated AF-on button which will aid those using the back button focus techniques , locking the focus points.
Multi selector joystick which enables having direct control over the myriad focus points immediately and also helps in scrolling image playback.
Dual memory slot out of which one has a support for UHS-II and other UHS-I.
Wired LAN support for FTP file transfers for professionals on tight schedule.
Wi-Fi , Bluetooth and NFC are also included to remotely control camera and wireless transfer of images.
Uses NP-FZ100 battery making 480shots on single charge using EVF and 650 shots with LCD monitor.
Display
The Sony a9 is the first flagship Sony camera having the tilting touchscreen display. The display tilts a maximum of 107º up and 41º down with white-magic technology that has white pixels in addition to RGB to make display viewable in bright outdoor conditions.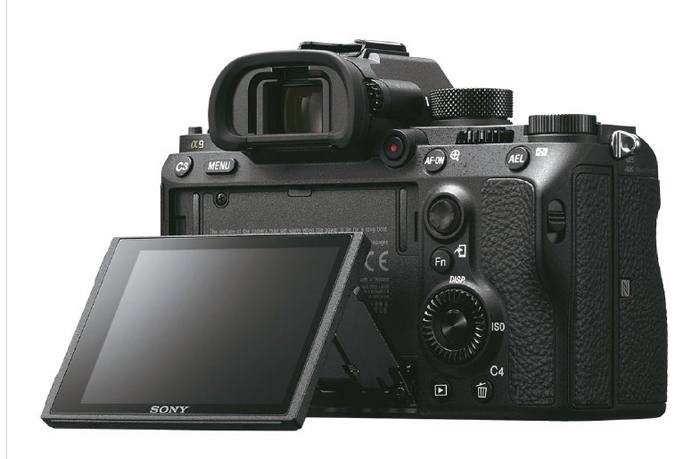 Viewfinder
Zero viewfinder blackout, even when shooting at 20 frames per second, and a direct viewfinder image of the subject during tracking and capture. The tru-finder EVF operates with a 120fps refresh rate (60fps live-view refresh rate) having 100% coverage and 0.78x magnification .
Shutter mechanism
Sony a9 features a vibration free, fully electronic, completely silent anti-distortion shutter with absolutely no mechanical mirror or shutter noise, making it an extremely powerful photographic tool for any shooting situation that demands quiet operation The hybrid shutter mechanism offers 500,000 cycles offers shutter speeds up to 1/32,000s and is said to offer minimal distortion as against the usual mechanical shutter which tops at 1/8000.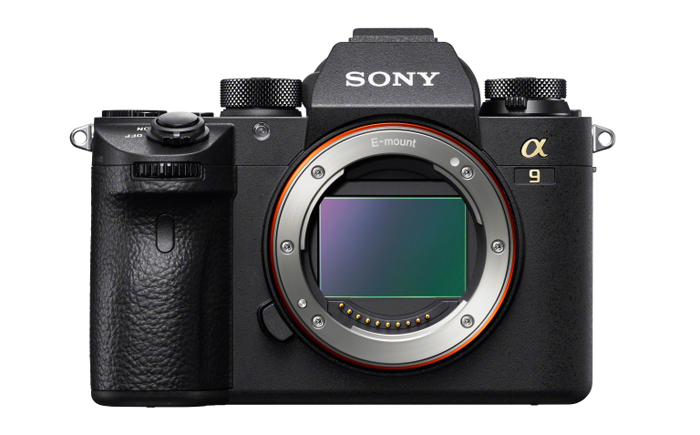 Operational Features
It has the world's first full frame stacked CMOS 24.2Mp sensor that has a Sony Exmor RS back-illuminated image sensor with a stacked structure that helps in faster readout.
The structure of the sensor is well designed with pixel level of the sensor on top of a separate pixel layer that has high speed signal processing circuit and integral memory and both sitting on top of the Bionz X image processing engine which has a new front-end LSI to reduce noise while improving image detail over a wider ISO range.
The sensor captures 14 bit uncompressed raw images across a wide iso range of 50 to 204800!! Claiming 14 stop dynamic range.
Sensor also uses a charge protection coating on its optical filter and an image sensor shift mechanism to help keep dust off the sensor.
The autofocus sets this flagship model way ahead of the others. The a9 has a scintillating array of 693 phase-detection points which cover 93% of the image area. In addition to these there are 25 contrast AF points making this 25% faster to Sony a7rii.
The camera's innovative AF system tracks complex, erratic motion with higher accuracy than ever before, with the ability to calculate AF/AE at up to 60 times per second, regardless of shutter release and frame capture. The a9 is slated to make make up to 241 full-resolution compressed RAW images (or 362 max-quality JPEG images) at a blazing fast 20 frames per second with full AF/AE tracking and without viewfinder blackout.
The in-camera image stabilization feature has always set the Sony models a touch above the rest. The a9 offers 5 axis optical image stabilization unit built into the body providing 5 stops of image stabilization.
Certainly such specifications are addressed for professionals who want the cut throat technology. Sports, wildlife and journalists will surely be attracted to see these specifications and it will be really interesting to see how the Sony 9 fairs up against Nikon D5 and Canon 1Dxii.

Further reading about this brilliant device
Press release Apr 19, 2017
Digital Photography Review, Apr 19, 2017

When we think of such a flagship model, our thought processes really churn up thinking how many of us really require 20 fps,693AF points, silent shutters and 1/32000 shutter speed. The professionals surely do as they just cannot miss a moment at all. I would not be surprised to see the professionals using Sony bodies readily investing in this body due to the stellar increments from A7 but given the fact about the battery life and lens libraries from the competitors I'd be very surprised to see if a wave of migrations to Sony starts.
The plethora of specifications is bound to make a big hole in the pocket with this body slated to sell at around $4500! It will be available starting may 25th.