Coursera is an online learning platform, where anyone can browse around for a subject of its interest and get a degree and certificate about it. The are many themes to choose from. The lessons are very well organized, always from the best universities and institutions. There is also an app for Smartphones that is very handy to be on track all the time everywhere.
The one that brings me here today is about Photography, and it is delivered by the Museum of Modern Art, MoMA, in New York. I have completed it by now, with very positive results.
It is called Seeing Through Photographs.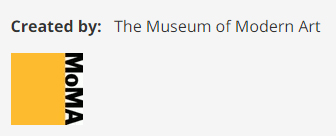 The introduction says: " Although taking, sharing, and viewing photographs has become second nature for many of us, our regular engagement with images does not necessarily make us visually literate. This course aims to address the gap between seeing and truly understanding photographs by introducing a diversity of ideas, approaches, and technologies that inform their making. In this course you will look closely at photographs from the collection of The Museum of Modern Art and hear a variety of perspectives on what a photograph is and the ways that photography has been used throughout its nearly 180 year history: as a means of artistic expression, as a tool for science and exploration; as an instrument of documentation; to tell stories and record histories; and as a mode of communication and critique in our ever increasingly visual culture. "
In a series of modules, along 6 weeks, we get an insight into the collections of the museum, built around themes with examples, where some treasures are stored for life. For example they have several renderings printed by Ansel Adams himself of his famous photograph, Moonrise over Hernandez. Fabulous to look at.
We listen to and watch at instructional videos of all kinds related to the subject. Some interviews with photographers give insights on the respective work and are all very well structures. The examples studied are some of the best photography made so far. As this is a MoMA course, everything we see on it is from the museum, the first one to give photography its place in the art world. We read the supplied documents, and there are many and precious ones, study it all, and in the end of each week, there is a quiz you have to pass with at least 80% of correct answers. A system of keyboard writing control ensures it's you behind the computer.
There can be interaction with the instructors and fellow attendants.
In the end, a text have to be submitted based on your experience and knowledge into the course, that it giving a grade by your colleagues in the module.

Everything is free to attend but if you want your diploma in hand a fee has to be paid. But it's worth it, one more relevant piece of knowledge to your résumé!