"The RICOH GR II is a compact digital point and shoot camera that is a redesign of the classic film cameras released by RICOH in 1996.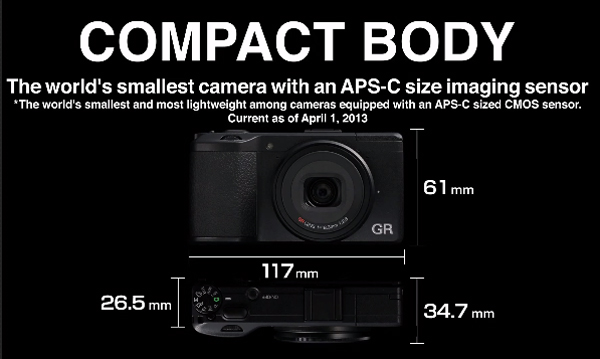 They were made famous by Daidō Moriyama, the Japanese street photographer who is definitely worth a Google.
Since then it has gone through many iterations and won several awards while staying faithful to the original cult classic and vintage design.
The RICOH GR II has a fixed focal length that gives you a 28mm field of view (after crop factor). It has all the great functionality that you would take for granted with a professional DSLR. It is also packed full of great features that you would expect in any modern camera with extra goodies like a built in ND filter (which you can set to auto) for those extra bright light situations when the maximum shutter speed of 1/4000 second won't do and High Dynamic Range compensation for those high contrast situations that actually works.
There is also interval and composite shooting modes, various pre-focusing or snap modes that add extra punch to the focusing system and a silent leaf shutter. And as you would expect, it's extremely customisable. When it comes to using the RICOH GR II, the menu although a nerds' paradise is very intuitive to use. There is also a quick menu that allows you to get to all the functions you would need to change and adjust on the move. It produces great DNG files that are rich in colour and crisp detail up to ISO 1600.
The lens is super sharp at f4, and the controls are exactly where you would expect them - it's an ergonomic dream. The combination of great features and compact award winning design means you can shoot with something you know is reliable in any situation for capturing any subject or moment whether you are out with friends, or fancy a spot of macro photography. Where this camera really comes to life is street photography; as it offers precision and excellence in an unassuming discreet body that can always be kept with you - and it's great fun to use!"