Spotlight Series with 1x Member David Ahern
by Editor Graham Daly
In this instalment of my Spotlight series, where I focus the spotlight on particular 1x members and their images, as well as their techniques, I am shining the spotlight on David Ahern. In this edition, I quiz David on how he relays mood and atmosphere in his Landscape Imagery.
Who is David Ahern?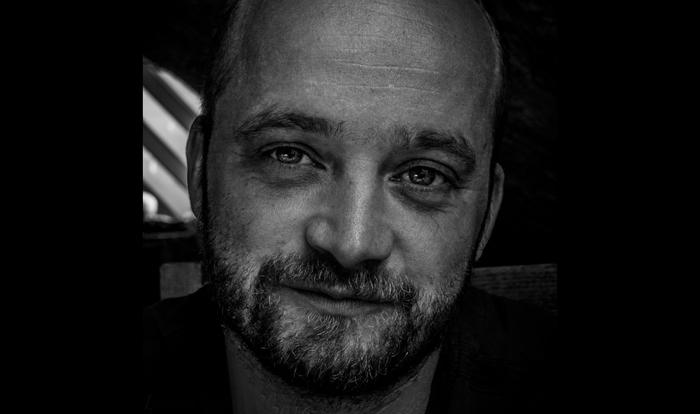 David Ahern

Tell us a little about yourself. When did your photography journey start?
I am a landscape photographer from the beautiful County Cork, which is located down the south of Ireland. My photography journey started about 5 or 6 years ago. When I used to go surfing around the west and north coast of Ireland, I would often bring a disposable Polaroid camera with me to try and capture the beauty of what I was seeing all around me. Although, at that time I did not realize I was into "photography". I remember seeing people on tripods at the beach sanding there in the freezing cold thinking they were nuts! It was a chance meeting with my room-mate's brother that started it all really. He saw my shots and asked if I knew about Instagram and explained that there were some good photographers on it and that it wasn't just for selfies. I downloaded it and began to see and admire some amazing photographs of Ireland on it. It snowballed from there and here I am now.
What was your first camera and do you still have it?
What gear do you shoot with now?
My first proper camera was a Nikon D3200, which I loved. My girlfriend has it now. I am currently using a Nikon D750. It's a great all rounder. I have two lenses, a Sigma 24-35mm ƒ/2 Art and a Tamron 70-300mm. I also have the NiSi 100mm Filter System with their IRND 10 stop ND and Polarizer. I use a LEE 2 stop Medium Grad also.
Who or what inspires you to produce images?
When someone asks me what inspires me to photograph, the answer is always an easy one. I am constantly in awe of the beautiful world God has created for us and that is all I need. Just travelling around getting to see these amazing places is inspiration enough.
Are you currently working on any personal photography projects and if yes, can you share some of these images with us? What are your photography goals for 2018?
My current project and goals for 2018 is to develop and launch my own website. I tried to do this in 2017 but felt my portfolio was not strong enough at the time so I pulled the plug. I am currently revisiting certain locations on a regular basis to try getting the "perfect " shot that will fit my style.


The above shot took about 2 years to get. I returned time and time again to try capturing the right conditions and finally in October 2016 it all came together
Here are two other images that will be on the website as they reflect my style and what I like.

Many of the images within your 1x portfolio relay a great sense of mood and atmosphere within the scene – how exactly do you go about relaying this mood? (Describe your thought processes/habits before shooting, your routine and processes while shooting in the landscape and your thoughts and processes regarding the post-production of your images, etc.)
When I first started taking photography semi-seriously, I was trying to produce images with a big "WOW-Factor" and my processing style reflected this. I over-saturated everything and added too much contrast, clarity etc.… I only wanted to shoot sunsets as they got the most "Likes" on Social Media.
I soon lost interest in this and found myself deleting images that I used to love because I saw them for what they were. I really didn't know what kind of Landscape Photographer I wanted to be but I knew it was important to eventually have a trademark style to make my work somewhat unique. My style slowly changed over time to what it is now. I prefer moody simple shots as they have a far greater impact on me.
I am always checking the weather forecasts to see if conditions line up to suit me. When an opportunity presents itself I will do all it takes to be at the right place at the right time. I am just back from a 12 hour round trip to County Mayo on the west coast of Ireland, where I slept in my van in -1 degree Celsius temperatures to get the shot. I find Photopills and The Photographers Ephemeris (TPE) to be invaluable tools with respect to planning shoots and I use them constantly. I will always look to simplify my image when out in the field. The less distractions the better.
Shooting the image to me is only half the battle. I consider post processing to be just as important as getting right in the camera. Sometimes I take an image and when I get it back on to the computer it just does not do justice to what I felt at the time of shooting. I use only Lightroom for about 90% of my processing. I still have not mastered Photoshop and only use it sparingly. I also sometimes use Google NiK Collection for final touches. I process every image individually and never batch edit or use presets. I can spend days on one image sometimes and the final image can take weeks or months until I am finally happy with it.


When producing an image, what is your main goal and the most important requirement that you seek after in order to achieve this goal?
My main goal when producing an image is to relay to the viewer my feelings and what I felt and "saw" at the time of taking it. The camera alone does not do it justice sometimes unfortunately.
How important is post-production to you and achieving your style of imagery? Can you describe your typical post-production workflow? (Describe the step-by-step processes that you typically go through for your images. Explain what software do you use and why. Provide screenshots of the processing software that might aid in describing your process, etc.)
Post-production is just as important to me as taking the shot. I will always bring an image into Lightroom first. I apply Profile Corrections and remove Chromatic Aberration first. I often tend to darken an image significantly initially as I can see where the light is landing in the image better this way. For the more open, big landscapes I tend to go negative on the Saturation slider and boost the Contrast slider, this has a big effect on the mood. I often use Radial Filters also to globally darken an image and then applying a Radial Filter with a boosted exposure and sometimes a decrease on Dehaze slider. I tend to favour a cooler colour temperature also as I feel it adds to the mood.


Sometimes I am happy with this and present the image. Sometimes it needs just a bit more so I would use the Google NiK collection, which are a great set of plug-ins. "Glamour glow", "Pro Contrast" and "Indian Summer" are the main adjustments that I use within NiK Color Efex Pro.
For my Astro Photography I use Photoshop to blend the sky and foreground. I also use Starry Landscape Stacker for reducing noise in my Astro Photography.


Below is a step-by-step breakdown of one of my creative edits where I took a pretty bland daytime shot and tried my best to turn it into something more interesting.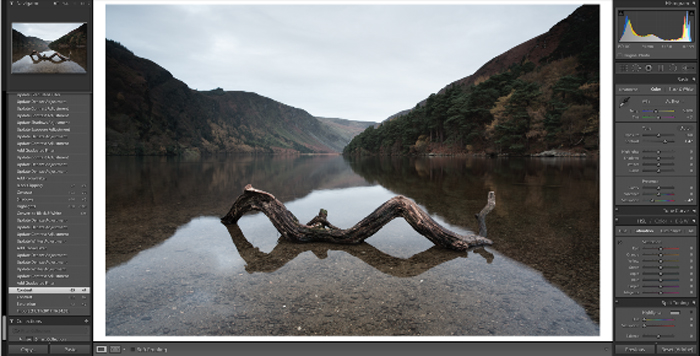 Raw file after importing from Lightroom.

Next I have converted the image to mono as I find it causes less distraction at the beginning stages of the edit. I have boosted contrast, brought down the highlights and lifted the shadows to create a canvas to work with. I have also added a radial filter across the end of the lake with negative dehaze applied to add mood and mystery.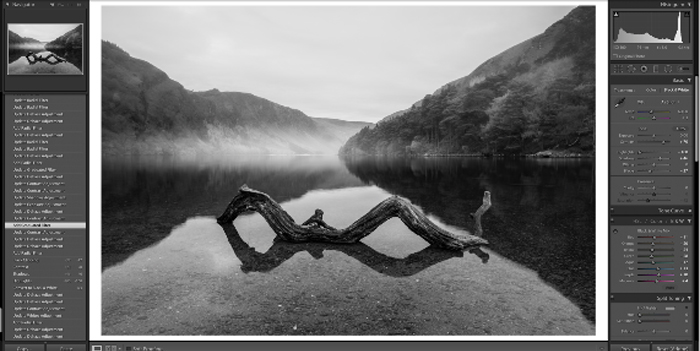 In this next screenshot, I have drastically reduced the exposure. This gives me a better sense of where the light is most prominent in the scene.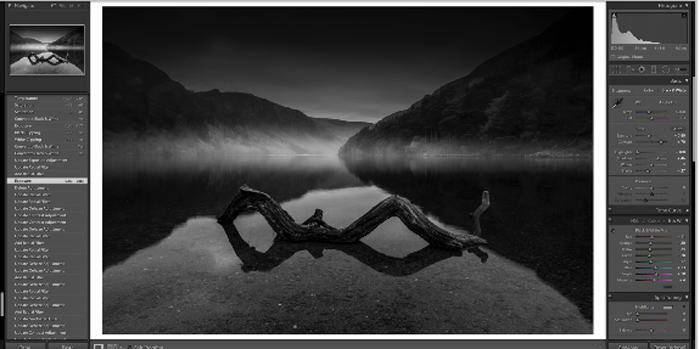 Then I convert the image back to colour and severely reduce the saturation down to -88 and add a strong blue tint in the temperature slider. I use radial filters heavily to give the stick contrast, exposure and prominence in the scene. The other radial filters are used to create ambiance and mood by using negative dehaze and exposure.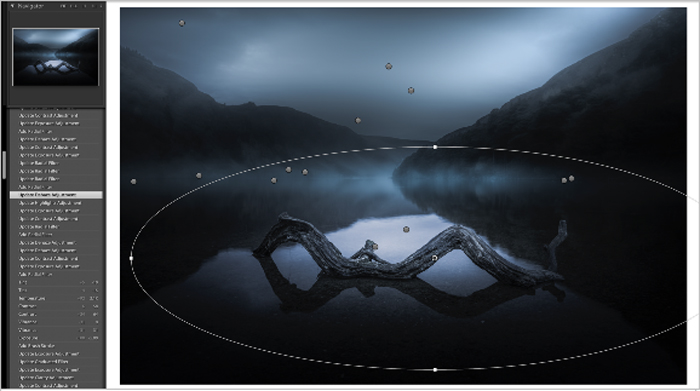 And this is the final image.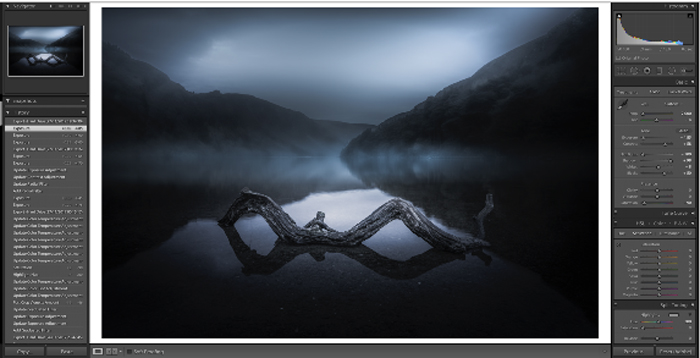 What is your favourite image and why?
This is my current favourite image.


Ever since I first arrived at this magical location I had this image in my head. It took me two years for everything to finally line up so I felt great satisfaction in my perseverance paying off. This image typifies everything I love about landscape photography. The mental image, the planning, the failed attempts, the early morning journey to the location, spectacular conditions that take your breath away followed by that uncontrollable excitement when you see the image on the back of the camera for the first time.