It was an extraordinary scene to photograph, so I started setting up my tripod. But then the man suddenly appeared, giving the magnificent trees scale and adding an eye-catching element to the composition. Before he disappeared down the lane, I had to make some quick decisions..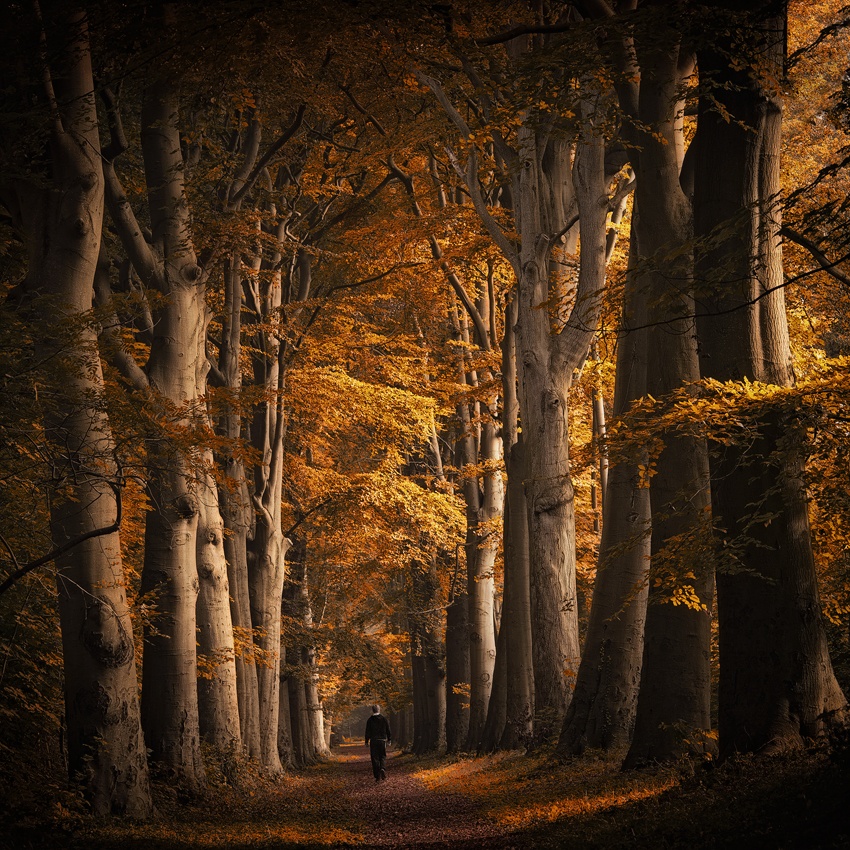 "Autumn Walk" by Jeroen Oosterhof.
Autumn is definitly here and with that comes some of the best photo opportunities the year has to offer. One 1x photographer who really took advantage of this is Jeroen Oosterhof. He was out in the early Autumn to take some shots of the forest. Suddenly, the opportunity for truly great photo literary walked towards him.

I looked for an appealing spot with just the right conditions, and found this lane with good composition, dynamic range, quality and direction of light.
At 10:00 p.m. in September the sun wasn't too low or too high, providing a nice quality of light and good dynamic range. The sunlight was coming in from the right and created a striking contrast between the shadows and the highlights. I use a tripod and a cable release to ensure maximum sharpness and a polarizer to provide rich colors and to increase dynamic range a little bit.

I noticed when I was setting up my gear that a man was walking by, and I knew that he would fit perfectly into the frame and provide a good sense of scale to emphasize the majestic trees. I had to move quickly so I set up my tripod and camera, which still had the polarizer filter attached to the lens. I didn't have the time to remove the filter, but I did want to freeze the scene, so I decided to make two exposures.

I zoomed in on the subject with a focal length of 144 mm and took an ISO 2500 exposure at an aperture of f/9, which provided a fast enough shutter speed (1/100 second) to ensure sharp focus. After that exposure, I waited for the man to move out of the frame as I focused on a good composition. I reduced the focal length to 111 mm and lowered the ISO to 50. This way I could avoid creating noise in the RAW file, and the final image would be sharp and clean. The polarizer provided better colors and a little more dynamic range, so I didn't remove it from the lens. At f/9 I had to compensate with a slow shutter speed (0.4 second) so that the light and brightness would match my previous exposure.

You can now read the full tutorial for free on 1xLearning. You will find the tutorial here.